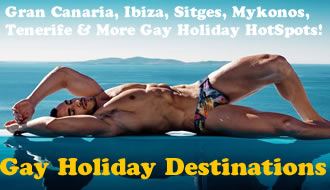 The Cruise European Gay Cruise by La Demence 2019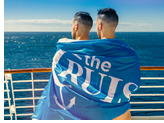 Treat yourself to a gay vacation of a lifetime, and join us on European gay cruise Produced by La Demence! The new all-gay cruise experience aboard Royal Caribbean's majestic Rhapsody of the Seas. Sailing out of Venice, The Cruise 2019 takes you on a unique voyage to stunning Montenegro and the breathtaking Greek islands and promise to be your ideal summer destination in 2019. The unique ports of call, and the best parties at sea with an international crowd, make this an incredible European gay cruise! The Cruise, is the best gay holiday experience ever!

Sailing out of Venice, most romantic city on earth, The Cruise by La Demence 2019, takes you on a unique voyage to stunning Montenegro and the breathtaking Greek Islands of Corfu, Mykonos, Santorini and Argostoli, on Royal Caribbean's majestic Rhapsody of the Seas.

The Cruise European Gay Cruise by La Demence 2019
July 6 - 13, 2019
TropOut Malta Gay Resort 2018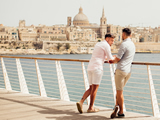 TropOut – the festival for the modern gay traveller – is finally ready to come to Europe! And what a place to start – Malta is Europe's number ONE ranked destination for gay travellers. This is one party you won't want to miss.

We've created a festival that mixes the glamour of the European summer with prime party season – all in a location that will amaze you with its landscapes, history and culture. If you're seeking an unforgettable Mediterranean experience with likeminded gay guys, you've found it. Welcome to TropOut Malta.

TropOut Festival Malta Gay Resort 2018
September 13 - 19, 2018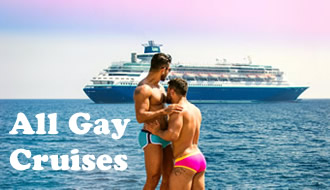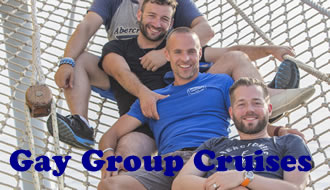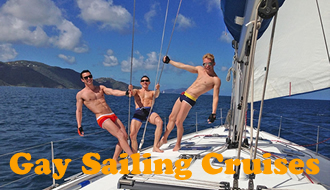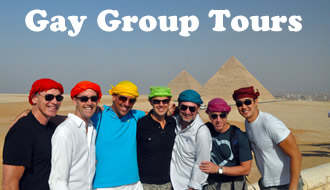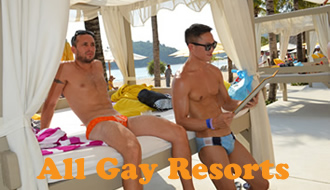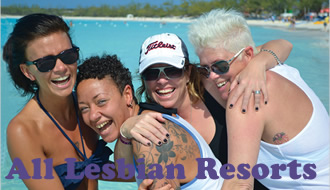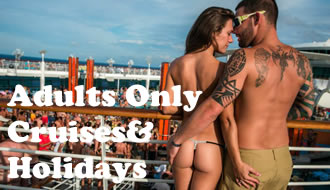 Croatia & Dalmatian Coast Deluxe Gay Cruise 2019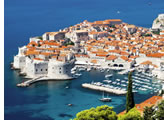 A unique small ship gay cruise on the lavishly designed brand new deluxe MV Avangard. Cruise along the charming Croatian coastline and islands from Split to Dubrovnik and back, including exciting sightseeing experiences and visits to the Mljet National Park, Hvar, Dubrovnik, Korcula, Brac, and more. Indulge all your senses, explore inspiring destinations, fishermen's villages and small and cosy restaurants on shore for tasting local Mediterranean cuisine and nightlife.
With only 36 passengers on board, this is a relaxing gay cruise experience within a very friendly atmosphere. Intention of this cruise is to show beauty of Croatia islands and thousand year old cities and their rich history, to present Croatian lifestyle and heritage.
During this amazing gay cruise you will have the opportunity to visit the various gay and nudist beaches of the beautiful islands.

Croatia & Dalmatian Coast Deluxe Gay Cruise 2019
August 3 - 10, 2019
Mexican Riviera Atlantis All-Gay Cruise 2018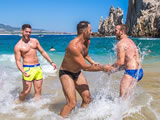 Atlantis are taking the biggest celebration in the west to a new and thrilling ship with the best venues yet for a party! Indulge in a week of sunshine with great friends as we sail from San Diego to gay-friendly Puerto Vallarta, seductive Mazatlan, and exciting Cabo San Lucas. Add an awesome lineup of dazzling entertainers, great friends, and the biggest parties you've ever imagined.

Sail with 2400 friends from around the world on the stunning Norwegian Pearl for the ultimate celebration as we explore the azure seas of the Pacific. Fresh from a multimillion-dollar upgrade, Pearl features a stunning central pool deck, with incredible open spaces for dancing under the sun and stars. You'll love her innovative modern look, enticing restaurants, full-service spa, and spectacular performance venues.

Mexican Riviera Atlantis All-Gay Cruise 2018
October 14 - 21, 2018
RSVP Caribbean All-Gay Cruise 2019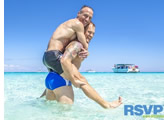 Exotic islands meet endless fun when RSVP sails in a "Nieuw" direction on one of the most popular ships we've chartered - Holland America Line's Nieuw Amsterdam! Explore more of the Caribbean than ever as we sail to four gorgeous islands from gay-centric Ft. Lauderdale with 2100 gay and lesbian friends. Our intimate ship size lets you truly connect with friends old and new with the perfect blend of legendary RSVP performers, fabulous parties, and plenty of time to simply relax.
For almost 35 years, RSVP has created amazing vacations where everyone is truly welcome. Whether you're traveling with your partner, spouse, friends, or on your own, you'll find endless opportunities to connect, play, and simply relax. There's no better place in the gay and lesbian world where you belong!
This is the new RSVP Caribbean All-Gay Cruise. And you're invited to experience it all in 2019!

RSVP Caribbean All-Gay Cruise 2019
February 10 - 17, 2019
Vietnam & Cambodia Mekong River All-Gay Cruise 2019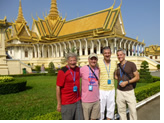 We invite you to join Brand g Vacations from January 3 – 15, 2019 for an all-inclusive, All-LGBT journey, featuring the Temples of Angkor Wat and the mighty Mekong River.
There can be no more striking cultural contrast than the one between bustling Vietnam and the tranquil Cambodia. From the diverse countryside of Cambodia to the Mekong Delta, so rich in human life and endeavor, you'll discover two countries, two cultures, and two ways of life linked by one river, the Mekong.
Join Brand g on a comprehensive 12-night journey through the heart of Vietnam and Cambodia featuring a seven-night cruise charter along the mighty Mekong River. Cruise aboard the all-suite, luxurious Mekong Navigator specially constructed to ply the Mekong River between Ho Chi Minh City and the fabled Siem Reap.

Vietnam & Cambodia Mekong River All-Gay Cruise 2019
January 3 - 15, 2019
New European Summer All-Gay River Cruises 2019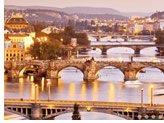 There's no better way to experience Eastern Europe than on a Brand g riverboat cruise. Discovery, friendship, style and comfort all come together for the perfect all gay vacation. Your all gay adventure begins with two nights hotel and guided sightseeing in Prague, the "Jewel of Eastern Europe." One of Europe's best-preserved cities, Prague's medieval center remains a beautiful mixture of cobblestone pathways, guilded towers and gothic catherdrals. From Prague we travel to one of Europe's most fabled rivers, the Danube. On board the ms Amadeus Queen, you will be pampered by a crew of forty in an atmosphere of total relaxation. With this great riverboat, we've created an itinerary that includes the two best Eastern European cities which have become prime destinations for gay and lesbian travelers.
These all-gay cruise vacation has it all—historic sites, charming towns, world-class wine and cuisine and more!

Prague & Legendary Danube All-Gay River Cruise 2019
August 11 - 20, 2019

Budapest to Bucharest Danube River All-Gay Cruise 2019
August 20 - 29, 2019
Allure Caribbean Atlantis All-Gay Cruise 2019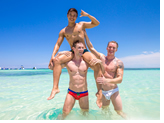 Get onboard Atlantis' legendary Caribbean gay cruise for an all-new adventure in 2019! The world's largest all-gay cruise sets sail in February with 5400 guys from over 60 different nations onboard the epic Allure of the Seas
to four exotic islands. It's everything you've ever dreamed of and more fun than ever with our nonstop festival of spectacular performers, legendary DJ talent, outrageous parties, thrilling activities, and so much more. And did we mention it starts at an incredible $799?
Our all-new itinerary takes you to more places than ever before, as we sail from vibrant gay-central Miami. Start with a full day at Royal Caribbean's spectacular all-new private island paradise of Coco Cay with more beaches and fun than you ever imagined. Some of the world's best diving and awesome adventures await on the magical island of Roatan. Explore Mayan ruins and unspoiled beaches from the remote port of Costa Maya. And get a taste of authentic Mexican charm in dazzling Cozumel, with nearly endless possibilities.

World's Largest All-Gay Cruise 2019
February 3 - 10, 2019