Spend seven unforgettable days cruising on the Adriatic Sea from one island to another, explore beautiful nature, hidden bays and discover divine night clubs in places you will visit. This cruise departs with only gay passengers and gay friendly crew.
Small ship all-gay cruise along the charming Croatian coastline and islands on the new and lavishly designed, fully air-conditioned vessel with spacious en-suite cabins. Itinerary includes exciting gastronomical and sightseeing experiences. and visits to Split, Korcula, Mljet, Dubrovnik, Trstenik, Hvar and Bol.
For this trip all you will need is to book your flights to and from Split Croatia, pack and get ready to enjoy seven unforgettable days cruising on the southern Adriatic Sea from one island to another with the small ship cruiser. Relax and let the captain, the crew and a tour manager, take care of you. Mornings you can relax on spacious decks, sunbathe beside the mini pool or refresh yourself in the Adriatic Sea. Afternoons and evenings are carefully planned for you to explore Croatia's finest destinations with local experts.

Croatia Deluxe Gay Cruise 2018

August 4 - 11, 2018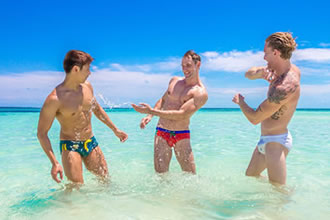 Head further south this winter to explore the deep and exotic Caribbean with Atlantis newest all-gay cruise sailing from San Juan. Five gorgeous islands beckon with the widest variety of thrilling adventures, awesome natural wonders, and vibrant island cultures as we sail the stunning Jewel of the Seas
. It's the perfect blend of true relaxation and the absolute best Atlantis parties, entertainment, and endless fun for 2100 gay guests from around the world.
You haven't truly seen the Caribbean until you've sailed form San Juan, and we've made it easier than ever this year, with rates starting at just $899. It's a remarkable value when you consider all that's included – meals, entertainment, parties, deluxe accommodations, and much more. But don't delay, our friendliest and most relaxing Caribbean cruise sells out every time we offer it!


Exotic Southern Caribbean Atlantis All-Gay Cruise 2018 - March 18 - 25, 2018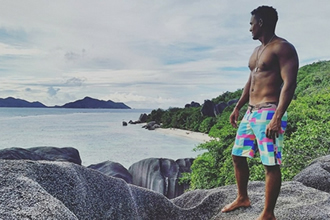 Embark on a Seychelles gay holiday unlike any other, aboard our modern custom built sailng yachts Sea Bird & Sea Star. Whether for diving, snorkelling, kayaking, fishing or just relaxing amidst the world's most beautiful beaches, our cruise in Seychelles offer something for everyone!
Isolated in the Indian Ocean and the only mid-ocean islands of granite formation to be found on earth, the Seychelles archipelago is often mentioned in the same breath as the lost 'Garden of Eden'.

Situated some 1,500 kilometers east of mainland Africa, and northeast of the island of Madagascar, this tiny island group boasts a population of just 90,000 inhabitants, with a warm, tropical climate all year-round and some of the most stunningly beautiful beaches in the world.


Seychelles Deluxe Gay Cruise 2018
August 25 - September 1, 2018
We're taking the biggest celebration in the west to a new and thrilling ship with the best venues yet for a party! Indulge in a week of sunshine with great friends as we sail from San Diego to gay-friendly Puerto Vallarta, seductive Mazatlan, and exciting Cabo San Lucas. Add an awesome lineup of dazzling entertainers, great friends, and the biggest parties you've ever imagined. Sail with 2400 friends from around the world on the stunning Norwegian Pearl for the ultimate celebration as we explore the azure seas of the Pacific. Fresh from a multimillion-dollar upgrade, Pearl features a stunning central pool deck, with incredible open spaces for dancing under the sun and stars. You'll love her innovative modern look, enticing restaurants, full-service spa, and spectacular performance venues.


Mexican Riviera All-Gay Cruise 2018
October 14 – 21, 2018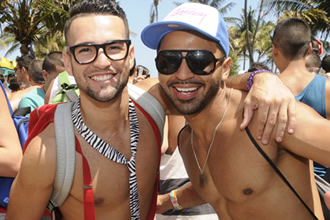 Adonis Holiday & Source Events invite you to join the 9th Annual Miami Gay Pride Cruise 2018 on a 5 Night Cruise sailing from Ocean Drive to Ocean with Pride! We invite you to make history on this first ever Miami Pride Cruise to Cuba! Legendary nightlife. Iconic music. Distinct culture. This is more than a cruise. This is Havana, Cuba. And right now, you can be among the first to explore a place where yesterday lives today. Best of all you'll be joining a group of over 200 LGBT travelers from around the world on this people to people trip to Cuba, extending the magic of Miami Beach Pride in style on the newly renovated Royal Caribbean Empress of the Seas
.
Prices start at only $855 per person, including all the shipboard private parties, meals, special cocktail hours. This year our Pride Cruise is going to Havana for the first time: get ready for an extraordinary, unforgettable journey through Cuba's colorful complex history via the place and people who bring it to life. Book early, as this cruise will surely sell out early. Don't let us sail without you!


Miami Beach Gay Pride Cruise 2018 - April 09 - 14, 2018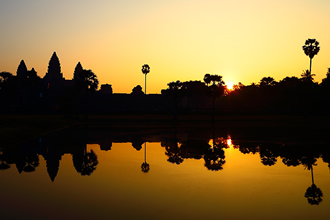 We invite you to join Brand g Vacations from January 3 – 15, 2019 for an all-inclusive, All-LGBT journey, featuring the Temples of Angkor Wat and the mighty Mekong River.
There can be no more striking cultural contrast than the one between bustling Vietnam and the tranquil Cambodia. From the diverse countryside of Cambodia to the Mekong Delta, so rich in human life and endeavor, you'll discover two countries, two cultures, and two ways of life linked by one river, the Mekong.
Join Brand g on a comprehensive 12-night journey through the heart of Vietnam and Cambodia featuring a seven-night cruise charter along the mighty Mekong River. Cruise aboard the all-suite, luxurious Mekong Navigator specially constructed to ply the Mekong River between Ho Chi Minh City and the fabled Siem Reap.


Vietnam & Cambodia Mekong River All-Gay Cruise 2019
January 3 - 15, 2019