Exotic Southern Caribbean All-Gay Cruise
March 18–25, 2018
Royal Caribbean Jewel of the Seas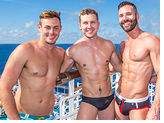 Head further south this winter to explore the deep and exotic Caribbean with Atlantis newest all-gay cruise sailing from San Juan. Five gorgeous islands beckon with the widest variety of thrilling adventures, awesome natural wonders, and vibrant island cultures as we sail the stunning Jewel of the Seas
. It's the perfect blend of true relaxation and the absolute best Atlantis parties, entertainment, and endless fun for 2100 gay guests from around the world. All at outrageous low fares starting at $899!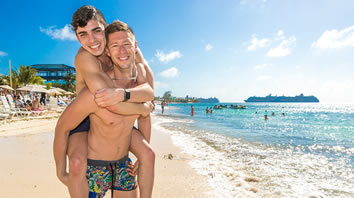 Five Exotic Islands. Seven Perfect Days.
Sail deep into the heart of the Caribbean, where unspoiled beaches become the gateway to unexpected adventures. Start with a relaxing day at sea before arriving on the famous powder-white sands of laid-back Barbados, where British ambience meets Caribbean charm. Gorgeous palm-fringed beaches, miles of unspoiled rainforest and the majestic Piton Mountains captivate all who visit dramatic St. Lucia. Take in true French culture on Martinique, a treasure-trove of colorful architecture, lush gardens and charming fishing villages. Filled with amazing food and shopping, of course.
Finally, we'll spend a day and night on the playground island of St. Barths. Our extended stay lets you truly enjoy this unique island's secluded beaches, tantalizing dining, and easygoing nightlife.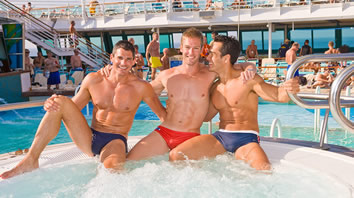 A Jewel Made for Relaxing
Exploring is just the beginning on Atlantis' friendliest and most relaxing gay cruise, and we'll take care of you in grand style onboard Jewel of the Seas. Start with a dip in one of the two sparkling main pools, or soak in an inviting hot tub. Pull up a deck chair to soak up the Caribbean sunshine, or treat yourself to a relaxing massage.
You'll always find friends at the Congo Bar or discover a new wine at Vintages.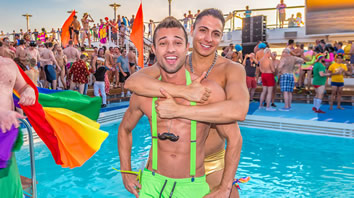 Plenty of Ways to Play
Looking for something more active? Drop in to the fully equipped Vitality fitness center for a workout, or try your skill on the rock-climbing wall high above the sea. Join in a game of volleyball or basketball on the sports court. Dive into one of our pool games for a bit of silly fun. And if golf's your thing there's a full-size simulator, or a playful mini-course on the top deck.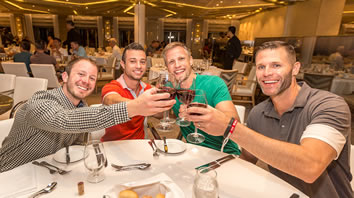 Dining for Friends. And Friendly Dining.
From quick bites between events to leisurely multi-course meals with friends, Jewel offers astonishing and tantalizing dining choices. Join friends old and new in the inviting two-story main restaurant for freshly prepared seasonal cuisine. Grab an easy snack at the poolside pizzeria. Or authentic sushi at Izumi. And for casual bites the Windjammer Cafe offers almost round-the-clock service of delicious fresh food designed just for Atlantis.
For a special night out, indulge in the perfect steak at Chops Grille, or authentic Italian cuisine at Giovanni's Table. Both offer some of the finest meals at sea, with a view to match!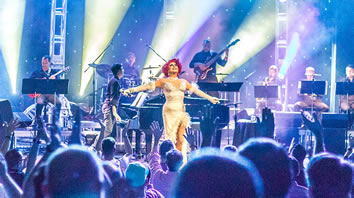 The Stars are Always Out
At night our stars come out, starting with featured Atlantis performers like Miss Richfield 1981, Air-Otic, La Voix and other signature acts. Our two-story main theater hosts a mix of singers, comedians, and specialty acts alongside Jewel's own spectacular production shows. Discover new gay cabaret performers in the Safari Club, or our signature piano acts in the Schooner Bar, along with a few surprises around the ship. There's simply no better way to enjoy the finest performers in the gay entertainment universe!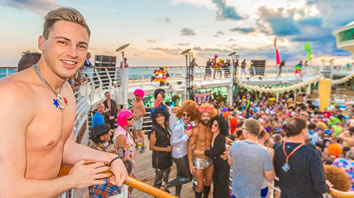 The Perfect Parties
If you're looking for a place to dance, Atlantis strikes the perfect balance between festive and friendly. Our outrageous themed t-dances are the perfect way to spend an afternoon dancing into the Caribbean sunset. Late night, we'll transform Jewel's massive decks into a spectacular outdoor nightclub featuring three of the world's top DJs with awe-inspiring lighting, video, and laser shows. The Atlantis sound is made for dancing with music for every taste, ranging from today's hottest music to classic disco, tributes to the great divas of the 90s, and more.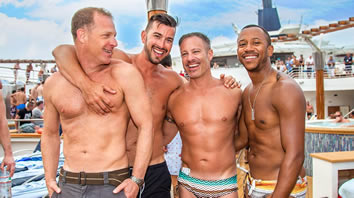 An Amazing Value from $899
You haven't truly seen the Caribbean until you've sailed form San Juan, and we've made it easier than ever this year, with rates starting at just $899. It's a remarkable value when you consider all that's included – meals, entertainment, parties, deluxe accommodations, and much more. But don't delay, our friendliest and most relaxing Caribbean cruise sells out every time we offer it!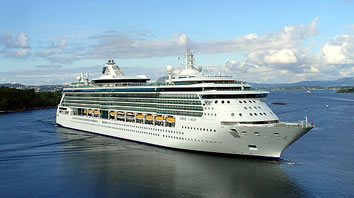 A Modern Marvel
We've always loved Jewel of the Seas
, and with some spectacular new upgrades, she's better than ever! Onboard, you'll find the perfect mix of sophistication, stunning entertainment venues, and a friendly size. It's simply the perfect ship to come home to after a day of exploring.
Jewel will stun you the moment you step onboard, with walls of glass everywhere you turn and a fresh modern look throughout. The five-story atrium welcomes you with the ambience of a contemporary grand hotel. And it's easy to relax with new friends in Jewel's fabulous new lounges.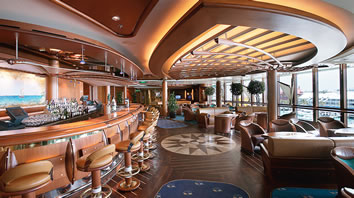 Unique Places to Meet
Jewel features uniquely designed lounges and bars perfect for meeting friends or striking up conversation with friendly strangers. Our social hub is the multi-purpose Safari Club – the place for a perfect martini before dinner or catching some of our gay cabaret talent late at night. Enjoy a glass of wine at Vintages, or settle in for a night of Atlantis piano bar magic at the Schooner bar.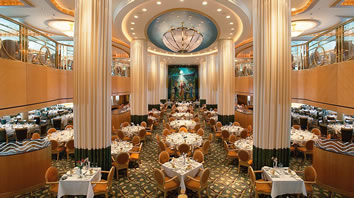 Innovative Dining Everywhere
The dramatic two-story main restaurant offers soaring views of the ocean along with Royal Caribbean's abundant fresh cuisine. As on all Atlantis cruises, we feature open seating and a casual atmosphere with no dress code. There's never an assigned table or dining time, allowing you to enjoy meals at your leisure with friends old and new.
Jewel's new specialty restaurants set the stage for intimate dining experiences perfect for every occasion. Giovanni's Table offers classic rustic Italian with hand-made fresh pastas and more. Dig into a juicy steak at Chops Grille, always a favorite. And authentic sushi with a fantastic view is easy to find at Izumi on the top deck of the ship.
Since we offer events day and night, the Windjammer cafe & bar is open virtually all the time (including Atlantis' famous late-night selections), featuring a variety of choices in a breezy casual setting. There's even an outdoor poolside pizzeria for lunch and snacks throughout the day. Sip a coffee at Café Latte-Tudes, or relax in your stateroom with 24-hour room service. All of it is ready for Atlantis, and designed for the way you like to dine.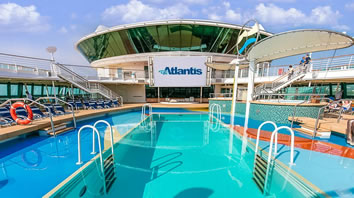 Relax, Rejuvenate & Rejoice
The inviting outdoor pool is perfect for a dip after a long day of exploring. Or relax at our indoor Solarium pool and whirlpools. Unwind with a yoga session or a run on the beautiful outdoor decks. The fully equipped fitness center offers everything from spinning to aerobics classes along with a complete weight-training center. Just leave some time to enjoy the sensory heaven of the Vitality at Sea Spa for true pampering with some of the most fabulous spa treatments ever offered.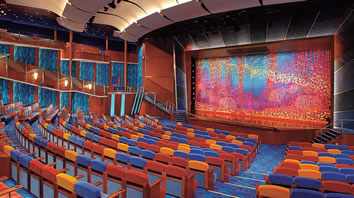 Show-Stopping Showplaces
The entertainment venues on Jewel offer the perfect place to showcase Atlantis' unique combination of talented performers, starting with the Broadway-style two-story main theater. The Safari Club hosts our community's top Cabaret talent, and of course there's the never-ending piano show in the Schooner Bar.
Of course, if you're feeling lucky, check out the world-class casino.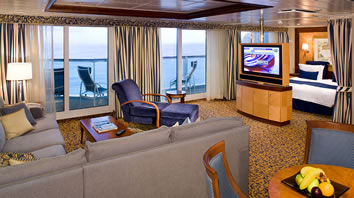 Awe Inspiring Accommodations
When you're final ready to come home, your modern, well designed stateroom features a comfortable bathroom, ample closet space, pillow-top bedding, and an interactive flat-screen television system.
For the ultimate in luxury, Jewel's well-appointed suites feature personalized service and a wide range of pampering features. Guests in Grand suites and above have access to the private Concierge Lounge featuring complimentary afternoon cocktails, canapés, and more.