Welcome to Gay Gran Canaria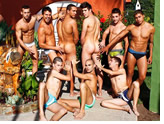 The volcanic Island of Gran Canaria, situated off the coast of Africa, is a gay man's dream - it's got sun, sea and sex in abundance and what's more it's a year round fantasy island. Gran Canaria is the number one gay travel destination in Europe.
Located just 4 hours from most Northern Europe's airports it's an easy destination to obtain that perfect tan. If you want to get a bit cultural head into the mountains where the scenery changes from volcanic dryness to pine forests and evergreen shrubs. More...
Staying There - Gran Canaria Gay Accommodation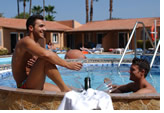 Many gays from all over the world visits the warm and sunny island. Naturally the different accommodations anticipated on this, You can find several gay-only accommodations on the island. of course you can find gay-friendly accommodations as well. So you just can be yourself and no need to worry about what other people will think.
Currently, Happy Gay Travel offers the largest number of exclusively gay accommodation on Gran Canaria.
More...
Getting There - Flights to Gran Canaria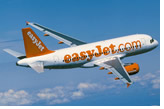 As Gran Canaria is an island, there are no options for getting here other than by air. A ferry service operates from Fuerteventura, but this is aimed at day-trippers only and not as a service for those arriving here on package holidays. More...
The Gay Scene in Gran Canaria

Gran Canaria's gay and lesbian scene is mainly located in the south of the island – Maspalomas and Playa del Inglés. The majority of the gay scene is based in the Yumbo Centre, Playa del Inglés - the main shopping centre by day and den of iniquity by night.
In day time, YUMBO Center is nothing more than a tourist trap, offering cheap souvenirs, clothing and other stuff you don't need to old people from Germany and Scandinavia, too old to bake in the sun all day. But at night, Yumbo transfers into the center of gay nightlife! More...
The Gay Beaches in Gran Canaria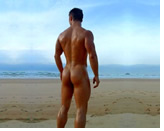 The main gay beach can be found between Maspalomas and Playa del Ingles. Here is where the boys (and slightly older gentlemen) lay down in the sun, hand around at the bar or swim in the ocean.
It's not so much a beach as a piece of desert 8 kms long by 3 kms wide with 4 meter high sand dunes!
the main attraction of the gay beach (and maybe of the whole island) are the sand dunes behind the gay beach.
Keep your valuables at home! More...
Gay Events & useful dates in Gran Canaria

The islands three week carnival usually happens at beginning of February and it's a huge glamorous affair with costumes worthy of a place in a Las Vegas casino.
Gran Canaria hosts a number of gay and gay friendly events each year.
The key dates for 2017 are:
Las Palmas Carnival: February 10 - March 5, 2017 (Drag Queen Gala - February 27, 2017; the Carnival Parade - March 4, 2017)
Maspalomas Carnival: March 4 - 12, 2017 (Theme - Eurocarnaval 2017)
Bear Carnival Maspalomas 2017: March 19 - 27, 2017
Semana Santa 2017: April 9 - 15, 2017
Gay Pride Maspalomas 2017: May 04 - 14, 2017
Circuit Gay Festival Gran Canaria 2017: May 10 - 14, 2017
Gay Pride Las Palmas: Dates TBA
Dunas Gay Festival 2017: August 10 - 15, 2017
Freedom Gay Festival 2017: October 4 - 8, 2017
Maspalomas Fetish Week 2017: October 7 - 15, 2017
Maspalomas Winter Pride 2017: November 6 - 12, 2017
German Carnival 2017: November 11, 2017
Together Gay Winter Festival 2017: December, 2017
More...
Gran Canaria Gay Weddings and Celebrations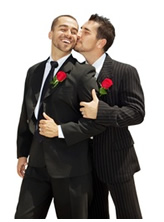 The realisation that you want to commit to your partner is one of the most exciting moments of your lives and one worthy of the very best gay wedding ceremony and celebration, according to your individual needs.
Where to start! With such busy lives and so much information that perfect day can seem like a nightmare instead of a dream gay wedding.We can make your dream a reality. So whether you are looking for a commitment ceremony, civil partnership, affirmation or celebration, let the specialist gay wedding planners in Gran Canaria create your perfect dream day. More...