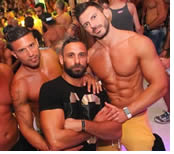 Dance. Sun. Swim. The perfect Weekend in the the most amazing location! As the weekend comes in and the parties only get hotter, join tens of thousands of tourists from all over the world for the annual XLSIOR gay festival in Mykonos, Greece. The best DJs in the world, the most beautiful Mediterranean beaches, and the hottest guys come together on this serene Grecian isle of GAY vibrancy and pride.
No other place in the world loves the proud gay community as much as Mykonos. From its early years of glory, this outstandingly stunning Greek Isle showed an unprecedented openness to its audienceís sexual orientation, and for this reason Mykonos became one of the worldís premiere gay destinations. The XLSIOR Annual Gay Festival, which will take place this year between August 22nd Ė 29th, attracts tens of thousands of visitors Ė who will not only have the time of their lives dancing night and day, but will swim in the serene beautiful waters, fall in love and discover a vast array of gay friendly sites for accommodation, food and drink.
OUTstanding Travel makes your XLSIOR experience as seamless as possible, from accommodations at the best hotels on the Island and reservations at the trendiest restaurants to ensuring your entry to all of the dance parties, with world class DJs and fabulous dancing. Avoid the hassles of limited vacancies and sold out soirees and come feel the Gay Vibe of Mykonos with OUTstanding Travel and experience the XLSIOR 2018 Festival the right way, the OUTstanding way.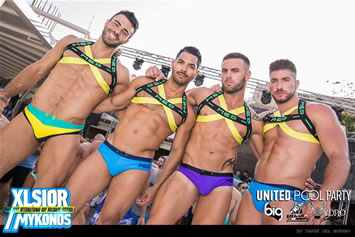 Day 1 - Mykonos, Greece, Thursday, August 23, 2018
Welcome to Mykonos! Upon arrival at Mykonos Airport, you will be greeted by our OUTstanding Travel Representative, who will assist you with your baggage and escort you to transfer to your hotel for the first of many overnights in one of the most fabulous islands on Earth! Mykonos is a world hub and capital of gay vibrancy and pride, a paradise combining golden beaches with a world-class nightlife, incredible culture and cuisine, and beautiful architecture, as seen in its breathtaking snow-white seaside structures.
The night is young, so join the OUTstanding Travel representative and start your pub crawl to experience the vibrant and exciting nightlife of Mykonos (drinks are not included).
Overnight in Mykonos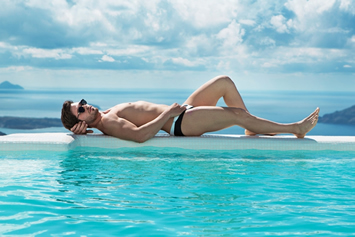 Day 2 - Mykonos, Greece, Friday, August 24, 2018
After a delicious Greek breakfast take some leisure time to relax at the hotel pool or get acquainted with the town reflecting Greek authenticity combined with upscale elegance.
Stop by the day's party and have some midday fun or head over to one of the island's serenely beautiful beaches and spend the day under the Mediterranean sun and in the sparkling waters.
Have a nice dinner and a couple of cocktails in one of the lively bars that the town has to offer before making your way to the next party, and as the sun sets and the night gets darker the music only gets louder and the party only gets wilder.
Overnight in Mykonos.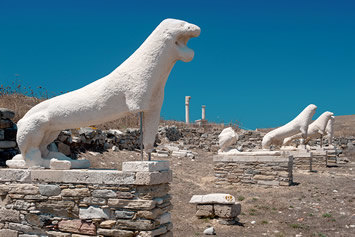 Day 3 - Mykonos - Delos, Greece, Saturday, August 25, 2018
After a delicious breakfast at the hotel get ready for a morning tour of one of the most important mythological, historical,and archeological sites in Greece.
You will be taken to the old port and after arrive at Delos after enjoying a 30 minute boat ride. This Island is believed to be the renowned birthplace of Artemis and Apollo and also a trading and religious center of antiquity. Our English speaking guide will introduce you to this magnificent open air museum while explaining every single detail and answering all of your questions.
The cruise ends midafternoon as you return back to Mykonos and have the rest of the day at your leisure. Wander around the town of Mykonos for some shopping in one of its many designer shops and boutiques, or relax at one of the lovelywaterfront cafes.
At night hit up the beachfront party and dance to your heart's desire and enjoy the music all night long.
Overnight in Mykonos.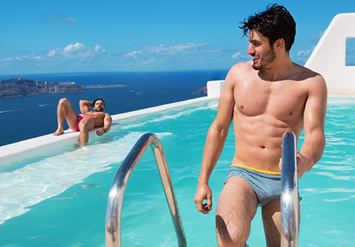 Day 4 - Mykonos, Greece, Sunday, August 26, 2018
Start Sunday right and enjoy breakfast at your hotel followed by a quick dip in the pool and a stroll by the beautiful waters. Find your way to one of the island's amazing beaches, such as Kaparis beach or Elia beach. Relax the day away and just glance upon the gleaming waters until sunset and then head on backs for the night's party, where the music never gets old and the dancing only gets crazier.
Overnight Mykonos.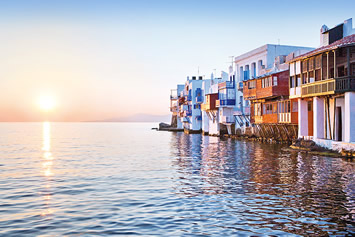 Day 5 - Mykonos, Greece, Monday, August 27, 2018
Following breakfast, check out from the hotel and transfer to Mykonos Airport for your flight back home taking with you everlasting memories of Mykonos, and a great tan too!
Goodbye and AntŪo and see you soon!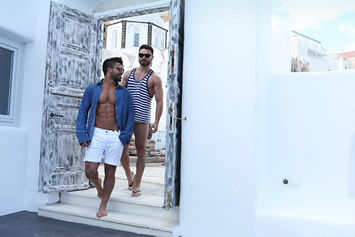 Select from 7 different Mykonos hotel options.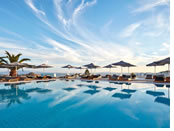 The Myconian Ambassador is a luxury hotel in Mykonos, capturing the essence of Myconian charm and the celebrated Ďart de vivreí of Relais & Ch'teaux. Mere steps from the fine sand of Platis Gialos, and built in sympathy with the slope, its architecture blends contemporary chic with tones and textures borrowed from the local vernacular.
Interiors that embody the clean line and cool sophistication of high design flow into the quiet comfort of luxurious bedrooms, or spill out onto the spectacular terrace that is the heart of the hotel, all without ever breaking the spell of magnificent Aegean views.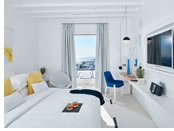 Aptly named Stay, the terrace is a world unto itself, beating to different rhythms throughout the day: after a leisurely breakfast at Latitudes, mornings drift effortlessly into perfect poolside afternoons, with light meals and drinks from Georgeís bar. And as shadows lean towards evening, guests return from the beach to mingle over sunset cocktails, before dining in the candle-lit glow of Efisia, one of the islandís top tables.
The stylish rooms at the Myconian Ambassador Relais & Chateaux have Aegean-Sea views. Facilities include a satellite LCD TV, CD/DVD player and minibar. At the spa centre, guests can pamper themselves with color therapies, Pantai treatments and body massages. It also offers an indoor pool, a hot tub and Ligne St. Barthes products.
Myconian Ambassador Hotel in Platis Gialos, Mykonos (True Blue Room)
Double Occupancy: from €2,060 EUR per person
Private Single Room: from €3,670 EUR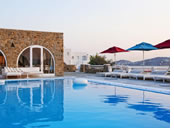 Kouros Luxury Boutique Hotel and Spa in Mykonos town was founded in 1994 and is one of the premier establishments to vacation in the Greek Islands. Completely renovated in 2016 by renowned French designer Fabienne Spahn, Kouros Hotel and Suites offers its guests an exclusive, elegant, relaxing experience all within the idyllic setting of Mykonos Island.
Kouros is a jewel of traditional and modern architecture, which combined with its unique location, a cliff near Mykonos town with panoramic views of the town, the sea, and the breathtaking sunsets, creates the charming mood necessary to fully enjoy our beautiful island.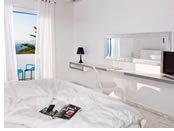 Kouros Hotel and Suites is ahead of the luxury accommodation in Mykonos. All suite types offer unique amenities and promise to deliver the most luxurious vacations in Mykonos town. The size of the suites gives a home away from home feeling and the magnificent sea view from each and every veranda adds to the amazing travellerís experience.
Chef Yiorgos Roussakis is introducing a signature menu for Kouros Hotel & Suites by combining traditional Greek tastes with the modern dining scene. The finest ingredients are hand picked by local markets to meet the needs of the refined menu.
Kouros Boutique Hotel in Mykonos Town (Classic Sea View Room)
Double Occupancy: from €1,895 EUR per person
Private Single Room: from €3,340 EUR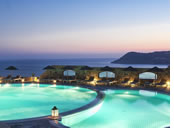 Royal Myconian Hotel & Thalasso Center is among the leading luxury hotels in Mykonos. Set in a secluded bay near Mykonos Town, overlooking its own sandy beach offering a serene and sophisticated escape. Overlooking its private sandy beach, the luxurious Royal Myconian Resort boasts elegant rooms with spectacular views of the Aegean and extensive spa facilities. Guests are offered a free thalassotherapy session each day.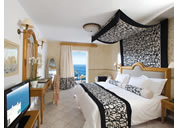 The elegant guest rooms at the Royal Myconian Resort have seating areas, LCD TVs and DVD/CD players, while rooms and suites with private pools or hot tub are also available. Maid service is provided twice each day.
A rich buffet breakfast is served each morning at Elia Restaurant. Ambrosia a la carte restaurant proposes fine Mediterranean flavours and offers breathtaking views of the pools and the sea. Refreshing cocktails are served at the 3 on-site bars dotted around the pools.
Royal Myconian Hotel in Elia, Mykonos (Premium Room)
Double Occupancy: from €1,520 EUR per person
Private Single Room: from €2,595 EUR
Upgrade option
* Supplement for a Premium Room with an Outdoor Jacuzzi - EUR 560 per room for 4 nights.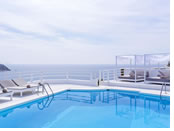 Pietra e Mare, member of the Small Luxury Hotels of the World, is situated in Kalo Livadi, one of the most beautiful beaches, 12 km from Mykonos Town, overlooking the Aegean Sea. Providing the ultimate peace and tranquillity, this charming boutique hotel has a superb restaurant with a fine wine list and an inviting pool surrounded by sun loungers.
Guests can enjoy a-la carte menus at the hotelís restaurant or spend lazy days by the hotelís fresh-water swimming pool.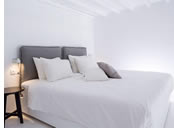 Each one of the 30 stylish rooms and suites has a balcony or terrace with a breathtaking and endless sea view. Enchanting white and blue interiors reflect the islandís whitewashed houses and the deep blue of the sea. The ambiance at Pietra e Mare Beach Hotel is totally relaxing with attentive yet discreet service. The intimate garden lounge area with hammocks and cushions between the palm trees, transform the hotel into the ultimate hideaway.
The cosmopolitan Mykonos Town, as well as the airport and the port, are only a 10-minute drive.
Pietra e Mare Hotel in Kalo Livadi, Mykonos (Classic Room)
Double Occupancy: from €1,440 EUR per person
Private Single Room: from €2,245 EUR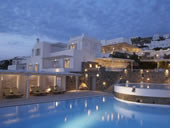 Situated over the old port of Mykonos and close to Mykonos Town and the traditional windmills, Porto Mykonos Hotel features a freshwater pool pool. Free public WiFi and a gym with sauna are available.
The Porto Mykonos rooms feature Cycladic and modern elements. Each is air conditioned and includes an LCD TV with satellite channels and a CD/DVD player. Several rooms have balconies that offer sea and sunset views.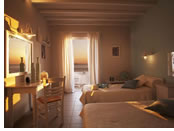 Mediterranean dishes are served at the hotelís ŗ la carte restaurant with sea-view terrace. The Porto Mykonos Hotel lounge pool bar offers cocktails and light snacks in a relaxing environment. 24-hour room service is provided.
Mykonos Town is a 5-minute walk, while the hotel is only 300 m from the nearest beach. The hotelís front desk will assist guests with island information, maps, transfers and sightseeing tours. A private parking area is also available.
Porto Mykonos Hotel in Mykonos Town, Mykonos (Classic Room)
Double Occupancy: from €1,380 EUR per person
Private Single Room: from €2,145 EUR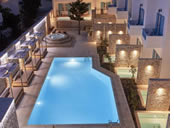 This property is 1 minute walk from the beach. Mykonos Kosmoplaz Beach Resort Hotel boasts a privileged location right on the blue-flagged beach of Platis Yialos, 3 km from Mykonos Town. It offers a swimming pool, an hydromassage tub and a rooftop restaurant with panoramic sea view.
Guests are complimented with a daily, 20-minute use of the hotelís hydromassage tub. Free Wi-Fi is available at all public areas.
Guests may start their day with an American buffet breakfast and a Greek breakfast or enjoy refreshing drinks and cocktails at the roof garden.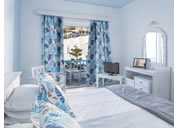 All air-conditioned rooms at Kosmoplaz feature a balcony with views of the pool or the Aegean Sea. They are equipped with a flat-screen, satellite TV and a minibar.
Within 100 metres, there is a bus station connecting to Mykonos town. Free 1-way transfer from the port and airport is provided by the property. The water taxis that can take guests to famous beaches, such as Super Paradise, can be found at 15 m. The popular beach of Psarou is just a 5-minute drive away. Private parking is provided on site free of charge.
Kosmoplaz Beach Resort Hotel in Platis Gialos, Mykonos (Pool View Room)
Double Occupancy: from €1,260 EUR per person
Private Single Room: from €2,070 EUR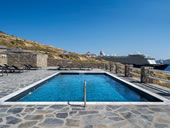 This property is 1 minute walk from the beach. Situated on the seafront and overlooking the picturesque bay of Agios Stefanos and the port of Mykonos City, Alkistis offers tastefully decorated accommodation with free WiFi. Free private parking and complimentary buffet breakfast are included.
Each of the spacious rooms at Alkistis Hotel is well-appointed with air conditioning and a fridge for chilling drinks. Enjoy a beautiful sea view from your private balcony. Relax on your comfortable bed and watch satellite TV.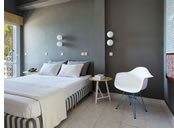 Alkistis Hotel provides a peaceful and relaxing base, close to the action of Mykonos. It is just 500 m from the new harbour in Tourlos and 2.5 km from the centre of Mykonos. You can rent a bike or a car from Alkistis and explore vibrant Mykonos.
Alkistis Hotel in Agios Stefanos, Mykonos (Superior Room)
Double Occupancy: from €1,090 EUR per person
Private Single Room: from €1,675 EUR