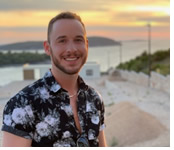 A unique small ship gay cruise on the lavishly designed new deluxe MS Zeus. Cruise along the charming Northern Croatian coastline and islands from Split, including exciting sightseeing experiences and visits to Island of Vis, Sibenik, Kornati Islands, Zadar, Vodice, the famous waterfalls of Krka and Trogir, and more. Indulge all your senses, explore inspiring destinations, fishermen's villages and small and cosy restaurants on shore for tasting local Adriatic cuisine and nightlife.
With only 38 passengers on board, this is a relaxing gay cruise experience within a very friendly atmosphere. Intention of this cruise is to show beauty of Croatia islands and thousand year old cities and their rich history, to present Croatian lifestyle and heritage.
The Itinerary is carefully prepared in order to give you right enough time to experience current history, sufficient time to undertake your own explorations of medieval towns and islands and have time for sightseeing, wine tastings, enjoy island's dinner at cosy restaurants...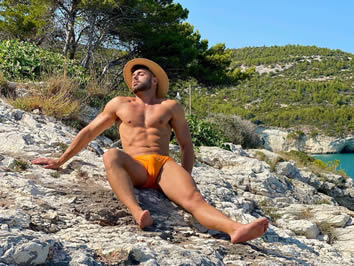 Enjoy seven unforgettable days cruising on the Northern Adriatic Sea and hop from one island to another with this small ship cruiser. Relax and let the captain, the crew and our tour manager, take care of you. Mornings you can relax on spacious decks and sunbathe or refresh yourself in the Adriatic Sea. Afternoons and evenings are carefully planned for you to explore Croatia's finest destinations with local experts.
During this amazing gay cruise you will have the opportunity to visit the various gay and nudist beaches of the beautiful islands. Naturism is authorised on the sundeck, except when we are docked in the port.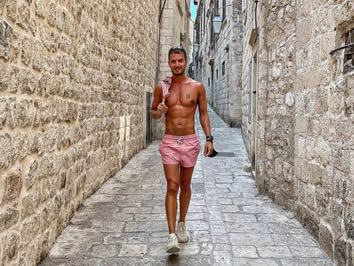 Northern Croatia Deluxe Gay Cruise 2023 Itinerary
Day 1 - Saturday, September 23, 2023
Split, Croatia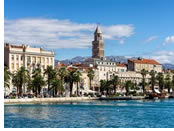 Bok! Welcome at the airport of Split (SPU), and transfer to the port.
Split, this ancient city developed around the Roman Diocletian's Palace, built by the Roman Emperor Diocletian over 1,700 years ago. The emperor had this impressive palace built to be able to spend the last years of his life after his abdication here. Diocletian's Palace and many other monuments from Roman times have been preserved in very good condition. The palace is unique in the world, as it has been inhabited for 1700 years. The famous cathedral is located in the palace and was built on top of the mausoleum of Emperor Diocletian. It was named after the patron saint of Split, Hl. dujam. Various events with local music and dance take place in the preserved parts of the palace and in the palace cellars.
Embarkation is possible throughout the day. Passengers arriving in the morning will have access to their cabins from 1pm, but can also leave their luggage on board earlier. You can visit Split's historic center (Unesco World Heritage Site) on your own. This maze of narrow medieval streets full of restaurants and street cafés is very pleasant. The ship always docks in the heart of each city, so you can come and go as you please.
In the evening a welcome dinner is served and the crew is introduced by our Cruise director.
Overnight stay in Split.
Day 2 - Sunday, September 24, 2023
Split / Island of Vis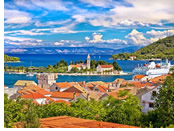 During breakfast, we sail to Vis Island.
Before lunch, our welcome cocktail is an opportunity to meet the captain, crew, and your fellow passengers.
After lunch on board, the captain casts anchor in a beautiful bay for a swimming stop.
Then we sail on to Vis. The island has a long maritime history and fishing was the main industry on Vis until recently. There are still many fishing boats in the main town of Vis and in the town of Komiža in the south-west of the island, but now there are more sailboats and yachts. Between World War II and 1995 (when the island was liberated by Tito's partisans), the island was an important army base, and part of the old tunnel network can still be visited. Since the island was reopened to tourism, more visitors come every year, but fortunately the number of visitors is still small enough to preserve its beautiful nature. Along the boulevard you will find cosy restaurants and all over the island there are beautiful sandy beaches such as the beach in Milna and the beach Stoncica. The archaeological museum of Issa is also worth a visit.
Free evening and overnight in Vis.
Day 3 - Monday, September 25, 2023
Island of Vis / Biševo / Šibenik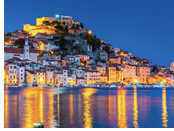 Weather permitting, today over breakfast we will sail to the neighbouring island of Biševo to visit the famous Blue Cave. With its surprisingly blue light and luminous water, it is not difficult to guess where the Blue Cave of Bisevo (Modra Spilja) gets its name from. The natural wonder is hidden in the cliffs along the island's coast and can only be reached by small boats if it is not too windy.
We then continue towards Šibenik. Swim stop on the way for a dip in a sheltered bay. Lunch on board.
Arrival in Šibenik and city walk with our local guide. Šibenik, first mentioned in 1006, is the youngest of the larger towns on the coast and at the same time the oldest town in Croatia. Šibenik was not founded by Greeks, Romans, or Byzantines, but by Croats themselves. The most famous building in the city centre is St James' Cathedral, the most important Renaissance monument in Croatia.
Free evening to enjoy the many cosy restaurants in the old harbour and overnight in Šibenik.
Day 4 - Tuesday, September 26, 2023
Šibenik / Kornati Islands / Zadar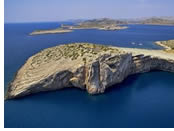 Over breakfast, we continue our cruise to Zadar, sailing past the Kornati Islands in the morning.
Along the way, we have time to take a dip in the clear waters. Irish Nobel laureate George Bernard Shaw described it this way: "On the last day of his creation, God crowned his work and created the Kornati Islands out of tears, stars and sky". Beautiful nature, countless small and larger islets (popularly called "an island for every day of the year") make the Kornati Islands a unique paradise. With 147 islands and reefs in an area of 320 km˛, it is the largest archipelago in the Adriatic Sea.
Lunch on board is followed by a city tour of the beautiful city of Zadar. The guide will show you the main sights, including the Roman Forum, Sveti Donat church, Sveta Stošija cathedral and the world-famous and unique sea organ, whose sounds and melodies are determined by the waves.
Free evening and overnight in Zadar.
Day 5 - Wednesday, September 27, 2023
Zadar / Vodice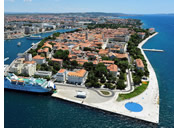 After breakfast, we sail on to Vodice. En route, we anchor in a bay and stop for a refreshing swim.
During lunch we sail on to Vodice, a lively coastal town with plenty of nightlife, cosy terraces with live music, souvenir stalls open until late in the evening and beautiful beaches. The old centre of Vodice is not large, but very cosy.
Free evening and overnight in Vodice.
Day 6 - Thursday, September 28, 2023
Vodice / Krka Waterfalls / Trogir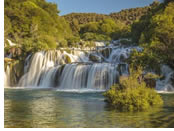 From Vodice we take a bus to Krka National Park with its beautiful waterfalls.
Be sure to visit the "Skradinski Buk", the most famous part of the waterfalls (entrance fee to the park incl. boat transfer approx. €25, payable locally). After the visit, we return on board for lunch.
During lunch we sail on to Trogir, where a guided visit with a local guide is on the programme. Trogir is a small town known for its old town centre and the Romanesque portal at the entrance to St Ivan's Cathedral, which is under UNESCO protection. In the town and on the promenade, you will find terraces, ice cream parlours and restaurants.
Captain's dinner on board, followed by a party. Overnight at anchor, weather permitting.
Day 7 - Friday, September 29, 2023
Trogir / Split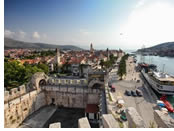 Breakfast and visit of Trogir.
After breakfast, the MS Zeus departs for Split. On the way, we take time for a swimming stop.
Split is the largest city in Dalmatia. The city has existed for more than 1,700 years and has been part of the Unesco World Heritage Site since 1979. At the heart of the city is the perfectly preserved 'Palace of Diocletian', a Roman emperor who settled in Split in the 3rd century. Split has a rich cultural life with numerous museums, the National Theatre, ancient churches, and archaeological sites, but it is also particularly pleasant in the many restaurants and bars in the narrow streets of the medieval city centre.
Guided city walk with our local guide and visit to Diocletian's Palace. Lunch on board.
Free afternoon and evening. Overnight in Split.
Day 8 - Saturday, September 30, 2023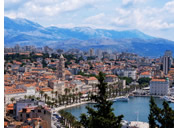 Split / Departure
After breakfast on board, set off again to explore Split. Highly recommended is the colourful market where most locals do their shopping every morning.
Around noon, it is time to say goodbye to the MS Zeus.
Note: The order of visits may change depending on weather conditions and is at the captain's discretion. The swmming stops are also always weather-dependent to ensure the safety of the passengers.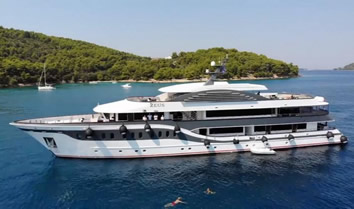 Your Ship - Deluxe M/S Zeus
MS Zeus is 50m long, 8,8 m wide luxury yacht-like ship that will satisfy your refined expectations for a comfortable cruise along the Croatian Coast. Built for the season 2019 with latest state-of-the-art equipment and amenities, guaranteeing an intimate cruise for all guests.
The vessel has 19 exquisite cabins and a maximum capacity of 40 passengers. 8 standard deck cabins (14-16m˛), 11 main deck cabins (13-16m˛) of which 1 cabin on the captain's deck (14m2).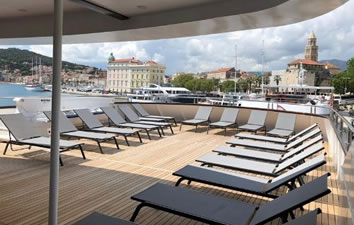 Closed Circuit Video surveillance, complete navigation equipment, fire alarm, smoke detectors, life rafts and tenders are there for your personal safety.
Extra-large fully air-conditioned salon-restaurant on the upper deck, with separate bar and lounge area, big screen LCD TV, corner table for buffet breakfast, free Wireless Internet, loud-speakers and audio-system for announcements by the Captain or the cruise manager, beautiful large windows for complete passenger's satisfaction.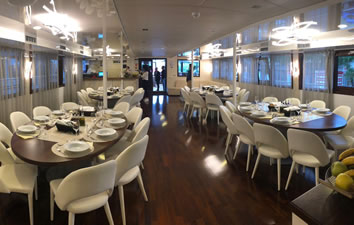 Outside fully covered terrace with sitting area, tables and chairs. The terrace can be closed with a tarpaulin (in case of winds) but usually it's open for a breathtaking "sea view".
The ship has a swimming platform, 2 ladders with handholds for an easy access to the water and two outdoor showers and public toilettes.
On the high deck is a sun deck that covers 390 m2 with sun-beds, while part of a sun deck is shaded for passengers' comfort. Here you can enjoy our Elegance Rooftop Jacuzzi designed to ensure an unforgettable cruise.