Costa Favolosa
Ship Facts
Gross Tonnage: 113,216
Length: 951 feet
Beam: 130 feet
Cruising Speed: 22 knots
Guests: 3,800
Crew: 1,100
Staterooms: 1,508
Decks: 13
Ships Registry: Italy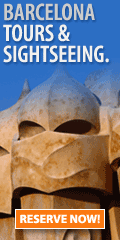 Transatlantic Brazil Gay Group Cruise 2023
From Barcelona to Rio de Janeiro
15 nights from Barcelona, Spain to Rio de Janeiro, Brazil
November 21 – December 06, 2023
Costa Cruises Costa Favolosa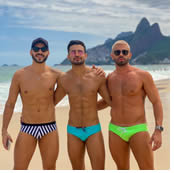 Let's go to Brazil! Join us on this gay group cruise that will cross the Atlantic from Barcelona to Rio de Janeiro! Join us on unique Transatlantic gay group cruise on board of the Costa Cruise's glamorous Costa Favolosa
from gay friendly Barcelona in Spain to gay favourite Rio de Janeiro in Brazil. Experience an exotic trip across the Atlantic, and visit off-the-beaten path ports of call in Spain, Canary Islands & Brazil. A unique Transatlantic gay group cruise opportunity!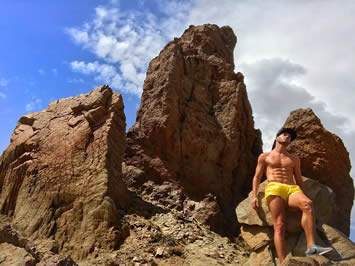 Cross with us the Atlantic Ocean in a 15 days trip from Europe to South America. Visit Cadiz in Spain, Lanzarote & Tenerife in Canary Islands, Recife, Salvador de Bahia & Ilheus in Brazil and get ready to discover all the secrets of the Costa Favolosa during the Atlantic crossing week. Take advantage of every moment to meet our gay group new friends, enjoy all the features on board, and once you're in the Rio de Janeiro...The adventure can go on!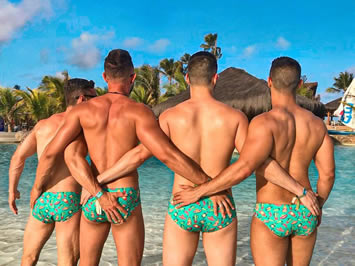 This is a country where, against the backdrop of a harsh and difficult nature to tame, there is no lack of luxury, beauty, shopping and above all a crystal clear sea for fantastic dives. A thrill not to be missed during our cruise to Dubai is watching the sun set to create the blackest of nights, full of stars, peace and immense beauty.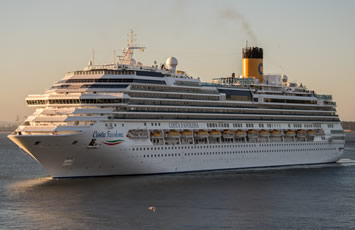 Costa Cruise's fairytale Costa Favolosa
Costa Favolosa is almost like a floating castle - a magical place with over a thousand rooms, enchanting lounges, sophisticated atmosphere and luxurious decor. With shows, games, music, parties, and much more, there is fun to be had in every corner of the ship, from morning til night. Dining on Costa Favolosa is out-of-this-world; delicious dishes prepared with the best ingredients will greet your tastebuds at every meal. The ship itself features 1,508 cabins, of which 103 have direct access to the spa, 594 of which with their own private balcony, as well as 56 suites (all with a balcony) and 12 exclusive suites with direct access to the spa. There are five unique restauants, thirteen bars, four swimming pools and five Jacuzzis, as well as the Samsara Spa - a 6,000 square meter relaxation area which spans two levels. This ship is fully equipped for fun in the sun.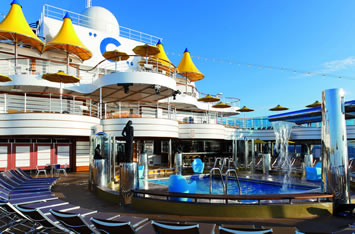 Activities on Costa Favolosa
Guests of Costa Favolosa will revel in the myriad activities that are available for everyone. The ship is home to four swimming pools (two of which have retractable covers in case of inclement weather), as well as a children's pool and a water slide; there are also five Jacuzzis aboard for you to relax in at your leisure. The Samsara Spa offers 6,000 square-meters of spa luxury; it hosts a gymnasium, a thalassotherapy pool, treatment rooms, baths, a sauna, a Trukish bath and even a UVA-ray solarium! The ship boasts a multi-purpose sports court, as well as a pool deck with a gigantic screen. There's even a 4D cinema.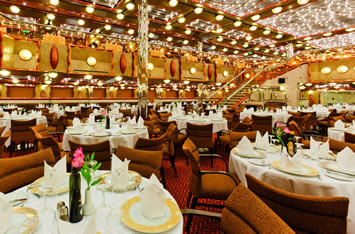 Dining / Food on Costa Favolosa
Costa Favolosa is the home of five unique, delicious dining venues. Each with its own personality, and a different menu each day, your taste buds will be tantalized at every meal! You'll be seduced by the smell of freshly prepared breakfast, lunch and dinner as they waft the corridors of the ship; with a buffet of tasty sandwiches and salads, lunch is a specially prepared banquet, while dinner brings many special options, including the Samsara Restaurant, a part of the Samsara Spa where you can enjoy tasty, healthy meals.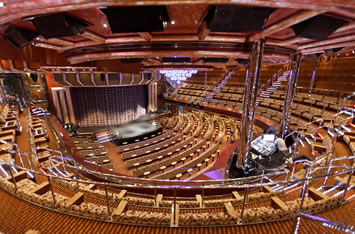 Entertainment on Costa Favolosa
This wondrous ship features 13 different bars and lounges, including specialty themed bars. There is a Cognac and Cigar Bar, as well as even a Coffee and Chocolate Bar. There is a casino on board, as well as a theatre that spans three decks and even a Disco where you can dance the night away! Each evening is magical, and full of games, music, shows, dancing and so much more. You'll be able to spend your night just the way you want: the choice is yours - have a night out, or a more quiet, intimate cocktail on the deck. There's something for everyone to enjoy!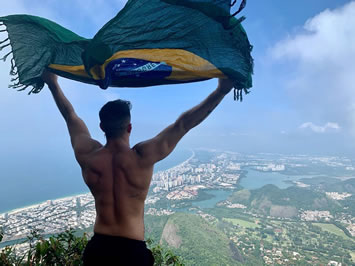 What's Included?
The price of this cruise includes:
• A wonderful 15 days / 14 nights Transatlantic cruise from Barcelona to Rio
• Free access to every show on board the ship
• Free access to every AmbienTravel's Gay Group Parties
• Meals: breakfast, lunch, dinner and supper (at the main restaurant or at the buffet)
• Benefits of the Costa Club program on board for all repeating passengers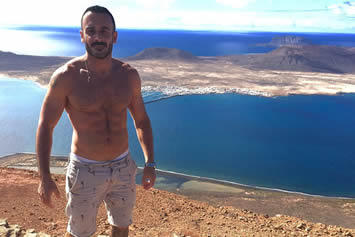 Not Included
• Gratuities: The service tips are not included on the final price and must be payed on board (154€)
• Private Tours: One month before departure, we'll send to all the members of our group a list of the private tours we'll ofer on the ports we visit. Each tour has to be payed individually and they are not included on the final price.
• Travel & Cancellation Insurance
• All Inclusive Beverage Package
• Flight back to Barcelona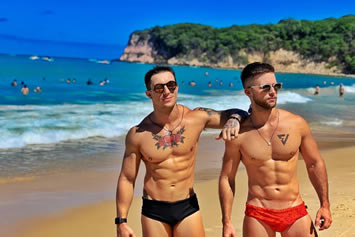 Optional Post Cruise Pack
Extend your holidays in Rio de Janeiro with this Post-Cruise Pack that includes:
• 3 Hotel Nights in Rio de Janeiro
• Transfers
• Flight back to Spain
More info TBD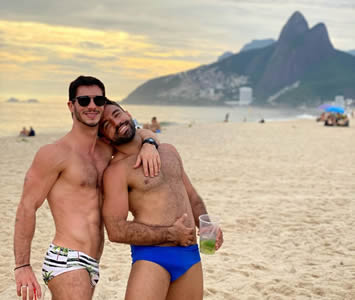 Transatlantic Brazil Gay Cruise 2023
Itinerary


Date

Port

Arrive

Depart

21 Nov
Barcelona, Spain
2 PM
22 Nov

Fun Day at Sea!

23 Nov
Cadiz, Spain
8 AM
6 PM
24 Nov

Fun Day at Sea!

25 Nov
Arrecife, Lanzarote (Canary Islands)
9 AM
6 PM
26 Nov
Santa Cruz, Tenerife (Canary Islands)
9 AM
5 PM
27 Nov

Fun Day at Sea!

28 Nov

Fun Day at Sea!

29 Nov

Fun Day at Sea!

30 Nov

Fun Day at Sea!

01 Dec

Fun Day at Sea!

02 Dec
Recife, Brazil
8 AM
3 PM
03 Dec
Salvador de Bahia, Brazil
2 PM
11 PM
04 Dec
Ilheus, Brazil
8 AM
4 PM
05 Dec

Fun Day at Sea!

06 Dec
Rio de Janeiro, Brazil
8 AM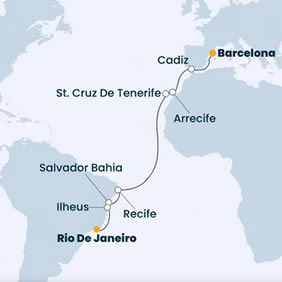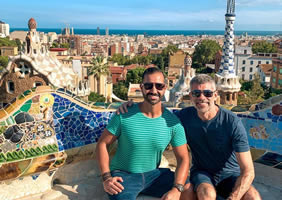 Day 1 - Barcelona, Spain
Barcelona is one of the most popular cities for cruises in the Mediterranean, and the port of Barcelona
is ready to surprise you. Barcelona's gay nightlife. Among the "ramblas" we discover great food and rivers of beer, but we are always under the watchful eye of Gaudi, who captured and expressed the soul of this place. The city is home to an innovative contemporary art museum, the Sagrada Familia Cathedral and the Camp Nou. Also, after these popular destinations, you can discover the Catalan culture. Take a walk down La Rambla before visiting the Picasso Museum. The Spanish capital is packed full of memorable architecture.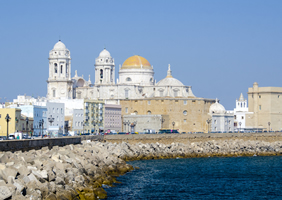 Day 3 - Cadiz, Spain
Make a stop in Cadiz, an Andalusian town that gives its name to the region it is capital of and the gulf on whose heights it stands proud. Its buildings are characterised by influences, in chronological order, of the Carthaginians, Romans, Moors and the Christians. The port of Cadiz was the departure point of the expedition that led to the discovery of America. Here you can admire the charming seafront promenade and the 3 km bridge that crosses the bay. Don't miss the chance to taste "tapas de chorizo" or see a flamenco show.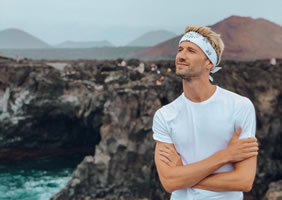 Day 5 - Arrecife, Lanzarote (Canary Islands)
A visit to Arrecife, Lanzarote, will literally sweep you away into another world. When you step aground you will find yourself in a lunar landscape created by the coming together of the ocean and the lava. Hard to forget. It is the volcanic nature of the Canaries that makes this a unique land. The town is a quiet location where one can enjoy a pleasant stroll but if you're looking for something more exciting you should book an excursion to the Timanfaya National Park to take a close look at the volcanic activity that has shaped the hills, canyons and the strange rocky formations that characterize the island.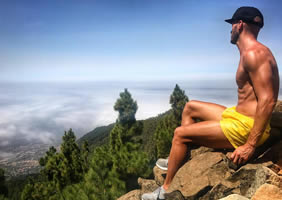 Day 6 - Santa Cruz, Tenerife (Canary Islands)
Santa Cruz is a cosmopolitan city of different influences and varied trends, as you can see from the mix of historic buildings and modern architecture. After leaving the port, start your tour with a visit of the Auditorio de Tenerife and the "Circulo de Amistad." Then take a visit to the Nuestra Señora de África market, where you will find crafts and artisanal products made from natural ingredients, as well as the famous wine of the region. Finally, check out the local cuisine made with potatoes, chilies and exotic spices.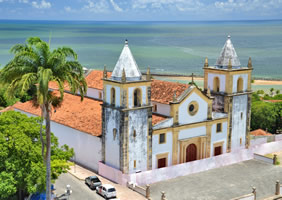 Day 12 - Recife, Brazil
Also known as the "Venice of Brazil", because of its bridges and canals, it takes its name from the coral reef that faces the famous coastal bathing resorts. Recife, a dynamic, sprawling city of over four million with a booming economy and two major ports. The city centre – the three islands of Santo Antônio, Boa Vista and Bairro do Recife – is a compelling mix, once you get used to it (a bit like Rio's old downtown). The city centre is completely safe and the regenerated Bairro do Recife area in particular is a real gem, more akin to belle époque Europe than to the rest of Brazil.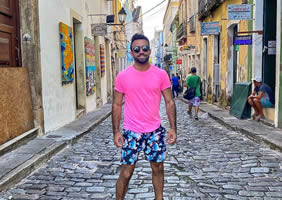 Day 13 - Salvador de Bahia, Brazil
Here you'll experience the true essence of Brazil: an intense and mystical city where a thousand souls pulsate together as one heart that never stops. High above the enormous bay of Todos os Santos (All Saints), where your cruise ship awaits your return, Salvador de Bahia has an electric feel from the moment you arrive. This is the great cultural and historical centre of Brazil, where Afro-Brazilian heritage is strongest and where capoeira, candomblé and samba de roda were created. The centro histórico of this magical place, a melange of narrow cobbled streets, peeling purple walls, grand Baroque churches, kids kicking footballs, rastas, locals sipping bottled beer on plastic chairs, the wafting aroma of herbs and the almost constant beating of drums, especially as the sun sets. Beyond the old town Salvador is a vast, sprawling city, with a vibrant beach life, modern skyscrapers and plenty of favelas.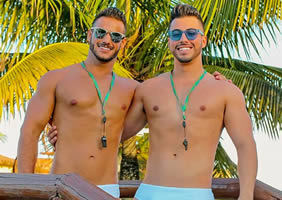 Day 14 - Ilheus, Brazil
Take advantage of the stop in the port of Ilhéus to discover the natural, historical and cultural riches of this charming Brazilian city, which is also one of the main destinations of the State of Bahia. During your stay you can visit the Church of San Jorge, enjoy the paradise beach of Itacarezinho with its idyllic scenery and taste the delicious handmade chocolate of the Yrerê cocoa plantation.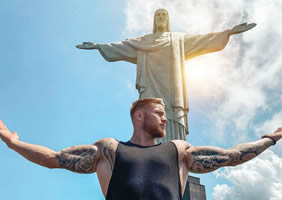 Day 16 - Rio de Janeiro, Brazil
The sensations you'll experience are beyond imagination, in the shadow of the Corcovado, while the joie de vivre will infect you with the rhythm of the samba. Christ the Redeemer, one of the modern Seven Wonders of the World, stands atop the Corcovado peak. Survey the city from a platform below the 125-foot statue or hop on a cable car to the top of Sugarloaf Mountain and get a different perspective of Rio de Janeiro
and the Christ. Feel a rush to your senses from the awesome activity on world-famous beaches Ipanema and Copacabana. If the quiet side of Rio is what you seek, a visit to the lush botanical garden - home to some 8,000 species - will delight you.