Serenade of the Seas
Ship Facts
Occupancy: 2,146
Crew: 848
Tonnage: 90,090
Length: 965 feet
Beam: 106 feet
Draught: 28 feet
Cruise speed: 25 knots
Inaugural Date: August 25, 2003

West Caribbean & The Americas Gay Bears Cruise 2023
10 nights from/to Tampa, Florida
February 22 – March 04, 2023
Royal Caribbean Serenade of the Seas
Join like minded bears, cubs, chubs, chasers, their friends and families on Arno's Bears West Caribbean & The Americas gay group cruise. We set sail from Tampa, Florida to beautiful Grand Cayman, Colombia, Panama, Costa Rica & Cozumel on recently revitalized cruise ship, Royal Caribbean's Serenade of the Seas
! Palm-fringed beaches, pure white sand, turquoise seas, thrilling watersports and superb shopping – you'll be in paradise on your holiday to the lovely Caribbean.
Leave your troubles behind and get on island time with a journey to the West Caribbean. Flex your sense of wonder at the crystal-clear blue sea on the Caribbean's pristine white-sand beaches. Explore ancient ruins and colonial towns. Or take a hike through the region's tropical rainforests, passing by views of mist-covered mountains and hidden waterfalls.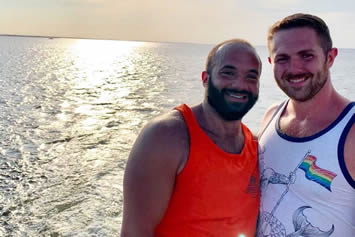 Set sail on a Caribbean cruise and discover the cliff-diving, breeze-swaying, sand-between-your-toes, no-worries pace of island life. Hundreds of years of history have left jungle ruins from ancient times and vibrant colonial towns with brightly painted buildings reflecting a fascinating history.
Visit the Caribbean to dive into the aquamarine water and see the Caribbean's underwater life up close and personal with a snorkeling or scuba diving adventure. Discover captivating coral reefs and unique species of jellyfish like the orange Moochers, Loggerhead sea turtles and the red cushion sea star, which can be seen in shallow waters.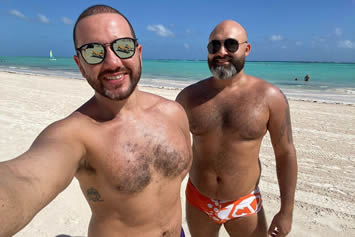 Immerse yourself in the culture in some of the oldest cities in the Americas — the Caribbean has been shaped by a diverse history, with Africans, Europeans and Asians all leaving their mark. Explore the rich history and cultural diversity of these legendary destinations, where colonial cities lead to hidden pyramids from thousands of years ago. And don't miss out on the vibrant arts and foods scenes you'll find in the urban centers of the exotic Western Caribbean.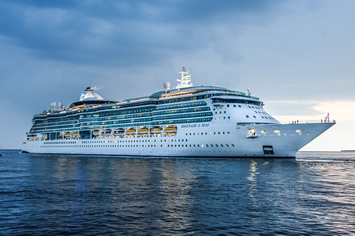 Royal Caribbean's Serenade of the Seas
Dive into new discoveries as you sail onboard Serenade of the Seas
. No matter where in the world you're sailing, Serenade of the Seas keeps you close to all the natural splendor. Once onboard, panoramic views and acres of glass ensure you'll never miss a moment of the surrounding scenery. In between adventures onshore, you can soak up the sun poolside, tee off on the mini golf green, and dig into world-class flavors that will take you from Tuscany to Tokyo.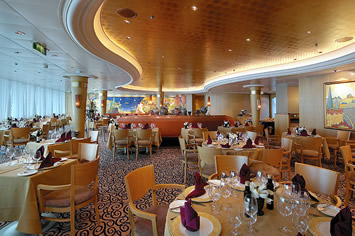 Dining
From confectionery delights to California rolls, finger foods to a five-course gourmet meal, A Royal Caribbean cruise is a journey of culinary discovery. The innovative chefs, each trained and certified, will take your palate global with a lineup of complimentary and specialty options. Pair your meals with a beverage package and save on your favorite drinks.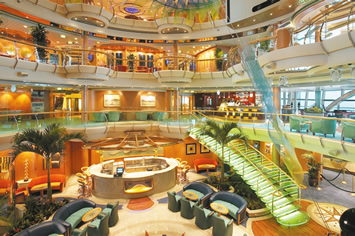 Bars & Lounges
Relaxation can be thirsty work. While you're soaking up the vibe of the adults-only Solarium, grab a refreshment from the Solarium Bar, where friendly bartenders serve wine, beer, cocktails and chilled umbrella drinks perfect for sipping beneath your poolside umbrella.
Fitness & Spa
Emerge renewed, relaxed and rejuvenated at the Vitality Spa. Professional spa products from acclaimed brands such as Elemis®, bliss®, La Thérapie and Ionithermie bring the most advanced services to the sea. Massages, wraps, facials and acupuncture, or choose medi-spa treatments to smooth wrinkles, lift and tone. A more brilliant smile is just a tooth whitening away, while a salon completes the perfect look with hair and nail services.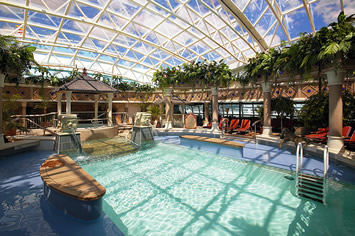 Entertainment & Nightlife
Let's hear a round of applause for an unrivaled entertainment lineup, An amazing array of shows and performers, included with your cruise fare. Picture Broadway-style shows and original Royal Caribbean productions just steps from your stateroom, with world-class performers that WOW on stage. And when the sun goes down, the night heats up with live music and much more.
Casino
There's nothing to stir your sense of excitement like the sound of cards being shuffled, Consider the Casino Royale to be your little slice of Vegas right at sea—with thousands of square feet of lights, action, slots and tables. Join a tournament at sea, become a member of Club Royale or just soak in the winning atmosphere of the incredible casino when you come aboard.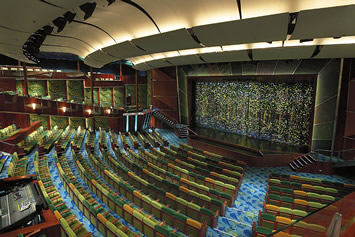 Onboard Activities
The ship boast a sea of vacation possibilities for every guest. Like the chance to learn Italian, salsa dancing, or the recipe for a perfect martini. To conquer the rock wall and ice skate on the equator. Or slow things down with a hot stone massage and duty-free designer shopping. See, do and learn more at sea than you ever thought possible.
Outdoor Activities
The pool deck is the place to be. And each ship has several to choose from. Bask in the sun or relax in the shade while you sip a cool tropical cocktail and enjoy the complimentary loungers and live music.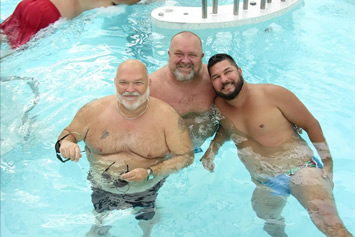 West Caribbean & The Americas
Bears Cruise 2023 Itinerary


Date

Port

Arrive

Depart

22 Feb
Tampa, Florida
4 PM
23 Feb

A Day at Sea!

24 Feb
George Town, Grand Cayman
8 AM
5 PM
25 Feb

A Day at Sea!

26 Feb

Cartagena, Colombia
7 AM
4 PM
27 Feb
Colon, Panama
7 AM
5 PM

28 Feb

Puerto Limon, Costa Rica
8 AM
5 PM
01 Mar

A Day at Sea!

02 Mar

Cozumel, Mexico
10 AM
8 PM
03 Mar

A Day at Sea!

04 Mar

Tampa, Florida
7 AM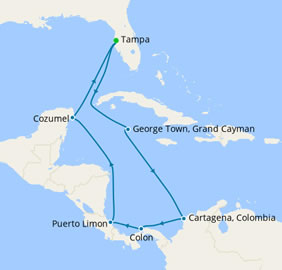 Day 1 & 11 - Tampa, Florida
Pirates once plundered the shores of Tampa Bay
, but today this swashbuckling city attracts beach seekers, outdoor enthusiasts and museum lovers alike. Its low-key beach vibe blends seamlessly with its glistening downtown atmosphere— and there's no shortage of thrills for all ages. Explore Ybor City's cigar-rolling history or brave rollercoasters at Busch Gardens.
Kayak along the Hillsborough River past sunning alligators, and see the elusive Florida panther at the Lowry Park Zoo. Geek out at the Museum of Science & Industry's domed IMAX Theater— or browse Florida Cracker exhibits at Tampa Bay History Center.
Tampa cruises allow you to discover a treasure trove of adventures, from the beach to the bay.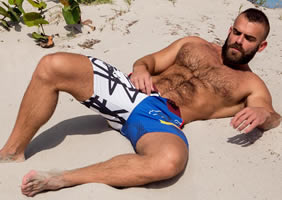 Day 3 - George Town, Grand Cayman
Grand Cayman is where the high life meets island life. This international banking haven is as much known for award-winning beaches as for the flocks of celebrities and high rollers that frequent them. You can sip Cayman Mama's while rubbing shoulders with the global glitterati.
During your Grand Cayman cruise, you can snorkel with stingrays in Stingray City. Treat your inner foodie at eateries established by acclaimed top chefs like Michael Schwartz, or chow down on conch fritters by the seashore. You can even soak up some rays at one of the beaches voted best in the world, Seven Mile Beach. And do it all in the same day.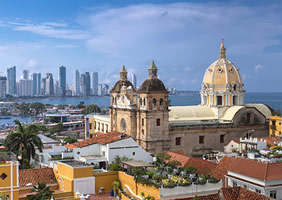 Day 5 - Cartagena, Colombia
Cartagena de Indias boasts romantic colonial architecture and a Caribbean coast glittering in shades of bright white and aquamarine. Saunter through the leafy Plaza de Bolivar, photographing multicolored streets like Calle Segunda de Badillo.
Cruise to Cartagena to dance to the beat of merengue, salsa and Colombia's very own cumbia at places like Bazurto Social Club. Discover Proclamation Square, where the town people gathered in 1811 in support of the declaration of independence from Spain, and walk the 16th-century fortifications of Castillo San Felipe de Barajas. Enjoy Cartagena's natural grandeur on its many beaches, like Bocagrande, Playa Blanca and placid Rosario Islands National Park, just 45 minutes away from the city.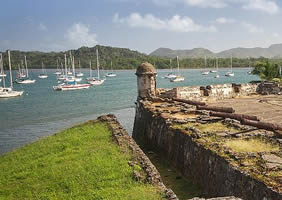 Day 6 - Colon, Panama
Home to the Panama Canal's Atlantic Ocean entryway, Colón is the second-largest city in Panama. Start your adventure at the Gatun locks, where you can watch ships being raised by water lifts to the higher elevation of the canal.
Then, visit the Portobelo Natural Park and take in the beauty of its 16th century forts. Or head to the beach at Playa Maria Chiquita for clear Caribbean Sea waters and white sands. Cruise to Colón, Panama and check out Portobelo National Park, where you can see 17th-century Fort San Lorenzo or go bird-watching along the Achiote Trail in San Lorenzo Protected Forest. Or take the one-hour trek to Panama City, the Caribbean's urban heartbeat.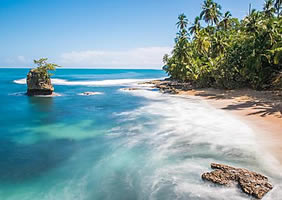 Day 7 - Puerto Limon, Costa Rica
Come to Puerto Limon ready to meet a raw and beautiful side unlike any other in Costa Rica. Go off-road and through prehistoric forests in places like the famous Veragua Rainforest Park.
Jump onboard a Costa Rica cruise and glide on a canoe over the Tortuguero Canal, meet wild creatures at the Costa Rica Wildlife Sanctuary, or get in some of the region's best surfing at the Salsa Brava reef break, just an hour's drive south of the port.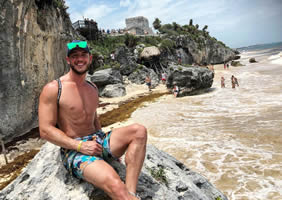 Day 9 - Cozumel, Mexico
With its lively tropical reefs, crystal-clear waters and ancient ruins, Cozumel is ripe for one-of-a-kind adventures. Cruise to Cozumel and head to Chankanaab National Park, where you can snorkel among the colorful reefs and schools of tropical fish that give this island its premier diving status.
Or travel back in time on an adventure through the towering Maya ruins of Tulum. When you're done exploring, unwind with a beachside massage at Playa Mia. From culture savoring to soaking up sunshine, you'll find a world of adventure waiting for you in Cozumel.