Freedom of the Seas
Ship Facts
Gross Tonnage: 160,000
Length: 1,112 feet
Beam: 185 feet
Draft: 28 feet
Cruising Speed: 21.6 knots
Guests: 3,634
Crew: 1,360
Staterooms: 1,817
Decks: 15
Ships Registry: Bahamas
Southern Caribbean Gay Bears Cruise 2021
7 nights from/to San Juan, Puerto Rico
February 14 – 21, 2021
Royal Caribbean Freedom of the Seas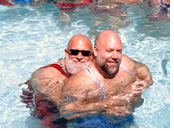 Join like minded bears, cubs, chubs, chasers, their friends and families on Southern Caribbean gay bears group cruise. We set sail from San Juan to beautiful St.Thomas, St.Kitts, Antigua, St.Lucia, and Barbados islands on Royal Caribbean's Freedom of the Seas
! Explore volcanos in St. Kitts, meet stingrays in Antigua, dive with turtles in Barbados, or plunge into a hot spring in St. Lucia - it's all about you on your Caribbean dream holiday. Enjoy the very best that Southern Caribbean has to offer on Gay Bears Southern Caribbean cruise.
Our holidays in the Caribbean give you the chance to experience powder-sand beaches, dazzling blue waters and palm trees that seem to sway to a calypso beat. Take your pick from perfect white beaches, bustling fishing ports or venture inland on an unforgettable shore excursion.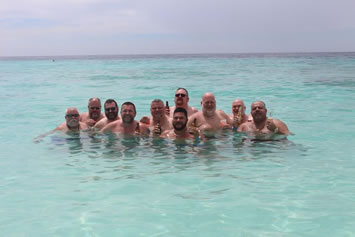 When cruising to the Southern Caribbean with Royal Caribbean, expect a whole lot of sun, sand, and beautiful waters to wash over you and your loved ones with relaxation and happiness. The Southern Caribbean is highlighted by some of the most spectacular rainforests in the world, tropical cuisine to expand your palate, and an exclusive, exotic atmosphere that will make you feel right at home. Experience the exciting culture mixtures throughout the islands cultivated by foreign influence from Europe, South America, and the US. Golfing excursions, animal encounters—you'll be delighted and inspired during a Royal Caribbean Southern Caribbean cruise.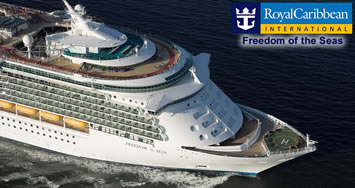 Royal Caribbean's Freedom of the Seas
Set sail for your dream holiday onboard Freedom of the Seas
, visiting some of the most incredible destinations in the Caribbean. And with a host of incredible features waiting for you on the ship - including sensational entertainment, thrilling activities and mouth-watering dining – the adventure starts as soon as you step onboard. Outfitted for your entertainment, you can't go wrong on this floating resort!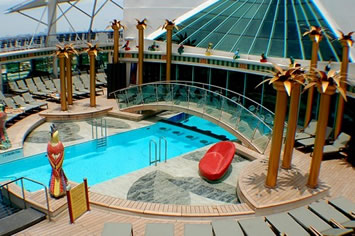 Resplendent in its décor, its themed bars and lounges, and its fine dining, the Freedom of the Seas is the ideal start to an unforgettable vacation. Check out the climbing wall, the swimming pools, and wander around the ship to take in the scenery both inside and out! You get a stunning ocean view from every angle on the ship! Every stateroom comes with a full-size flat screen TV - and the entire ship is outfitted to be Wi-Fi capable. There is even cell phone connectivity, so you can call your friends and tell them what a great time you're having on your vacation! They'll all be jealous!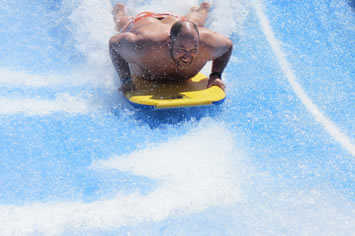 Activities on Freedom of the Seas
On the Freedom of the Seas, the abundance of activities is astounding! You've got several swimming pools to choose from, including the H2O Zone water park (it's got ground geysers, interactive water sculptures AND a gorgeous cascading waterfall!), cantilevered whirlpools that even extend over the edges of the deck, and the fun doesn't stop there! There's an ice-skating rink, a boxing ring, and a rock climbing wall that features 11 different routes and a spire that you can swing around! There's a 9-hole mini-golf course, a full-size sports court, a Promenade you can walk around, and a fully equipped spa and gym - your day will be so full of activities you won't believe it! The only question is: What will you do first?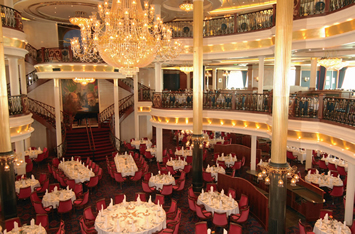 Dining / Food on Freedom of the Seas
On the Freedom of the Seas, your mouth will start watering when you see the array of food available! Choose from your regular dining options for breakfast, lunch and dinner and enjoy delicious food prepared to your taste! Or, check out the Johnny Rockets on the ship for 50's style diner food! There's a Portofino Italian Restaurant, a Chops Grille, Sorrento's Pizza and even a Ben and Jerry's Ice Cream parlor! Don't forget, there's 24-hour room service as well, serving the full menu!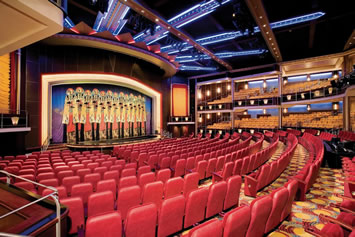 Entertainment on Freedom of the Seas
Expect the best in entertainment on board the Freedom of the Seas! Go see a Broadway-style show, listen to some great live jazz music, or big band and disco too! Each of the lounges and bars on the ship are themed, so you can find your favorite fantasy and have the time of your life! There's a nightclub where you can dance the night away, a vintage wine bar, and even the Casino Royale, where you can try your luck! The day doesn't have to end when the sun goes down - the night is just beginning! Attend a themed party, or relax with your favorite drink and just talk with new and old friends! You're guaranteed to have the time of your life on this amazing cruise ship!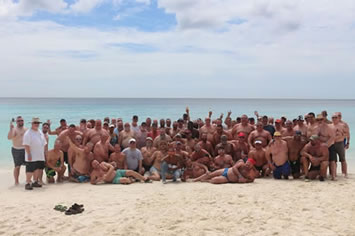 Southern Caribbean Bears Cruise 2021
Itinerary


Date

Port

Arrive

Depart

14 Feb
San Juan, Puerto Rico
8:30 PM
15 Feb
Charlotte Amalie, St.Thomas
8 AM
6 PM
16 Feb
Basseterre, St.Kitts
8 AM
6 PM
17 Feb
St.John's, Antigua
8 AM
5 PM

18 Feb

Castries, St.Lucia
8 AM
6 PM
19 Feb
Bridgetown, Barbados
8 AM
6 PM

20 Feb

A Day at Sea!

21 Feb
San Juan, Puerto Rico
6 AM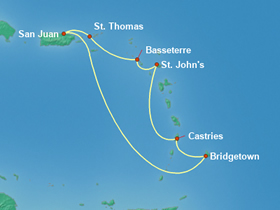 Day 1 - San Juan, Puerto Rico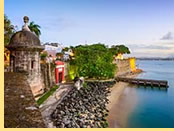 Fly the longest zip-line in the world at the Toro Verde Ecological Adventure Park, where you can test your mettle on an assault course with ropes and suspension bridges. Explore Puerto Rico's lush scenery on horseback or on a rainforest hike or discover the cobbled streets and Spanish colonial houses of San Juan's old town. The massive fortresses of El Morro and La Fortaleza dominate here, with sweeping views down to the ocean.
Day 2 - Charlotte Amalie, St.Thomas

Sail on a pirate schooner to Buck Island, dropping anchor in beautiful Turtle Bay for superb snorkelling. Swim with playful dolphins in nearby Tortola or soar through the rainforest canopy on a spectacular zip-line. Find out about Charlotte Amalie's pirate history at Blackbeard's Castle or explore 17th-century Fort Christian. There's golf, diving and shopping on this paradise island too, plus a thrilling skyride.
Day 3 - Basseterre, St. Kitts & Nevis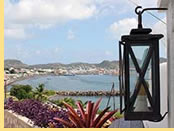 Columbus first spotted St. Kitts in 1493 and you'll be entranced by its sunny skies, beautiful white sand beaches and turquoise waters. Dive among the colourful coral and fish, see monkeys, mongoose, sheep and goats in the fields and rainforest or hike to the rim of a steaming volcano. Ride the St. Kitts Scenic Railway through old sugar plantations or explore Brimstone Hill Fortress for breathtaking views over the ocean.
Day 4 - St.John's, Antigua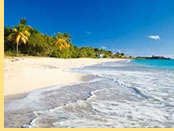 Cruise the turquoise waters, swim with stingrays or soak up the sun on one of Antigua's 365 stunning beaches in heavenly St John's. Stroll around the restored Georgian naval station of Nelson's Dockyard National Park and admire the superyachts in English Harbour. Enjoy cocktails, Caribbean cuisine and freshly caught seafood in the many bars and restaurants or splash out on duty-free clothing and jewellery.
Day 5 - Castries, St.Lucia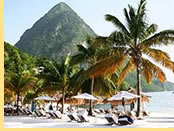 Sail around idyllic St Lucia or tour its towering mountains, banana plantations, valleys and rainforest by bus or 4x4. Take a trip to historic Soufrière to view the dramatic Pitons, volcanic plugs that dominate the island, or bathe in hot mineral springs at the Diamond Falls Botanical Gardens. For adventure lovers, the Adrena-Line rainforest adventure course and a paintball challenge will get your heart pumping.
Day 6 - Bridgetown, Barbados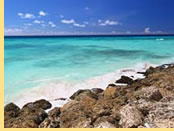 Sway to the sounds of calypso in a beachside bar, parasail above the emerald seas or snorkel among shipwrecks and sea turtles. Explore Bridgetown's 17th century British colonial architecture or its Jewish history or put a put a punt on the horses at the Garrison Savannah racetrack. Be impressed by the geological wonders of Harrisons Cave, admire 30,000 exotic orchids or head to the mountains for some spectacular views.
Day 7 - A Day at Sea!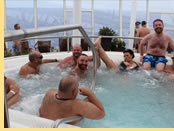 Sit back, kick off your shoes and put your feet up during our 'at sea' days, where you can chill in the bar, lounge by the pool or enjoy a relaxing beauty treatment in the spa. For simple pleasures, why not try a game of table tennis? Or if you're feeling energetic, now's the chance to explore all the amazing activities the ship has to offer, from spectacular, West-End-style entertainment to adrenalin-charged sports.
Day 8 - San Juan, Puerto Rico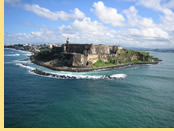 The adventure doesn't have to end once you get back to San Juan. Before you go, be sure to enjoy some homemade criolla cuisine in one of the many cafes you'll find in Old San Juan. Then pick up some local crafts or duty-free luxury items in the nearby boutiques - there are plenty to choose from in the old city.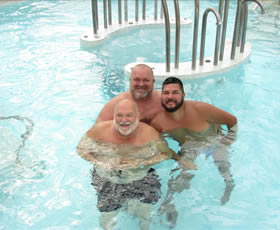 Guests: 3,634 • Gross Tonnage: 160,000 • Length: 1,112' • Beam: 185' • Draft: 28' • Cruising Speed: 21.6 knots

Southern Caribbean Gay Bears Cruise 2021 Rates

Interior Stateroom
Relax in all the comfort of our spacious interior staterooms. Spend your days onboard by the pool or on our sports deck, then enjoy some quiet and private time. Our interior staterooms include a wide array of amenities for you to enjoy. 14.8 m² / 160 sq. ft.; 2 Twin beds that convert to a Royal King (1.84 x 2m / 72.5 x 82 inches); Private bathroom; TV, phone, sofa, minibar, hair-dryer, vanity table and 110/220 electrical outlets.
$ 748

Ocean View Stateroom
You'll never miss a moment of the breathtaking scenery on your cruise vacation with an Ocean View stateroom. Spend the day exploring the world, then come back onboard and take in the spectacular sights and amazing views from the comfort of your stateroom. Ocean View staterooms offer a gorgeous view, two twin beds and a private bathroom. Two twin beds that convert to a Royal King bed. Room with bed, vanity and sitting area with sofa. Stateroom: 159 sq. ft.
$ 898

Balcony Stateroom
Imagine opening your balcony door to see a new and breathtaking part of the world each morning. A stateroom with a balcony is a great way to make your cruise adventure even more memorable and lets you truly take in all the wonder and excitement of your destination. 16 m² / 182 sq. ft.; Private balcony: 3.8 m² / 53 sq. ft.; 2 Twin beds that convert to a Royal King (1.84 x 2m / 72.5 x 82 inches); Private bathroom; TV, phone, sofa, minibar, hair-dryer, vanity table and 110/220 electrical outlets.
$ 1,099

Junior Suite
These suites offer a comfortable bedroom, small sitting area and a private balcony. Two twin beds that convert to a Royal King bed. Room with bed, vanity and sitting area with sofa. Stateroom: 299 sq. ft. Balcony: 65 sq. ft. Guests staying in these staterooms enjoy a variety of perks, priority boarding and departure, dedicated entertainment seating, and more.
On Request
All prices are per person, occupancy selected, and include all meals, accommodations and entertainment!

Taxes & charges of $127.03pp, gratuities of $ 101.50pp and optional insurance are additional.

First deposit of $400 per person is required upon booking. Full payment is due November 01, 2020

Optional shore excursions will be offered.

Prices are cruise only and DO NOT INCLUDE return airfare! Please ask for airfare add-ons back to your home city.

Fares are subject to availability and may change without prior notice.

Also included are the traditional Bear Cruise activities, subject to minimum participation. To enjoy Bears Group functions and excursions you must reserve room with us.

If you cancel 90 days before departure: $200; 89-57 days: $400; 56-29 days: 50% of total price; 28-15 days: 75% of total. Less than 14 days: 100% of total. Costs are applied to total (incl. Taxes).

Please ask for further details.

CRUISE WITH CONFIDENCE!
Book your cruise by November 30, 2020 and it will be covered by Royal Caribbean new Cruise with Confidence cancellation program. Change your sail date up to 48 hours before your cruise, or receive a future cruise credit good through April 30, 2022.

Special Airfares








Pre-Cruise Hotels







Post-Cruise Hotel