Pride of America
Ship Facts
Gross Tonnage: 80,439
Length: 921 ft
Beam: 106 ft
Cruising Speed: 22.2 knots
Guests: 2,186
Crew: 927
Decks: 15
Ships Registry: Hawaii
Hawaii Islands Halloween Gay Bears Cruise 2024
7 nights from/to Honolulu, Oahu, US
October 26 – November 02, 2024
NCL Pride of America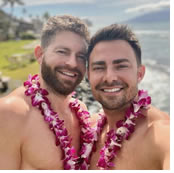 Don't miss out on this extravagant gay bears cruise of a lifetime! Join your Bear buddies on the only cruise sailing 4 Hawaiian islands in 7 days! We will sail the islands of Hawaii round trip from majestic Honolulu, as we party on Norwegian's spectacular ship, Pride of America
! The Hawaii Gay Bears Cruise is an independent group sailing on Norwegian's Pride of America. You get all the amenities of being on a large cruise plus the personalized services of gay group cruise.
There is absolutely no place on earth like Hawaii. From the spiritual and natural beauty of these amazing islands, to the liveliness and diverse offerings of cultural activities, Hawaii has it all. Enjoy the fresh clean floral air, witness the inspiring volcanoes of Hilo, walk through Honolulu's Diamond Head mountain, whale watch or play on some of the most incredible golf courses ever created; There is so much to do in Hawaii!
With our unique 7-day Hawaii cruise itinerary, you get overnights in both Maui and Kauai as well as visits to Oahu and the Big Island of Hawaii. You'll be on island time as you discover cascading waterfalls, active volcanos, black, green and white sand beaches, historic sites and unspoiled nature.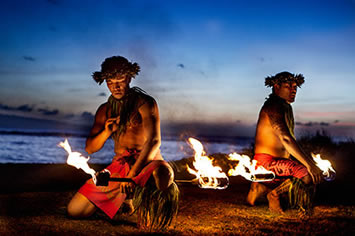 Only Norwegian lets you visit four islands in seven days, which means you're on an island each and every day! It is no wonder that Norwegian were voted Porthole Magazine's "Best Hawaii Itinerary" for 12 years in a row!
Your seven days of paradise begins from the moment you arrive. Lose yourself in the lush rainforests and magnificent waterfalls. Let the soaring cliffs of the Napali Coast take your breath away. Cruise by Kilauea Volcano, the most active volcano in the world. Adventure awaits you around every corner as we are the only cruise line to offer cruise tours in Hawaii.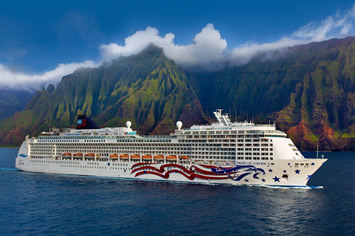 Norwegian's Pride of America
Aloha! Come aboard Pride of America
, Norwegian's only cruise ship that sails round trip from Honolulu year-round. As you journey from one exotic island to the next, learn about the Hawaiian culture through the eyes of native ambassadors on board our ship. Island hop Hawaii in style, with more than 15 restaurants and 12 bars and lounges, excellent accommodations, spacious suites and balconies – perfect for whale watching, witnessing Kilauea Volcano or taking in the dramatic views of the Napali Coast. Want more?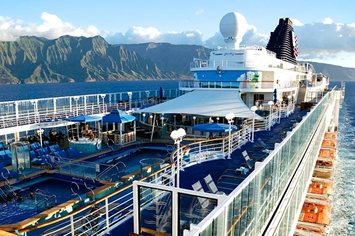 Activities on Pride of America
Pride of America is an amazing ship full of amenities and great activities for everyone. Check out the brand new Gyrosphere, where you can spin and whirl, or practice your golf swing at the driving nets. Relax in the sun at the South Beach Pool and take a dip in the hot tubs or play some outdoor chess and meet other passengers. Get your game on at the Blast Off Video Arcade, or read a great book at the SS America Library. The ship has a game room, a photo gallery, a SoHo Art Gallery, and even a wedding chapel. Head over to the boutiques and do a little shopping at the Newberry Street Shops or pamper yourself at the Santa Fe Spa. Work up a sweat at the Santa Fe Fitness Center, which also has a jogging track, basketball, volleyball and tennis courts. What an invigorating opportunity to kick off your day!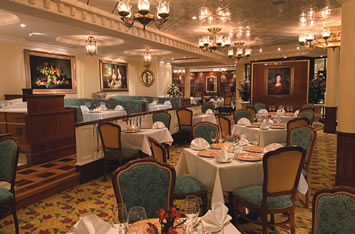 Dining / Food on Pride of America
Get ready for a culinary explosion from Pride of America's 10 unique restaurants. The Liberty Main Dining Room and the Skyline Main Dining Room offer style, décor and amazing menus. The Cadillac Diner is a retro 1950's diner that has a classic menu and plays classic rock. It is open 22 hours a day. The Lazy J Texas Steakhouse is a great spot to enjoy a t-bone steak. East Meets West restaurant is full of mouth-watering Pan Asian cuisine or head to Little Italy for a taste of delicious Italian cooking. The Aloha Café is another great spot, and Jefferson's Bistro is a French restaurant with a Jeffersonian theme. The ship also has a sushi bar and 24-hour room service.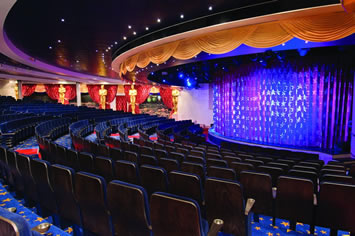 Entertainment on Pride of America
On Pride of America, your night will be spectacular - every night of your trip. The Hollywood Theater has spectacular Broadway-style performances, or dance to the beat at the Mardi Gras Cabaret Lounge and Nightclub. The Napa Wine bar is a splendid spot to enjoy fine wines, and the Gold Rush Saloon is a whimsical themed bar with an extensive beer selection. Pink's Champagne and Cigar Bar is the perfect spot to enjoy a hand-rolled cigar, while the Ocean Drive Bar has delicious cocktails. There is also the Lainai Bar, the Waikiki Bar, and the Key West Bar and Grill. Find some company, head out, and get ready for an unforgettable evening!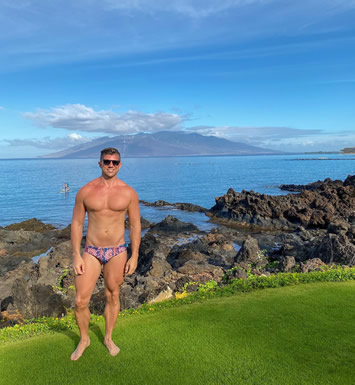 Hawaii Islands Gay Bears Cruise 2024 Itinerary


Date

Port

Arrive

Depart

26 Oct
Honolulu, Oahu, US
7 PM
27 Oct
Kahului, Maui
8 AM
28 Oct
Kahului, Maui
6 PM
29 Oct
Hilo, Hawaii
8 AM
6 PM

30 Oct

Kona, Hawaii
7 AM
5:30 PM
31 Oct
Nawiliwili, Kauai
8 AM

01 Nov

Nawiliwili, Kauai
2 PM
02 Nov
Honolulu, Oahu
7 AM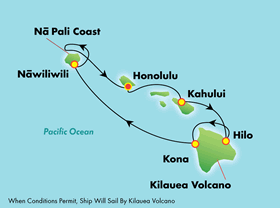 Day 1 - Saturday, October 26, 2024
Honolulu, Oahu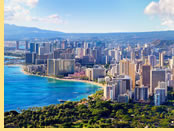 With a cosmopolitan population of 950,000, Honolulu
is Hawaii's largest city. It also is the hub of cultural, educational, political, dining, shopping, business and entertainment activities in the Aloha State.
After Captain James Cook put the Hawaiian Islands on the map of the world in 1778, Honolulu became an increasingly important stop for ships traveling between America and Asia. There is so much to see and do in Honolulu, our embarkation port for our cruise. Come Early and Stay Late!
Day 2 - Sunday, October 27, 2024
Kahului, Maui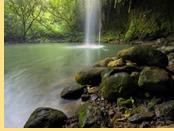 The island of Maui has special magical views, water wonders, and seaside streets that boasts some of the greatest tropical sights in the world. The island of Maui is full of natural beauty and Hawaii cruises make it easy for you to explore it and all its splendor. It has 120 miles of coastline for you to surf, snorkel, walk, ride, windsurf–you get the idea. And they come in all colors: red, white, black. Maui is your ticket to island fun with secret spots, nature's adventures and undiscovered beauty.
Day 3 - Monday, October 28, 2024
Kahului, Maui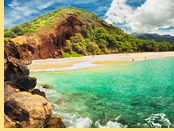 A surplus of natural splendor and the genuine hospitality of its people have helped to make Maui Hawaii's second most popular island. Explore the fascinating history of the town of Lahaina. Plant yourself on a pristine beach, or play one of the world's most beautiful golf courses.
Day 4 - Tuesday, October 29, 2024
Hilo, Hawaii (Big Island)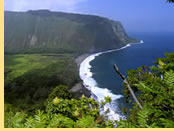 Welcome to the Big Island of Hawaii – a paradise of black-sand beaches, tropical rainforest and volcanic mountains. Mauna Loa, the largest mountain on the planet, soars above the bleak lava fields of Hawaii Volcanoes National Park. In the heart of the Big Island's lush rainforest lies the remote and stunning Wai'po Valley (Valley of the Kings). Hawaii's history matches its incomparable landscape – it is a saga of mighty Polynesian kings, sugar barons, war and treachery.
The landscape of the Big Island ranges from black-sand beaches to tropical rain forest to the alpine terrain of Mauna Loa and Mauna Kea. At 13,796 feet above sea level, the summit of Mauna Kea is the highest point in the entire Pacific basin.
Day 5 - Wednesday, October 30, 2024
Kona, Hawaii (Big Island)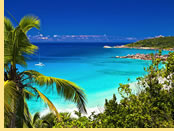 Welcome to the Big Island of Hawaii and to Kona. The Kona Coast is a land of infinite variety, ranging from pristine beaches to rolling uplands that are home to coffee plantations, macadamia groves and the largest privately owned cattle ranch in the United States. To the southeast lies Hawaii Volcanoes National Park, home to Mauna Loa, Mauna Kea, and Kilauea, one of the most active volcanoes in the world. And offshore lies a fisherman's paradise. Kona is hailed as "The Billfish Capital of the World," and the town hosts the annual Hawaiian International Billfish Tournament.
Twice as large as the other major Hawaiian Islands combined, Hawaii's terrain ranges from tropical beaches to the alpine crags and basalt heights of Hawaii Volcanoes National Park. At over 10,000 feet above sea level, Mauna Kea is the highest point in the Pacific Basin. On Hawaii, the temperature is always a result of elevation.
Day 6 - Thursday, October 31, 2024
Nawiliwili, Kauai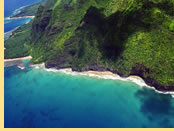 The fourth largest island in the Hawaiian group, Kaua'i is known as the "Garden Island." The terrain ranges from the volcanic slopes of Mt. Waialeale and the desert-like beauty of Waimea Canyon to the Wailua River's lush Fern Grotto. Ironically this once isolated island was the site of the first meeting between Europeans and Hawaiians. On January 19, 1778, Captain James Cook anchored his ships off the mouth of the Waimea River, becoming the first in a long line of enthusiastic visitors.
Day 7 - Friday, November 01, 2024
Nawiliwili, Kauai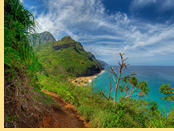 Named after the Wiliwili trees, which once lined its picturesque harbor, this lovely port of Kauai is your gateway to what many believe to be Hawaii's most beautiful island. On "The Garden Island," nature is truly the star, from the dramatic mountains of Kokee to the cool rainforests of Haena. And the tradition of the luau adds lively entertainment unique to Hawaii.
Day 8 - Saturday, November 02, 2024
Honolulu, Oahu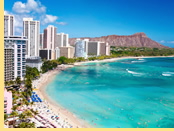 The big, blue Pacific and stunning Koolau mountains serve as a dramatic setting for Hawaii's largest city. Climb to the top of Diamond Head. Take a romantic sunset stroll on Waikiki Beach. Catch a glimpse of history by visiting Pearl Harbor and the National Memorial Cemetery of the Pacific.
Gorgeous beaches, stunning weather, luxurious resorts, and gay nightlife that makes all the boys go wild – It's no wonder Gay Honolulu
is a hugely popular travel destination for queers wanting to relax in style and escape it all.