Celebrity Summit
Ship Facts
Occupancy: 2218
Tonnage: 90,940
Length: 965 feet
Beam: 105 feet
Draught: 24 feet
Revolution Date: Mar, 2019
Southern Caribbean Gay Bears Cruise 2021
7 nights from/to San Juan, Puerto Rico
February 27 – March 6, 2021
Celebrity Cruises Celebrity Summit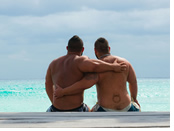 Join your bear buddies and friends on remarkable and memorable BearCruise to Southern Caribbean aboard on our favorite ship, the Celebrity Summit
sailing from San Juan, Puerto Rico. Explore the best of the Southern Caribbean with BearCruise as we sail to five stunning islands. Exotic adventures, from friending flamingos in Bonaire to conquering the Hato Caves of Curacao. Enjoy the very best that Southern Caribbean has to offer on Gay Bears Caribbean cruise. This cruise inspires a feeling of getting away...way away.
On a Caribbean cruise, life's a beach—actually hundreds—some long and straight, some tucked between cliffs, some brilliant white, some volcanic black. But our Caribbean cruises are more than beaches.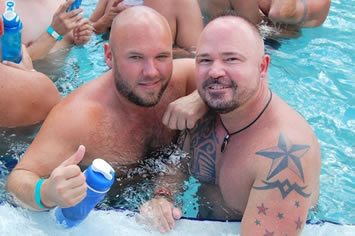 Travel deeper into the Caribbean on the road less traveled to discover exotic landscapes brimming with natural, unspoiled beauty and unique plant and animal species native to the region. Imagine aquamarine seas ablaze with brightly colored coral reefs and schools of technicolor fish, breathtaking national parks, botanical gardens and world-renowned beaches.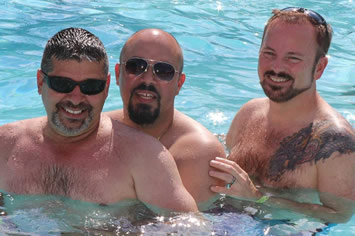 In San Juan, discover a powerful 16th-century Spanish fortification now grown into a major U.S. city. Stroll the cobblestone streets. Hear the rhythmic salsa. Smell the roasting pork.
Just off the coast of South America, our Southern Caribbean cruises visit the Dutch islands of Aruba, Bonaire, and Curaçao. You'll find charming cafés, galleries, and a 17th-century fort in Willemstad, the traditional Dutch cityscape painted in bright Caribbean colors.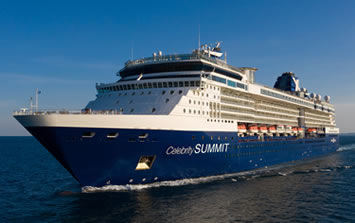 Every detail has been elevated, every comfort refined.
Celebrity Summit
takes you to some of the most incredible destinations on the globe, so it's only fitting that she offers some of the best experiences at sea, too.
By night, head to the Martini Bar to enjoy a classic cocktail upon a real ice bar, while you watch the bartenders put on a high-energy show every night. The sophisticated atmosphere at Cellar Masters provides a more intimate venue – recline in deep leather seats and enjoy a menu of the finest beers, wines and more.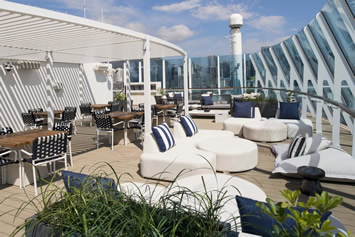 And now Celebrity Summit has been modernised as part of The Celebrity Revolution - a $500-million investment to take all of Celebrity Cruises ships to the edge. Stay in brand new staterooms, enjoy beautifully reimagined restaurants and lounges, and relax in the newly redesigned spa. For our Suite Class guests, we now also have The Retreat Sundeck and The Retreat Lounge in addition to our Suite Class restaurant Luminae. Discover all of this and more onboard Celebrity Summit.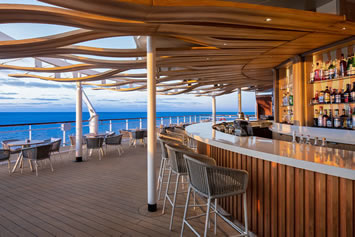 Celebrity Summit is like the pinnacle of a tall mountain – breathtakingly amazing. It is the best way to travel the world in style and enjoy an incredible cruise: the amenities that Celebrity features in its exceptional ships, combined with extremely personal service, means that you can cruise guilt-free, knowing that you'll be taken care of in every way possible. Luxury, class, and accommodation - these three words describe a trip on Celebrity Summit perfectly.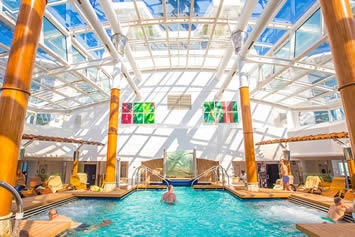 Activities on Celebrity Summit
On Celebrity Summit, the best amenities are yours for the asking. Relax by the swimming pool on deck, and soak up the sun with a nice drink. Take away the stress in the whirlpool, or pamper yourself at the AquaSpa. Enjoy the Conservatory, a stunning and meticulously designed garden with flourishing plant life.
Go to the library and read a book in the peace and quiet, or just wander around the ship and take in the ocean views. There are also internet stations on the ship, where you can catch up on your emails, or send pictures home to make your friends and family jealous.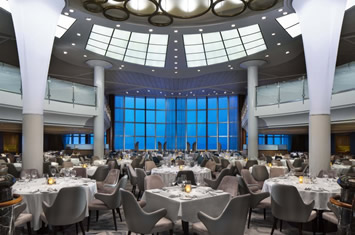 Dining / Food on Celebrity Summit
Celebrity Summit will treat you to the best food you can imagine. Get ready for an explosion of flavor and class - check out the main dining room, and dine in style while feasting on your favorite foods, all prepared to order.
Head over to the SS Normandie Restaurant, where you can sample food prepared tableside in an atmosphere reminiscent of the famous old ocean liners such as the Titanic. Do not forget - there is also 24-hour room service available, which offers great food from the dinner menus.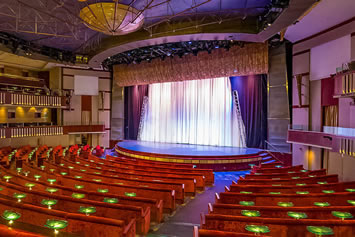 Entertainment on Celebrity Summit
An excellent ship like Celebrity Summit offers world-class entertainment. Your night will be full of memorable activities, so where to begin? Head over to one of the bars and lounges and enjoy a cocktail with great company - you can decide what to do next while you are relaxing.
The ship offers great live performances - live music, Broadway-style performances, and even current movies. You can also dance the night away at the nightclub, where the DJ will play your favorite tunes. If you feel lucky, head over to the casino onboard and try your luck.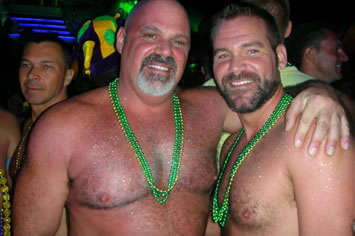 Southern Caribbean Bears Cruise 2021 Itinerary


Date

Port

Arrive

Depart

27 Feb
San Juan, Puerto Rico
8:30 PM
28 Feb
Basseterre, St Kitts & Nevis
10 AM
6 PM
01 Mar

A Day at Sea!

02 Mar
Kralendijk, Bonaire
8 AM
5 PM

03 Mar

Oranjestad, Aruba
8 AM
5 PM
04 Mar
Willemstad, Curacao
8 AM
5 PM

05 Mar

A Day at Sea!

06 Mar
San Juan, Puerto Rico
6 AM
Please Note:
• Disembarkation usually begins 2 hours after docking.
• Due to security reasons, all guests must be on board 2 hours before sailing.
• Itinerary is subject to change at any time without notice.
Days 1 & 8 - San Juan, Puerto Rico
Puerto Rico is one of the largest islands in the Eastern Caribbean. Discover the classic signs of a vacationer's paradise on our cruise from San Juan
, Puerto Rico: gorgeous landscape with lush green mountains, underground caves, balmy waters, white-sandy beaches, delicious rum drinks and so much more. Spend an afternoon snorkeling and discover the beautiful marine life of the Caribbean Sea while swimming among the fish, coral communities, mangrove forests, and seagrass beds. Or take an evening sail around Old San Juan for amazing views of the 500-year-old walled city as the sun casts gorgeous light on the turquoise waters.
Old San Juan is one of the first cities to be established in the New World. Explore the historical forts that were built to protect the island during Spanish occupation. Navigate through the tunnels, dungeons, and barrack of San Cristobal, San Felipe del Morro, San Juan de las Cruz, and the city walls. Stroll the blue-toned cobblestone streets and uncover various UNESCO sites, museums, historic churches, restaurants and much more along the way.
From roadside stalls serving up delicious local snacks like alcapurrias to the finest restaurants with the freshest seafood on menus, enjoy the fusion of Spanish, Taíno, African, and US influences and flavors of San Juan's rich culinary traditions.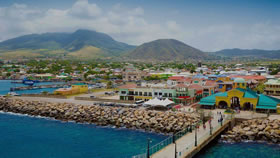 Day 2 - Basseterre, St Kitts & Nevis
Explore French and English colonial architecture, breathtaking beaches, and lush landscapes beneath soaring mountain peaks.
Walking distance from the St. Kitts cruise port, find the Circus and Independence Square. The Circus is a roundabout lined by local shops with artisanal batik clothing, leatherwork, and weaving.
West of Basseterre, visit 350-year-old Romney Manor estate, once owned by a British earl. Tour Brimstone Hill Fortress, a UNESCO World Heritage site, 750 feet above the Caribbean. Ride a narrow-gauge train through breathtaking scenery on the St. Kitts Scenic Railway tour.
For lunch, seek out rustic plantation homes that serve hearty West Indian fare like fresh seafood, local rotis, mango ginger chicken, and goat water stew, blending the islands' staple protein with local papaya and breadfruit.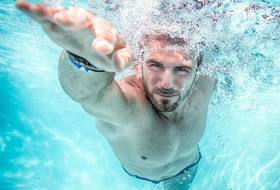 Day 3 - Fun Day at Sea!
While at sea, take the time to recharge before the next adventure. Lounge by the pool, be spoiled at the spa, taste the delicacies or explore the venues on-board, until we arrive at the next amazing destination.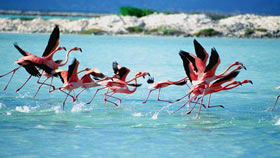 Day 4 - Kralendijk, Bonaire
Kralendijk is the sleepy capital of Bonaire, an island in the Dutch Antilles. Kralendijk is lined with delightfully pastel stucco houses, in pinks, oranges and lime greens. Famous for its diving, the lively world under the sea is the allure of this laidback island. The island is surrounded by a marine park that starts at the beach and extends 200 feet in depth and covers its entire coastline. Cruise to Bonaire also offer such treats as flamingos, hiking and the only barefoot casino in the Caribbean. Head downtown to the Rincon section for a great selection of restaurants with menus offering authentic local fare, like the Dutch snack, Frikandel, a deep-fried sausage or the Creole gumbo stew called Yambo.
Day 5 - Oranjestad, Aruba
The capital of Aruba is made for walking. Browse the candy-colored townhouses, architectural details, and open-air patios that define this charming Dutch community. Gentle trade winds tame the Caribbean sun, shoo the infrequent rain, and maintain the perfect conditions for windsurfing and kiteboarding. When it's beach time, dig your toes into the soft white sand and soak your skin in the warm Caribbean water. After lounging awhile, find spas, restaurants, and bars just steps away. Divers and snorkelers flock to cruise to Aruba for its vibrant coral reefs, neon tropical fish, and eerie old shipwrecks. With just a mask and snorkel, you can watch the fish dart in and out of Antilla, a major wreck. Board a catamaran for a peaceful day of sailing and snorkeling, recharging with a barbecue lunch at Pelican Pier on Palm Beach.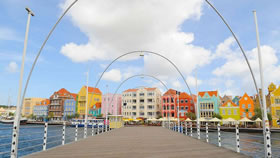 Day 6 - Willemstad, Curacao
Experience a traditional Dutch cityscape painted in distinctly Caribbean colors. You'll want to stroll the magnificent waterfront, admire the colonial buildings, and explore the backstreet cafés, shops, museums, and galleries of Willemstad. Visit 17th-century Fort Amsterdam in the historic area, a UNESCO World Heritage site.
Swim with charming, clever dolphins—an unforgettable experience—or go below the surface on a reef dive. View otherworldly stalactites and stalagmites inside Hato Caves and take a trolley tour to learn about Willemstad's landmarks.
After a day of discovery, sit back, relax, and watch the sun set over a glass of traditional blue curaçao. Landhuis Chobolobo, a 19th-century historic mansion you can tour, is home to the famous liqueur.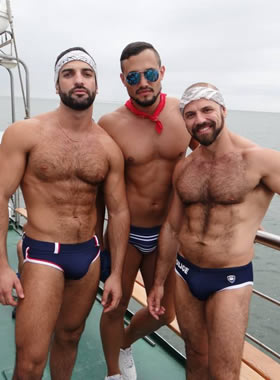 Guests: 2,218 • Tonnage: 90,940 • Length: 965' • Beam: 105' • Draught: 26' • Cruising Speed: 24 kts • Revolution: March, 2019

Southern Caribbean Gay Bears Cruise 2021 Rates

Sky Suite
Stateroom Area approx.: 251 sq. ft. | Veranda Area: 57 sq. ft. Two lower beds convertible to a queen-size bed, sitting area, some with sofa bed and lounge chair, entertainment center with 20-inch interactive TV with VCR and DVD player, floor-to-ceiling sliding glass doors that open to a veranda with lounge seating, bath with shower/tub combination, mini-bar, thermostat-controlled air-conditioning, safe, telephone and hairdryer. Celebrity's Suite Indulgences include welcome champagne, priority embarkation, luggage delivery, dining room seating preference, ...
On Request
Aqua Class
Balcony Stateroom
Stateroom Area approx.: 194 sq. ft. | Veranda Area: 54 sq. ft. Features: Floor-to-ceiling sliding glass doors. Sitting area with sofa. Two beds convertible to queen-size; Vanity; TV; Veranda. Designed for the ultimate spa enthusiast. Available only on Celebrity Cruises, these serene staterooms, each with a private veranda, are located high above it all, nestled comfortably close to the AquaSpa by Elemis Relaxation Room, the Solarium and the Persian Garden. And dine in your own restaurant, Blu, featuring health-conscious dishes.
$ 1,917

Concierge Class Balcony Stateroom
Stateroom Area approx.: 191 sq. ft.| Veranda Area: 41 sq. ft. Two lower beds that convert to a queen-size bed (some staterooms do not), floor-to-ceiling glass doors that open to a veranda with lounge seating, sitting area with sofa, 32" TV, vanity, bathroom with shower, Hansgrohe massaging showerhead, mini-bar, 24-hour room service, thermostat-controlled air-conditioning, safe, telephone and hairdryer. Additional concierge class indulgences include: priority check-in, welcome sparkling wine, daily hors d'oeuvres, pillow menu, dining and seating preference.
$ 1,641

Standard Balcony Stateroom
Stateroom Area approx.: 170 sq. ft.| Veranda Area: 38 sq. ft. Two lower beds convertible to queen-size bed (some staterooms do not), floor-to-ceiling sliding glass doors that open to a veranda with lounge seating, sitting area with sofa, 20-inch TV, bathroom with shower, mini-bar, telephone, thermostat-controlled air-conditioning, 24-hour room service, and hairdryer. Some sitting areas include a sofa bed.
$ 1,401

Oceanview Stateroom
Two lower beds that convert to one queen-sized bed, large 48-inch porthole window, sitting area, private bathroom with shower, complimentary use of bathrobes, minibar, 20-inch interactive flat-screen TV, direct-dial telephone and voicemail, air-conditioning, individual safe, hairdryer, and 24-hour room service.
On Request
Interior Stateroom
Stateroom Size approx.: 170 sq.ft. Two lower beds that convert to one queen-sized bed, sitting area, private bathroom with shower, complimentary use of bathrobes, minibar, 20-inch interactive flat-screen TV, direct-dial telephone and voicemail, air-conditioning, individual safe, hairdryer, and 24-hour room service.
$ 951

All prices are per person, occupancy selected, and include all meals, accommodations and entertainment!

Taxes of $130pp, and optional insurance are additional.

A deposit of $380 per person is required at time of booking. Final payment is due 90 days prior to sailing.

Single Share Traveling solo but don't mind sharing a cabin? Ask about our cabin share assistance program.

Optional shore excursions will be offered.

Prices are cruise only and DO NOT INCLUDE return airfare! Please ask for airfare add-ons back to your home city.

Three Perks Included! Book any non-suite category and GET THREE of the following: a complimentary Classic beverage packages, complimentary gratuities, unlimited onboard internet packages, or an onboard credit of $300 per stateroom!

Four Perks Suite deal! Book a Suite and get all of the perks, with a complimentary upgrade to a Premium beverage package, at no additional charge!

NO PERKS PRICING! Please ask about lower prices that does not include any perks!

GO promotions are capacity controlled and offer may be withdrawn at any time without prior notice.

Fares are subject to availability and may change without prior notice.

Also included are the traditional BearCruise activities, subject to minimum participation.

Please ask for further details.

Special Airfares








Pre-Cruise Hotels







Post-Cruise Hotel