US Pacific Northwest Columbia & Snake Rivers All-Gay Cruise
8 nights from Spokane, Washington to Vancouver, Washington
June 02 – 10, 2024
American Queen Voyages American Empress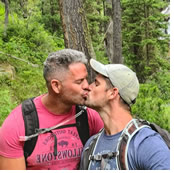 9-day exclusive Columbia & Snake Rivers all-gay cruise from Spokane to Portland, where the paths paved by Lewis and Clark chart through the timber and wild coastline, balanced by beautiful wine country and rich native American history. Here, adventure is always just around the bend. Join us on the first ever Brand g Vacations domestic USA adventure as we team up with American Queen Voyages to charter their river ship, American Empress exclusively for our Brand g guests. This remarkable vessel has been exquisitely designed to bring today's discerning travelers extraordinary American river experiences.
As the American Empress transports guests through the rivers of the Pacific Northwest, evergreen and ever-beautiful, the landscape transforms from a majestic wall of spruce and pine to rolling hills speckled with vineyards and cherry trees. Here, Mother Nature presents her purest expression of life — untamed, spiritual and free.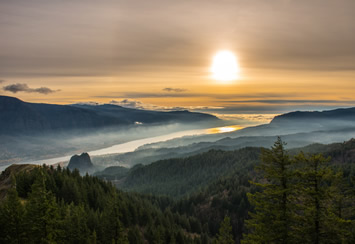 Embark on a divine adventure through the splendor of the Pacific Northwest on a Columbia and Snake River cruise. Observe the landscapes change from majestic walls of spruce and pine to rolling hills dotted with vineyards from the luxury of your private veranda onboard the American Empress. Immerse yourself in the breathtaking scenery, retrace the expedition path of Lewis and Clark, and indulge in the finest wines and freshest seafood Oregon and Washington have to offer. This Columbia and Snake River cruise presents an unparalleled depth of Native American history and culture for river farers to dive into and create lifelong memories.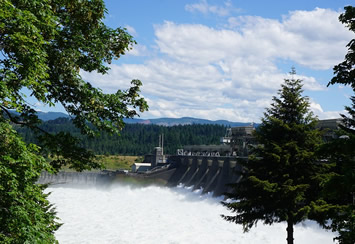 Columbia & Snake Rivers All-Gay Cruise Highlights
• Included pre-cruise night in historic Spokane
• Nez Perce National Historical Park
• Clarkston's included hop-on hop-off bus tour
• Sacajawea State Park
• Hanford Reach National Monument
• Columbia Gorge Discovery Center & Museum
• National Neon Sign Museum
• Bonneville Dam
• Astoria's beautiful riverwalk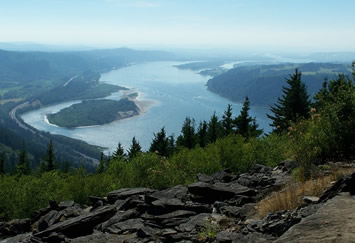 Columbia & Snake Rivers All-Gay Cruise Inclusions
• 1 Pre-cruise hotel night in historic Spokane, WA
• 8 days cruise accommodation
• Live, Daily Onboard Entertainment & Enrichment
• Acclaimed Cuisine in Multiple Venues
• Unlimited premium pours to share with like-spirited travelers
• In-Room Dining
• Included Wi-Fi
• Unlimited Guided Tours
• Arrival and departure airport transfers
• Bicycles and Hiking Sticks
Not included: Flights to and from the cruise, pre or post stays, spa treatments, optional excursions. Cruise port charges and pre-paid gratuities.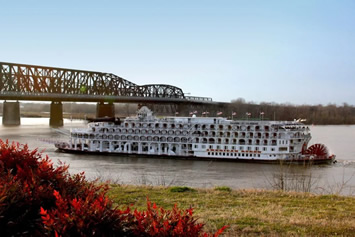 Your Ship - American Empress
Proudly serving as the largest overnight riverboat west of the Mississippi, the American Empress delivers classic elegance and modern luxury on a grand scale. One step onboard and you will quickly discover that there is far more to this vessel than her welcoming appearance and signature red paddlewheel.
A river cruise aboard the American Empress incites moments of sheer perfection with her seamless blend of stunning backdrops, exceptional dining venues, dynamic public spaces and stunning décor. Boasts a vast collection of some of the most intricate artifacts and artwork of Native Alaska, Russia, the Gold Rush and the sternwheeler era.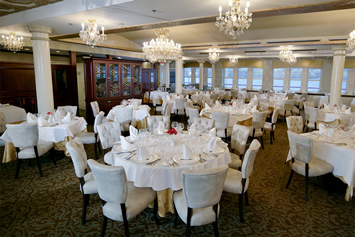 Dining
Inspired by America's Pacific Northwest, our menus showcase the region's varied cultural and culinary influences. Savor each succulent bite, swirl and sip amidst the rich ambiance of the Astoria Dining Room.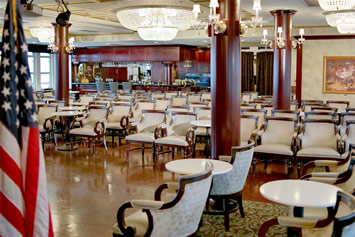 Recreation
From lively performances to stimulating lectures with our knowledgeable historians or Riverlorians, you will find a pastime on the ship that suits your passion.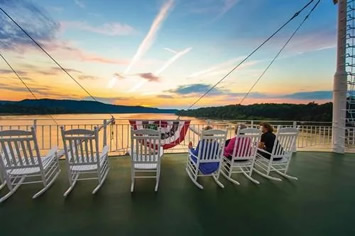 Relaxation
The American Empress has every amenity to help you unwind entirely — luxurious modern amenities, gracious service, and endless authentic experiences that await you.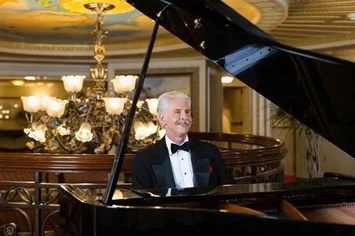 Entertainment & Activities
Entertainment
Our onboard Brand g Signature Entertainment is carefully curated to create dazzling experiences, with some of our community's hottest cabaret acts, drag queens, piano artists, lecturers and much, much, more!
Party Themes
Although the focus of our cruise is mainly on sightseeing and socializing, we do like to mix in a bit of frivolity. With that in mind, we normally plan a couple of themed deck parties during the cruise. You can choose to participate (with costumes as over the top as you'd like) or just be a voyeur! Party themes will be announced four months prior to departure.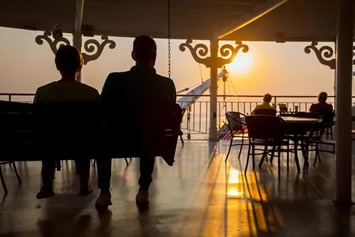 Frequently Asked Questions
When should I schedule my flights?
Arrivals: You should schedule your flights to arrive in Spokane, WA (GEG) on or before June 2, 2024. Your first event will be a welcome cocktail reception at approximately 5:30pm.
Departures: You should schedule your flight from Portland, OR (PDX) to depart on June 10, 2024 at Noon or later.
What arrival and departure transfers are included?
Arrival transfers Transfers will be provided from the Spokane, Washington Airport (GEG) to the host hotel in Spokane.
Departure transfers Transfers will be provided from the ship to the Portland, Oregon Airport (PDX) or to a local hotel on the day of disembarkation. No further transfers will be provided.
Are excursions included?
Yes, one excursion per port is included as part of the cruise fare.
What if I have dietary requirements?
We will make every effort to accommodate special dietary requests. Please inform us at least 45 days prior to departure of these requests.
Is there a dress code?
You are on vacation, so the last thing we want to impose is a dress code. However, we recommend long pants and a collar top for dinner. Otherwise, be as dressed up or down as you see fit as long as you're comfortable. Be sure to dress appropriately for changeable weather.
Will there be smoking areas?
The comfort and safety of our guests is our first priority. Smoking is only permitted in designated areas. On board the cruise, smoking is not permitted in the cabins or enclosed, public areas.
What weather can I expect from this trip?
In June, days can reach the upper 70s and the evenings are in generally in the 60s.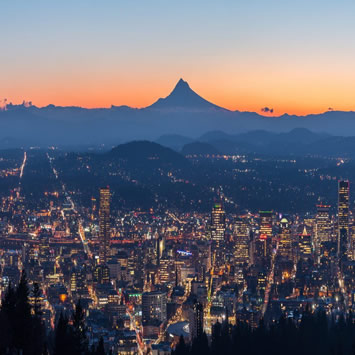 Columbia & Snake Rivers
All-Gay Cruise 2024 Itinerary


Date

Port

Meals

02 Jun
Spokane, Washington
R
03 Jun
Clarkston, Washington
B, L, D
04 Jun
Clarkston, Washington
B, L, D
05 Jun
Richland, Washington
B, L, D

06 Jun

The Dalles, Oregon
B, L, D
07 Jun
Stevenson, Washington
B, L, D

08 Jun

Stevenson / Camas / Washougal
B, L, D
09 Jun
Astoria, Oregon
B, L, D

10 Jun

Vancouver, Washington (Portland)
B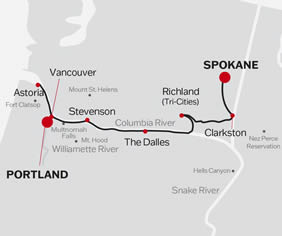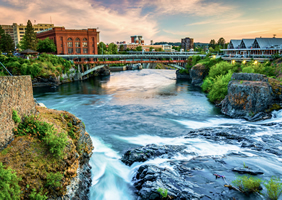 Day 1 - Spokane, Washington
Enjoy your overnight stay at the Spokane pre-cruise hotel. The day is yours to become acquainted with the city. For your convenience, our Hospitality Desk will be located in the hotel, and our hosts can assist with everything from general questions about your upcoming voyage to providing you with dining, entertainment and sightseeing options to maximize your time here. Join us for an evening Welcome Reception to meet your fellow guests.
Welcome Reception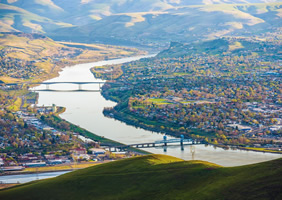 Day 2 - Clarkston, Washington (Embarkation)
Nestled at the union of the Snake and Clearwater rivers, Clarkston was settled in 1862 by Robert Bracken and was officially incorporated in 1902. Before becoming an official town the area was known by various names, including Jawbone Flats, Lewiston, and Concord – after the city in Massachusetts. The name Clarkston honors the legacy of William Clark, of the Lewis and Clark Expedition fame. Directly east across the Snake River is Lewiston, Idaho, the larger and older of the two towns, named for Meriwether Lewis. Their expedition passed westbound by canoe in October 1805; neither Lewis nor Clark ever visited the Clarkston side of the river. Eastbound, they returned in early May 1806. Spend the day tracing their historic journey. Overnight Clarkson. 
Breakfast, Lunch & Dinner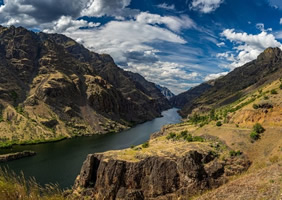 Day 3 - Clarkston, Washington
The spirit of adventure, picturesque vistas, year-round mild temperatures and a deep history make this scenic inland port a desirable stop to learn the rich cultural heritage of the region and its first people, the legendary Nimiipuu. Clarkston also offers something for American Queen Voyage guests who appreciate being closer to the water's edge. Here you can explore the rugged beauty of nearby Hells Canyon – North America's deepest gorge – aboard a guided jet boat or rafting charter. Washington State wines are renowned as some of the most captivating and irresistible wines in the world. From Clarkston discover the Lewis-Clark Valley wine region, home to the award-winning Basalt Cellars Winery and Parejas Cellars. This small port offers more than a few adventures, and delicious wines, to fall in love with.
Breakfast, Lunch & Dinner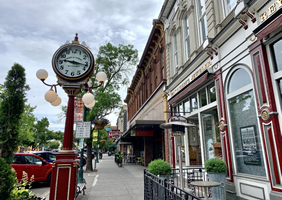 Day 4 - Richland, Washington
Step off the boat into a perfectly polished park, and take a short stroll to downtown Richland's shops, eateries, and attractions. Or venture to Walla Walla, where around every bend is an iconic winery, unforgettable view, or epic adventure. With more than 120 wineries and 2,800 acres of grapes, Walla Walla is recognized among the finest wine regions in the nation. These robust, exceptional flavors come with a refreshingly relaxed come-as-you-are attitude.  
Breakfast, Lunch & Dinner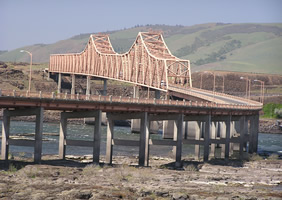 Day 5 - The Dalles, Oregon
Known as the end of the Oregon Trail, The Dalles holds a unique place in history as the gateway to the Inland Empire. The Dalles was the jumping-off spot for pioneers, soldiers, gold miners, adventurers, gunslingers, floozies and scallywags, who loaded their wagons onto rafts or barges and floated down the Columbia to the mouth of the Willamette River, then upriver to Oregon City. The Barlow Trail was constructed later to permit an overland crossing. The Dalles was also the site of Fort Dalles. Established in 1850 to protect immigrants after the Whitman Massacre, it was the only military post between the Pacific Coast and Wyoming. 
Breakfast, Lunch & Dinner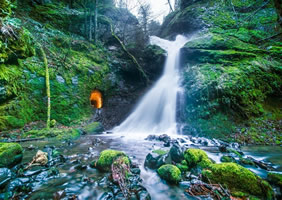 Day 6 - Stevenson, Washington
Nestled between the Columbia River to the south, and the mountains and basalt cliffs of the Columbia River Gorge to the north, Stevenson offers a respite from the hustle and bustle of larger ports. The area has been home to Native American settlements for thousands of years. Their villages were focal points for commerce and social gatherings as they came to trade and fish along the riverbanks. Later, in 1843, the Oregon Trail brought the first of a great wave of settlers; pioneers portaged around the Cascade Rapids on their way to the Willamette Valley. 
Breakfast, Lunch & Dinner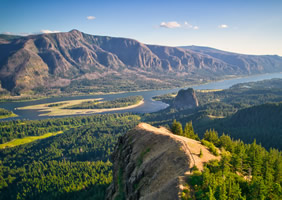 Day 7 - Stevenson / Camas / Washougal
Camas and Washougal are located side-by-side on the banks of the Columbia River. Part of the Portland-Vancouver metropolitan area, this community serves as the "Gateway to the Gorge." A highlight to a visit here is a drive through the Columbia River Gorge, the largest national scenic area in the United States. Up to 4,000 feet deep, the Gorge stretches for more than 80 miles as the Columbia River winds westward through the Cascade Range, forming the boundary between the State of Washington to the north and Oregon to the south. Three volcanoes dominate the Cascades and are major attractions when visiting the Gorge. Majestic Mt. Hood is the highest point in Oregon. It is one of the three dormant volcanoes in this region, with Mt. Adams and Mt. St. Helens located across the river in Washington state. The western Gorge, with an average annual rainfall of 75 inches, is lush and green with misty mountains, old growth forest and over 40 plus waterfalls. The eastern Gorge, with an annual rainfall of less than 15 inches, is a region of rocky bluffs, rolling hills, desert wildflowers and wide, open spaces.
In downtown Camas, the older buildings have been preserved and are utilized by businesses to make this a bustling community center. Trees and planters line the streets make the downtown mall an appealing place to visit and shop. The Port of Camas/Washougal and Parker's Landing Historical Park may very well be sitting atop the birthplace of Washougal, which features a trendy downtown that has been totally revitalized.
Breakfast, Lunch & Dinner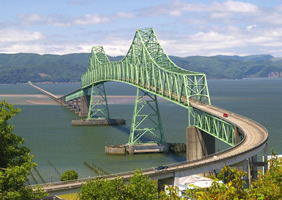 Day 8 - Astoria, Oregon
Surrounded by forests, boasting three rivers and situated a stone's throw away from the Pacific, Astoria is a picturesque port city with Victorian-era homes etched into hills overlooking the Columbia River. Astoria is known to be the oldest American settlement west of the Rocky Mountains, inhabited for thousands of years by the Clatsop Tribe. Astoria has a rich history that reflects the many influences the town has had from people and cultures around the world. Many of its current residents are descendants from early settlers, many of whom were Chinese and played a significant role in Astoria's history especially in the canneries, railroads, and the jetties at the Columbia River. The Garden of Surging Waves is a beautiful park that celebrates and honors Astoria's relationship with China over the years. The Astoria Riverwalk is the lifeblood of the city and the best way to get a feel for the city spirit.
Perhaps start your exploration at the Port of Astoria with hundreds of ships from all over the world. Walk under the 4.1-mile-long Astoria-Megler Bridge, enjoy the spectacular views of the river, check out the Maritime Memorial, visit one of the many nearby shipwrecks, learn about life on the Columbia at the Columbia River Maritime Museum, and enjoy the lounging sea lions on the docks at 36th Street. Alternatively, you can climb to the top of the Astoria Column – wrapped in depictions of history – look out over the landscape toward the Pacific Ocean and watch your model wooden airplane glide through the air to its rest below.
Breakfast, Lunch & Dinner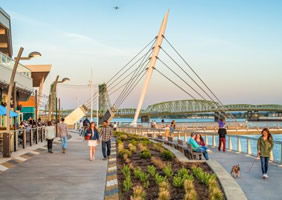 Day 9 - Vancouver, Washington (Portland)
As your journey concludes, there are other opportunities for you to take in the town — whether it's an optional premier post-cruise hotel* or a quick transfer to the airport for your final trip home — our team can pre-arrange everything for you.
Breakfast