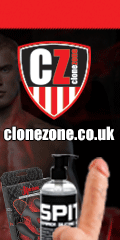 Spain, Morocco & Canary Islands All-Gay Cruise 2024
7 nights from Malaga, Spain to Las Palmas, Gran Canaria
October 07 – 14, 2024
Atlas Ocean Voyages World Navigator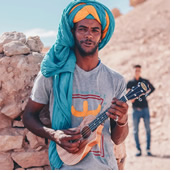 We are teaming up with Atlas Ocean Voyages to charter their small luxury-expedition ship, the World Navigator exclusively for our Brand g all-gay cruise guests. This remarkable vessel has been exquisitely designed to bring today's discerning luxury travelers extraordinary cultural experiences and adventures to remote and fascinating destinations around the world. Laugh. Dance. Smile. Relax on this unforgettable adventure of the senses.
Although the Strait of Gibraltar separates Spain and Morocco, they share a rich, common history. Our trip focuses on Mudéjar art, a mix of styles that appeared between the Moorish invasions and the Spanish Reconquista.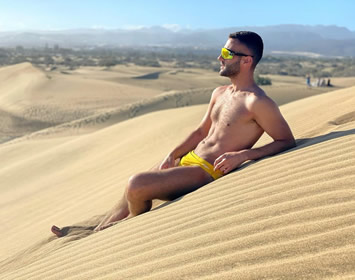 Join us on a fascinating cruise under the golden sunshine in Andalusia to the lively atmosphere of the traditional Moroccan bazaars. Experience Tangier and its faded mongrel charm – not entirely Moroccan, European, or African but a blend of all three. Visit Rabat, the capital of Morocco, and its iconic landmark, the Hassan Tower.
Explore Marrakech, with its snake charmers, fortune tellers, jugglers, and spice traders. Stroll the Arrecife with her golden sand beaches which are sheltered by a reef and a great selection of bars and restaurants. This unique luxe-adventure travel experience is customized just for you.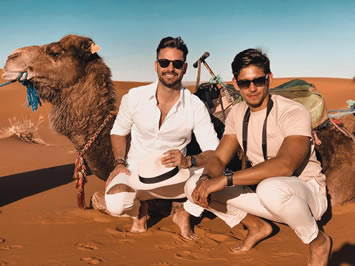 Spain, Morocco & Canary Islands Gay Cruise Highlights
• Málaga, the port city on southern Spain's Costa del Sol
• Tangier, the stepping stone between Europe and Africa
• Casablanca's Hassan Tower and the Mausoleum of Mohammed V
• The Imperial City of Rabat and its medina, a UNESCO World Heritage Site
• Marrakech's colorful markets, impressive monuments and lively people
• Full day at Sea
• Lanzarote, "Island of Fire", a UNESCO Biosphere Reserve
• Gran Canaria, the most gay friendly island in the Canary Archipelago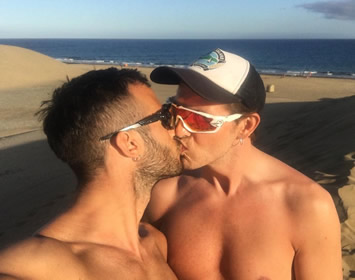 All-Inclusive Experience
• 7 nights luxe cruise accommodation
• Exceptional culinary adventures with five included onboard dining options
• Unlimited premium pours to share with like-spirited travelers
• Personalized in-room bar service and more in every accommodation
• Included Wi-Fi
• Luxe-Adventure Shore Excursions
• Arrival and departure airport transfers
**Not included: International flights to and from the cruise, pre or post stays, spa treatments, optional excursions. Cruise port charges and pre-paid gratuities.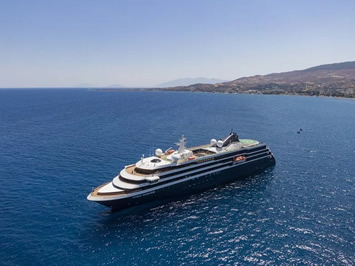 Your Ship Luxury World Navigator
World Navigator was conceived with the sensibilities of an explorer — one who believes the world is best experienced up close, while still leaving the destination untouched. Launched in late 2021, this vessel realizes the possibilities of environmental stewardship with a propeller-less hybrid propulsion system engineered by Rolls-Royce and anchor-less positioning, both designed to leave the marine environment undisturbed.
This is how you can best enjoy the world and protect it for others. And as the expedition-style World Navigator quietly nestles into the amazing, remote and rugged locations on your itinerary, you'll wonder why anyone would roam any other way.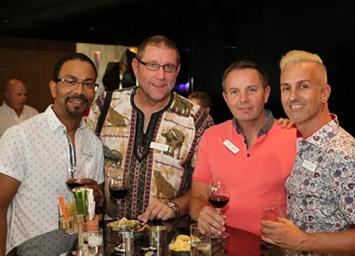 ENTERTAINMENT
Our onboard Brand g Signature Entertainment is carefully curated to create dazzling experiences, with some of our community's hottest cabaret acts, drag queens, piano artists, lecturers and much, much, more!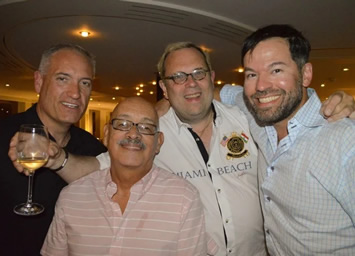 PARTY THEMES
Although the focus of our cruise is mainly on sightseeing and socializing, we do like to mix in a bit of frivolity. With that in mind, we normally plan a couple of themed deck parties during the cruise. You can choose to participate (with costumes as over the top as you'd like) or just be a voyeur! Party themes will be announced four months prior to departure.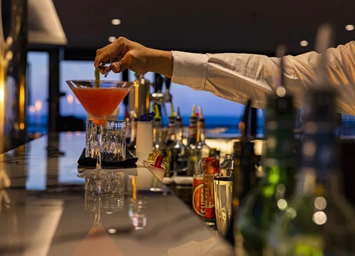 APRÈS SEA & BAR
After a day of exploration and discovery, return aboard with the day's adventures still fresh in your mind. Après Sea creates a "come as you are" atmosphere that invites travelers to get to know each other better.
DINING
We offer 5 dining choices onboard, including charcoal-cooked favorites at 7-AFT using the chef-inspired jospering grill method.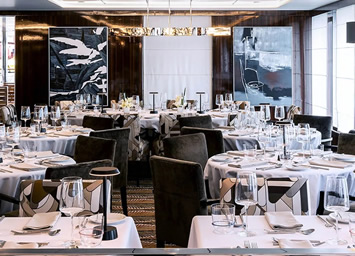 Our main dining venue, Porto, serves breakfast, lunch, and dinner daily with an array of delectable fare, including their special ALMA menu featuring homestyle Portuguese dishes just like grandma makes.
When you're looking for a grab 'n' go breakfast or midday snack, you can find the perfect pastry, juice, smoothie, or sandwich at Paula's Pantry.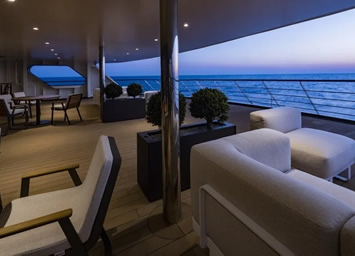 In addition, The Dome is open daily for afternoon snacks, and room service is available from our "always available" menu.
FITNESS STUDIO & SAUNA
As part of our approach to a holistic lifestyle, you can work up a sweat onboard in our Fitness Studio and sauna. Our high-quality exercise equipment and large, comfortable sauna make it easy to keep your usual workout routine.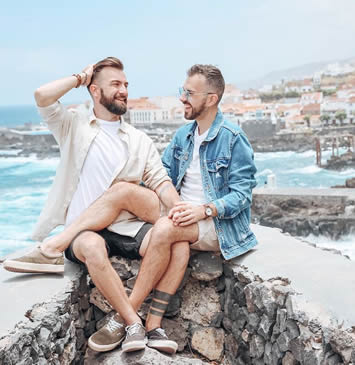 Spain, Morocco & Canary Islands
All-Gay Cruise 2024 Itinerary


Date

Port

Meals

07 Oct
Malaga, Spain
D
08 Oct
Tangier, Morocco
B, L, D
09 Oct
Casablanca, Morocco
B, L, D
10 Oct
Casablanca (Rabat), Morocco
B, L, D

11 Oct

Safi (Marrakech), Morocco
B, L, D
12 Oct

Fun Day at Sea!

B, L, D

13 Oct

Arrecife, Lanzarote
B, L, D
14 Oct
Las Palmas, Gran Canaria
B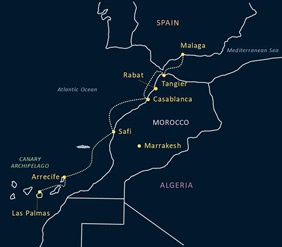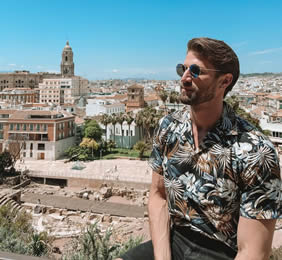 Day 1 - Malaga, Spain
Arrive in Malaga
and board the World Navigator. Settle in to your cabin and enjoy a welcome dinner as the ship sets sail. Get set for a week of non-stop Brand g Signature Entertainment, enriching shore excursions, exquisite cuisine, impeccable service, all in the intimate company of 200 of your closest Brand g friends!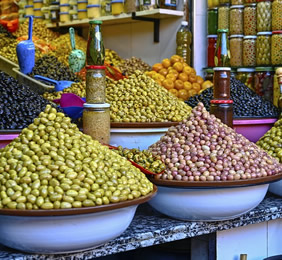 Day 2 - Tangier, Morocco
Gateway to Africa, Tangier stands at a cultural and commercial cross-roads, and is a stepping stone between Europe and Africa. Tangier has long been romanticized by artists, poets, and writers who have arrived at its busy shores seeking adventure. The city's history and culture does little to dispel that sense of mystery. Founded by Carthaginians in the 5th century B.C., the city has seen great powers and would-be conquerors come and go; the city always abides.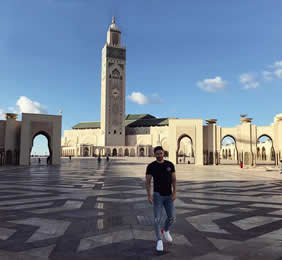 Day 3 - Casablanca, Morocco
For many, the word Casablanca conjures up Hollywood's vision of an exotic city of intrigue. But the reality is far removed from film fantasy, more complex and fascinating. Casablanca is Morocco's largest city, the busiest port in North Africa, and home to nearly four million people. An important trading center since the days of the Phoenicians, Casablanca is an evocative blend of more new than old, more familiar than exotic. It is a modern commercial city with an old heart that is home to narrow, cobbled alleys, bazaars and souks, minarets and medinas.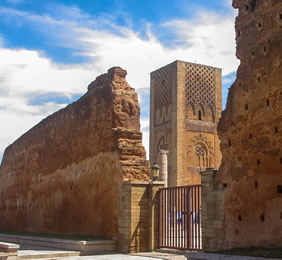 Day 4 - Casablanca (Rabat), Morocco
The coastal town of Rabat is one of four Imperial Cities of Morocco. It features a charming combination of long golden beaches, endless avenues, and ancient city walls surrounding the bright white houses that make up the modern part of town. Its medina, listed as a UNESCO World Heritage Site in 2012, contains awe-inspiring monuments such as the Chellah medieval fortified necropolis, Hassan Tower, and the Mausoleum of Mohammed V, which we'll visit.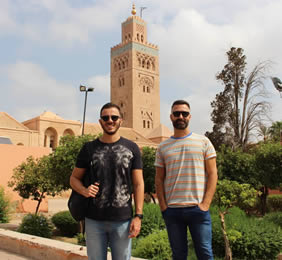 Day 5 - Safi (Marrakech), Morocco
The southern Moroccan city of Marrakech was founded in 1070 and was considered an important political and cultural center in the western Muslim world. Now, this captivating city is the most popular destination in all of Morocco. With its lively people, colorful marketplaces, impressive monuments, and religious sites, Marrakech is a feast for the eyes and the senses.
Day 6 - Fun Day at Sea!
We'll spend the day cruising the Atlantic Ocean. Pamper yourself at the spa or enjoy some time on deck sunning, enjoying a meal or reading a book. There is also sure to be plenty of Brand g Vacations Signature Entertainment and Activities such as pool games, interesting lectures, deck parties and more to keep you entertained.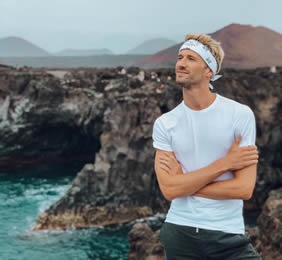 Day 7 - Arrecife, Lanzarote (Canary Islands)
Arrecife is the diverse and interesting capital of Lanzarote. It has a striking golden sand beach which is sheltered by a reef and a great selection of bars and restaurants. Worth a visit is The Castillo de San Gabriel in the center with its impressive drawbridge that was constructed in 1599 to help defend against pirate attacks. The gorgeous little La Recova market is tucked away and there is a selection of artisan craft shops together with a fresh food market on weekdays.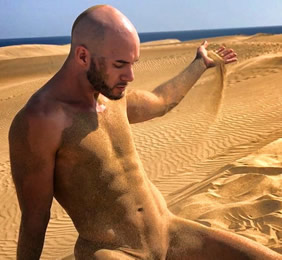 Day 8 - Las Palmas, Gran Canaria (Canary Islands)
Your final port of call, welcoming, tolerant Gran Canaria offers a little something for everyone. Those seeking peaceful escape scamper to Mogan's quiet fishing villages. Gay visitors crowd the bars, restaurants and beaches of Playa del Ingles. Urban attractions are on offer in Las Palmas. Three highways open up the island for those with a rental car or a bus schedule. Prime sites to visit include Iglesia de San Juan Bautista de Arucas and Palmalitos zoo park. No excursions are scheduled here, upon disembarkation you may either take advantage of our included airport transfers, extend on your own and we'll provide a transfer to your independent accommodations, or extend your stay in our post-cruise hotel, Salobre Hotel & Serenity.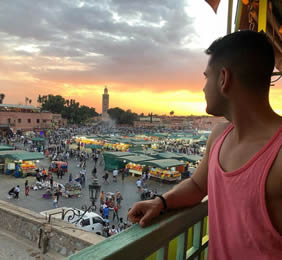 Frequently Asked Questions
When should I schedule my flights?
Arrival: You should schedule your flights to arrive in Malaga Airport (APG) on or before October 7th. Your first event will be a welcome cocktail reception at approximately 5:30pm. We recommend arriving the day before to avoid any airline delay issues.
Departures: You should schedule your flight from Gran Canaria Airport (LPA) to depart on October 14th after 12:30pm.
The World Navigator is set to arrive in Las Palmas at 8am on the 14th.
What are the passport and visa requirements?
Citizens of most countries are required to have a valid passport, which expires at least 6 months after the last day of your travels. Visas are not currently required to enter The European Union, however if you are not a member of the European Union, you may be required to register for ETIAS visa waiver. 
What arrival and departure transfers are included?
Arrival: transfers are provided from the Malaga Airport (APG) to the ship.
Departure: transfers are provided from the ship to the Gran Canaria Airport (LPA).
Are excursions included?
Yes, one excursion per port is included as part of the cruise fare.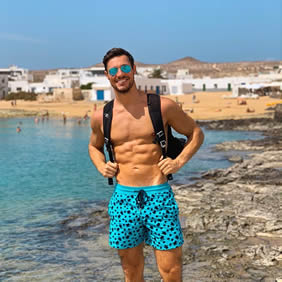 Guests: 196 • Year Built: 2021 • Decks: 6 • Guest Cabins: 98 • Length: 129 m • Width: 18.9 m • Gross Tonnage: 10,000

Spain, Morocco & Canary Islands All-Gay Cruise 2024 Rates

NS - Navigator Suite
Deck 6. 465 sq. ft. of total living space; Oversized private balcony with teak furnishings; Queen bed (convertible to two single beds); Elegant private bath featuring L'OCCITANE products; Walk-in shower with rain head and body jets; Dual sinks; Wardrobe; Separate living room with sofa, vanity, flat-screen TV, and state-of-the-art "infotainment" system; Easy access to gym, spa and pool
$ 12,749

$ 13,099

DS - Discovery Suite
Deck 5. 445 sq. ft. of total living space; Oversized private balcony with teak furnishings; Queen bed (convertible to two single beds); Elegant private bath featuring L'OCCITANE products; Walk-in shower with rain head and body jets; Wardrobe; Separate living room with sofa, vanity, flat-screen TV, and state-of-the-art "infotainment" system
$ 10,749

$ 11,099

JS - Journey Suite
Decks 5 and 6. 382 sq. ft. of total living space; Oversized private balcony with teak furnishings; Queen bed (convertible to two single beds); Elegant private bath featuring L'OCCITANE products; Walk-in shower with rain head and body jets; Wardrobe; Sitting area with sofa, flat-screen TV, and state-of-the-art "infotainment" system
$ 9,549

$ 9,899

E2 - Veranda Deluxe
Deck 6. 300 sq. ft. of total living space; Balcony with teak furnishings; Queen bed (convertible to two single beds); Elegant private bath featuring L'OCCITANE products; Walk-in glass shower with rain head and body jets; Wardrobe; Flat-screen TV, and state-of-the-art "infotainment" system
$ 8,849

$ 9,199

E1 - Horizon Deluxe
Deck 6. 300 sq. ft. of total living space with floor to ceiling top-drop Juliet balcony and interior sitting area; Queen bed (convertible to two single beds); Elegant private bath featuring L'OCCITANE products; Walk-in glass shower with rain head and body jets; Wardrobe; Flat-screen TV, and state-of-the-art "infotainment" system
$ 8,649

$ 8,999

A1 - Horizon
Deck 6. 270 sq. ft. of total living space; Floor-to-ceiling Juliet-style balcony with top drop electric window; Queen bed (convertible to two single beds); Elegant private bath featuring L'OCCITANE products; Walk-in glass shower with rain head and body jets; Wardrobe; Sitting area with sofa, flat-screen TV, and state-of-the-art "infotainment" system
$ 8,049

$ 8,399

A2 - Horizon
Deck 5. 270 sq. ft. of total living space; Floor-to-ceiling Juliet-style balcony with top drop electric window; Queen bed (convertible to two single beds); Elegant private bath featuring L'OCCITANE products; Walk-in glass shower with rain head and body jets; Wardrobe; Sitting area with sofa, flat-screen TV, and state-of-the-art "infotainment" system
$ 7,849

$ 8,199

B1 - Veranda
Deck 6. 270 sq. ft. of total living space; Balcony with teak furnishings; Queen bed (convertible to two single beds); Elegant private bath featuring L'OCCITANE products; Walk-in glass shower with rain head and body jets; Wardrobe; Sitting area with sofa, flat-screen TV, and state-of-the-art "infotainment" systemm
$ 7,349

$ 7,699

B2 - Veranda
Deck 5. 270 sq. ft. of total living space; Balcony with teak furnishings; Queen bed (convertible to two single beds); Elegant private bath featuring L'OCCITANE products; Walk-in glass shower with rain head and body jets; Wardrobe; Sitting area with sofa, flat-screen TV, and state-of-the-art "infotainment" systemm
$ 7,149

$ 7,499

C1 - Adventure
Deck 3. 183 sq. ft. of total living space; Panoramic ocean view from the full picture window; Queen bed (convertible to two single beds); Elegant private bath featuring L'OCCITANE products; Walk-in glass shower with rain head, body jets and a handheld shower; Ample storage space; A wall desk and chair and casual pouf, flat-screen TV and state-of-the-art "infotainment" system
$ 6,849

$ 7,199

The fares above are per person USD, based on double occupancy.

Port Charges of $295 per person are additional.

Pre-paid Gratuities of $195 per person are additional.

A $1,500 per person deposit is required to confirm your space. A second deposit of $1,500 per person is required ten months prior to departure on November 7, 2023. The balance of the trip is due 120 days prior to departure on June 9, 2024.

Single Travelers Reduced single supplement of $3,500 applies to single occupancy bookings in categories A2, B2 and C1 only. All other categories are priced at two times the per person double occupancy pricing. Port charges and gratuities are only charged once per single reservation regardless of the category.

Traveling alone? Ask about our single roommate share program to help you avoid the single supplement charges.

Pre-Cruise Hotel: Palacio Solecio Hotel, Malaga
Deluxe Accommodations: $ 370 per room per night, including breakfast and transfers from the airport to the hotel and to the ship on the 8th

Post-Cruise Hotel: Salobre Hotel & Serenity, Maspalomas, Gran Canaria
Deluxe Accommodations: $ 304 per room per night, including breakfast and transfers from the ship to the hotel on the 15th and onward transfers from the hotel to the airport for your return flight on your day of departure.

Combine this cruise with our Andalusia Luxury Gay Tour, October 1 - 7, 2024

Early booking Discount expires soon!

Special Airfares








Pre-Cruise Hotels







Post-Cruise Hotel