Douro River Portugal All-Gay & Bears Cruise 2022
7 nights from/to Porto, Portugal
May 30 – June 06, 2022
CroisiEurope Cruises MS Infante Don Henrique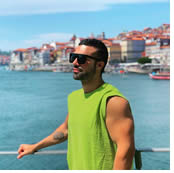 Join us on Cruise4Bears Douro River first All-Gay & Bears cruise! Enjoy 7 amazing days cruising the world's most spectacular wine-growing region in Portugal & Spain. Optional Pre-cruise extension to Lisbon Bear Pride 2022 (May 27-30, 2022). Cruise4Bears signature All-inclusive rate includes: 7 nights Douro River all-gay & bears cruise, full-board, beverage package, gay parties, and more!
Visit Spain and Portugal connected by the Golden River. Listed as a UNESCO World Heritage Site, the Douro opens its doors where you will discover terraced vineyards, typical villages, quintas and their wines all along the river. Explore Salamanca, named as "the small Rome" classified World Heritage by UNESCO, don't miss out its cathedral. Embark for an unforgettable all-gay journey through these magnificent countries.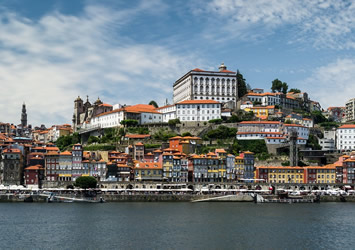 The scent of dried spices and grass hangs in the air; an intoxicating landscape presents itself with towering slopes and wine terraces of many different shapes, with their plump grapes straining towards the sun. The Douro river gracefully makes its way through what is probably the most spectacular wine region of the world - the birthplace of port. This uplifting view will double your enjoyment of the famous wines.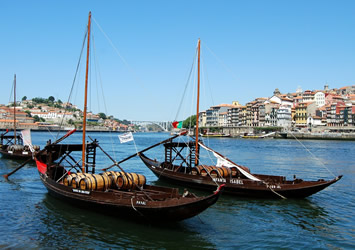 From its source in Spain, the Douro river flows across Portugal from east to west and ends in the Atlantic at Porto. Wine has been cultivated here intensively for centuries. In former times, mariners would transport the barrels on boats all the way to the port wine cellars. Picturesque vineyards adorn the river banks. Along the river are enchantingly beautiful medieval towns boasting wonderful architecture. This region historically attracted Romans, pilgrims and nobles, all of whom created idyllic beauty spots here.
And finally Porto, cradle of the glorious Portuguese fleet, with its mixture of traditional and modern architecture. Without a doubt, this impressive tour has a special charm promising a river cruise for all the senses.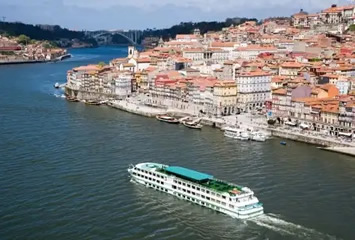 Our Ship - MS Infante Don Henrique
Welcome on board the MS Infante Don Henrique! Renovated in 2014, the interior is nicely decorated in fuchsia and plum colors.
Most of the cabins are located on the upper deck, they have large windows with French balconies. Those on the middle and main decks have large windows.
Located on the main deck, the restaurant is where all meals are served during the cruise. The lounge / bar is located at the front of the middle deck and will welcome passengers during evening entertainment, aperitif games ... The sun deck has a swimming pool, armchairs and sun loungers, offering a place to relax while enjoying the panoramic views of the countryside.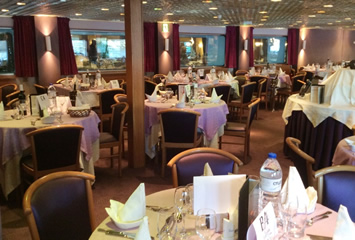 Restaurant
Located on the main deck, the restaurant is where all meals are served during your cruise. It seats all guests at tables which vary in size with a panoramic view. The atmosphere is casual but elegant.
Sun Deck
Take advantage of the sun deck to relax! It is equipped with chairs and deckchairs, allowing you to cool off while enjoying a panoramic view of the magnificent landscapes.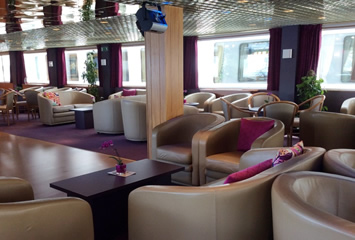 Lounge Bar With Dancefloor
The lounge tastefully decorated, is located at the front of the ship and offers panoramic views. Cocktails and games, dancing, and other forms of entertainment all happen here.
Fitness
Start your day by joining us for a morning fitness class on the sun deck.
All-Gay! All-Bear! And Only Men!
How many?
Our exclusive all-gay vessel MS Infante Don Henrique vessel has 71 exclusive cabins and accommodates a maximum of 138 gay men, with more personal space per person than bigger ships.
Flights
Flights should be arranged by you. We strongly recommend arriving the day before so you can enjoy Porto. Departure flights from Porto (OPO) can be Sunday, June 5th evening or Monday, June 6, as we will be docked in Porto.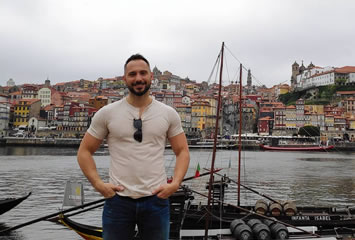 Drinks Included
All these drinks are included: draught beer, water, cocktail of the day, aperitifs, wine by the glass, soft drinks, hot drinks, and spirits. Oh! and port wine, obviously. Premium brands are available at an additional charge.
Included: Parties
On board and onshore. White party, Hot'n'Sexy party or Costume Party are just examples of private parties we have had on previous Cruise 4 Bears.
Lisbon Bear Pride
Before cruise join us for 3 nights in Lisbon for popular Lisbon Bear Pride. Pre- cruise Package will include 3 nights in a 4* hotel, tours, meals, parties, sauna, and transfer to Porto for a very reasonable rate.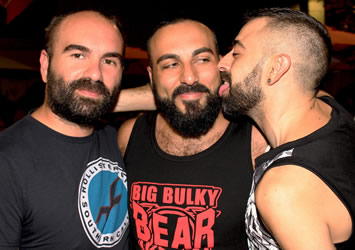 Tour Package
Additional tour package will include one tour per day. Several relaxed half day tours to enhance our Douro Valley experience and one full day tour to Spanish jewel of Salamanca with lunch included. From 290€ per guest.
Porto Pre- cruise
Porto is an amazing destination. We plan to have a host hotel, tours, get-together and exclusive transfer to our vessel on embarkation day.