Poz Cruise Retreat 2022
Caribbean, Costa Rica & Panama Canal HIV Gay Cruise
10 nights from/to Fort Lauderdale, Florida (USA)
November 03 – 13, 2022
Princess Cruises Caribbean Princess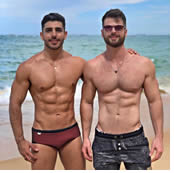 Welcome to the 17th Annual Poz Cruise Retreat! With 300+ guests expected, you will feel at home right from the first day. Our group of amazing men (and women) are very welcoming so it very easy to make long lasting friendship. Included are private events such as cocktail parties and exclusive shore excursions. PLUS, on our four days "at sea" we plan several fun shipboard events and activities. In the dining room we will have our own block of tables, which is always a great way to get to know people.
Feel free to table hop each night so you can meet as many people as possible. Or if you prefer enjoy the informal buffet, complimentary room service, or outstanding specialty restaurants. Our mission has always been and continues to be camaraderie and the embracing nature of the group. You will feel at ease from the get-go as our members really look forward and take care of each other.
Although a predominantly gay group, we welcome everyone of all sexual persuasions. Our core group of heterosexuals, who come every year always have a blast and add tremendous energy to the entire group. We welcome your negative family and friends. People of all sexualities are encouraged to join us for our bonding and camaraderie; family, friends, partners/spouses regardless of sero-status are also welcomed.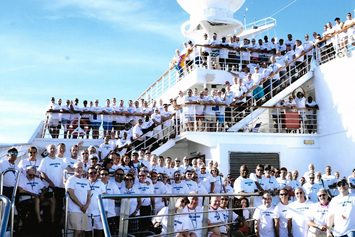 Our 17th POZ cruise will sail from Fort Lauderdale to Several Ports in the Caribbean and The Panama Canal! We'll visit Falmouth (Jamaica), Cartagena (Colombia), The Panama Canal, Limon (Costa Rica), and Grand Cayman Island! PLUS you'll enjoy FOUR fun-filled days at sea with special events. (Or you can just relax. It's your retreat to do as you please.)
Traveling solo, fear not. Our cruises attract a large number single travelers. We offer a roommate match program to help keep your costs down. Normally a single occupancy cabin are double the normal rates.
It is most gratifying to see the large number of strong long lasting friendships that develop each year. Your new "family" awaits you . We are privileged to have many, many cruisers join us for three, five and ten years. Some never miss a year! These repeat guests give you an inkling of a new extended family waiting to meet you.
Your Cruise Retreat rate includes all your meals, basic beverages and entertainment as well as our private events.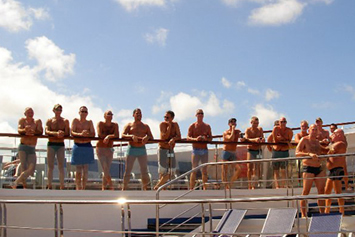 Experience a partial transit of the Panama Canal New Locks. Visit the pristine beaches of the Caribbean and explore the lush rainforests of Costa Rica.
Princess Cruises is the number one cruise line sailing to this bucket list destination, and as awe-inspiring as it is to travel through one of Condé Nast Traveler's 7 Cruise Wonders of the World, we'll help you explore equally fascinating places along the way. So stretch out on a Caribbean beach, admire the pristine rainforests, stroll the cobbled streets of colonial towns and journey through the fabled Panama Canal with Princess.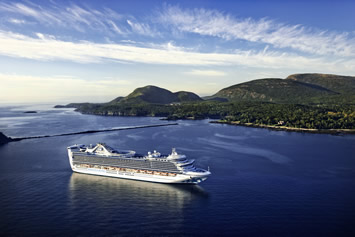 Your Ship - Caribbean Princess
Savor carefree moments at sea with enticing cuisine, engaging entertainment and venues to match every mood. Exciting adventures await aboard Caribbean Princess following her multi-million-dollar array of luxurious enhancements. From staterooms that offer a more restful sleep, to endless tempting new dining options, fresh experiences, plus other upgrades, you'll find Caribbean Princess herself has come back new.
Come back new from a cruise vacation on the Caribbean Princess, one of the stars of the destination that bears her name. At her launch, this incredible cruise ship introduced Movies Under the Stars - a giant poolside movie theater featuring first run movies, concerts and sporting events. Here you can relax in a cushioned lounger with freshly-popped, complimentary popcorn under the night sky. Onboard, guests can also enjoy a variety of street performing acts in the Italian-inspired Piazza, indulge in a soothing massage from an outdoor cabana at The Sanctuary, or savor a premium steak cooked to order in the Crown Grill!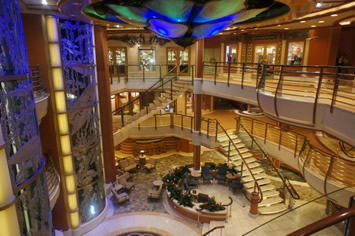 Activities on Caribbean Princess
Caribbean Princess is designed to stimulate, entertain, inspire, educate - and make you sweat! Work up a sweat in the sports facilities, where you can enjoy the gym and fitness area, a nine-hole putting course called Princess Links, virtual golf simulators, a jogging track, a basketball/volleyball court, shuffleboard and a unique swim-against-the-current pool!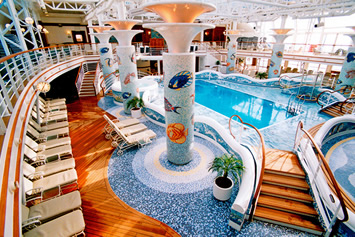 Speaking of pools, visit each of the five pools on this ship and relax in the sun! With names like the Calypso Reef (with two hot tubs), Neptune's Reef (also with two hot tubs), the Pirate's View hot tub and splash pool, the Terrace Pool, and the Lotus Spa Pool (which has two hot tubs) - you know you're in for a watery treat!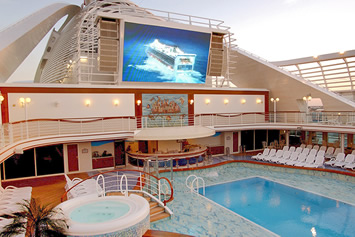 Splash around, dip your toes, or just enjoy the sun! Go shopping and browse through the great boutiques on board, which offer an art gallery, designer clothing, and gifts (all duty-free)! There's also a Hearts and Minds Wedding Chapel, a library, 24-hour Internet service (including wireless), and the ScholarShip@Sea seminars! Your day will be filled with activity!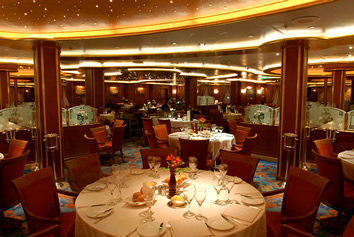 Dining / Food on Caribbean Princess
The only dining on Caribbean Princess is fine dining! Choose from Traditional Dining at the Island Dining Room, where your meals will be served at the same time every day - or go with Anytime Dining at the Coral Dining Room! The ship also offers an Italian restaurant called Sabatini's as well as the Sterling Steakhouse, and there's even Ultimate Balcony Dining, where your food will be served with a breathtaking view!
Don't forget the casual dining options, like 24-hour dining in the Horizon Court, the Café Caribe, the Lobby Bar and patisserie, the Prego Pizzeria, the Trident Grill, and the Scoops ice cream bar! There's also afternoon tea, a wine bar, and 24-hour room service!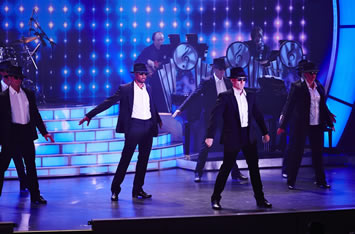 Entertainment on Caribbean Princess
Caribbean Princess is packed with great hotspots! Sip your favorite cocktails at one of the bars and lounges, like the Wheelhouse Bar, the Churchill Lounge, the Crooners Bar, or the Jokers Card Room - and enjoy a cigar while you're at it! The Grand Casino has all of your favorite card games and slots!
The Explorers Lounge has nightclub-style performances, and the Skywalkers Nightclub is located up at 15 decks above the water! Head out into the night and dance, dance, dance! Don't forget to check out the stellar acts at the Princess Theater - and the Movies Under the Stars outdoor theater shows first-run feature-length films!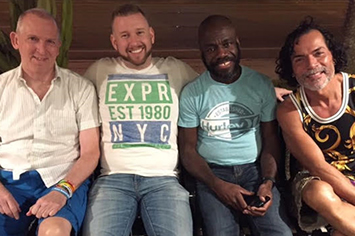 For Poz Retrat Cruise Travelers Only
Ship Board Activities:
The first night of every cruise we host a welcome cocktail party exclusively for our guests. This is the first time the entire group will have a chance to meet and mingle. We will make many useful announcements. Other private events are also planned for the week. Full details of our daily itinerary will be made available to you upon check in on the ship.
Dining:
We have confirmed a block of tables together at 7:30 PM each evening. Since we have a block of tables, you may feel free to move from table to table each evening. We encourage this so that you get the chance to get to know as many people as possible. Two nights are designated as "formal" nights meaning jacket & tie, suit or tux. Dining the rest of the evenings is casual meaning slacks and either button down or polo type shirt. All meals in the buffet are always casual.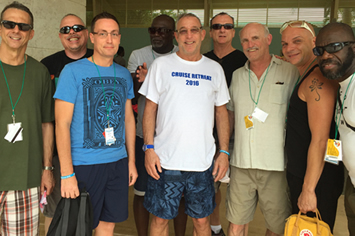 Room Mates:
We offer those who are traveling alone the opportunity to be paired up with other solo travelers. Roommate shares are not available in all categories. You may find your own roommate until final payment date. We assign roommate at the time of final payment. After you have been assigned a roommate we will introduce the two of you by email.
Shore Excursions:
The ship will offer many excursions to purchase. We however, will offer at least two or three of our own including a chartered catamaran for swimming, snorkeling and fun. Our trips are usually lower priced and include more than what the ship will offer. Information regarding our excursions will be sent to you about 60 days prior to sailing.