Royal Princess
Ship Facts
Gross Tonnage: 142,229
Length: 1,083 feet
Beam: 217 feet
Draft: 28 feet
Cruising Speed: 21.5 knots
Guests: 3,560
Crew: 1,346
Ships Registry: Bermuda
California Coast Gay Daddy Cruise 2021
7 nights from/to Los Angeles, California, US
April 24 – May 01, 2021
Princess Cruises Royal Princess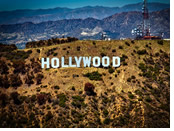 Come be a part of our intimate and super-friendly group of Gay Daddies, Bears, admirers and friends aboard the Royal Princess for our return to the California Coast. We had so much fun last time, we're doing this one again! We'll be California Dreamin' as we sail out of Los Angeles to San Francisco - one of the most beautiful and gay welcoming cities in the world. We then sail back down the California coast to Monterey - home to world-famous Monterey Bay Aquarium; San Diego - home to the world's finest zoo; and a final stop in Ensenada, Mexico—"the Cinderella of the Pacific."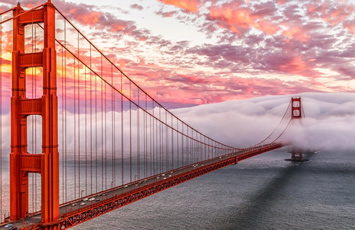 From the rolling hills of California to the mist-shrouded mountains of the Pacific Northwest, lies 1,478 miles of coastline dotted with modern metropolises and charming towns full of personality. Whether you're looking for a relaxed week sampling local culinary delights through California's renowned wine country, an adventurous trek along the rugged Pacific coastline, or the inside scoop on Hollywood's entertainment industry, Princess Cruises offers the "Best in the West."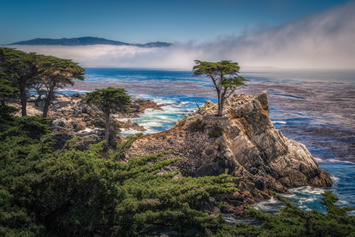 Your adventure starts on April 24, 2021, when we sail out of Long Beach (Los Angeles) on the Royal Princess. Only 6 years old, she features the SeaWalk, a dramatic glass-bottom walkway 128 feet above the sea, which USA Today calls one of the "Top Gee-Whiz Features at Sea". Cruiseline, CruiseCritic, and Avid Cruiser all rate Royal Princess 4 out of 5 stars. They say she is "unmistakably elegant, accomplishing something mainstream ships struggle with: finding a balance between fun and refinement".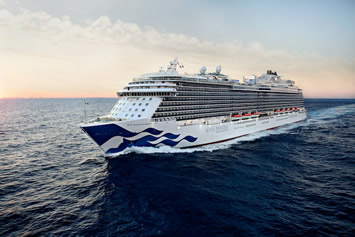 Your Ship - Princess Cruises Royal Princess
Royal Princess features two huge pools and six hot tubs, including a few in the Sanctuary - an extra cost (but well worth it!) adults-only retreat with upscale lounging areas and attendants to bring a chilled towel or light bite to eat. At night we can snuggle up on deck to watch Movies Under the Stars on a huge 300-square-foot screen - complete with free popcorn.
Inside, Berlitz says the Royal is "...warm and attractive, with an abundance of earth tones that suit American tastes...". She has an extra large casino, an internet café, a library, a spa, gym, and much more. Oh, and there's a self-serve launderette on every floor (so you can save on those valet charges, if you like!).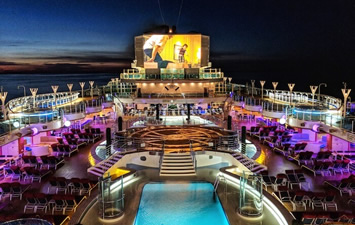 Activities on Royal Princess
Explore the magnificent Royal Princess and you will discover that there are so many activities to enjoy that you won't know where to begin! The Movies Under the Stars® screen on this ship is the largest in the fleet, so you can enjoy first-run movies on deck; The SeaWalk and SeaView Bar offer an exciting view of your surroundings and the ocean. The ship boasts several pools, including one top-deck pool that is the largest in the fleet, as well as a spa, fitness center, and much more.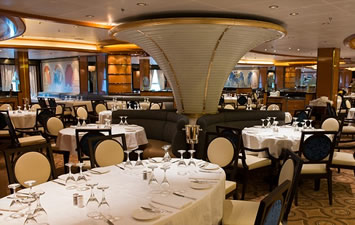 Dining / Food on Royal Princess
Whenever you're hungry, you'll be tantalized by a variety of tempting aromas wafting from each of the restaurants and dining spots on Royal Princess. Experience delicious cuisine prepared specially for you from scratch, no matter if you opt to dine in one of the formal dining rooms or at a casual venue! Guests can choose to eat in the privacy of the Chef's Table Lumiere, the ship's traditional dining room where you'll be assigned a set time and table to enjoy your meal at each time you go. If you'd rather a more flexible schedule, there are two forward dining rooms that offer a special menu - and you can eat whenever and with whomever you'd like.
The specialty restaurants on Royal Princess offer menues that reflect regional cuisines from around the world, and the dishes are made with the freshest ingredients. Guests can choose from Sabatini's, an Italian restaurant, as well as the Crown Grill (a steak and seafood restaurant), as well as many others! The Horizon Court is a more casual option, as it's an expanded top-deck buffet.
There's also the Pastry Shop, Alfredo's Pizzeria (with hand-tossed Neapolitan-style pizza), and the Ocean Terrace (a new seafood bar). Casual options also include International Cafe, which offers fresh pastries paninis and cookies, as well as Vines (a wine, sushi and tapas bar), not to mention the Gelateria - a perfect place to cool off with rich, creamy gelato.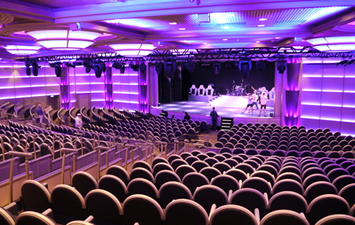 Entertainment on Royal Princess
Each evening on the Royal Princess will be an exciting adventure. Enjoy dazzling performances, Movies Under the Stars, and much more. The Atrium on Royal Princess promises to be the heart of the party, with several exciting venues for drinks and entertainment.
Guests can relax in Bellini's, a cocktail bar with an Italian inspiration, or the Wheelhouse Bar, which has live piano entertainment and a club-like atmosphere. Crooner's Lounge and Bar is another intriguing option, offering 75+ varieties of martinis, as well as entertainers who offer a lively performance at dueling glass pianos! Royal Princess promises to offer the best in entertainment.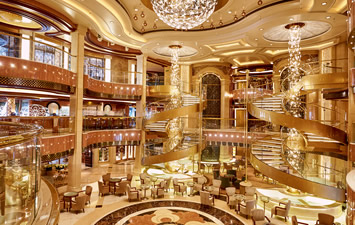 Exclusive extras for our Gay Daddy Cruise group only
• Cruise Eve Dinner - get a jump start on your vacation and a taste of your host city, Los Angeles/Long Beach, the night before we sail.
• Welcome Aboard Party (with free drinks!)—come meet your fellow Daddies and friends in a warm, welcoming, and casual atmosphere. Play our fun mingling/get-to-know-you activity, and start forging friendships that will last a lifetime.
• Free Welcome Aboard Gifts including a lanyard for your sailing card…and then some surprises!
• Specially reserved group dining in the main restaurant—you'll always have a seat for dinner, surrounded by a bunch of Daddy Cruise friends.
• Onboard Host/Cruise Director—We'll be there to make sure you have a great vacation. Our colleagues will resolve any issues that may arise, answer questions, and help you enjoy your cruise to the utmost. We'll coordinate and host activities and parties each day—all of which are optional (it's your vacation: pick and choose what you want to be a part of).
• Exclusive excursions just for our group (additional fee applies)—including at least one Impact Activity where we connect with local people while performing a helpful service for the community.
• Special Daddy group activities on board (card games, trivia contests, happy hours, parties, and more)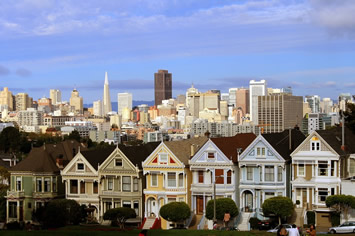 California Coast Gay Daddy Cruise 2021 Itinerary


Date

Port

Arrive

Depart

24 Apr
Los Angeles (Long Beach), California
4 PM
25 Apr

Fun Day at Sea!

26 Apr
San Francisco, California
7 AM
10 PM
27 Apr
Monterey, California
8 AM
6 PM

28 Apr

Fun Day at Sea!

29 Apr
San Diego, California
8 AM
10 PM

30 Apr

Ensenada, Mexico
8 AM
5 PM
01 May
Los Angeles (Long Beach), California
6:15 AM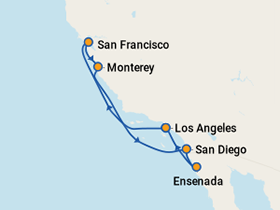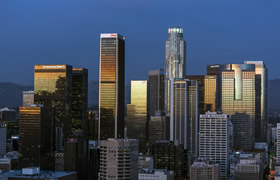 Day 1 - Los Angeles, California
Our itinerary is a perfect blend of "relaxing" and "exciting" as we sail out of Los Angeles
- the Entertainment Capital of the World—to explore California. Plan a few days before your cruise to enjoy all that the LA area has to offer.
It's an exciting semitropical city of palm trees, swimming pools, television studios and aerospace factories. Los Angeles is one of the world's most exciting cities and the movie-making capital of the world. Wherever you visit, from ritzy Beverly Hills to the wondrous Hollywood Bowl, you'll have an unforgettable stay.
No trip to L.A. is complete without a stop in Disneyland. This world-famous park has been a favorite of children - and adults - for generations. While you're there, you should stop by Disney's California Adventure park. This newest Disney park is an idealized version of California, from its gold-mining history to its colorful present.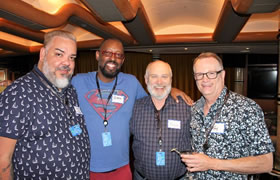 Day 2 - Fun Day at Sea!
Our first full day is at sea, sailing up the California coast. Relax, unwind and get into vacation mode. Lounge on your private balcony or near one of the pools, or maybe even find a quiet nook to settle in with a book. Want to be more active on your day at sea? Play bingo, work out at the gym, scale the rock climbing wall, take a cooking class, watch a movie, dance all night, attend a cooking seminar, soak in a hot tub, watch a sunset (or a sunrise), crawl the rope walk, play trivia games, sing along at the piano bar, rock climb, do some wine tasting, check your email or surf the internet, grab a snack, watch live entertainment, get lucky in the casino, indulge in a spa treatment, play bingo, catch a game in the sports bar. The list of options for you goes on and on.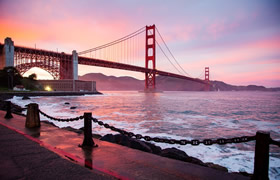 Day 3 - San Francisco, California
Where do we begin with what is probably the gayest city in the world?? We'll start by sailing under the Golden Gate Bridge—get up early to see this breath-taking event. Then explore what locals call simply "The City". Never been before? Check out the iconic sights: cables cars, Fisherman's Wharf, Pier 39, Alcatraz, Lombard Street ("the world's crookedest street"), Golden Gate Bridge, the famous Castro, Chinatown, and the list goes on.
Not your first visit? Check out the lesser known attractions: Balmy Ally, Mission Dolores, Twin Peaks, Walt Disney Museum, Coit Tower, the Presidio, and—well, this list goes on and on, too! Fortunately we have a late night departure here so you'll have time to see a lot.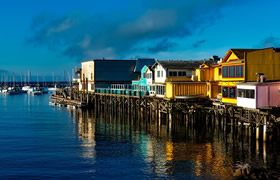 Day 4 - Monterey, California
One of the most stunning, natural locales on earth, the Monterey Peninsula, with its jagged coastline, deep blue waters, marine sanctuaries and cooling cypress forests, is so jaw-droppingly beautiful it has inspired artists and writers Robert Louis Stevenson and John Steinbeck on its fabled shores. In 1770, European settlers established a Royal Presidio and Mission that is today one the most authentically-restored Franciscan missions.
A walk down iconic Cannery Row reveals its past as the West's sardine capital, and the world-renowned Monterey Bay Aquarium is a celebration of all creatures of the sea. Top it off with freshly caught seafood and a tasting of local, hand-crafted wines for a perfect day.
My favorite is a drive along The 17-mile road, a spectacular stretch of coastline that includes The Lone Cypress; Carmel—the seaside, star-studded town that boasts cottage-style curio shops, tiny candy stores, cafés and fashionable boutiques; and the legendary Pebble Beach Golf Course.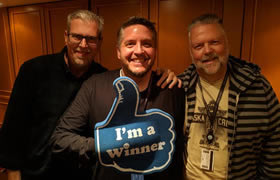 Day 5 - Fun Day at Sea!
After the Northern California fun and excitement, you'll be ready for another day at sea. Perfect to do all the stuff you wanted to do on Day 2 but didn't. Or, do nothing at all, and just relax!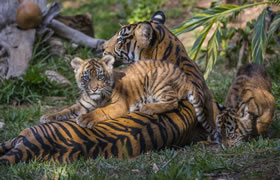 Day 6 - San Diego, California
Our last stop in California captures the state all in one place: south-of-the-border zest, sun-drenched Mediterranean atmosphere, and Beach Town USA. Just like Los Angeles or San Francisco, the list of things to see and do in San Diego overwhelms.
Old Town is the site of the first Spanish settlement in California and offers the finest in theater, shopping, dining and free live entertainment—all within an easy walking distance.
Several top notch wineries are just outside the city limits in the Valley of the Sun. Here's your chance to taste some famous California wines at their birthplace.
More than just a world-famous zoo, the San Diego Zoo (located inside the nation's largest urban cultural park, Balboa Park) is a sanctuary for thousands of animals, a landscape of rare plants from all climates, and a living classroom that entertains and educates. Or, experience animals in an even more authentic setting at the San Diego Zoo Safari Park. You'll drive past big game living out in the open.
Our favorite is Point Loma—a narrow, but prominent peninsula jutting into the Pacific Ocean, it creates the mouth to San Diego Bay. Rising over 400 feet above the sea, you'll have commanding views of the San Diego harbor and skyline. Turn around and look out across the endless Pacific Ocean. History buffs will want to see the bunkers built into the bluffs for defense during World War II.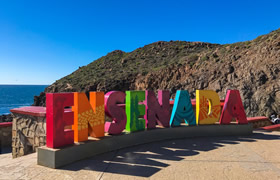 Day 7 - Ensenada, Mexico
The heavy Mexican influences of California will have whetted your appetite for the real thing. Check out the largest marine geyser in the world as it blows upwards of 100 feet, creating a thunderous roar, and likely soaking you at the same time! Wine fan? Tour and taste at some of Mexico's finest wineries just outside of town. Shop till you drop just a few blocks from the pier for Mexican pottery, silver jewelry, woven blankets and hats, as well as duty-free alcohol and perfume. Immerse yourself in Mexican culture with a cooking class, or catch a live performance of Mexican music and dance. Margaritas anyone?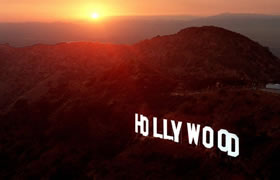 Day 8 - Los Angeles, California
Early morning we'll return to the port of Long Beach in Los Angeles
. You'll return to La La Land relaxed, rejuvenated and full of memories that will last a lifetime!