Ruby Princess
Ship Facts
Gross Tonnage: 113,561
Length: 951 feet
Beam: 122 feet
Guests: 3,080
Crew: 1,200
Staterooms: 1,542
Decks: 19
Ships Registry: Bermuda

California Coast Gay Daddy Cruise 2021
5 nights from/to San Francisco, California, US
October 05 – 10, 2021
Princess Cruises Ruby Princess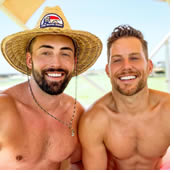 Come join our intimate and super-friendly group of gay guys—friends new and old—aboard the Ruby Princess for the 8th annual Daddy Cruise. This year, we're California Dreamin' as we sail out of San Francisco (ideally after you've spent a few days exploring one of the most beautiful and gay welcoming cities in the world). Fresh from a multi-million dollar renovation, Ruby Princess is a luminous jewel on the seas and a romantic destination in itself. She offers nearly 900 balconies from which to view the world, an array of entertainment options including Movies Under the Stars®, now with the industry's best 7.1 surround sound for an immersive audio experience, and sumptuous dining options from Crown Grill to exciting new top deck dining venues including Slice Pizzeria and Coffee & Cones.
From the rolling hills of California to the mist-shrouded mountains of the Pacific Northwest, lies 1,478 miles of coastline dotted with modern metropolises and charming towns full of personality. Whether you're looking for a relaxed week sampling local culinary delights through California's renowned wine country, an adventurous trek along the rugged Pacific coastline, or the inside scoop on Hollywood's entertainment industry, Princess Cruises offers the best cruises from California.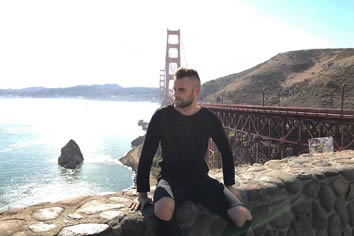 For a romantic getaway, there's no better cruise ship than Ruby Princess. A night of romance can be created wherever you look, from a Piazza singer's sweet serenade, to a relaxing couples massage from a cabana in The Sanctuary®. Movies Under the Stars® is also a cozy venue, where you can cuddle up under a warm blanket and watch a romantic comedy amongst the evening stars.
The Pacific Ocean is the deepest and largest ocean on earth. The Pacific Coast has several big cities like San Francisco and San Diego. It is a perfect region for a getaway from monotonous life. The region has natural beauty, golden beaches, various cultures, red wood forests and delicious cuisine.

Your Ship - Ruby Princess
The Ruby Princess is a dramatic ship - stunning décor, amazing entertainment, the finest amenities and the best personal service you could ask for! The piazza-style atrium has lots of eateries, and it has a European small-town feel with all of the performing street entertainers! There are specialty restaurants, a poolside movie theater, and 900 staterooms with private balconies! Enjoy the scenic views from this amazing vessel, and get ready to explore both the ship and your next destination!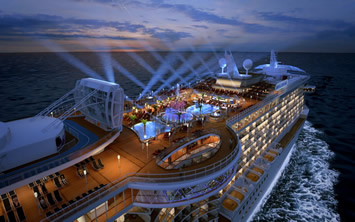 Activities on Ruby Princess
The Ruby Princess is loaded with activities that will stimulate, educate, and entertain you! The Calypso Reef and Pool has two hot tubs, as does the Neptune's Reef and pool. Relax at the Terrace Pool, or at the adults-only pool in the Sanctuary! The Lotus Spa® has a pool as well, which includes two hot tubs!
The spa is full of your favorite amenities - enjoy a hot stone rub, or a massage. Head over to the gym and fitness area and work up a sweat - there's even a swim-against-the-current pool to keep your heart rate pumping! Practice your swing at the virtual golf simulator, and then test it out at the 9-hole Princess Links putting course! There's also a jogging track, a basketball court, and shuffleboard!
Head over to the boutiques and explore all of the duty-free designer gifts that you can bring home! Enrich your mind at the library, or attend a ScholarShip@Sea lecture, where you can learn ballroom dancing, enjoy a cooking class, and more! The ship has a conference center, a 24-hour Internet café with wireless access, and even a wedding chapel!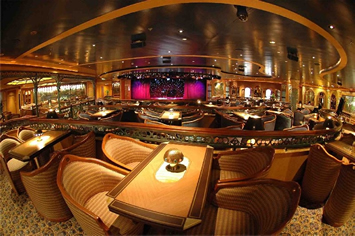 Dining / Food on Ruby Princess
The Ruby Princess offers so many dining options that your head will spin - and you get to choose what you'd like to do! The traditional dining option serves up your meal the way you like it at the same time each day, in the Main Dining Room.
Anytime dining is available in the Michelangelo Dining Room, or at the Da Vinci Dining Room - any time you like! If you're looking for something a little more special, try out Sabatini's, a delicious Italian restaurant - or, head to the Crown Grill and eat a heart steak meal!
You can even have your meal served on a balcony, accompanied by a breathtaking view! This is just a perk of the Ultimate Balcony Dining program.
For a more casual approach, the ship has lots of small-bite eateries. Head over to the poolside pizzeria and enjoy a slice of pizza by the water. There's a burger and hot dog grill, the Café Caribe, the Horizon and Lido Courts, an Evening Bistro, a wine bar, an ice cream bar, the International Café, and the Vines Wine and Seafood Bar.
You can also get afternoon tea served to you! Don't forget, there's 24-hour room service on this ship, so you can enjoy a meal at your leisure in your stateroom if you don't feel like heading over to the restaurants!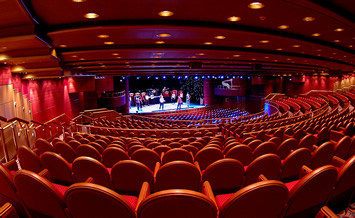 Entertainment on Ruby Princess
The Ruby Princess is full of the best entertainment available! Get ready for some amazing nightlife full of professional performances, Broadway-style shows, musical performances and comedy acts! Head to the Princess Theater to see a different show every night, or check out a first-run, feature-length film at the Movies Under the Stars® poolside theater!
If you want to head out and about on the ship, try Gatsby's casino, where you can play your favorite Vegas-style games like poker and slots!
The Explorers Lounge has nightclub-style acts, while you can dance the night away 15 decks above the ocean at Skywalkers Nightclub! Head over to Club Fusion for a different change of pace, or relax at one of the cozy bars and lounges on this great ship!
Check out the Wheelhouse Bar, the Adagio Bar, the Crooners Bar, or the Speakeasy Cigar Lounge.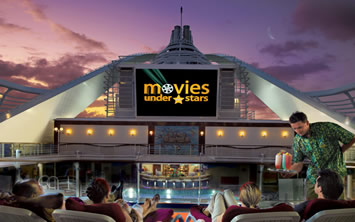 Exclusive extras for our group only
• Cruise Eve Dinner—meet your fellow travelers face-to-face, get a jump start on your vacation and a taste of your host city the night before we sail.
• Welcome Aboard Party (with free drinks!)—come meet your fellow Daddies and friends in a warm, welcoming, and casual atmosphere. Play our fun mingling/get-to-know-you activity, and start forging friendships that will last a lifetime.
• Free Welcome Aboard Gifts including a lanyard for your sailing card…and then some surprises!
• Specially reserved group dining in the main restaurant—you'll always have a seat for dinner, surrounded by a bunch of Daddy Cruise friends.
• Onboard Host/Cruise Director—I'll be there to make sure you have a great vacation. My colleagues and I will resolve any issues that may arise, answer questions, and help you enjoy your cruise to the utmost. We'll coordinate and host activities and parties each day—all of which are optional (it's your vacation: pick and choose what you want to be a part of).
• Exclusive excursions just for our group (additional fee applies)—including at least one Impact Activity where we connect with local people while performing a helpful service for the community.
• Special Daddy group activities on board (card games, trivia contests, happy hours, parties, and more)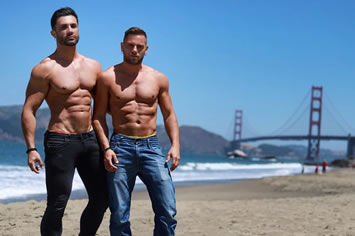 California Coast Gay Daddy Cruise 2021 Itinerary


Date

Port

Arrive

Depart

05 Oct
San Francisco, California
4 PM
06 Oct

Fun Day at Sea!

07 Oct
San Diego, California
8 AM
10 PM
08 Oct
Ensenada, Mexico
8 AM
5 PM

09 Oct

Fun Day at Sea!

10 Oct
San Francisco, California
7 AM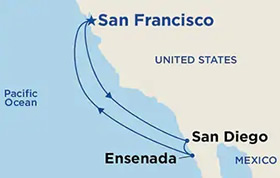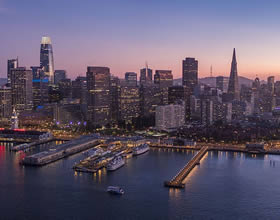 Day 1 - San Francisco, California
Our itinerary is the perfect blend of "relaxing" and "exciting" as we sail out of the beautiful City by the Bay: San Francisco
. You'll get a once-in-a-lifetime view of the Golden Gate Bridge as we sail right underneath, out into the Pacific Ocean as the sun is setting.
One of America's loveliest cities, San Francisco's hilly streets provide some gorgeous glimpses of the Bay and its famous bridges. This picturesque city is unique in its style and personality, and it charms everyone who comes here.
While you're in San Francisco, take the time to explore this beautiful city. Walk down Lombard, the crookedest street in the world. Take a trip to San Francisco's famous Chinatown for Dim Sum. Explore the waterfront and stop in to sample chocolate at Ghirardelli Square. Ride one of San Francisco's famous cable cars, and gaze at the beautiful Golden Gate Bridge.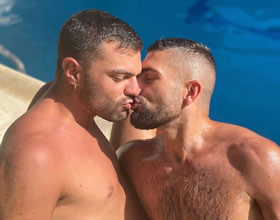 Day 2 - Fun Day at Sea!
Your first full vacation day will be at sea, sailing down the California coast. Relax or revel, it's always your call! Lounge on your private verandah or near one of the pools, or maybe even find a quiet nook to settle in with a book. Want to be more active at sea? Play bingo, dance all night, watch a movie under the stars. Work out at the gym, attend a cooking seminar, soak in a hot tub. Watch a sunset (or a sunrise), play trivia games, sing along at the piano bar. Do some wine tasting, check your email or surf the net, grab a snack (and then another—all the food is free!). Watch live entertainment, get lucky in the casino, indulge in a spa treatment, catch a game in the sports bar, and on and on.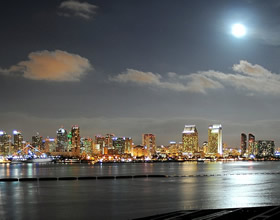 Day 3 - San Diego, California
Our first stop captures all that is California in one place: south-of-the-border zest, sun-drenched Mediterranean atmosphere, and Beach Town USA. The list of things to see and do in San Diego overwhelms.
Old Town is the site of the first Spanish settlement in California and offers the finest in theater, shopping, dining and free live entertainment—all within an easy walking distance of our ship.
More than just a world-famous zoo, the San Diego Zoo (located inside the nation's largest urban cultural park, Balboa Park) is a sanctuary for thousands of animals, a landscape of rare plants from all climates, and a living classroom that entertains and educates. Or, experience animals in an even more authentic setting at the San Diego Zoo Safari Park. You'll drive past big game living out in the open as God intended (albeit transported here from Africa!).
Several top notch wineries are just outside the city limits in the Valley of the Sun. Here's your chance to taste famous California wines at their birthplace.
My personal favorite is Point Loma—a narrow, but prominent peninsula jutting into the Pacific Ocean, it creates the mouth to San Diego Bay. Rising over 400 feet above the sea, you'll have commanding views of the San Diego harbor and skyline. Turn around and look out across the endless Pacific Ocean. History buffs will want to see the bunkers built into the bluffs for defense during World War II.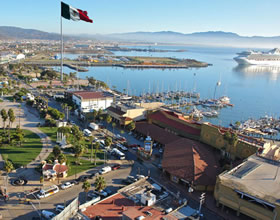 Day 4 - Ensenada, Mexico
The heavy Mexican influences in San Diego will have whetted your appetite for the real thing. Check out the largest marine geyser in the world as it blows upwards of 100 feet, creating a thunderous roar, and likely soaking you at the same time! Need more wine? Tour and taste at some of Mexico's finest wineries just outside of town. Shop till you drop just a few blocks from the pier for Mexican pottery, silver jewelry, woven blankets and hats, as well as duty-free alcohol and perfume. Immerse yourself in Mexican culture with a cooking class, or catch a live performance of Mexican music and dance. Margaritas anyone?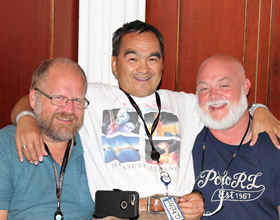 Day 5 - Fun Day at Sea!
Our last full day will be another one at sea. Perfect to do all the stuff you wanted to do on Day 2 but didn't. Or, do nothing, and just relax!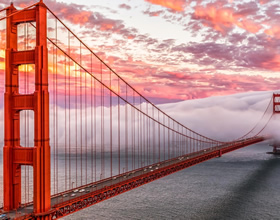 Day 6 - San Francisco, California
Early morning we'll re-enter the San Francisco Bay under the Golden Gate Bridge. You'll return to "The City" relaxed, rejuvenated, and full of memories that will last a lifetime!
San Francisco
is at the heart of gay culture, with the famous Castro perhaps one of the USA's most important gay destinations. San Francisco has one of the largest LGBT communities in the world.