Mardi Gras
Ship Facts
Gross Tonnage: 180,800
Length: 1,129 ft
Beam: 138 ft
Cruising Speed: 23 knots
Guests: 5,282
Crew: 1,745
Passenger Decks: 18
Year Built: 2020
Eastern Caribbean Gay Daddy Cruise 2021
7 nights from/to Port Canaveral (Orlando), Florida, US
January 30 – February 6, 2021
Carnival Cruise Lines Mardi Gras
Come join our intimate and super-friendly group of Gay Daddies, admirers and friends aboard Carnival's brand new Mardi Gras
. She'll be just five months old when we sail her out of her home of Port Canaveral to the sunny Eastern Caribbean. You'll enjoy a few days at sea in the tropics, and a few days exploring Puerto Rico, Grand Turk and Dominican Republic's culture, food, history, and beaches.
We don't have proof, but evidence suggests that the Caribbean was made for cruising. This evidence is all around you — you'll find in the Caribbean air, the sand and the water. So how do you choose where to visit on a Caribbean cruise? We recommend you just go and see for yourself! Best of all, the mild climate means it doesn't even matter what time of year you go. A Carnival Caribbean cruise takes you to some of the coolest little hotspots... stretching across the world's designated hotspot.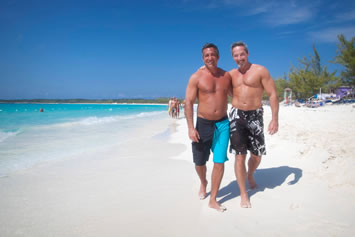 Discovering new sights is one of the beauties of travel, and that couldn't be more true when it comes to Amber Cove, Dominican Republic. In this world full of information on just about everything, Amber Cove is a throwback — it's the kind of quiet little spot you won't find on most maps. But you will find it — brimming with bars and pools, plus opportunities for lounging and shopping — to be the gateway to island paradise, Dominican-style.
Let the name fool you — Grand Turk, of the Turks & Caicos islands, may be small but it's packed with scenic punch and historic charm. Carnival cruises to Grand Turk deliver you to this enchanted island outpost dotted with old windmills, grassy trails and picture-perfect beaches. Discover an oasis of green set in aquamarine seas, ringed by a pristine coral reef and the steep wall of the continental shelf.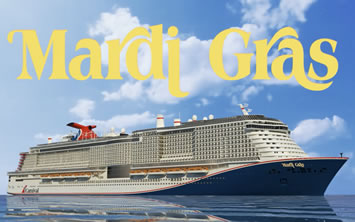 Your Ship - Carnival Cruise Lines brand new Mardi Gras
Escape the dead of winter on Jan 30, 2021 as you sail out of Port Canaveral on Carnival's newest, largest, and most exciting ship: the Mardi Gras
. Her maiden voyage will be just a few months earlier, so you'll get the benefit of a brand new ship, but one that's sailed enough for the kinks to have been worked out! It will feature six themed "zones," including the French Quarter, Summer Landing, Grand Central and the Ultimate Playground.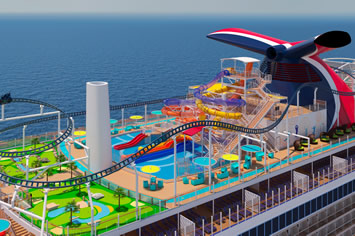 Restaurants galore: Guy's Burger Joint (best burgers at sea…or on land!), Emeril's Bistro, Shaq's Big Chicken, Blue Iguana Cantina (Mexican), sushi, Italian, a steakhouse, and much more!
Mardi Gras will feature the world's first roller coaster at sea! Plus plenty of water slides, pools & hot tubs, sporting venues, Punchline Comedy Club, shows, lounge acts, and an award-winning spa. Best, though is Serenity, the adult-only retreat on the Lido deck.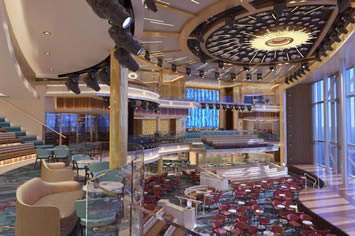 Grand Central
On a Carnival cruise your vacation starts in the atrium, and on Mardi Gras that's in the Grand Central zone. By the way… on this ship the atrium's different. Don't be surprised if you step inside and the first place you want to look is upwards. Up there are high ceilings that hint at even more fun living on the three decks above! But look around too… you'll find floor-to-ceiling windows that really bring in the ocean views.
Of course you'll be back here throughout your cruise, taking a break with a nice cup of coffee, enjoying live music up on stage, or killing time fabulously with a handcrafted cocktail in between evening shows. In Grand Central you're never far from great dining spots like Bonsai Sushi and Bonsai Teppanyaki, plus feel-good entertainment like Piano Bar 88 and The Punchliner Comedy Club.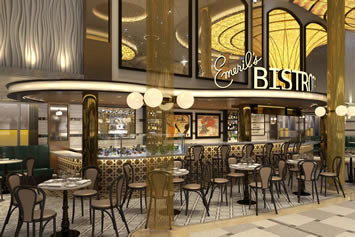 French Quarter
If "big" and "easy" sound about right for your vacation, you might just make the French Quarter on Mardi Gras your home zone. What inspired this place is no less than New Orleans itself… and if all this talk of NOLA has you half as hungry as we are, you'll be pleased to hear that our French Quarter is lined with bars and eateries worthy of their namesake, spots serving up everything from small plates to classic Hurricane cocktails straight from the bayou.
For one thing, there's the spectacularly, authentically delicious Emeril's Bistro 1396™ — developed in partnership with yes-that-Emeril. Just steps away there's entertainment inspired by the world-renowned Crescent City nightlife — yep, there's a hot jazz club in this zone — plus you're not far from more bars, lounges and some funky little shops.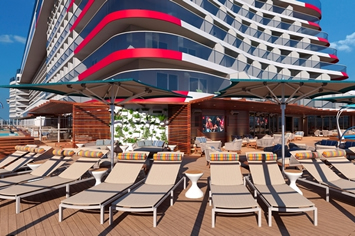 Summer Landing
Go ahead and call Summer Landing "the greatest chill spot at sea"… and we'll be right there with you! What's three letters long and goes great with chilling outdoors? BBQ, so we're building a Guy's Pig & Anchor Smokehouse | Brewhouse into this zone so it always tastes like summer here with freshly-smoked faves designed by Guy Fieri and original Parched Pig™ beers brewed just feet away.
If you're wondering where the pool and whirlpool are, we're so alike, you and us… and that's why we're sure you're gonna love The Watering Hole, a poolside bar we're building for aficionados of backyard-style relaxation. We know you guys like soft serve too, so we're throwing in a Swirls location — one of two! And why wouldn't we? At Summer Landing, fun this cool is literally always in season.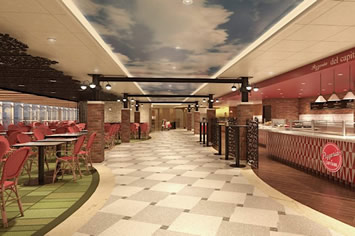 La Piazza
La dolce vita is within reach at La Piazza… and we'd know, with all the Italian seafaring spirit that's literally driving the ship. This zone stands for flavor, and it starts with Cucina del Capitano, which brings your party together for an evening of Italian favorites served family-style, while Pizzeria del Capitano makes delizioso happen for you 24 hours a day atop a base of imported Italian flour and fresh mozzarella.
Atmosphere is everything here, so roaming musicians provide an authentic soundtrack to your time in La Piazza. Mardi Gras debuts a new Mediterranean spot specializing in seafood, plus there's even a bar where you'll sip authentic espresso drinks by day and classic Italian cocktails when the sun goes down.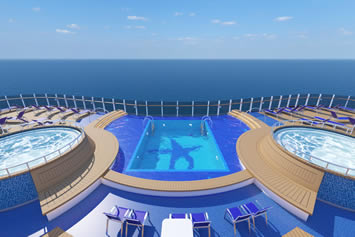 Exclusive extras for our group only
• Cruise Eve Dinner - meet your fellow travelers face-to-face, get a jump start on your vacation and a taste of your host city the night before we sail.
• Let's Cruise Away Welcome Aboard Party (with free drinks!)—come meet your fellow Daddies and friends in a warm, welcoming, and casual atmosphere. Play our fun mingling/get-to-know-you activity, and start forging friendships that will last a lifetime.
• Free Welcome Aboard Gifts including a lanyard for your sailing card…and then some surprises!
• Specially reserved group dining in the main restaurant—you'll always have a seat for dinner, surrounded by a bunch of Daddy Cruise friends.
• Onboard Host/Cruise Director - We'll be there to make sure you have a great vacation. We will resolve any issues that may arise, answer questions, and help you enjoy your cruise to the utmost. We'll coordinate and host activities and parties each day-all of which are optional (it's your vacation: pick and choose what you want to be a part of).
• Exclusive excursions just for our group (additional fee applies)—including at least one Impact Activity where we connect with local people while performing a helpful service for the community.
• Special Daddy group activities on board (card games, trivia contests, happy hours, parties, and more)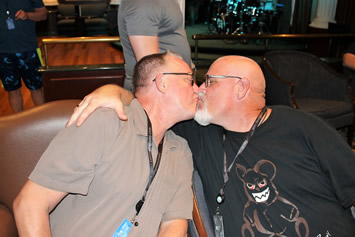 Caribbean Gay Daddy Cruise 2021 Itinerary


Date

Port

Arrive

Depart

30 Jan
Port Canaveral (Orlando), Florida, US
4 PM
31 Jan

Fun Day at Sea!

01 Feb

Fun Day at Sea!

02 Feb
San Juan, Puerto Rico
7 AM
4 PM

03 Feb

Amber Cove, Dominican Republic
9 AM
6 PM
04 Feb
Grand Turk, Turks & Caicos
7 AM
4 PM

05 Feb

Fun Day at Sea!

06 Feb
Port Canaveral (Orlando), Florida, US
7 AM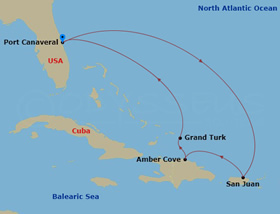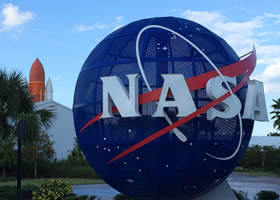 Day 1 - Port Canaveral (Orlando), Florida
Snap a photo of the sunrise from the sands of Canaveral National Seashore. Then grab breakfast at a cozy café in Historic Cocoa Village. Speed through the St. John River marshlands on an exhilarating airboat ride. Cruise from Orlando and kayak past giraffes at the Brevard Zoo, or climb to the top of Exploration Tower for panoramic views of the port.
Our itinerary is a perfect blend of connecting, relaxing, and having fun together. Shortly after sailing out of Port Canaveral
, we gather for a hosted Meet-n-Greet Party where you'll meet your fellow cruisers and start making new friends right away. Dinner with the whole group is next (we'll have a whole section of the dining room reserved just for our group), followed by dancing, a show, comedy act, or whatever you want to do—it's your vacation!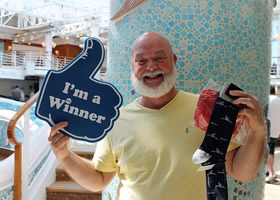 Days 2 & 3 - Fun Days at Sea!
Our first two days are at sea. Take all day to relax, unwind, and get into vacation mode. Explore the ship. Maybe lounge on your private balcony or near one of the pools. Escape the kids at Serenity, the adult only retreat on the Lido deck. Perhaps find a quiet nook to settle in with a book.
Want to be more active? Play bingo, work out at the gym, dance all night, shoot down the water slides, watch a movie, attend a cooking seminar, ride the roller coaster, soak in a hot tub, watch a sunset (or a sunrise), play trivia games, sing along at the piano bar, do some wine tasting, check your email or surf the internet, grab a snack, watch live entertainment, get lucky in the casino, indulge in a spa treatment, catch the game in the sports bar, and on and on.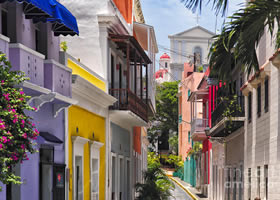 Day 4 - San Juan, Puerto Rico
The most gay-friendly place in the Caribbean, San Juan has a little of something for everyone—history, culture, shopping, active life, museums, and much more! Climb all over El Morro (a 500-year-old Spanish fort that protected the city for centuries) or stroll the postcard-perfect and charming streets of Old San Juan (great shopping and food and drinks).
Be sure to grab a piña colada at its birthplace, the Barrachina. Tour the famous Bacardi factory and sip free rum at the end. Visit nearby El Yunque, America's only national rainforest and cloud forest. Meander through Cultural & Botanical Gardens of Caguas and marvel at the prettiest flowers and plants imaginable.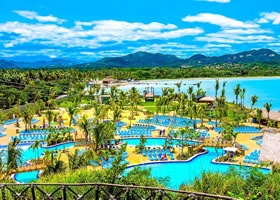 Day 5 - Amber Cove, Dominican Republic
The Dominican Republic's newest cruise port and resort, Amber Cove is near where Christopher Columbus's first New World voyage made landfall back in 1492. It sits just seven miles from Puerto Plata—a cinematic locale used as a backdrop for the film Jurassic Park.
Just steps from the dock is a free resort area that includes shopping, relaxing bungalows and a water park: water slides, a huge pool, a lazy river, and lounge chairs everywhere. Here's where we'll engage in some social activism, delving into the culture and traditions of the friendly Dominican people while giving back to the community and making an impact on their lives.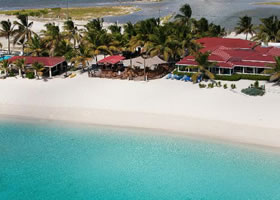 Day 6 - Grand Turk, Turks & Caicos
Grand Turk, the capital of Turks and Caicos Islands, is a small island bursting with turn-of-the-century Caribbean charm, retaining the look and feel of the Caribbean 40 years ago. Miles of uncrowded, lovely beaches and Bermudan/British colonial architecture surrounded by colorful local dwellings make the island a treasure to visit.
But the real beauty is underwater. Nearby is where John Glenn, America's first astronaut, splashed down on his first mission. And Grand Turk is world-famous for its healthy and beautiful coral reefs that surround the island. Snorkeling and diving are the must-do activities, but shopping and strolling the small charming city are also must-dos if you'd rather stay dry.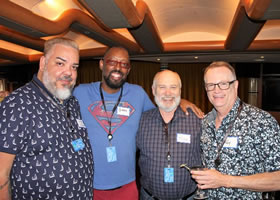 Day 7 - Relaxing Day at Sea!
Our last day is at sea. Take all day to relax, unwind, and enjoy your last day on board the Mardi Gras. You'll find there's still so much of the ship you haven't yet discovered! Explore, indulge, relax, rejuvenate—it's your call on your last day!
Who's ready to go home yet?! We neither! Let's enjoy another full day at sea, either to relax...or to energize one more time! Unwind and enjoy the day at sea. Lounge on your private balcony or near one of the pools, or maybe even find a quiet nook to settle in with a book.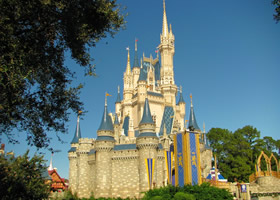 Day 8 - Port Canaveral (Orlando), Florida
We sail back into Port Canaveral at dawn. Disembark today with great memories, great pictures, and new friends from your all-too-short vacation. It's Saturday. Maybe extend your vacation with a day or two in Orlando
. See you again soon, We hope!