Ruby Princess
Ship Facts
Gross Tonnage: 113,561
Length: 951 feet
Beam: 122 feet
Guests: 3,080
Crew: 1,200
Staterooms: 1,542
Decks: 19
Ships Registry: Bermuda


West Coast Gay Daddy Cruise 2022
7 nights from/to San Francisco, California, US
April 23 – 30, 2022
Princess Cruises Ruby Princess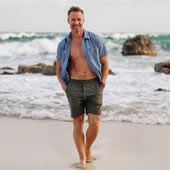 Come join our intimate and super-friendly group of Daddies, admirers and friends for a special 7-night cruise to the Pacific Northwest aboard the Ruby Princess. Fresh from a multi-million dollar renovation, Ruby Princess is a luminous jewel on the seas and a romantic destination in itself. She offers nearly 900 balconies from which to view the world, an array of entertainment options including Movies Under the Stars®, now with the industry's best 7.1 surround sound for an immersive audio experience, and sumptuous dining options from Crown Grill to exciting new top deck dining venues including Slice Pizzeria and Coffee & Cones.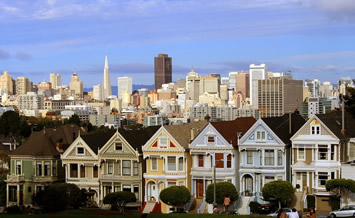 From the rolling hills of California to the mist-shrouded mountains of the Pacific Northwest, lies 1,478 miles of coastline dotted with modern metropolises and charming towns full of personality. Whether you're looking for a relaxed week sampling local culinary delights through California's renowned wine country, an adventurous trek along the rugged Pacific coastline, or the inside scoop on Hollywood's entertainment industry, Princess Cruises offers the "Best in the West."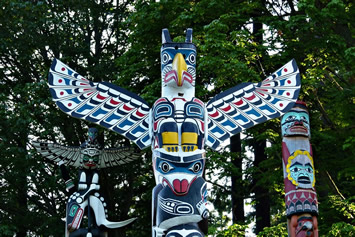 Dining and drinking are strong points on the Star, according to CruiseCritic, including menus inspired by the itinerary. The one thing they lament is that the Star does not cater well to children and families. Hmm…sounds like a positive for our group, right?
Completely renovated just 2 years ago, the Star Princess features a main swimming pool that is covered, so you'll get your pool time regardless of the weather outside. The Grand Casino (the largest casino afloat!) has over 260 slot machines including some that are linked to provide a combined payout. Zumba classes and wine tastings are just some of the varied offerings on board as we sail.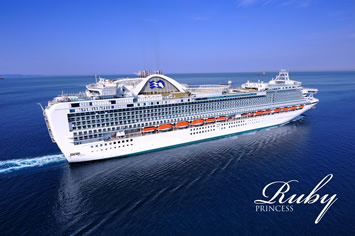 Your Ship - Ruby Princess
The Ruby Princess is a dramatic ship - stunning décor, amazing entertainment, the finest amenities and the best personal service you could ask for! The piazza-style atrium has lots of eateries, and it has a European small-town feel with all of the performing street entertainers! There are specialty restaurants, a poolside movie theater, and 900 staterooms with private balconies! Enjoy the scenic views from this amazing vessel, and get ready to explore both the ship and your next destination!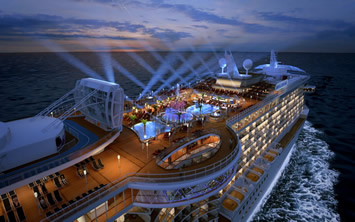 Activities on Ruby Princess
The Ruby Princess is loaded with activities that will stimulate, educate, and entertain you! The Calypso Reef and Pool has two hot tubs, as does the Neptune's Reef and pool. Relax at the Terrace Pool, or at the adults-only pool in the Sanctuary! The Lotus Spa® has a pool as well, which includes two hot tubs!
The spa is full of your favorite amenities - enjoy a hot stone rub, or a massage. Head over to the gym and fitness area and work up a sweat - there's even a swim-against-the-current pool to keep your heart rate pumping! Practice your swing at the virtual golf simulator, and then test it out at the 9-hole Princess Links putting course! There's also a jogging track, a basketball court, and shuffleboard!
Head over to the boutiques and explore all of the duty-free designer gifts that you can bring home! Enrich your mind at the library, or attend a ScholarShip@Sea lecture, where you can learn ballroom dancing, enjoy a cooking class, and more! The ship has a conference center, a 24-hour Internet café with wireless access, and even a wedding chapel!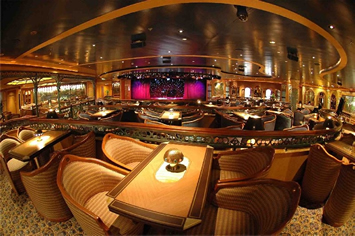 Dining / Food on Ruby Princess
The Ruby Princess offers so many dining options that your head will spin - and you get to choose what you'd like to do! The traditional dining option serves up your meal the way you like it at the same time each day, in the Main Dining Room.
Anytime dining is available in the Michelangelo Dining Room, or at the Da Vinci Dining Room - any time you like! If you're looking for something a little more special, try out Sabatini's, a delicious Italian restaurant - or, head to the Crown Grill and eat a heart steak meal!
You can even have your meal served on a balcony, accompanied by a breathtaking view! This is just a perk of the Ultimate Balcony Dining program.
For a more casual approach, the ship has lots of small-bite eateries. Head over to the poolside pizzeria and enjoy a slice of pizza by the water. There's a burger and hot dog grill, the Café Caribe, the Horizon and Lido Courts, an Evening Bistro, a wine bar, an ice cream bar, the International Café, and the Vines Wine and Seafood Bar.
You can also get afternoon tea served to you! Don't forget, there's 24-hour room service on this ship, so you can enjoy a meal at your leisure in your stateroom if you don't feel like heading over to the restaurants!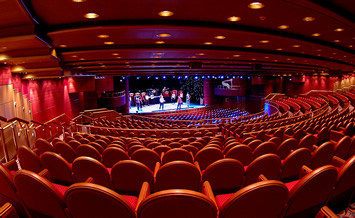 Entertainment on Ruby Princess
The Ruby Princess is full of the best entertainment available! Get ready for some amazing nightlife full of professional performances, Broadway-style shows, musical performances and comedy acts! Head to the Princess Theater to see a different show every night, or check out a first-run, feature-length film at the Movies Under the Stars® poolside theater!
If you want to head out and about on the ship, try Gatsby's casino, where you can play your favorite Vegas-style games like poker and slots!
The Explorers Lounge has nightclub-style acts, while you can dance the night away 15 decks above the ocean at Skywalkers Nightclub! Head over to Club Fusion for a different change of pace, or relax at one of the cozy bars and lounges on this great ship!
Check out the Wheelhouse Bar, the Adagio Bar, the Crooners Bar, or the Speakeasy Cigar Lounge.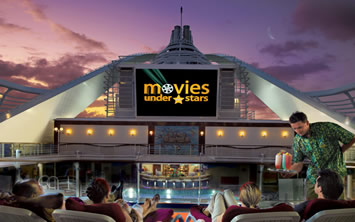 Exclusive extras for our group only
• Cruise Eve Dinner—meet your fellow travelers face-to-face, get a jump start on your vacation and a taste of your host city the night before we sail.
• Welcome Aboard Party (with free drinks!)—come meet your fellow Daddies and friends in a warm, welcoming, and casual atmosphere. Play our fun mingling/get-to-know-you activity, and start forging friendships that will last a lifetime.
• Free Welcome Aboard Gifts including a lanyard for your sailing card…and then some surprises!
• Specially reserved group dining in the main restaurant—you'll always have a seat for dinner, surrounded by a bunch of Daddy Cruise friends.
• Onboard Host/Cruise Director—I'll be there to make sure you have a great vacation. My colleagues and I will resolve any issues that may arise, answer questions, and help you enjoy your cruise to the utmost. We'll coordinate and host activities and parties each day—all of which are optional (it's your vacation: pick and choose what you want to be a part of).
• Exclusive excursions just for our group (additional fee applies)—including at least one Impact Activity where we connect with local people while performing a helpful service for the community.
• Special Daddy group activities on board (card games, trivia contests, happy hours, parties, and more)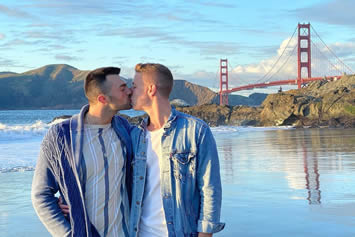 West Coast Gay Daddy Cruise 2022 Itinerary


Date

Port

Arrive

Depart

23 Apr
San Francisco, California
4 PM
24 Apr

Fun Day at Sea!

25 Apr
Astoria, Oregon
8 AM
3 PM
26 Apr
Seattle, Washington
9 AM
8 PM

27 Apr

Vancouver, British Columbia
9 AM
10 PM
28 Apr
Victoria, British Columbia
6 AM
12:30 PM

29 Apr

Fun Day at Sea!

30 Apr
San Francisco, California
7:30 AM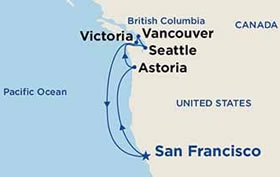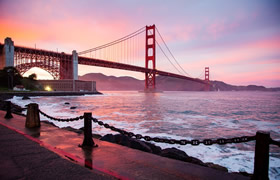 Day 1 - San Francisco, California
Our itinerary is the perfect blend of "relaxing" and "exciting" as we sail out of the beautiful City by the Bay: San Francisco
. You'll get a once-in-a-lifetime view of the Golden Gate Bridge as we sail right underneath, out into the Pacific Ocean as the sun is setting.
One of America's loveliest cities, San Francisco's hilly streets provide some gorgeous glimpses of the Bay and its famous bridges. This picturesque city is unique in its style and personality, and it charms everyone who comes here.
While you're in San Francisco, take the time to explore this beautiful city. Walk down Lombard, the crookedest street in the world. Take a trip to San Francisco's famous Chinatown for Dim Sum. Explore the waterfront and stop in to sample chocolate at Ghirardelli Square. Ride one of San Francisco's famous cable cars, and gaze at the beautiful Golden Gate Bridge.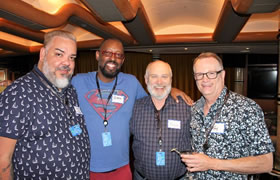 Day 2 - Fun Day at Sea!
Our first full day is at sea. Relax, unwind and get into vacation mode. Lounge on your private balcony or near one of the pools, or maybe even find a quiet nook to settle in with a book. Want to be more active on your day at sea? Play bingo, work out at the gym, scale the rock climbing wall, watch a movie, dance all night, attend a cooking seminar, soak in a hot tub, watch a sunset (or a sunrise), crawl the rope walk, play trivia games, sing along at the piano bar, do some wine tasting, check your email or surf the internet, grab a snack, watch live entertainment, get lucky in the casino, indulge in a spa treatment, catch a game in the sports bar. The list of options for you goes on and on.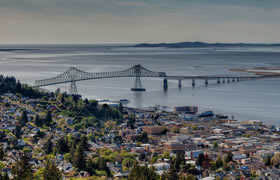 Day 3 - Astoria, Oregon
The oldest American settlement west of the Rockies, Astoria offers a rich history for your exploration. First and foremost: Fort Stevens, the only mainland American military site attacked by Japan in WWII. Today the park offers 3,700 acres of history and beauty. Also, Fort Clatsop is a stunning replica of the seven-room fort built by the Lewis and Clark expedition. Climb the 164 steps of Astoria Column to get stunning views of the Pacific Ocean and the Cascade Range. Nearby Cannon Beach is famous for Haystack Rock, a 235-foot tall rock formation that rests off its sandy beach shore, but also boasts a charming coastal village surrounded by rugged natural beauty.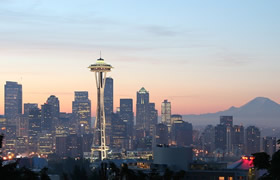 Day 4 - Seattle, Washington
Good thing we have all day here! Home of the world-famous flying fish, Pike Place Market is the oldest open-air farmer's market on the West Coast. The hundreds of artisans, local farmers, fishmongers and curio shops definitely warrant a visit. Nearby you can tour the Boeing Future of Flight Museum. The tour is the most popular manufacturing tour in the world for good reason; you'll be fascinated and amazed by the sheer size and scope of how they make the jets we all fly in.
Visit some great Washington wineries, marvel at the local locks where you'll glimpse the salmon running upstream, or ascend the iconic Space Needle for some spectacular views of Seattle. But while you're up there, don't look straight down if you're afraid of heights (like I am); you'll be terrified…the floor is clear!
Day 5 - Vancouver, British Columbia, Canada
Canada's third largest city, and arguably its most beautiful, Vancouver is a cosmopolitan place with a decidedly European feel and personality all its own. It boasts a rich ethnic mix, including the second-largest Chinatown in North America. Here you'll find exotic food, stunning architecture, and colorful specialty shops. Vancouver Aquarium is home to over 70,000 fascinating creatures including majestic beluga whales, Pacific white-sided dolphins, curious sea otters, harbor seals, and Steller sea lions. Stanley Park, a lush rainforest right in the heart of the city, teems with wildlife and natural beauty, and includes the impressive Totem Pole Park.
Vancouver's most famous shopping street, Robson Street, is a three-block commercial mecca including premier fashion stores, fine dining and fabulous coffee shops and pubs. You'll be hard pressed to see it all, even with our later-than-usual departure time of 11pm!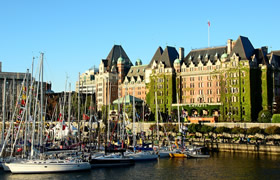 Day 6 - Victoria, British Columbia, Canada
Located on the southern tip on the island of Vancouver in British Columbia, the city of Victoria is probably best known for its mild climate and active outdoor lifestyle. In fact, the city has been named the "fittest city" in Canada more than once.
Renowned for its beautiful gardens (fragrant and colorful flowers are everywhere!), charming houses, and a happening restaurant and pub scene, Victoria exudes Old-world charm with a very British feel. The highlight will be a visit to Butchart Gardens—a 55-acre floral wonderland featuring themed botanical gardens, meandering pathways, refreshing fountains, exquisite foliage, and magnificent bronze statues. Been there, done that? How about whale watching, Victoria Butterfly Garden, or Craigdarroch Castle?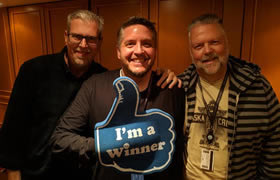 Day 7 - Fun Day at Sea!
One more day at sea. Perfect time to do all the stuff you wanted to do on Day 2 but didn't. Or, do nothing, relax, unwind and enjoy your final vacation day. Lounge on your private balcony or near one of the pools, or maybe even find a quiet nook to settle in with a book. Want to be more active on your last day? Play bingo, work out at the gym, dance all night, watch a movie, attend a cooking seminar, soak in a hot tub, watch a sunset (or a sunrise), play trivia games, sing along at the piano bar, do some wine tasting, check your email or surf the internet, grab a snack, watch live entertainment, get lucky in the casino, indulge in a spa treatment, catch the game in the sports bar, and on and on.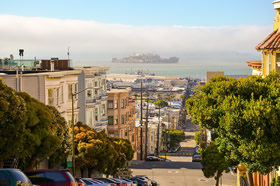 Day 8 - San Francisco, California
Early morning we'll re-enter the San Francisco Bay under the Golden Gate Bridge. You'll return to "The City" relaxed, rejuvenated, and full of memories that will last a lifetime!
San Francisco
is at the heart of gay culture, with the famous Castro perhaps one of the USA's most important gay destinations. San Francisco has one of the largest LGBT communities in the world.