Azamara Pursuit
Ship Facts
Gross Tonnage: 30,277
Length: 592 feet
Beam: 84 feet
Draft: 19.8 feet
Guest Decks: 8
Cruising Speed: 18.5
Guests: 690
Crew: 408
Refurbished: 2018
Ships Registry: Malta




Rio de Janeiro New Year & South America
Couples Only Clothing Optional Desire Cruise 2022
8 nights from Rio de Janeiro, Brazil to Buenos Aires, Argentina
December 30, 2022 – January 07, 2023
Azamara Club Cruises Azamara Pursuit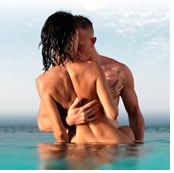 Imagine you and your partner on the seductive, sun-drenched beaches of Rio, with a caipirinha in hand and ready to kick off a stimulating adventure you will remember forever. Get ready to pop a cork with us and welcome 2023 on board the Desire Rio de Janeiro New Year's Eve Cruise! For a full 8 nights and 9 days you and your partner will explore exotic shores, catch a glimpse of local celebrations, overindulge in holiday meals, all while witnessing the sights, sounds, and traditions of your surroundings.This cruise is for adult, clothing optional couples only, 21 years of age and older, and are lifestyle friendly.
You will find everything you could possibly want and more on board. In addition to docking in dazzling destinations, this voyage offers couples endless opportunities to reconnect through erotic events, seductive entertainment, and a sexually charged atmosphere unique to our brand, complemented by the Premium Beverage Package, global gastronomy, luxurious staterooms, and world-class amenities, all of which are included in your voyage.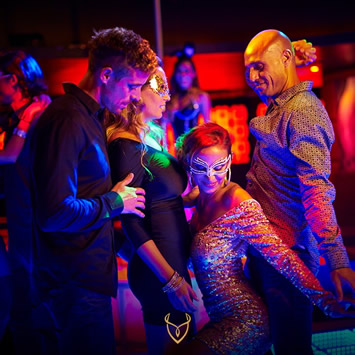 Additional to the already exciting itinerary, we will stay true to what we do by bringing our world-renowned entertainment on board. You can enjoy new erotic theme nights, couples' workshops by field professionals, provocative pool parties, international DJs, exclusive performances, and much more seduction...
The Desire Rio de Janeiro New Year's Eve Cruise is an inclusive voyage where you will be treated to modern luxury. The Premium Beverage Package and five dining facilities, plus room service, are included for a stress-free voyage, in addition to luxurious staterooms and any world-class amenities you could possibly want or need.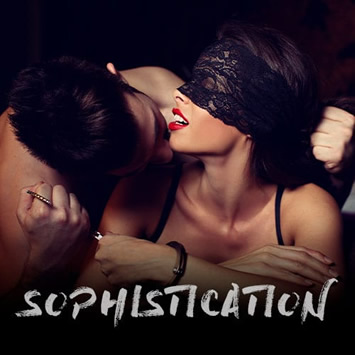 The Sensual Way to Sail Away...
Couples Only Cruise
Experience the energy and sensuality of a couples-only cruise, where pleasure has no limits.
Freeing Experience
Our clothing-optional areas invite you to live your nude fantasies at sea.
Engaging Entertainment
Engage in seductive signature theme nights, wild workshops, daring daytime activities, erotic events, and other sensual surprises.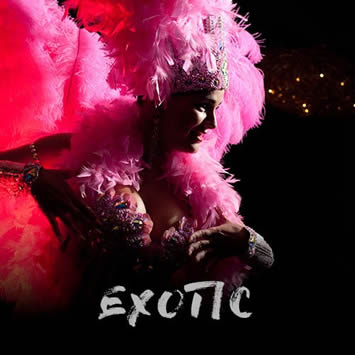 Erotic, Exotic & Engaging
The Desire Rio de Janeiro Cruise will seduce all passengers by rocking the ship all the way to Buenos Aires. With a different kind of seductive atmosphere, our entertainment will make you want to burst inside as you feel your temperature rise as you welcome 2023 on board and all along this exotic South American adventure.
Aside from daring daytime activities, themed pool parties and theme nights, you and your partner can participate in dynamic workshops, attend heart-stopping shows and performances, and enjoy VIP DJs, all selected to experience The Sensual Way to Sail Away.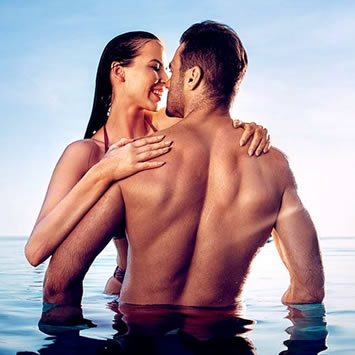 Additionally, enjoy our liberating clothing-optional areas, as you soak up the sensational panoramic view.
Or choose to sneak off to our couple's playroom, an intimate hotspot that combines intimacy and sensuality, inviting you to fulfill your fantasies at sea.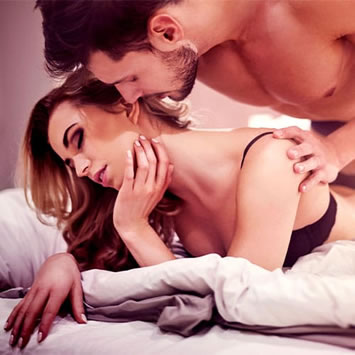 Clothing Optional Areas
Our clothing-optional areas provide nothing but stimulating freedom at sea. For some over-the-top poolside entertainment, our Playmakers bring the action to this hotspot, as you unwind, tease, and swim.
Clothing-optional areas: the pool on deck 9 and the tanning areas on decks 10 and 11.
Playroom
Feel the electrical currents pulsate through your body, as you join other couples in an intimate, erotic hotspot for adventurers. We invite you to take your relationship to the next level by living out your forbidden fantasies in our erotic signature playroom.
Deck 10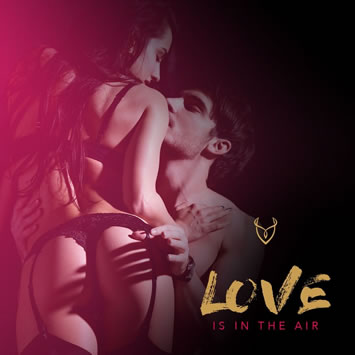 Special events include spicy signature theme nights, couples' workshops by professionals, themed pool parties, VIP DJs, enticing shows, and performances, as well as many other seductive surprises, all providing the perfect sensual atmosphere that has helped us pave our way to fame.
And if you and your partner have been looking to unwind and take advantage of this seductive break from everyday life, make your way to our clothing-optional areas, where freedom rules, or to our couples' playroom, with a sensual atmosphere that will seduce you.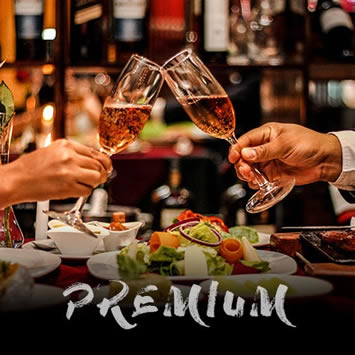 Premium Beverages & Gourmet Dining
Welcoming 2023 aboard our Desire Rio de Janeiro Cruise will be an experience that you and your partner will never forget! Our luxurious program, conceived to seduce the senses, includes the exclusive complimentary amenities and signature elements of our Desire Cruise collection.
Premium Beverage Package
The PREMIUM BEVERAGE PACKAGE is INCLUDED on this voyage. There is no need to pay extra for your favorite nightcap or celebratory drink, our Desire Rio de Janeiro Cruise has included it for you!
• Cocktails / Spirits / Liqueurs / Beer
• Bottled still and sparkling water
• Wines by the glass at dining venues
• Fresh squeezed juices / Non-alcoholic cocktails
• Premium coffees and teas
• Fountain sodas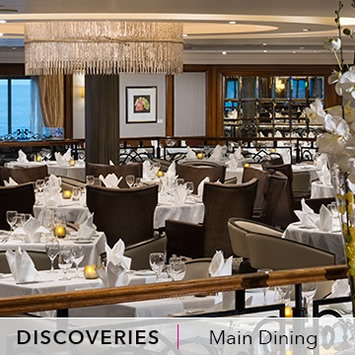 You and your partner will enjoy an outstanding culinary journey that includes five fabulous dining venues. Fresh ingredients, careful preparation and a variety of menu choices, promise a meal for every mood. This voyage offers six seductive dining venues, including room service. Bon appétit! Buon appetito! ¡Buen provecho!
Discoveries - Main Dining
With open seating and delicious selections, our main dining room is not to be missed. You'll find all your classic dinner favorites with a different twist, like gulf shrimp with cognac and garlic, or a filet mignon with black truffle sauce. What's more, open seating provides you the opportunity to dine at your leisure.
The Patio - Casual Dining & Snacks
While a casual pool grill during the day, this venue is transformed in the evening into a sit-down alfresco dining experience. And no meal would be complete without self-serve ice cream! Enjoy your favorite flavors along with your choice of toppings.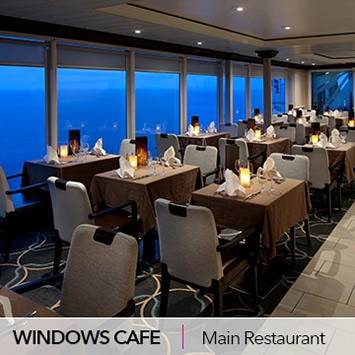 Windows Cafe - Main Restaurant
Take in the fresh breeze at an outdoor table in Windows Café, our casual buffet offering made-to-order breakfasts and a large variety of lunch and dinner options. Choices change daily and include fresh sushi, stir-fry, pastas, salads, an assortment of entrees and sides, a carving station and sumptuous desserts.
Mosaic Cafe - Casual Drinks & Snacks
The perfect place to start and end your day! A favorite onboard hub, with comfortable chairs and congenial service. Enjoy your coffee or tea just the way you like it, accompanied by a variety of sensational pastries and scrumptious sandwiches.
Sunset Veranda - Casual Drinks & Snacks
Adjacent to Windows Café, the Sunset Veranda is a bright, welcoming outdoor patio with covered and open-air seating. It's the perfect place for dining while enjoying a refreshing beverage, taking in the sights of your favorite port, or simply watching the world sail by.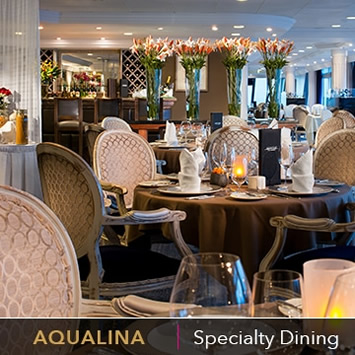 Aqualina - Speciality Dining
If you're in the mood for fantastic Italian-inspired cuisine, make a reservation at Aqualina, one of our onboard specialty restaurants. Aqualina will satisfy your taste for sumptuous fare in a relaxed, yet positively chic atmosphere.
Prime C - Speciality Dining
If steak and seafood are on your mind, then make your way over to Prime C. Full of atmosphere and loaded with flavor, this specialty restaurant surely aims to please all who enter. The broad wooden floors and rich paneling are more than inviting, and the steaks will melt in your mouth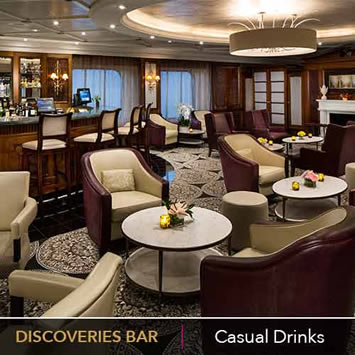 Discoveries Bar - Casual Drinks
Located just outside the main restaurant, this congenial bar is a favorite gathering place for pre- and post-dinner socializing and drinks. Bar service includes a full selection of fine wines, mixed drinks, and premium spirits… plus the entertaining banter of our friendly bartenders.
Pool Bar - Day & Night Drinks
Our Pool Bar serves the best in cold brews and beverages by day and your favorite cocktails by night.
Cabaret Lounge - Entertainment Venue
A seductive space with a full stage, offering sensual, temperature-rising shows by internationally recognized performers. And for an exciting nightclub experience, come back ready for a excitingly sinful night, as this hotspot serves as a stimulating late-night party venue with incredible on-demand DJs. See you there!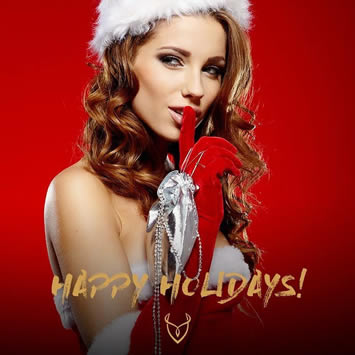 Rio New Year 2023 & South America
Desire Adult Couples Cruise Itinerary


Date

Port

Arrive

Depart

30 Dec
Rio de Janeiro, Brazil
PM
31 Dec
Rio de Janeiro, Brazil
31 May
Copacabana Beach, Brazil
01 Jan
Copacabana Beach, Brazil

02 Jan

Fun Day at Sea!

03 Jan
Punta del Este, Uruguay

04 Jan

Punta del Este, Uruguay

05 Jan

Montevideo, Uruguay

06 Jan

Buenos Aires, Argentina

07 Jan

Buenos Aires, Argentina
AM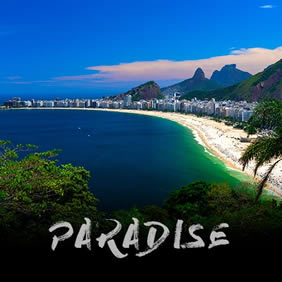 Your hearts will run wild, as Desire's sensual sanctuary at sea takes you magnificent ports of call in spectacular South America destinations.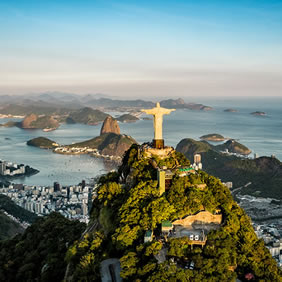 Days 1 & 2 - Rio de Janeiro, Brazil
The Marvelous City
Samba on down to Rio, famous for its dramatic landscape and beach culture. It is usually quite easy going, except for the four days of its feather-festooned Carnival.
From the summits of Sugarloaf and Corcovado, take in breathtaking views of a magnificent bay set against a mountain backdrop. Check out the activity at one or two of the 23 beaches, crowded with sunbathers, swimmers, surfers, and bikers.
For lunch or dinner, pull up a chair at a churrascaria and dine on the delicious grilled meat of your choice, washed down with a caipirinha, the national cocktail.
No journey to Rio de Janeiro
would be complete without a visit to one of the New Seven Wonders of the World, Cristo Redentor (Christ the Redeemer). At the top of the Corcovado Mountain, towering high above the city below, this 125-foot tall statue of Jesus Christ spreads its arms over Rio and offers breathtaking panoramic views of Guanabara Bay.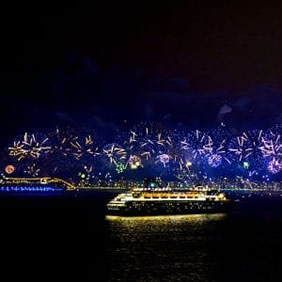 Days 2 & 3 - Copacabana Beach, Brazil
Hottest spot south of Havana
Often referred to as "the world's most famous beach", Copacabana is a slice of Brazilian paradise. It extends along the residential area of Rio de Janeiro for almost three spectacular miles. And with its combination of lush jungle-clad mountains, historic buildings, lively restaurants and bars, and sun-tanned bodies as a beautiful backdrop, it's like no other beach on earth.
New Year's Eve at Copa is second only to the Carnival in the ranks of Rio's highly developed party culture. Aboard the Desire Rio de Janeiro Cruise, we will welcome the New Year with explosions of color and light. Stunning fireworks will lighten up the sky at the stroke of midnight, as we celebrate the first day of 2023 in the most seductive way.
The wearing of auspicious colors is also a New Year's local custom: white for luck, green for good health, yellow and gold for prosperity, and blue for peace. So, color coordinate accordingly for an unforgettable New Year's Eve with us.
IMPORTANT NOTE: We will not be disembarking at this port, we will be enjoying the festivities, fireworks, special New Year's Eve dinner, show, and performances from the ship. We will be navigating at 2:00 a.m. on January 1st, 2023.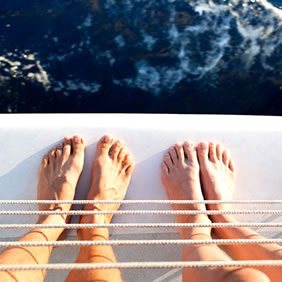 Days 3 & 4 - Fun Day at Sea!
There is so much to do while at sea. From sunrise to sunset, our onboard entertainment lineup is jam-packed with additional seductive activities and events. Additionally, the ship offers a full-service spa, a fitness center, and shopping stores.
And as the day begins to fade, the celebrations will go on till dawn with our erotic theme nights to turn you on.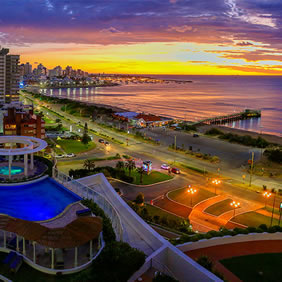 Days 5 & 6 - Punta del Este, Uruguay
City with An Artistic Soul
Fashionable Punta del Este is one of the world's most appealing seaside resorts. Fashionable cafes and shops line the streets, and an evening harbor-front stroll will no doubt include a serenade by street musicians and entertainers. Gorlero Street is the main street, where you will find a bulk of Punta del Este's prime attractions, it is about 10 blocks long and easily walkable. Be sure and keep your eyes peeled as you never know who you might see stroll by, it is a popular hotspot for the famous during this time of year.
The town projects an artsy vibe, with a contemporary museum and the Brava Beach open-air sculpture park displaying large works in steel, concrete, wood, iron, and marble. Don't miss out on the photo opportunity with The Hand, a sculpture depicting five gigantic fingers coming out of the sand. Then, visit the fascinating Casa Pueblo, home of artist Carlos Paez Vilaros, a dazzling white fantasy on a hillside overlooking the town.
After a day out, it's time to get the party started. Punta del Este is best enjoyed for its nightlife. Day parties start around 5:00 p.m., long dinners with cocktails flowing around start at 10:00 p.m., and the clubs and bars last long past sunrise.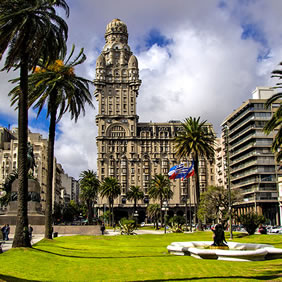 Day 7 - Montevideo, Uruguay
Vibrant & eclectic seaside city
Montevideo exudes European charm and elegance, with broad boulevards, fountains, stately squares, and irresistible sidewalk cafes.
The city maintains a low-key atmosphere despite its position as Uruguay's commercial and political hub, and there are few skyscrapers on the horizon, though there are some surprising contrasts such as an Art Nouveau pedestrian mall, an Art Deco Centenary Stadium, and an American Embassy designed by IM Pei. Most of the nation's countryside is farm or ranchland, and the life of the cowboy, or gaucho is part of the local lore.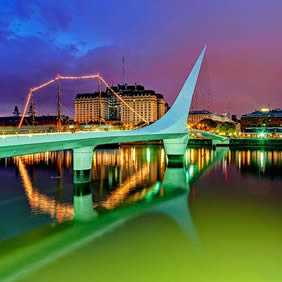 Days 8 & 9 - Buenos Aires, Argentina
The Paris of South America
Welcome to elegant, cosmopolitan Buenos Aires
, with its European colonial architecture and colorful mix of cultures. Each district has its own style: enjoy Palermo, with its mansions and parks; shop in the chic boutiques of Soho and Hollywood; and soak up the Italian flavor of La Boca, where tango dancers and artists display their talents for passersby.
A visit to Buenos Aires is not complete without a visit to the National Museum of Fine Arts. It is not only a unique experience, but one of the oldest and most respected attractions in the city. From classic to controversial, you will find works from extraordinary artists such as Van Gogh, Degas, Monet, and Picasso.
Be sure to squeeze in a visit to Colon Theater, one of the most important opera houses in the world. Performances on this stage have shaped its world-renowned prestige. The exceptional acoustic and architectural conditions of this building place it withing the top 10 theaters worldwide.
The spectacular Puente de la Mujer (Spanish for Woman's Bridge), inspired by tango, is a rotating footbridge that was designed by Santiago Calatrava. The white mast symbolizing the man, and the curve of the bridge, the woman. This footbridge is one of the most famous landmarks in the neighborhood of Puerto Madero.
You and your partner can witness much of the city's history from the balconies of Casa Rosada, from which Juan and "Evita" Perón addressed the masses during the late 40s and early 50s. Dominating Plaza de Mayo, Casa Rosada (the Pink House) is the seat of the Argentine national government and houses the president's office.Finally, top off the perfect day with an Argentine steak, perfectly grilled over a fire of glowing coals, and wash it down with an excellent glass of Malbec.
House Rules
So that all guests may fully enjoy the Desire Experience, Desire Cruises is committed to providing safe voyages. We ask you to respect the following guidelines throughout the cruise:
• For the comfort of all guests, we ask that you use appropriate attire in all restaurants and other public areas that are not clearly marked as clothing optional.
• Keeping the identity of our guests private is extremely important to us. For this reason, taking photos or videos in any of our ship's clothing-optional areas (the pool on deck 9 and the tanning areas on decks 10 and 11) or in the Playroom is strictly prohibited. Taking photos is permitted in all other areas, just as long as you respect the other guests.
• Our playroom has been designed for sexual, erotic pleasure. We ask that you use this couples-only area to fulfill your intimate desires.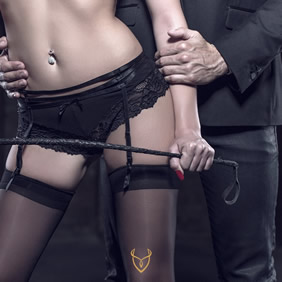 • Please treat all guests with utmost respect and remember the Golden Rule: NO means NO.
• Balance is important, some like to rest while others party, after midnight your fellow sailors would appreciate it if noise levels are kept to a minimum in our ship's corridors.
• We have created an open-minded ambiance aboard our Desire Cruise; however, drug use will not be tolerated.
• Neither Desire Cruises nor Azamara Club Cruises will be held responsible for items left outside of your safety deposit box. Please be sure to place valuable items in the safe.
• Desire Cruises takes great pride in providing you with a safe, couples-only environment in which to enjoy your vacation. However, it is a firm company policy that all staff members are strictly forbidden from interacting intimately or drinking with guests, doing so will result in their immediate dismissal.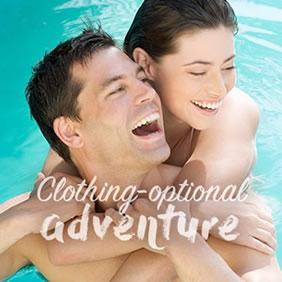 FAQ's
What is the "Desire Concept"?
Desire provides an uninhibited and sophisticated clothing-optional concept (in designated areas) for couples (21+) looking to experience sensuality and freedom at sea, while enjoying cutting edge entertainment, provocative theme nights, exclusive workshops, and more...
What clothing-optional areas will be offered onboard?
For your onboard enjoyment, the pool deck and sun deck are clothing-optional areas. Just a friendly reminder: due to local laws and authorities, our staff will give orders for all guests to be clothed as we approach the different ports of call.
Is there a Playroom etiquette?
Desire Cruises is firmly committed to maintaining our unique, couples-only atmosphere. For this reason, only couples will be allowed in the Playroom (no exceptions).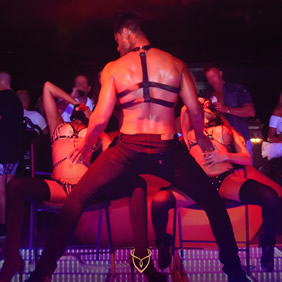 Is sex permitted in onboard public areas?
he only onboard public area where sex is permitted is the Playroom. Sex will not be permitted in any other public area.
Is photography allowed onboard?
Due to the nature of this cruise, and the fact that our guests' privacy is of utmost importance to us, there is no photography allowed in clothing-optional areas, including, but not limited to, cameras, cellphones, video cameras, tablets, etc. We will have official staff that will be taking pictures of onboard events, the experience, and ambiance; however, no guest will be photographed unless the guests gives written permission.
What is the minimum age requirement for Desire Cruises?
Although the average age range of our guests is of 35-50 years of age, the minimum age to sail with us is 21.
What type of client profile will we find aboard Desire Cruises?
Heterosexual & bisexual couples that are looking to enjoy a sensual experience with their partner.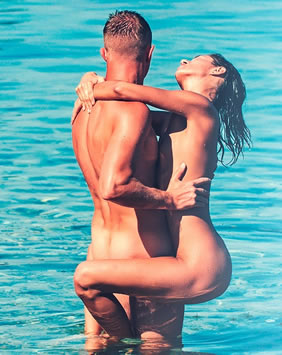 Guests: 690 • Gross Tonnage: 30,277 • Length: 592' • Beam: 84' • Draft: 19.85' • Guest Decks: 8 • Crew: 408 • Registry: Malta

Desire Rio New Year & South America Cruise 2022 Rates

CW - Club World Owner's Suite
Decks 6, 7, 8. Completely refurbished with elegant contemporary décor in 2016, Spacious living room with a separate master bedroom, Master bedroom with one king size bed and a 40" flat-screen television, 55" flat-screen television in living room, Marble master bath with tub and shower, Dressing room with vanity and ample closet space, Floor-to-ceiling sliding glass doors in living room and master bedroom, Spacious 233 sq.ft. (21.7 sq.m.) veranda, Refrigerator with mini-bar, Thermostat-controlled air conditioner, Direct-dial telephone with voice mail, Writing desk, In-room safe, Hand-held hair dryer Suite: 560 sq. ft. (52 sq. m.) Veranda: 233 sq. ft. (21.7 sq. m.)
$ 18,194

CO - Club Ocean Suite
Decks 6, 7. Completely refurbished with elegant contemporary décor in 2016, Spacious living room with a separate master bedroom, Master bedroom with one king size bed and a 40" flat-screen television, 55" flat-screen television in living room, Marble master bath with tub and shower, Dressing room with vanity and ample closet space, Floor-to-ceiling sliding glass doors in living room and master bedroom, Spacious 233 sq.ft. (21.7 sq.m.) veranda, Refrigerator with mini-bar, Thermostat-controlled air conditioner, Direct-dial telephone with voice mail, Writing desk, In-room safe, Hand-held hair dryer. Stateroom: Suite: 440 - 501 sq. ft. (40.9 – 46.5 sq. m.) Veranda: 233 sq. ft. (21.7 sq. m.)
$ 16,767

SP - Club Spa Suite
Deck 9. Newly built suites in 2016 with an elegant organic decor , Two lower beds convertible to one Queen size bed, Spacious glass-enclosed bathtub, Separate rain shower, Comfortable sitting area, 55" flat-screen television in sitting area, In-room spa music Floor-to-ceiling sliding glass doors, Veranda, Refrigerator with mini-bar, Thermostat-controlled air conditioning, Direct-dial telephone and voicemail, Writing desk, In-room safe , Hand-held hair dryer. Stateroom: 357 sq. ft. (33.17 sq. m). Veranda: 53 sq. ft. (4.92 sq. m.)
$ 10,341

N - Club Continent Suite
Deck 8. Completely refurbished with elegant contemporary décor in 2016, Two lower beds convertible to one Queen size bed, Spacious and comfortable sitting area, 55" flat-screen television in sitting area, Roomy bathroom with shower. Some also feature a tub, Floor-to-ceiling sliding glass doors, Veranda, Refrigerator with mini-bar, Thermostat-controlled air conditioner, Direct-dial telephone with voice mail, Writing desk, In-room safe, Hand-held hair dryer. Suite: 266 sq. ft. (24.7 sq. m.) Veranda: 60 sq. ft. (5.6 sq. m.)
$ 7,489

VX - Club Deluxe Veranda Stateroom
Decks 6, 7, 8. Completely refurbished with fresh contemporary décor in 2016, Two lower beds convertible to one Queen size bed, Comfortable sitting area with 40" flat-screen TV, Veranda, Refrigerator with mini-bar, Thermostat-controlled air conditioner, Direct-dial telephone with voice mail, Writing desk, In-room safe, Hand-held hairdryer Stateroom: 175 sq. ft. (16.3 sq. m.) Veranda: 40 sq. ft. (3.7 sq. m.)
$ 6,371

V - Club Veranda Stateroom
Decks 6, 7, 8. Completely refurbished with fresh contemporary décor in 2016, Two lower beds convertible to one Queen size bed, Comfortable sitting area with 40" flat-screen TV, Veranda, Refrigerator with mini-bar, Thermostat-controlled air conditioner, Direct-dial telephone with voice mail, Writing desk, In-room safe, Hand-held hairdryer. Stateroom: 175 sq. ft. (16.3 sq. m.) Veranda: 40 sq. ft. (3.7 sq. m.)
$ 5,661

OV - Club Oceanview Stateroom
Decks 4, 6, 7. Completely refurbished with fresh contemporary décor in 2016, Two lower beds convertible to one Queen size bed, Some staterooms feature sofa bed, 40" flat-screen TV, Refrigerator with mini-bar, Thermostat-controlled air conditioner, Direct-dial telephone with voice mail, Writing desk, In-room safe, Hand-held hairdryer. 170 sq. ft. (15.8 sq. m.) with large round window, or picture window.
$ 5,156

I - Club Interior Stateroom
Decks 4, 6, 7, 8. Completely refurbished with fresh contemporary décor in 2016, Two lower beds convertible to one Queen size bed, 40" flat-screen television, Refrigerator with mini-bar, Thermostat-controlled air conditioner, Direct-dial telephone with voice mail, Writing desk, In-room safe, Hand-held hairdryer. Stateroom: 158 sq. ft. (14.7 sq. m.)
$ 4,225

All prices are per person, based on double occupancy, and include all meals, Premium beverage package, accommodations and entertainment!

Additional Fees
Port taxes and gratuities are additional:
$350 per person for port charges, taxes & gratuities
$400 per person in Suites

Prices are cruise only and DO NOT INCLUDE return airfare! Please ask for airfare add-ons back to your home city.

The Initial deposit to guarantee a reservation is: Staterooms $1,000 USD pp and Suites $3,000 USD pp.

Balance Payment Calendar:
June 14, 2021 - 20%
October 04, 2021 - 20%
February 21, 2022 - 20%
June 20, 2022 - 20%
September 12, 2022 - 20%

Fares are subject to availability and may change without prior notice.

Please ask for further details.

Cancellation Fee:
Cancellation after January 01, 2021 - Penalty of $500 USD p/p (Staterooms) and $600 USD p/p (Suites)
Cancellation after October 04, 2021 - Penalty of $750 USD p/p (Staterooms) and $1000 USD p/p (Suites)
Cancellation after June 20, 2022 - Penalty of $1000 USD p/p (Staterooms) and $1500 USD p/p (Suites)
Cancellation after September 12, 2022 - No refund will apply.

Special Airfares








Pre-Cruise Hotels







Post-Cruise Hotel