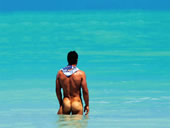 Join us for a nude week in Whitsunday Islands, Australia on a great one week luxury GayNudeSail Exclusive naked gay catamaran sailing cruise. Located in the heart of the Great Barrier Reef on the Queensland coast, lies 74 island wonders. The majority of the Whitsunday Islands are uninhabited national park islands, but four islands offer a variety of resort accommodation, all with the Great Barrier Reef and fringing coral reefs at their doorstep.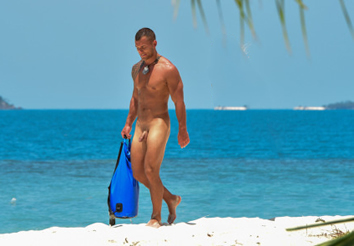 The Whitsundays is a spectacular collection of stunning beaches surrounded by azure waters decorated sporadically with coral gardens. The white sand of Whitehaven Beach is almost like super fine baby powder that is incomparable to any other beach experience. The coral gardens of the Great Barrier Reef are home to various types of spectacular marine animals.
Taking a sailing cruise around the Heart Reef is a bucket list worthy moment. A nude gay BBQ party on one of the beaches with expansive sea views is an absolutely thrilling experience. These are just some of the reasons why most of the Whitsundays experiences and locations are consistently rated as #1 not only in Australia but also all over the world.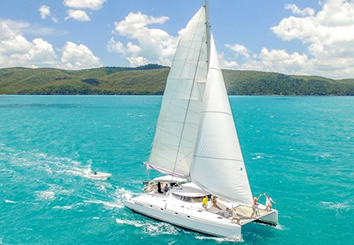 We sail along the beautiful Whitsunday Islands on a luxury 40 feet catamaran which gives room to 10 gay guys. This GayNudeSail Exclusive cruise is including the service of a gay skipper, gay cook/co-skipper, breakfast, lunch, soft drinks, harbor fees, gasoline, cleaning and taxes. The catamaran has four double cabins with private bathroom and two small single cabins in the front. Two double cabins have double beds, the other two cabins have split double beds. If you are single, you share a cabin with split double bed, or, if not available, with double bed. If you are single and you don't like to share a cabin, we have two small, single Crew cabins in the front, only accessible from the deck.
This week is a "nude gay only" cruise, meaning you can stay nude on the frontdeck in the sun and swim nude if you like, the first week is a clothing optional gay cruise.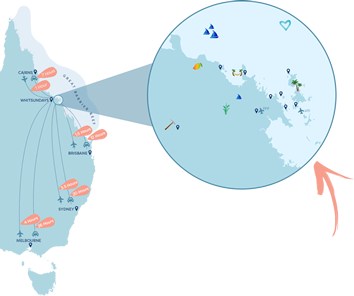 Day 1 - Arlie Beach, Australia
In our base on sunny Arlie Beach we start boarding at 5.30 pm. Time to meet the crew and your fellow guests, enjoy a welcome drink and dinner ashore.
Day 2 - Hook Island / Langford Island / Stonehaven Bay
Today, on our first sailing day, we cruise out of Nara Inlet with its towering hills and crystalline waters, banking first west and then north as we make for the northwestern shores of Hook Island. Sail the length of this large, green island haven, we will pause for lunch on the sandy peninsula of little Langford Island. We'll spend the evening overnight in Stonehaven Bay, where a monstrous tadpole-like sea serpent was ostensibly photographed in the 1960s. You'll be perfectly safe in this sheltered bay, however, where the only creatures are the beautiful tropical fish you'll encounter while snorkeling. Stonehaven's westerly aspect means it offers some of the best sunsets in the Whitsunday Islands, so keep your camera at the ready. Langford Island is a tiny islet off the east coast of Hook Island, but a long, snaking tendril of sand makes this the perfect spot for a relaxed lunch in the sun.
Day 3 - Butterfly Bay / Blue Pearl Bay / Hayman Island
Butterfly Bay is on the northern coast of Hook Island, so we continue north along the coast until the shoreline runs out. Bank around the headland and Butterfly Bay opens up before you. This picturesque anchorage is aptly named, with colorful butterflies flitting gracefully along the shore. Butterfly Bay harbors stunning wildlife beneath the surface, too, with majestic manta rays and giant Maori wrasse frequent visitors to the bay. We will detour via lovely Hayman Island to lunch at Blue Pearl Bay. Hayman Island has some of the best diving and snorkeling in the Whitsundays, so be sure to dip a toe in the water during your stop. Colonies of blue butterflies live at Butterfly Bay year round. Hike along Hook Island's creek beds to see these beautiful insects fluttering in the shade of the trees.
Day 4 - Whitsunday Island
Today we will enjoy a long spell out on the Coral Sea as you journey from Hook Island to Whitsunday Island. Whitsunday Island is the largest in the chain, so you'll enjoy easy line-of-sight sailing along Hook Island's coast, past Dumbell Reef and towards narrow Tongue Bay. Tongue Bay and Hill Inlet have some of the finest scenery in the Whitsundays, and have featured in a number of Hollywood films. Turtles can often be spied here, as can neon blue lagoon rays. The view from Hill Inlet Lookout is one of the most photographed in all Australia, so get your camera out and start snapping. Set your sights for Border Island and take a break on its sandy shores. There's a fantastic reef here for snorkeling, and the views from Mosstrooper Peak aren't to be missed. It's a short journey from Tongue Bay to the wonderful Whitehaven Beach.
Day 5 - Whitehaven Beach
Time to sail north out of the bay before turning to the southeast, where you'll see the shimmering crescent of Whitehaven Beach awaiting your arrival. Almost certainly one of the world's finest beaches, Whitehaven Beach is scrupulously clean and more than three miles long. Better still, the white silica sand reflects heat, meaning it's comfortable to walk on barefoot. Make the most of relaxing on this peaceful stretch of bright white sand, or snorkel and kayak the clear, warm waters. Head to the north of the beach to find Hill Inlet, where the mesmerising swirl of sand and tide creates beautiful, photogenic patterns.
Day 6 - Cid Harbor
Today we will head for the western shore of Whitsunday Island today, and the sheltered natural anchorage of Cid Harbor. Sail past Haselwood and Teague islands, pointing your bow to the west along Whitsunday Island Reef. Cid Harbour is a natural harbor formed by Cid Island and Whitsunday Island, used by the Australian navy during the Battle of the Coral Sea. This spectacular harbor is a wildlife haven, and if you're lucky you might even see dugongs cruising through the shallow, clear waters. Hike through the bush to the summit of Whitsunday Peak for spectacular views of the Whitsunday Islands.
Day 7 - Long Island
We will head south and leave the mouth of Cid Harbor, sailing out into the Coral Sea for a short spell of blue water sailing. We aim for the narrow green shape of Long Island, part of the Molle Islands National Park. Long Island is home to a huge number of plant and animal species, including the koala—one of few places in the Whitsundays you can see these adorable creatures. Enjoy hiking or cycling the many trails of long island, keeping your eyes peeled for its unique wildlife.
Day 8 - Arlie Beach, Australia
On our last day, it's a short journey to our base in Arlie Beach and time to say goodbye to your new friends and crew. Disembark at 9.30 am.
This itinerary is subject to change. Local circumstances such as weather may influence the itinerary.