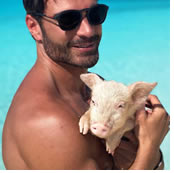 Resting in the Atlantic Ocean to the southeast of Florida the Bahamas have become a sought after destination for gay travelers seeking an intimate paradise. The chain of more than 700 islands, both sprawling and shallow, rise from the sea and greet visitors with cays surrounded by barrier reefs and delightful island culture. GayNudeSail Exclusive organizes a special one week Naked Gay Sailing cruise along these beautiful Islands on a luxury spacious air conditioned catamaran, 10 nude gay guys in total!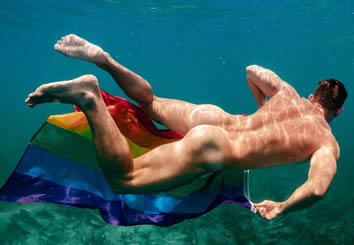 We sail to Great Abaco Island, circled by a number of smaller islands and home to picturesque colonial towns. Billowing sails dot the Sea of Abaco where under the water walls of coral and schools of tropical fish provide divers an excellent opportunity to experience the vibrant sea life at its best. Trade winds dance across the sheltered waters lending to the region's popularity as a sailing destination. Countless activities, ranging from visiting historic sites to snorkeling to taste testing local dishes, will fill your days with unforgettable memories.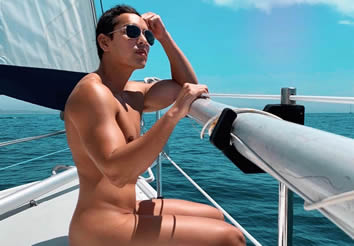 This nude gay sailing cruise is including accommodation on our luxury 52 feet GayNudeSail Exclusive catamaran, the service of a nude gay skipper and nude gay cook, port- and mooring fees, gasoline, cleaning, breakfast, lunch and soft drinks. Not included: Dinner, alcoholic drinks, excursions and marine park fees.
This week is a "nude gay only" cruise, meaning you can stay nude on the frontdeck in the sun and swim nude if you like, the second week is a clothing optional gay cruise.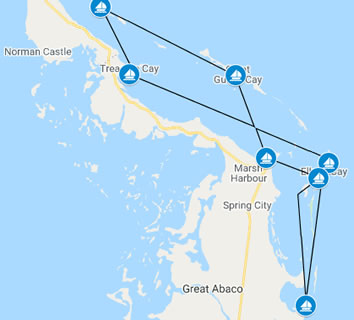 In our Bahamas nude gay sailing itinerary we will take you north and south of bustling Marsh Harbour to explore the nearby islands and cays on an adventure ideal in the sheltered Sea of Abaco.
One day we will anchor off an uninhabited cay to snorkel on coral reefs in crystal clear water with excellent visibility, and the next you'll be strolling the quiet streets of towns that were first settled hundreds of years ago. And, of course, the sailing is superb.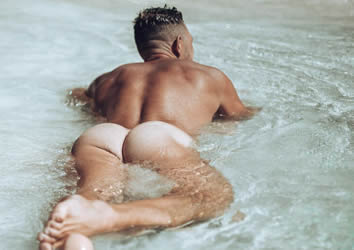 Day 1 - Marsh Harbour, Bahamas / Man-O-War Cay
Marsh Harbour to Man-O-War Cay – 4 nm.
Boarding in Marsh Harbour at 17.30. Your skipper and cook will organize a welcome drink, show you your cabin and do the first briefing. A short sail to the northeast takes you from Great Abaco across to our first cay, a quiet island community with a population of about 200 residents. Boatbuilding has thrived for about a century, and it's in evidence as you walk about the village. There are restaurants serving island fare, but plan on enjoying your sundowners on board since Man-O-War Cay is dry. Than it's time to dress up for our X-Mas Eve dinner in town.
Day 2 - Man-O-War Cay / to Great Guana Cay
Man-O-War Cay to Great Guana Cay – 8 nm.
We will get under way early for a great start to the first full day of our Bahamas sailing itinerary, which will take us to Fowl Cay Marine Park, about 3 nautical miles from the northern tip of Man-O-War Cay. The snorkeling at this park is excellent. After enjoying the sea life on the reef, we will proceed to Bakers Bay, a tree-lined cove at the northern end of Great Guana Cay. The view to the west from the anchorage affords a sweeping vista of the Sea of Abaco, particularly beautiful as the sun begins to set. We will take the dinghy ashore and dine at one of several restaurants. It's only a short walk across the island to the Atlantic side and the miles of white-sand beaches and the reefs beyond.
Day 3 - Great Guana Cay / Green Turtle Cay
Great Guana Cay to Green Turtle Cay – 12 nm
This passage takes us briefly into the Atlantic as we will sail northwest past Whale Cay, then duck back inside and sail nearly west to clear the shoals before turning northwest again to reach the harbors and anchorages at Green Turtle Cay. Whereas the first two nights of your Bahamas itinerary were spent in relative seclusion, we can opt for civilization at the marinas or anchor out to enjoy New Plymouth and its museum, sculpture gardens, and restaurants
Day 4 - Green Turtle Cay / Treasure Cay
Green Turtle Cay to Treasure Cay – 24 nm.
Today we get under way early for our last leg north in the Sea of Abaco to swim, snorkel, or simply explore the beaches and nature walks on Manjack Cay, a sail of about 5 nautical miles. The locals pronounce Manjack as "Munjack" or "Nunjack" and it's a delightful spot. After the break we will set a course southward for Treasure Cay, known for its resort and world-famous white-sand beach arching in a crescent for over three miles.
Day 5 - Treasure Cay / Hope Town
Treasure Cay to Hope Town – 18 nm.
It's a straight sail of about 15 miles on a heading just south of east to Point Set Rock, a track that promises swift and easy sailing in a balmy northeasterly breeze. Elbow Reef Lighthouse rises above the low shore, a landmark in these waters for well over a century. Hope Town Harbour is nearly landlocked, has full-service marinas, moorings, and numerous attractions, including several excellent restaurants. A museum, art galleries, boutiques, a bakery, a dive shop, and other businesses are in Hope Town, which is restricted to pedestrian traffic only. Snorkeling on the reef on the Atlantic side is good along most of Elbow Cay.
Day 6 - Hope Town / Little Harbour
Hope Town to Little Harbour – 20 nm.
Today our gay sail cruise takes us westward to clear the shoals extending out from Lubbers Quarters Cay, and then we continue the southern leg of our Bahamas itinerary to the exquisite snorkeling and scuba diving at the Pelican Cays Land and Sea Park. Anchor off Sandy Cay, in the park, and head to the reef to view the sea life and the undersea caves. This area of the Abacos has roughly 150 species of birds, sea creatures, and plants. Farther south on Great Abaco, we'll find Little Harbour, a secluded anchorage that is the site of a small art colony. You can relax aboard and watch sea turtles and porpoises swimming near the yacht, then we go ashore to dine at Pete's Pub, an open-air bar that also features an art gallery.
Day 7 - Little Harbour / Elbow Cay
Little Harbour to Elbow Cay – 15 nm.
Today we head north for the last full day of your Bahamas itinerary. Once past Pelican Cays and the jaunt west to clear Tilloo Bank, at the south end of Tilloo Cay, we'll turn north toward Lubbers Quarters Cay, a 300-acre private island dotted with a few homes and cottages. A channel runs between Lubbers and Elbow cays, where you'll find magnificent Tahiti Beach and its resident giant starfish clearly visible from the deck of the yacht. We will anchor there for a relaxing lunch before sailing the short distance to White Sound, at Elbow Cay, to dock for the night. The famous Abaco Inn offers informal gourmet dining and the beach on the Atlantic side of the cay is minutes away by foot.
Day 8 - Final Morning / Elbow Cay / Marsh Harbour
Elbow Cay to Marsh Harbour – 10 nm.
Although you won't want to sail back to reality, the final leg of your naked gay sailing cruise will be a glorious sail north and then west back to the Marina.
We will be back by 10 A.M. Time to say goodbye to you new friends!
This itinerary is subject to change. Local circumstances such as weather may influence the itinerary.