Another new clothing optional gay sailing cruise destination which is very popular by our gay skippers and travelers: Under the Dalmatian coast of Croatia, the overwhelming environment passes into the beautiful country Montenegro. Just south of Dubrovnik in Croatia, Montenegro's UNESCO status attracts sailing enthusiasts around the world. Discover white sandy beaches, small, uninhabited islands, inlets accessible only by boat and charming harbors.
We visit the hot spots of this country such as the mighty bay of Kotor where you imagine yourself in the middle of the mountains of Austria or Switzerland, beautiful ancient walled towns, where time seems to have stood still, but also a good gastronomy, beach holiday and you can find nice places to go out. For a detailed description, see the day planning. Also this country with its beautiful surroundings and whose liberal culture is similar to Croatia and ideal for Clothing Optional Gay Sailing Cruise.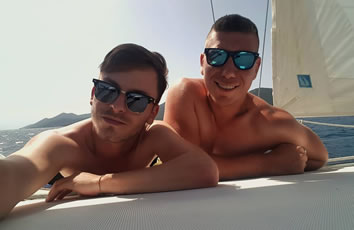 We offer the Gay Sail Exclusive sailing trip with a luxury catamaran sailing yacht. You can join one or two weeks. You can also combine Montenegro with Croatia. The weeks have a different itinerary and if you combine 2 weeks we will take care of transportation between the port of Dubrovnik and Montenegro (and / or back), about 50 min.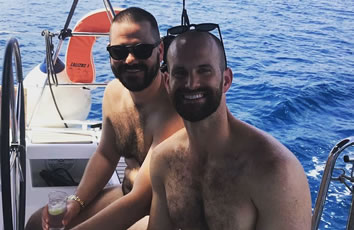 The harbors are well equipped and the towns and villages on the islands and along the coast are beautiful. Sometimes we spend the night in a beautiful green and sheltered bay, where we are alone under the stars. In August we sail in Montenegro, one week Gay Nude Sail Exclusive and one week Gay Sail Exclusive.
This cruise is including accommodation on board, the service of gay skipper and -gay cook, breakfast, lunch, soft drinks, harbor fees, taxes, gasoline and cleaning. Not included: Dinner and alcoholic drinks.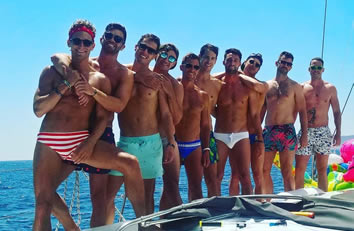 Day 1 - Kotor, Montenegro
This clothing optional gay sailing trip starts right in the marina, the old port from the historic town from Kotor. Take your time to visit this world heritage! The Bay of Kotor with its impressive medieval fortress at Kotor snaking up the steepest mountains in the region. Enjoy local food and drink in the narrow streets and cobbled squares in this walled city. An itinerary in Montenegro isn't complete without this historic stop.
Day 2 - Perast / Risan, Montenegro
We sail to Perast and explore this small but beautiful village. We stay in the village of Risan, unspoiled and very original. It's the oldest settlement in this region (4th century BC). The view over the bay is stunning!
Day 3 - Rose / Bigova, Montenegro
A swim- and lunch stop nearby the old fishing village Rose and we spend the night at Bigova. This is also a small fishing village in a beautiful bay on our way between the huge bay of Kotor and the town of Budva. Settlement Bigova - a quiet place located in a sheltered bay from the sea and winds. In the past, pirates hid here from storms and pirates rested from sea robbery, and now fishing boats and yachts of wealthy tourists swing on waves. The coast near the village consists of beautiful stony beaches and the surrounding air is filled with the aroma of laurel and coniferous trees, very useful for respiratory organs. An additional bonus for us: there is always the freshest fish on the table from local fishermen.
Day 4 - Sveti Stefan / Budva, Montenegro
We head further south to Sveti Stefan, where an ancient terracotta roofed village meets modern day luxury resort. Swim- lunch stop at Sveti Stefan or Milocer or Queen's beaches. We sail to Budva, where you'll find sandy beaches along the coast. Known as an Adriatic version of the Riviera, you'll find an attractive walled city, old monasteries, a natural harbour and a great atmosphere at Ploce beach.
Day 5 - Uv Dobrec / Herzeq Novi, Montenegro
We have a swim- and lunch stop in the beautiful bay of Dobrec and we spend the night in the marina of Herzeq Novi, at the entrance to the Gulf of Kotor, where you can leisurely stroll around its heritage-listed tree-lined town squares and citadel.
Day 6 - Blue Cave / Donji Morinj, Montenegro
Nearby Herzeq Novi is a cave to visit, the blue grotto, only accessible by small boats or dinghies. We spend the night in Donji Morinj. Here we berth on a small jetty on this beautiful little village with a lot of small streams coming from the mountains and the associated water mills. Here is also one of the best restaurants of Montenegro: Catovica Mlini located in a stunning area and with ambiance.
Day 7 - Sv Dorde Islands / Tivat, Montenegro
Swim-Lunch stop by the beautiful Sv Dorde Islands and explore its tiny islands of Gospa od Skrpjela and Sveti Dorde and their churches. Overnight at Porto Montenegro, Tivat, This old marine harbour is transferred to a state-of-the-art luxury marina with a chic beach club and beautiful pool.
Day 8 - Tivat, Montenegro
Time to say goodbye to our new friends, after breakfast.
This itinerary is subject to change. Local circumstances such as weather may influence the itinerary..