Le Jacques Cartier
Flag: France
Capacity: 184
Crew: 110
Cabins: 92
Tonnage: 9,900 t
Length: 430 ft
Beam: 59 ft
Draft: 15 ft
Speed: 12.5 knots
Guest Decks: 5


Ancient Wonders Luxury All-Gay Cruise 2023
April 16–26, 2023
Ponant Cruises Le Jacques Cartier
10 nights from Aqaba, Jordan to Athens, Greece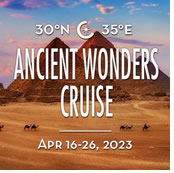 Wonder of Wonders! Miracle of Miracles! VACAYA's 2023 Ancient Wonders Cruise is one for the history books… literally. For the first time in LGBT+ travel history, you'll have the chance to see the best of the best of the wonders of the ancient world – all in one extraordinary 10-night luxury adventure! From Aqaba, Jordan where Petra awaits, we sail PONANT'S 5-star Le Jacques Cartier to Egypt for The Great Pyramids and The Sphinx, then on to Israel for the Holy Land's best (with an overnight there), then to Cyprus, and on to Greece, where we'll visit all-new ports of call – Rhodes (where the Colossus once stood), Folegandros, Nafplion, and finally Athens, where the striking Parthenon waits to greet you! 10 Nights. 5 Countries. Endless adventure.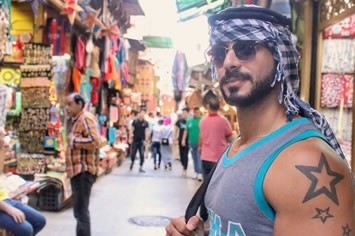 The Must-See Jewels of the Ancient World... All For You!
• Explore 5 amazing countries
• Countless UNESCO World Heritage Sites
• Petra, The Great Pyramids, The Sphinx, The Holy Land, The Parthenon
• 5-star luxury on Ponant's Le Jacques Cartier
• History Comes to Life!
• All-LGBT+ full-ship charter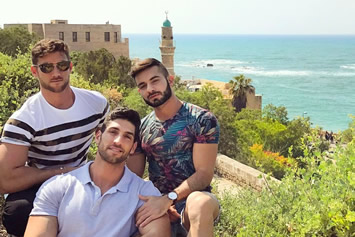 This 11-day itinerary combining history and archaeology will take you from Jordan to Greece. During your cruise, Le Jacques Cartier will visit several unmissable sites between the Red Sea and the Mediterranean Sea. After your embarkation in Aqaba, Jordan's only port, you'll reach Ain Soukhna, the gateway to the Great Pyramids of Egypt. A security detail will ensure your visit to these incredible Egyptian sites will be without issue.
You'll cross the world-famous Suez Canal, built by Ferdinand de Lesseps. Then on to Ashdod, Israel – gateway to Tel Aviv and Jerusalem. We'll spend two full days and an overnight in Israel, giving you the chance to see the incomparable sites of The Holy Land. From there, we sail on to Limassol, Cyprus, where multiple UNESCO World Heritage Sites await your discovery. Then, we hit the home stretch with three island stops in Greece, finally ending in Greece's capital city, Athens.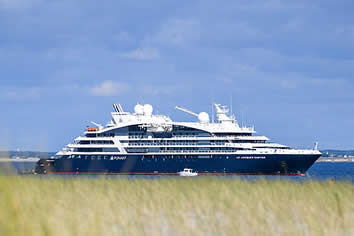 Ponant Breaks The Mold
Boasting 92 finely-appointed staterooms and suites, Le Jacques Cartier is one of 6 identical Explorer-class ships from PONANT. The ship gives you a unique yacht-like cruising experience thanks to her cutting-edge design, environmentally-friendly equipment, smaller size, and subtle blend of refinement, intimacy, and comfort.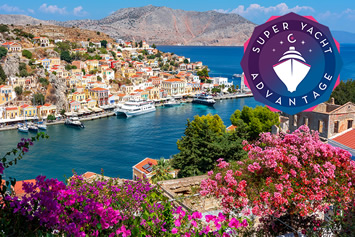 The Super Yacht Advantage
The upside of going on smaller vessels like the super yachts of PONANT is that you can visit seaside cities and towns that don't have ports or harbors constructed with enormous ships in mind. This allows you to get right to the heart of the culture of your chosen destination, and you won't find yourself hampered by all of the Duty-Free outlets that characteristically dominate the larger ports. It's one thing to explore a busy and thriving metropolis. It's quite another to witness the extraordinarily intimate atmosphere of a smaller port of call. And with smaller vessels, you don't have to worry about missing out on larger ports; we can go to those, too! So you'll enjoy plenty of variety during your journey with VACAYA.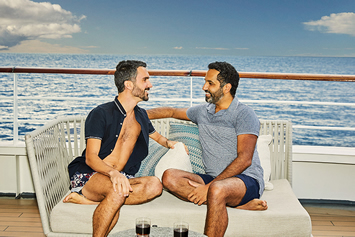 Staterooms
Elegantly-designed staterooms and spacious suites boast a warm contemporary interior design by Jean-Philippe Nuel. The designer took direct inspiration from the destinations and cultures explored during PONANT's stopovers and then punctuated the design with beautiful ethnic touches. Every stateroom onboard boasts a lovely veranda, open minibar (replenished as needed), and unlimited WiFi access, and 24-hour room service. Select suites offer even more luxuries including butler service to tend to your every need including unpacking and repacking upon request. See pricing page for specifics.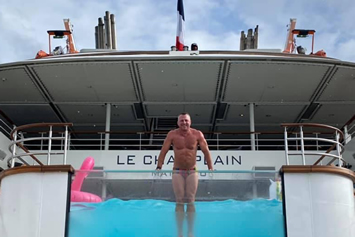 Pool & Nature Viewing Deck
The ship's heated pool offers a panoramic view of our surroundings and is equipped with a counter-current swimming system for those who wish to maintain their lap swimming regimen while on vacation (or show off your physical endurance for the entire shipboard community). This is THE spot for daytime relaxation. There's also an outdoor bar and loungers, chairs, and sofas, perfect for our organized events and parties or simply meeting up with your friends.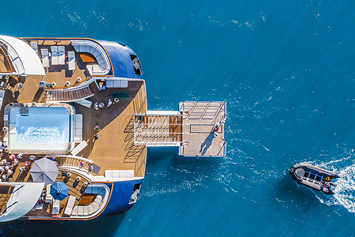 The Marina
Imagine diving off of the ship while docked inside a tranquil cove on a warm sunny day. A fully-equipped sundeck and 3-position marina allow access to the sea for swimming and water sports. A submersible mini-port, an original and unique concept, enables direct access to the ship's tenders, kayaks, and other watercraft. Just one more Super Yacht Advantage..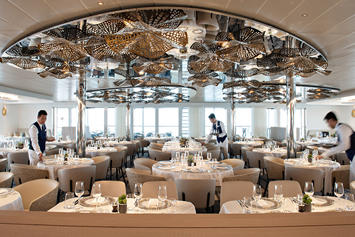 Restaurants
On Deck 4 Aft, you'll find the ship's panoramic restaurant, which can accommodate all of us in a single sitting. This dining area, which opens onto the outside, will have a buffet of salads, desserts, and cheeses at your disposal. And the ship's discrete and attentive crew will provide table service for breakfast, lunch, and dinner. For a more relaxed atmosphere, an outdoor grill on Deck 3 serves grilled meats with a variety of salads and desserts. And of course, complimentary room service is available to you 24×7.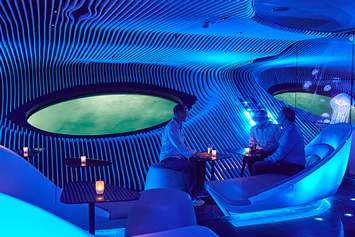 Blue Eye Lounge
Blue Eye is a first-of-its-kind multi-sensory underwater lounge built to transport you to the universe under the sea. The designers' mission is to enable you to see and feel the underwater universe in a way that never ceases to amaze. Bathed in deep blue light, the lounge has windows shaped like whale eyes to bring you closer to the marine mammals you'll see and hear behind the giant portholes. Hydrophones pipe in the natural symphony of the sea. The sofas also vibrate softly to the sounds and images of sea creatures are projected onto digital screens, creating a unique, multi-sensory experience of life underwater without getting wet!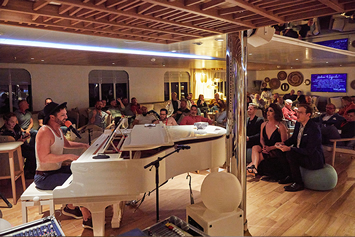 Lounges & Bars
Different lounges enable guests to socialize and share moments together during their cruise. Our ship features a main lounge, an ideal place to meet over a drink and watch daytime or evening events; the panoramic lounge, an intimate bar with a unique view of the horizon; and the outdoor bar, a relaxation area with access to the pool and solarium. The main lounge can accommodate all guests for VACAYA's social activities both day and night.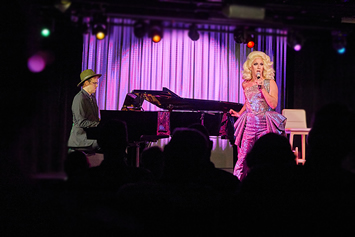 Theater
The theatre seats 188 and is equipped with the latest sound and lighting technology. This will be the showcase venue for VACAYA's all-star entertainment line-up. It's also equipped with an LED wall as the backdrop, allowing for multimedia presentations and destination lectures.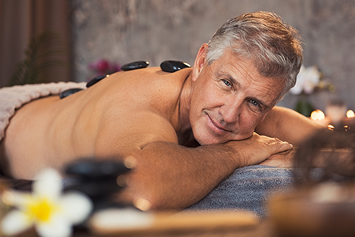 Wellness
The Spa offers a series of luxury treatments. Choose from moisturizing facials, relaxing massages, aromatherapy baths, anti-aging treatments, and enjoy a moment of absolute relaxation. There's a salon as well, offering hair styling, barbering, manicures, and pedicures.
The spa area includes a lovely sauna that's larger than you'd typically expect on a ship this size. With a window facing the outdoors and long curvy benches, it's an enticing retreat after an active expedition. The Fitness Center, boasting picture-perfect views of the open sea, features the latest Technogym machines including a Kinesis Wall.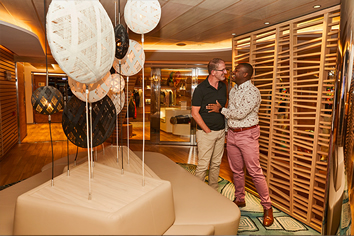 Reception
The ship's common areas are designed and equipped to meet all your needs while preserving the intimacy of the experience. A luxuriously appointed reception area welcomes guests and fulfills a variety of functions from reception and concierge to excursions and boutiques.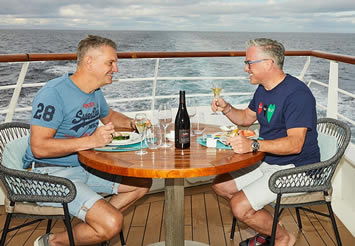 The Value of Luxury
When cruising PONANT with VACAYA, you're choosing comfort, refinement, & discovery...
VACAYA's 2023 Ancient Wonders Cruise continues our already-robust tradition of redefining all that's possible in the world of LGBT+ luxury travel. Of course savvy travelers recognize "value" rarely means "low price." Instead, value is defined as getting something extraordinary for a great price. And that is exactly what VACAYA's first-of-its-kind Ancient Wonders Cruise delivers.
The Vacayans are dedicated to providing you with the very best. That's what drives us, journey after journey. And it's amazing what's included: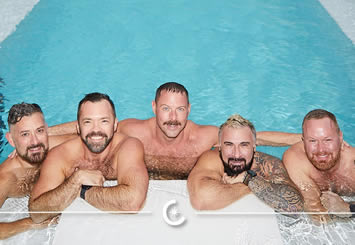 • 10 Nights aboard the stunning Le Jacques Cartier
• Butler Service in addition to stateroom attendant for all Suites on deck 6
• All Meals, featuring subtle and audacious flavors inspired by our ports of call
• Complimentary unlimited Open Bar throughout your cruise (premium alcohol extra)
• Complimentary unlimited Open Mini-Bar in your Stateroom/Suite (premium alcohol extra)
• Complimentary WiFi/Internet*
• Daily Afternoon Tea and Pastries
• 24-Hour Room Service
• 5-Star Service
• 24×7 Stateroom Service
• 24×7 Reception Desk
The following services are available for an additional charge:
• Shore Excursions
• Spa Treatments/Massages
• Salon Services
• Laundry
• Satellite Telephone Services
• Medical Services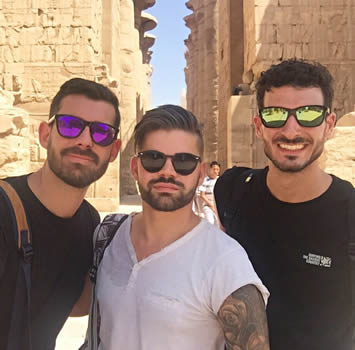 Ancient Wonders Luxury All-Gay Cruise 2023 Itinerary


Date

Port

Arrive

Depart

16 Apr
Aqaba, Jordan
3 PM
6 PM

17 Apr

Fun Day at Sea!

18 Apr

Ain Sukhna (Cairo), Egypt
6 AM
7 PM
19 Apr
Crossing The Suez Canal

20 Apr

Ashdod (Jerusalem), Israel
6:30 AM
Overnight

21 Apr

Ashdod (Jerusalem), Israel
4:30 PM
22 Apr
Limassol, Cyprus
8:30 AM
1 PM

23 Apr

Rhodes, Greece
1:30 PM
7 PM
24 Apr
Karovostasis, Folegandros (Greece)
12 PM
7 PM

25 Apr

Nafplion, Greece
8 AM
6 PM
26 Apr
Athens, Greece
7 AM

April 16, 2023 - Boarding starts at 3 PM.
April 26, 2023 - Disembarkation by 9 AM.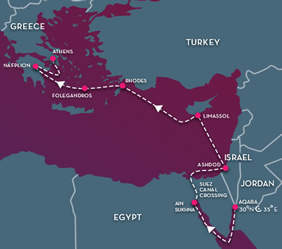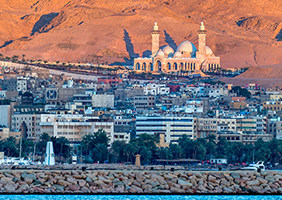 Day 1 - Sunday, April 16, 2023
Aqaba, Jordan
Located on the Red Sea within the eponymous gulf, Aqaba
offers Jordan its only access to the sea. At the crossroads of the land and sea routes that linked Asia, Africa, and Europe, the town is rich with more than 5,000 years of history. The warm waters of the Red Sea attract holidaymakers and divers to this seaside destination; the underwater sites home to coral and fishes are some of the most beautiful in the world.
Pre-cruise, Aqaba is the gateway to the magnificent desert of Wadi Rum and the stunningly beautiful Petra.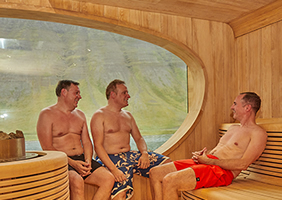 Day 2 - Monday, April 17, 2023
Fun Day at Sea!
Today, you'll settle into your luxurious new home, Le Jacques Cartier. During our day at sea, make the most of the many services and activities onboard. Treat yourself to a moment of relaxation in the spa or stay in shape in the fitness center. Or let yourself be tempted by the heated swimming pool or a spot of sunbathing. It's important to use this day to prepare yourself for all that lies ahead, because starting tomorrow, you'll experience a whirlwind of wonders.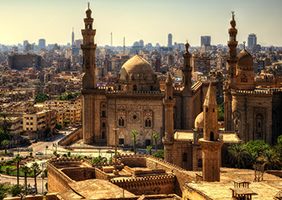 Day 3 - Tuesday, April 18, 2023
Ain Sukhna (Cairo), Egypt
Ain Sukhna, which means "hot spring," is located in the Gulf of Suez, facing the Red Sea. Around fifty kilometres from the entrance to the Suez Canal, and less than two hours from the Egyptian capital, it's an elegant seaside town that is popular with wealthy families from Cairo. Ain Soukhna is an ideal base for discovering the marvels of Ancient Egypt, including The Great Pyramids and The Sphinx.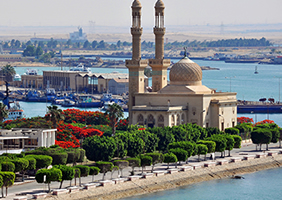 Day 4 - Wednesday, April 19, 2023
Crossing the Suez Canal
Without the waterway linking the Red Sea to the Mediterranean, this part of the world would be an arid sandy desert inhabited by a few nomads. The Suez Canal slices through 162 km of desert and was inaugurated in 1869 in the presence of Empress Eugenie, then nationalised by Nasser in 1956. This singular waterway has changed our world more than any other.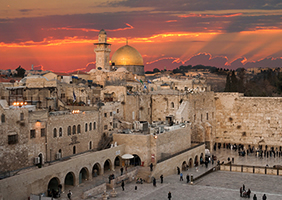 Day 5 - Thursday, April 20, 2023
Ashdod (Jerusalem), Israel
On the eastern shore of the Mediterranean, you'll discover Ashdod, the largest port in Israel. A former Philistine city, the town is home to the only museum in the world dedicated to the culture of this ancient people. Ashdod is also famous for being one of the gateways to Jerusalem. This city is one of the most sacred in the world and is fascinating due to its millennia-old history, its spirituality, and its incredibly rich religious heritage. Within its defensive walls, the Old City holds over 200 historic monuments including the Western Wall (or Wailing Wall), the Dome of the Rock, and the Holy Sepulchre. Visiting Jerusalem makes for a fascinating and moving experience as you immerse yourself in this mystical and magical place. Jerusalem is approximately 1 hour east of Ashdod.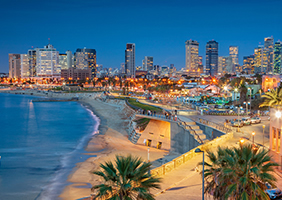 Day 6 - Friday, April 21, 2023
Ashdod (Jerusalem), Israel
You'll certainly appreciate having two full days and an overnight in the incredible region. You may choose to return to Jerusalem today for further exploration or perhaps head out to the Dead Sea, but if you're looking for a complete change of pace, we recommend hitting Tel Aviv, approximately 45 minutes north of Ashdod. With its pulsing artistic vibe, miles of picturesque city-side beaches, fascinating neighborhoods, and exciting nightlife, Tel Aviv has it all.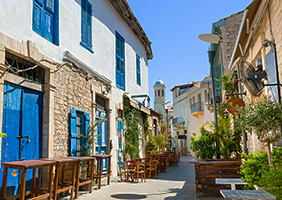 Day 7 - Saturday, April 22, 2023
Limassol, Cyprus
Limassol rests on the southern coast of Cyprus. It's known for the centuries-old Limassol Castle, home to the Cyprus Medieval Museum and its collection of pottery and tombstones. On the seafront is the Prokymea (Molos) Sculpture Park, with sculptures by Cypriot, Greek, and international artists. To the northeast is the Limassol Archaeological Museum, exhibiting artifacts from the Neolithic to the Roman periods. No visit to this fascinating region is complete without a visit to ancient Kourion, an UNESCO-protected archeology park with over 6,000 years of history.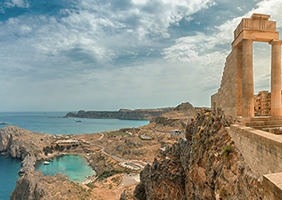 Day 8 - Sunday, April 23, 2023
Rhodes, Greece
With its particularly agreeable climate, the island of Rhodes invites you to walk its pathways and discover its immaculate villages and sumptuous medieval city, a UNESCO World Heritage site. At the center of the island, the mountains are covered in forest, and on the western slopes, we find vineyards and crops. Rhodes also owes much of its charm and its character to the Knights of St John, who reigned over the island from 1310 to 1522 and built impressive defensive walls punctuated with majestic gateways. Don't miss this delightful island with its peaceful beaches and its large walkways, perpetuating the myth of the famous Colossus, the legendary statue that is one of the Seven Wonders of the World.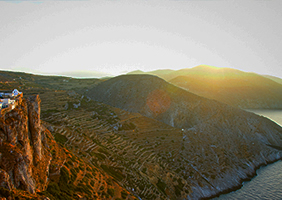 Day 9 - Monday, April 24, 2023
Karovostasis, Folegandros (Greece)
Folegandros is a true treasure concealed in the Cyclades archipelago. You approach this mountainous island from the south-east side of continental Greece. The blue and white houses built on a steep plateau in its main town, Chora, is a feast for the eyes. Why not climb up to the belvederes and admire the view of the Aegean and the port of Karavostasi. The jetty in Karavostasi port leads to a lovely beach where you can enjoy the turquoise water. Higher up, Ano Meria, a village surrounded by terrace farms, offers a magnificient panorama over the sea.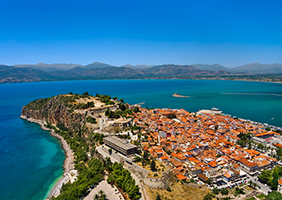 Day 10 - Tuesday, April 25, 2023
Nafplion, Greece
The engaging town of Nafplion is staggered up green hillsides of the Argolic Gulf, to the east of the Peloponnese. Don't be surprised by its extremely varied cultural heritage. Some of the must-see visits are the ancient agora on the plateau of Akronafplia, Italianate arcades in Syntagma square, and the baroque fortress of Palamidi on a hillside of the same name. At the top of the hill, views of the gulf and the surrounding mountains are simply awesome.
PRO TIP: If you want to chill by the water's edge, walk along the Arvanitia promenade to a beautiful creek in the shade of cedars and cypresses.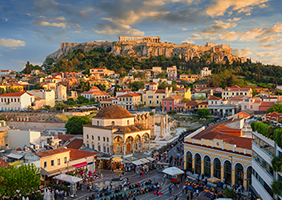 Day 11 - Wednesday, April 26, 2023
Athens, Greece
The end of our journey takes us to Greece's ancient capital city, Athens
– home to some of the most striking monuments from the Ancient World. We encourage you to spend a few extra days here to explore the many wonders.
And whether you fly home today, extend here for a few days on your own, or head off to further adventures around the region, we wish you only the best.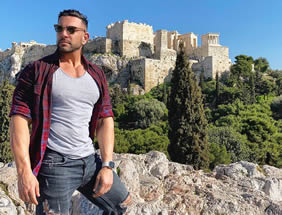 The Super Yacht Advantage
If you've ever wanted to explore the world in style in a friendly and intimate setting, VACAYA Luxe's small-ship voyages have distinct advantages over their big-ship counterparts. Small ships gracefully dock in quaint harbors that bulkier oceangoing vessels simply can't access, while also calling on classic destinations our guests long to visit again and again. The ability to call in ports of all sizes allows for more intriguing itineraries that become the focal point of the journey. Small ships also tend to stay longer and dock closer to town, giving you more time to explore. There are no crowds to beat, so you can see places at their most pleasant and authentic.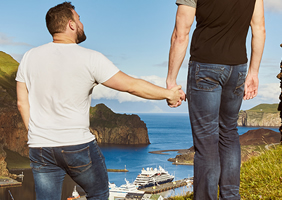 Sustainable Tourism
As concerns about environmental sustainability have become more prominent in the collective conscious, a greater emphasis has been placed on responsible travel practices. As lovers of the sea and the wondrous treasures of our planet, VACAYA and PONANT are committed to the protection of the environment and respecting indigenous communities. Larger cruise ships with guests numbering in the thousands can easily overwhelm popular ports with smaller populations. Small ships place less of a burden on the ports of call and do a much better job of meeting environmental regulations.
PONANT has incorporated many environmental practices into their business model, whether it's sustainable dining practices, partnering with local communities, partnering with international NGOs, supporting local research, or building ships with new technologies that reduce their environmental impact. PONANT's strong sustainability policies have earned it many prestigious awards, including the Magellan Award for Eco-Friendly "Green" Cruise Ship.
Combined with the French Touch of PONANT
As the only French cruise company, PONANT is an ambassador of the "French Touch" around the world. With a French crew, discrete service, refined cuisine, and partners that embody the same spirit of excellence and refinement, PONANT does their utmost to maintain a unique cruising philosophy.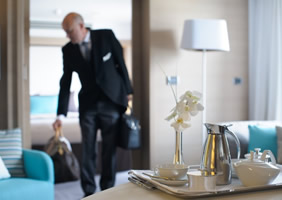 French crew
The French Touch means, above all, a French crew to welcome you and ensure your comfort and well-being throughout your cruise. In an atmosphere of elegant luxury, you'll find 5-Star Service onboard. It's a unique travel experience that is simultaneously authentic and refined. In addition to the attentive cabin stewards throughout the ship, all suites on Deck 6 come with additional butler service to see to your every need. They'll even unpack your bags and repack for you at the end of the voyage!