American Duchess
Debuted: 2017
Flag: USA
Capacity: 166
Crew: 80
Cabins: 83
Length: 341 ft.
Beam: 98 ft.
Guest Decks: 4
New Orleans & Mississippi All-Gay Cruise
November 14–22, 2021
American Queen Steamboat Company American Duchess
8 nights roundtrip from/to New Orleans, Louisiana, US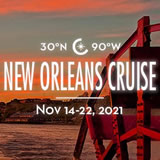 Fun-filled New Orleans and the mighty Mississippi river. VACAYA makes history yet again with an exciting and innovative CLOSE-TO-HOME vacation option for North Americans* – an 8-night all-gay adventure roundtrip from easy-to-get-to and seductively gay-friendly New Orleans up the Mississippi River! This fresh new getaway from VACAYA is the first US-based river cruise in LGBT+ travel history!
River cruising has taken Europe by storm and now you can sail the rivers of America with VACAYA. Come find out for yourself why river cruising has become passionate adventurers' new "favorite way to travel!"
*Of course EVERYONE is welcome, but it's just a little further from home if you live outside North America.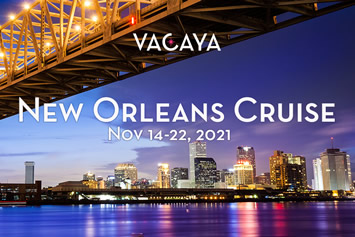 Spacious luxury awaits aboard the floating masterpiece that is American Duchess. This uniquely American, boutique-style paddlewheeler offers exquisite dining, beautiful decks, fun entertainment venues, and exceptional amenities. Her spacious suites reach up to 550 square feet, providing you with the largest accommodations on the rivers.
An included pre-night hotel stay at the Hilton New Orleans Riverside affords us the luxury of a short walk from the hotel to the French Quarter and to our ship.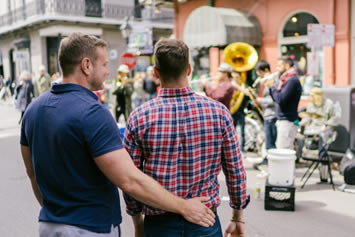 Your journey starts with an overnight at the Hilton Riverside, just steps from all the excitement, music, and culinary adventures of The Big Easy's famed French Quarter and Warehouse District. American Duchess will dock at the Riverwalk Shopping Center at the foot of Canal Street – mere feet from our hotel.
American Duchess will be our home for 7 luxurious nights. Together, we'll journey back in time to uncover the treasures, charm, and history of the Deep South as you indulge in iconic cuisine spiced with the cultural flavors of the region's past.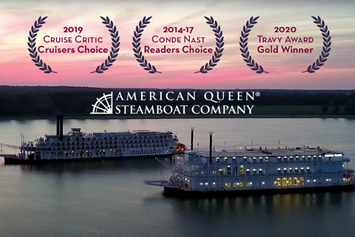 Cruising the Mighty Mississippi aboard the 5-star American Duchess!
American Duchess began cruising the Mississippi River in June 2017. Riverships on the Mississippi typically follow the same design: wood, brass, traditional American accents, and decor that harkens back to the bygone Mark Twain era. American Duchess, the third vessel from American Queen Steamboat Company, breaks that mold. This 166-passenger ship's interior is delightfully modern and contemporary.
American Duchess is wider than other ships in the AQSC fleet at 100 feet, and has 18.5-foot high ceilings on each floor. When you walk onto Duchess, the spaciousness is immediately apparent, highlighted by the beautiful atrium staircases. Large Austrian chandeliers provide a touch of formality, while Murano glassworks add colorful contemporary touches.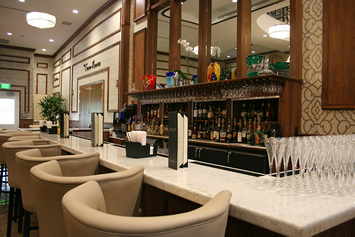 Spacious luxury awaits aboard the floating masterpiece that is American Duchess. This boutique-style rivership offers exquisite dining, beautiful decks, and exceptional amenities. Her suites range from 180 to 550 square feet, providing you with the largest accommodations on the rivers. Unique to American Duchess are her Loft Suites, which feature two stories enhanced by floor-to-ceiling windows, two full bathrooms, a comfortable dining area, a beautiful lounge with a queen sofa bed, a private balcony, and an upstairs bedroom.
Combining the best of the old and the new, this beautiful lady epitomizes the grace and grandeur that have made cruising on the Mississippi River a cherished American tradition for more than three centuries. And now she's all ours!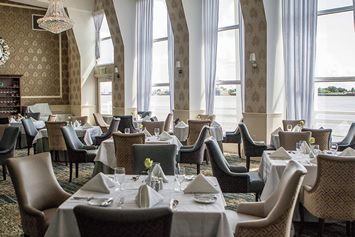 Dining & The Grand Dining Room
Dining aboard American Duchess is an elevated, Epicurean affair that pleases the palate and warms the soul. Duchess' award-winning culinary team takes full advantage of the region's diverse bounty of fresh, local ingredients to fashion uniquely exquisite dishes that'll leave you yearning for the next meal.
Savor each succulent bite as you swirl and sip amidst the rich ambiance at meals morning, noon, and night in this exquisite venue with sweeping windows revealing a gorgeous view of the Mighty Mississippi.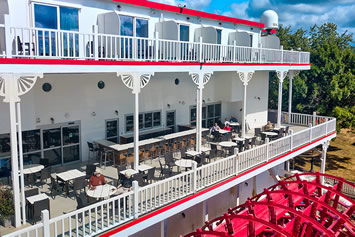 River Club & Terrace
Its lofty feel (along with an open-view kitchen and double-sided bar) sets the tone for the splendid dining and delightful cocktails. The outdoor terrace features covered, resort-style seating for both leisurely lounging and relaxed dining.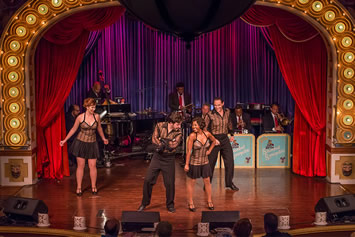 Duchess Show Lounge
You'll spend evenings aboard American Duchess enjoying all of VACAYA's and AQSC's signature entertainment. Duchess' Show Lounge lies at the heart of all the action. Come back night after night for unmatched entertainment you'll always remember.
As history plays such a large part of this cruise experience, we'll feature a diverse lineup of guest historians who take to the stage and transport you to another era. You'll enjoy hearing from these noted speakers who offer astounding insights on the culture and heritage of the Deep South. Relive a tale from Mark Twain for an enchanted evening and you'll retire to your room convinced you've just had a conversation with history.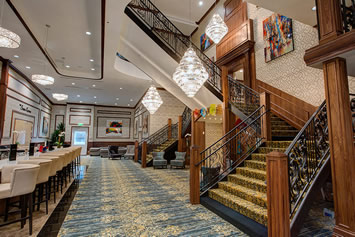 Great Lobby Bar
This stunning bar takes advantage of the boat's two-story atrium. It's a gorgeous space with a long marble bar and light-colored leather barstools, lit with chandeliers that are reflected in long glass panels. Murano glass sculptures punctuate the shelves and walls.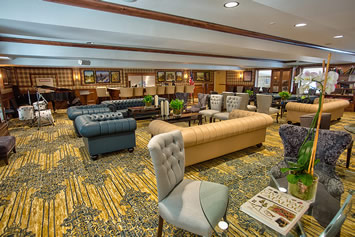 The Lincoln Library
This beautiful venue hosts lectures by our riverlorians. And with its own bar and grand piano, this comfy space transforms into VACAYA's nightly Piano Bar. It also boasts a library where you can borrow books (including a collection of Mark Twain) and games.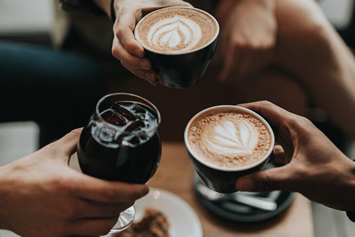 PERKS!
Got a hankerin' for a late night snack? PERKS is open 24/7 and includes complimentary coffee, espresso, lattes, and other specialty coffee drinks. The space also offers fruit juice, popcorn, soft-serve ice cream, and freshly baked cookies. And it's all INCLUDED!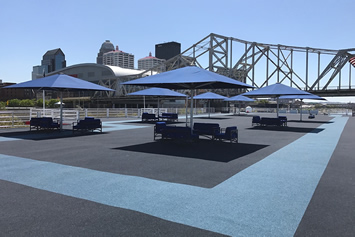 Sun Deck and Walking Track
The sun deck has lounging furniture to take in the sweeping views and cabanas for protection from the sun. A walking track and putting green round out the activities available on the Sun Deck.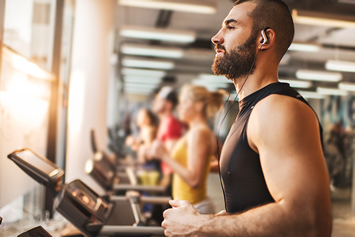 Fitness Center
The river is always flowing and while life here may move at a genteel pace, there's always plenty of activity onboard and ashore for the adventurer in all of us. Maintain your fitness routine, even on your river cruise. American Duchess offers a contemporary gym and range of amenities, so you can keep your workout routine, even while cruising. Look for modern cardiovascular equipment like treadmills and static bicycles in our fitness center. Or work your muscles with our workout bench and free weights. You'll find that your active, healthy lifestyle is easily maintained here.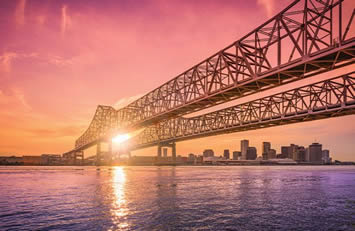 More Than You Could Ever Imagine... Included
For the first time in all-LGBT+ cruising history, VACAYA offers you a close-to-home vacation option that challenges all typical expectations. Of course, savvy travelers recognize "value" doesn't mean "low price." Instead, value is defined as getting something extraordinary for a great price. And that's exactly what VACAYA's 2021 New Orleans Mississippi River Cruise delivers.
Here at VACAYA we are dedicated to providing you with the very best. That's what drives us, journey after journey. And it's amazing what's included:
• 1 Night at the Hilton New Orleans Riverside Hotel
Pre-Cruise (including taxes and porterage)
• Breakfast at the Hilton
• 7 Nights aboard an authentic steam-powered paddlewheeler, American Duchess
• Breakfast, Lunch, and Dinner served each day throughout the cruise
• Non-premium beer and wine at dinner.
• Cappuccino, expresso, specialty coffees, soft-serve ice cream, soft drinks, and bottled water throughout the cruise
• Afternoon tea, coffee, cookies and snacks available each day
• Welcome canapés and bottle of wine in Suites
• 24-hour Room Service
• Daily housekeeping and nightly turn down service
• Included excursions in most ports of call
• Daily Excursions on innovative "Hop-On Hop-Off" motorcoach in most ports of call
• Use of Fitness Center
• Unlimited Onboard WiFi
• In-Room Iron and Ironing Board
• In-Room Keurig Coffee-Maker and Mini-Fridge
• William Roam Bath Amenities
• Onboard Enrichment Lectures
• Entertainment
• VACAYA Signature Parties and Social Activities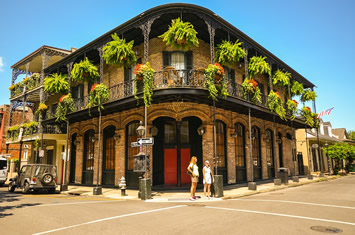 The following services are available for an additional charge:
• Premium Beverage Package
• Premium Excursions
• Laundry
Premium Beverage Package
If you desire more than beer and wine with dinner, our unlimited all-inclusive premium beverage package affords you carefree enjoyment of your favorite premium spirits, beer, and wine by the glass throughout the length of your voyage. Some restrictions do apply. Package can be purchased in advance beginning in late 2020.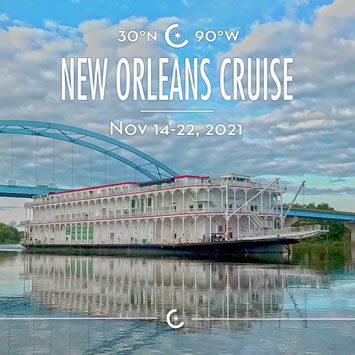 New Orleans & Mississippi
All-Gay River Cruise 2021 Itinerary


Date

Port

Arrive

Depart

14 Nov

New Orleans, Louisiana
3 PM
15 Nov
New Orleans, Louisiana
1 PM
5 PM

16 Nov

Mississippi River Cruising

17 Nov

St. Francisville, Louisiana
8 AM
1 PM
18 Nov
Natchez, Mississippi
8 AM
5 PM

19 Nov

Vicksburg, Mississippi
8 AM
5 PM

20 Nov

Baton Rouge, Louisiana
12 PM
5 PM
21 Nov
Nottoway, Louisiana
8 AM
6 PM

22 Nov

New Orleans, Louisiana
9 AM

November 14, 2021 - Check-In at 3 PM
November 15, 2021 - Boarding starts at 1 PM.
November 22, 2021 - Disembarkation at 9 AM.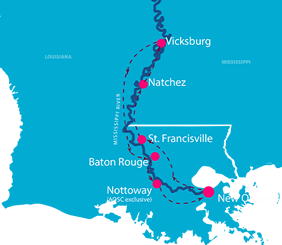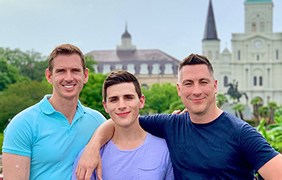 Day 1 - Sunday, November 14, 2021
New Orleans, Louisiana
Hotel Check-in 3 PM
Let VACAYA co-founder Randle Roper show you his hometown favorites! After a little solo exploration and dinner on your own, meet up with Randle and the team to hit some of the city's most famous gay bars along Bourbon Street. Head back at your leisure to enjoy your included stay at Hilton New Orleans Riverside Hotel
.
Our Hospitality Desk at the hotel can assist with everything from general questions about your upcoming voyage to reserving premium experiences. VACAYA, American Queen Steamboat Company, and local representatives will all be readily available to provide you with dining, entertainment, and sightseeing options to maximize your time here.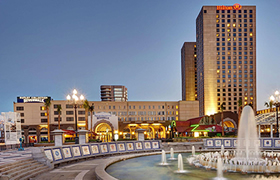 Day 2 - Monday, November 15, 2021
New Orleans, Louisiana
Enjoy an easy morning with your included breakfast at the hotel or use our amazingly central location as the jumping off point for exploring The Crescent City. New Orleans's Creole, Cajun, and other diverse residents blended to develop art, cuisine, music, and general culture unlike any other in the United States. Uncover the treasures of the city as you explore the unique sites and attractions lining New Orleans' historic streets.
A bon voyage departure like you've never seen will take place on the River Club Terrace and the top Deck, so grab your parasol and make your way to witness how authentic steam power can propel us back in time as we get to know our traveling companions for the next few days. Dinner and an evening of entertainment await!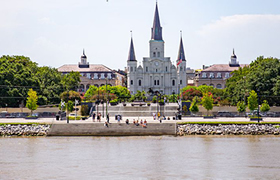 Day 3 - Tuesday, November 16, 2021
Mississippi River Cruising
There's always plenty to do between dawn and dusk on the river and today is the perfect day to enjoy the many public spaces and activities that are available to you onboard. Gaze at the beautiful landscapes and small river towns as you mingle with fellow guests and discuss the unique aspects of river life.
If you fancy a moment for yourself, retreat to The Lincoln Library adorned with ornate bookcases stocked with an imaginative selection. Take hold of a literary classic, curl up on a plush chair in a cozy corner and relish every moment of serenity. Our fitness facility, business center, movie theater, and grand lobby offer a more stimulating day on the river for those who wish to indulge in more energy-infused activities. However you wish to spend your day, make it your own and revel in every moment!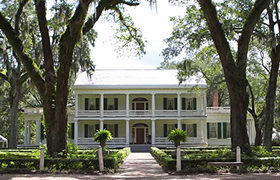 Day 4 - Wednesday, November 17, 2021
St. Francisville, Louisiana
Established in 1809, St. Francisville is the oldest town in the Florida Parishes. Below where St. Francisville is located currently, was a settlement called Bayou Sara in the 1790s. When this settlement was destroyed by flooding and fires, many of the structures and artifacts were hauled up the bluff into St. Francisville where they still stand. With over 140 buildings on the National Register, beautiful homes nestled in the rolling countryside, and bustling Main Street shops, this quaint town situated on the bluffs of the Mississippi River has a style all its own.
Hop-On Hop-Off Included Excursion:
Today, you'll get your first taste of AQSC's included Hop-On Hop-Off excursions that begin right from the dock and take you around town to all the main points of interest. We encourage you to hop off the motorcoach whenever the urge catches you, because another one is on its way to pick you up, typically stopping every 15 to 20 minutes.
Royal Street, Old Market Hall, West Feliciana Historical Society Museum, Grace Episcopal Church
• Bicycles for Leisurely Use While in Port
The ship offers 10 complimentary bicycles and helmets at each port on your river cruise. Simply sign up at the front desk. With so many picturesque towns along the rivers, cycling is a great way to explore the shops and sites while getting in your daily dose of cardio. Our onboard staff will also provide you with local attraction maps and guides so that you can explore each port as you wish along your river journey.
Premium Excursion:
• Redemption & Rehabilitation at Angola Penitentiary
Angola Prison is known today as a model facility and takes great pride in the faith-based rehabilitation of its inmates. Your perception of prison will be changed today. As we wind through Angola's vast, rich farmland where over five million pounds of produce are harvested by inmates each year, gaze upon the fields that seem to expand forever.
Day 5 - Thursday, November 18, 2021
Natchez, Mississippi
It seems as if history fell asleep and awoke unscathed by the changing times in this magical port. This charming river town was founded in 1716, making it the oldest city on the Mississippi River. It's known for its elegance, hospitality, and impressive preservation of history – found on every street corner. Enjoy the unique shops, restaurants, museums (including the Afro-American Culture Museum), and historic homes, all of which inspired Hugh Bayless to include Natchez in his book "The 100 Best Towns in America."
Hop-On Hop-Off Included Excursion:
Rosalie Mansion, Natchez Visitor's Center, William Johnson House Museum, Magnolia Hall, Stanton Hall, Natchez Association for the Preservation of Afro-American Culture Museum
Premium Excursion:
• Fortunes and Follies
A Glimpse into the Antebellum South. On today's journey, visit two of the most iconic structures in Natchez: Longwood Mansion and Melrose Mansion. Dive deep into discovery of the antebellum South while touring these historic homes. Expert guides provide new, interesting insights on the period and its architecture.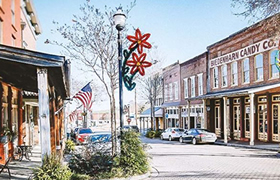 Day 6 - Friday, November 19, 2021
Vicksburg, Mississippi
Vicksburg perfectly blends Southern culture and heritage with exciting modern attractions. As a major battle site during the Civil War, this Southern town carries a history unlike any other. Vicksburg is also the place where Coca-Cola was first bottled, a fact that is happily immortalized at the Biedenharn Coca-Cola Museum. Learn about the historic conflicts of the city, taste its cuisine, visit the many museums, and pick out the perfect souvenir.
Hop-On Hop-Off Included Excursion:
• On the Front Lines of the Civil War
Travel the front lines of one the most important battlefields in the country. Cross into enemy territory, hear the stories and hardships suffered by soldiers and discover what makes Vicksburg such an important city in American history. Aptly described by President Lincoln as "the key to victory," the Siege and Battle at Vicksburg is a landmark in time that shaped our country and how wars would forever be fought.
Premium Excursion:
• A Round of Golf at the Vicksburg Country Club
It's time to tee off in Vicksburg! Join us for a fantastic round of 18 holes at the Vicksburg Country Club Golf Course, built in 1929. All cart, clubs, and green fees are included.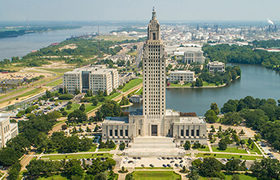 Day 7 - Saturday, November 20, 2021
Baton Rouge, Louisiana
Baton Rouge grants a strikingly different experience from those of the small-town stops throughout our journey. In this energetic port, history-facing museums and landmarks fraternize with forward-looking art and industry to offer a personalized encounter to each visitor. Allow the flowing, carefree words of denizens to dance through the eardrums during a meander through the city streets. Choose to hop on one of our deluxe motorcoaches and explore the diversity this city has to offer, or take a walk down the river path alongside our riverboat.
Hop-On Hop-Off Included Excursion:
USS Kidd, Capitol Park Museum, Louisiana's State Capitol, LSU Museum Of Art, LSU Rural Life Museum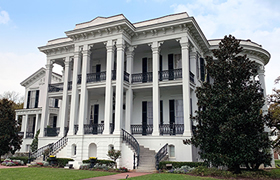 Day 8 - Sunday, November 21, 2021
Nottoway, Louisiana
American Queen Steamboat Company features an exclusive port at Nottoway. While the boat is docked, visit the sugarcane estate – the largest standing antebellum mansion in the South. Nottoway is an intricate building with impressive detail. Original furnishings mingle with era-appropriate antiques to create an atmosphere that does justice to the home's original ambiance. It is a fascinating history and one that provides immense insight that informs today's racial equality discussions – an experience you won't want to miss.
Hop-On Hop-Off Included Excursion:
Enjoy an included tour of Nottoway, the South's largest remaining antebellum mansion. This stunning historical place lies between Baton Rouge and New Orleans. The mansion flaunts three floors, 64-bedrooms, and displays an incredible 22 white square columns which contribute to its nickname—"The White Castle of Louisiana." Enjoy a guided walking tour of an American Castle as we explore within the pristine walls of Nottoway followed by a stroll through the lush grounds and gardens.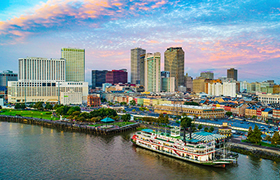 Day 9 - Monday, November 22, 2021
New Orleans, Louisiana
We say "so long" today, but it's never goodbye for long. Another VACAYA adventure lies just around the corner. We'll see you again soon! If you're flying out from New Orleans today, we recommend flights at 12pm or later.