Oceania Regatta
Ship Facts
Gross Tonnage: 30,277
Length: 593.7 feet
Beam: 83.5 feet
Guest Decks: 9
Cruising Speed: 18
Guests: 684
Crew: 400
Refurbished: 2019
Ships Registry: Marshall Islands




Tahiti Couples Only Luxury Lifestyle Cruise Cruise 2022
8 nights from/to Papeete, Tahiti
March 17 – 25, 2022
Oceania Cruises Oceania Regatta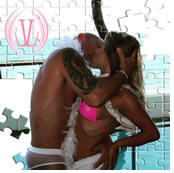 Tahiti. A single word that conjures up limitless beauty and inspiration unlike any other destination on the planet. In 2022, LLV returns to these remarkable shores with an extraordinary ultra-luxurious and exclusice adult couples clothing optional & swingers cruise through some of the world's most magical and storied islands. We invite you to join us for an extraordinary experience on the luxurious Oceania Regatta
as we explore the treasures of French Polynesia together with great friends old and new. Erotic, Sensual, Sexy & Exclusive!
Immerse yourself in the magic of seven alluring islands, or relax onboard while you marvel at the serene beauty of the South Pacific. Enjoy sumptuous cuisine in six sophisticated restaurants, served in casual elegance and with no extra charges. And of course, the stimulating variety of sexy entertainment options onboard ensures your interests are piqued, and yous fantasies come true.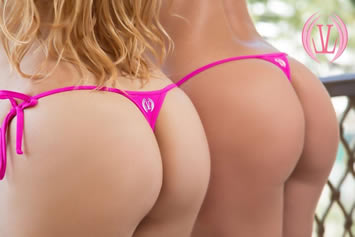 Tahiti is one place on earth where Everything is magical; the brilliant shades of blue in the water, the scent of vanilla on the breeze and of course all the sexy couples that will show up for this 'must do' cruise.
Experience a warm and sensual atmosphere with a unique touch of LLV. Feel wonderful as you meet new couples, prepare for the fascinating ports of call around French Polynesia, drink cocktails, and share adventures. Join LLV during the say with sexy and fun games around the pool, or perhaps simply relax with your couple in one of the playrooms.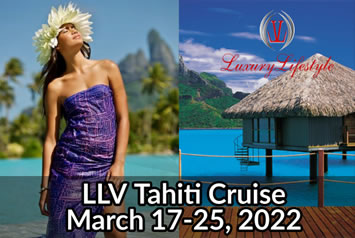 The World's Most Beautiful Islands
Nested in the cool Pacific waters, Polynesian settlers found a string of emerald islands, fruitful and fertile, carpeted with lush rain forests and vibrant life. Scattered over a vast, 2.5 million square kilometer area in the South Pacific, French Polynesia is made up of several series of islands, atolls, and archipelagoes, independently surrounded by lagoons and barrier reefs that create unique eco-systems and divine respites for the traveler weary of the usual getaway.
Slow down and let stress float away on secluded Huahine, Live the life idyllic with a memorable day on Motu Mahana in a private slice of paradise, enjoy an overnight in Bora Bora, which gives you ample time to explore this laid-back destination's dramatic mountain peaks, romantic lagoons, and impossibly turquoise waters.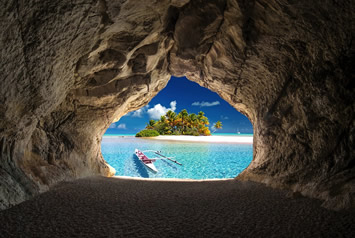 Our journey begins in Papeete, the capital city of the largest island of Tahiti and gateway to your South Pacific adventure. During our day in Moorea, often linked to the mythical island of Bali Hai, you'll discover spectacular bays and world-class diving. The island's volcanic peaks, reflected in the waters of Cook's Bay and Opunohu Bay, rise like a shark's jaw from the island's base.
Seemingly untouched Fakarava boasts some of the world's best diving and feels like Mother Nature's ultimate sanctuary. This virtually deserted and protected coral atoll is a natural reserve for many rare species.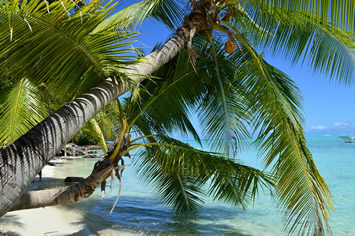 The endless jade-green lagoon surrounding Rangiroa creates a dramatic view towards the world's second-largest atoll hosting abundant sea life. This unique series of tiny inlets provide a wealth of water and land-based activities in one of the world's most unusual settings.
Few islands are more striking or more famous than Bora Bora, in the center of a multicolored lagoon, surrounded by offshore "motu" islets inside a protective coral necklace. A partially paved road circles the island, passing colorful villages, archeological sites, and small-town charm. Our overnight two-day stay lets you explore and enjoy this spectacular setting at your leisure.
Raiatea, the most sacred island in the South Pacific and the second-largest Tahitian island, boasts lush valleys, green-carpeted mountains, numerous waterfalls, and pineapple and vanilla plantations. Their deep lagoon hides fascinating underwater scenery, rich with tropical creatures and submerged mountains.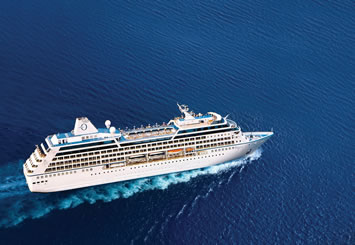 Luxury Oceania Regatta
Sleek and elegantly charming, Regatta is the flagship of the Oceania Cruises fleet. Her decks are resplendent in the finest teak, custom stone and tile work, and her lounges, suites and staterooms boast luxurious, neo-classical furnishings. Regatta offers every luxury you may expect on board one of our stylish ships.
After a multimillion-dollar transformation, the Oceania Regatta is a sight to behold with her neoclassical furnishings, teak decks, and sumptuous staterooms — about 70% of which offer private verandahs.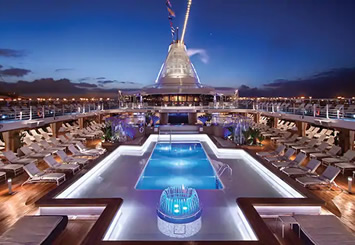 She features four unique, open-seating restaurants, the Aquamar Spa + Vitality Center, eight lounges and bars, a casino and 342 lavish suites and luxurious staterooms, nearly 70% of which feature private verandas. With just 684 guests to pamper, our 400 professionally trained European staff ensure you will wait for nothing.
Luxury and seduction in the same place, sexy, sleek, and elegantly charming. The LLV 2022 Tahiti Cruise offers every luxury you may expect to get from an Luxury Lifestyle Vacations event.
In a dramatic re-inspiration process, Regatta has become a completely redesigned ship without peer. Every surface of every suite and stateroom is entirely new, while in the public spaces, a refreshed color palette of soft sea and sky tones surrounds tasteful renewal of fabrics, furnishings and lighting fixtures that exquisitely encompasses the inimitable style and comfort of Oceania Cruises.
From the bejeweled new chandeliers in the gracious Grand Dining Room to the beckoning Reception Hall, Regatta celebrates a rejuvenation so sweeping, you will find it positively unimaginable to resist her welcoming embrace.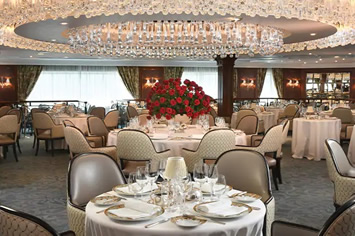 The Finest Cuisine At Sea
The Grand Dining Room
The Grand Dining Room is a study in stateliness, a tribute to the spirit of Europe's marquee 5-star hotel restaurants that inspired its dignified yet convivial ambiance. Handsomely decorated in rich woods, designer tapestry fabrics and oversized armchairs, the expansive dining area exudes classic splendor. Tables are beautifully set with bone china, sparkling Riedel crystal, gleaming silver, and fine cotton linens. Remarkably, as sumptuous as The Grand Dining Room's decor is, guests always feel completely at ease within its grandeur. Much of that is a direct reflection of the formally attired and classically trained wait staff, graciously serving course after course of European-inspired cuisine or delectable alternatives such as light and healthy Aquamar Vitality Cuisine and plant-based options. As variety is essential, menus change daily with a brilliant choice of at least ten appetizers, soups and salads and twelve entrées at dinner.
The Bistro
Inspired by the family recipes of our Executive Culinary Director, Jacques Pépin, The Bistro invites you to enjoy quintessential French dishes as well as lunchtime favorites and regional specialties during lunch in The Grand Dining Room. The menu features some of Jacques' favorite bistro-style dishes like the crisp salade niçoise and a warm croque-monsieur as well as a rich range of global flavors with Taste of the World selections from Mexico, Scandinavia, Italy, Thailand, Morocco and beyond. Daily specials offer even more choices and opportunities to savor a new and different dish or a time-honored classic you crave. Bon appétit!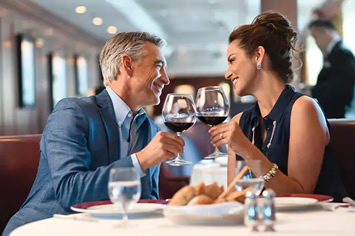 Polo Grill
Polo Grill embodies all the elements of a classic steakhouse, expressing them with timeless reverence. Mindful of tradition, the decor features crisp, white linen tablecloths, dark wood furnishings and supple, high-back, burgundy leather chairs. Each course stands as the very definition of time-honored favorites, most notably the beef dishes, all of which are USDA Prime and dry-aged for 28 days to enhance tenderness and flavor. Succulent seafood dishes such as Grilled Swordfish and Whole Maine Lobster Gratinée are also classics in their own right. The Classic Caesar Salad, too, is prepared according to tradition, tableside and with gusto.
Toscana
In Italian, Toscana means Tuscan, and just as Tuscan cuisine evolved from rich family traditions, many of our recipes originated with the mothers and grandmothers of our own Italian culinary staff. Presented on elegant, custom-designed Versace china, masterfully prepared dishes exemplify the essence of Tuscany and celebrate Italy's culinary passion. Perhaps the evening begins with an appetizer of Octopus Carpaccio with Champagne Vinaigrette or the Artichoke and Parmesan Cheese Timbale with Black Truffle Sauce. Classic dishes from other regions of Northern Italy are featured as well, such as the Minestrone alla Genovese, Lasagne al Forno alla Bolognese and Osso Buco alla Milanese.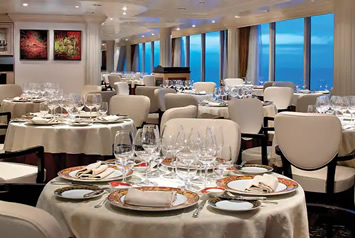 Terrace Café
Informal and carefree, the Terrace Café is wonderfully inviting any time of day--feel free to dine inside or alfresco at one of the shaded teak tables on the terrace. First thing in the morning, enjoy sumptuous breakfast selections. Come lunch, the expansive menu of international-inspired dishes changes entirely, beautifully complemented by flavorful roasted and rotisserie meats and the magic of the pizzeria's oven. Feel free to dine inside or alfresco at one of the shaded teak tables on the terrace. Evenings, the impeccably clad wait staff shines, and the cuisine takes on a more sophisticated flair. Lobster tails and lamb chops are prepared to order, and freshly made hand-cut sushi and sashimi await your selection. Tomorrow, an entirely different series of menus awaits the opportunity to delight you.
Waves Grill
Sometimes, the ultimate luxury is casual dining on all-American favorites, a laid-back style Waves Grill epitomizes. Located in a spacious, shaded area steps from the swimming pool, Waves Grill offers an extensive and mouthwatering luncheon menu. During lunch, the chefs grill gourmet burgers, tangy barbecue and succulent seafood to order in the open galley, accompanying them with side dishes like garden-fresh salads and crispy, hand-cut truffle fries dusted with grated aged parmesan.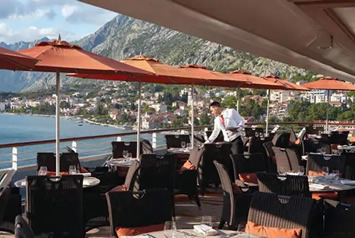 Afternoon Tea
Teatime is a celebratory daily event that irresistibly draws guests to Horizons at four o'clock sharp. As a classical string quartet plays softly in the background, our staff glides through the room presenting bountiful fourtiered pastry carts filled with freshly made finger sandwiches, colorful petits fours, richly textured scones with clotted cream and wonderfully sinful desserts. Of course, a selection of herbal teas is the centerpiece of this splendid afternoon pastime.
Baristas
This delightful coffee bar is a favorite stop for java lovers. Enjoy complimentary illy® espressos, cappuccinos and lattes prepared by our master baristas, as well as the delicious pastries, finger sandwiches and homemade biscotti that draw so many to Baristas throughout the day. Whether your favorite coffee creation is a macchiato or a cool and refreshing illy crema, the chic and bold ambiance of Baristas is perfect for relaxing in quietude or socializing with newfound friends.
Room Service
After a day of enriching shore excursions ashore or various activities onboard, you may dine in the privacy of your suite or stateroom. An extensive Room Service menu is available around the clock. Enjoy breakfast, lunch or dinner on your private veranda, as you take in spectacular seascapes.
Bars & Lounges
Martinis
Martinis serves numerous incarnations of this famous cocktail in an intimate atmosphere reminiscent of a private gentleman's club, featuring live piano music.
Grand Bar
Before enjoying a gourmet meal, sample a rare vintage or imbibe your favorite libation as you enjoy spirited conversation with new found friends amid the opulence of the convivial Grand Bar.
Lounge
From headline acts to comedians and magicians to lively jazz ensembles, the Lounge is the center of nightly entertainment aboard Oceania Cruises.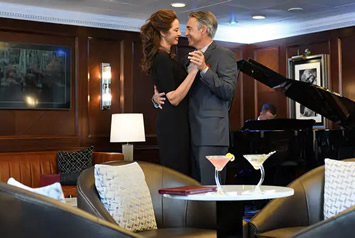 Horizons
An elegant observation lounge with dramatic floor to ceiling windows and a country club casual ambiance, Horizons features our beloved teatime by day and transforms into a sophisticated evening venue by night. Dance the night away to the sounds of a lively musical group and enjoy cocktails with friends at the convivial bar.
Waves Bar
Located in shaded area steps from the swimming pool, Waves Bar offers a wide variety of libations to enhance your poolside experience. A perfect afternoon on the deck with your favorite cocktail or a glass of wine or beer can be further enhanced with a decadent dessert such as a creamy homemade gelato, a made-to-order hot fudge sundae or a thick, hand-dipped milkshake. Nearby, at Waves Grill, chefs grill gourmet burgers, tangy barbecue and succulent seafood to order in the open galley, accompanying them with the side dishes like garden-fresh salads and crispy, hand-cut truffle fries dusted with grated aged parmesan.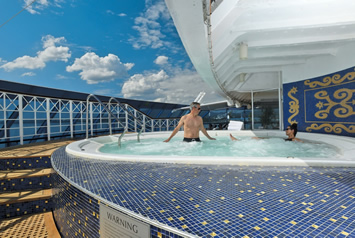 Aquamar Spa + Vitality Center
Mind, Body & Soul
On a voyage with Oceania Cruises, you not only chart a new course to alluring ports of call but also discover new paths to wellness. Travel stimulates the mind, uplifts the soul and invigorates the body, and the journey is as inspiring as the destination. You naturally enhance your well-being while on board our ships and during explorations ashore because the entire experience nurtures that most cherished gift – your health and vitality.
Beyond the Spa
This holistic approach to well-being is at the very heart of our new Aquamar Spa + Vitality Center, which offers a wide array of programs, services and experiences designed to help you live your best life. Of course, rejuvenating spa treatments and healing therapies are an essential part of this philosophy, but Aquamar is far more than a spa. From complimentary fitness classes and plant-based menus on board to excursions in worldwide destinations that reveal timeless wellness practices, Aquamar encourages a lifestyle of health and longevity.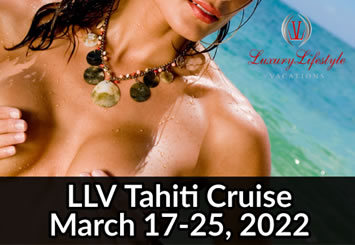 Tahiti
Luxury Lifestyle Cruise 2022
Itinerary


Date

Port

Arrive

Depart

17 Mar
Papeete, Tahiti
Overnight
18 Mar
Papeete, Tahiti
5 AM
18 Mar
Moorea
8 AM
4 PM
19 Mar
Fakarava
8 AM
6 PM

20 Mar

Fun Day at Sea!

21 Mar
Rangiroa
8 AM
5 PM

22 Mar

Bora Bora
1 PM
Overnight

23 Mar

Bora Bora
7 PM

24 Mar

Raiatea
8 AM
7 PM

25 Mar

Papeete, Tahiti
5 AM

Embarkation begins at approximately at Noon on March 17.
Disembarkation begins at approximately 7:00am on March 25, Final disembarkation by 9am.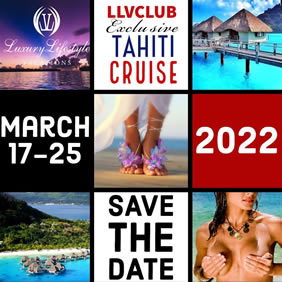 Our Tahiti 2022 cruise will feature stops in some of the most beautiful ports in the Polynesian Islands. We love that we have overnights in some of the fantastic islands around Tahiti. This allows plenty of time to explore off the ship and immerse yourself in the awesome island culture. It also makes for no-stress excursions out on the water since you won't have to worry about making it back to the ship before departure.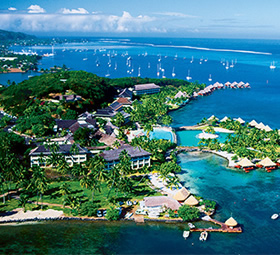 Day 1 - Papeete, Tahiti
Tahiti
is the largest island in French Polynesia, towering over the ocean like a proud and royal Queen, is appropriately crowned by a circle of majestic peaks. The mountainous interior is adorned with deep valleys, clear streams, and high waterfalls. The coastal lands, edged with a rugged coastline, are home to fields of tropical flowers and most of the island's population.
Papeete, meaning the "water basket," was once a gathering place where Tahitians came to fill their calabashes with fresh waters. Now the invigorating capital city and gateway of the country, boasts world-class resorts, spas, fine dining and unique restaurants, nightclubs, vibrant markets, pearl shops, and boutiques.
Your cruise starts with an "overnight" in Papeete
to allow all our guests to comfortably make their connections to the cruise.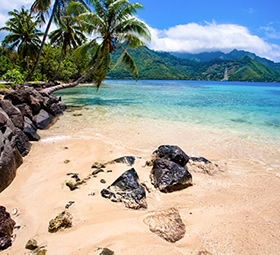 Day 2 - Moorea
Moorea soars magically out of the ocean in an explosion of green velvet. A wide, shallow lagoon surrounds the island's vertical mountains where poetic threads of waterfalls tumble down fern-softened cliffs. Peaceful meadows flanked by pinnacles of green will fill your senses and renew your belief in the majesty of nature. Pastel-painted houses surrounded by gardens of hibiscus and birds of paradise, circle the island in a fantasy of happy, yet simple villages.
Take a canoe ride through the lagoon; snorkel, scuba or helmet-dive the reefs, or hike up to the Afareaitu Waterfalls.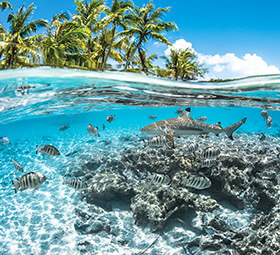 Day 3 - Fakarava
Located southeast of Rangiroa, Fakarava is home to the second largest lagoon in the Tuamotu Atolls. This rectangular reef encloses such a rich ecosystem that it has been designated by UNESCO as a Biosphere Reserve. The area both inside and around Fakarava is known to safeguard a variety of endemic wildlife. In fact, out of the entire commune including small atolls such as Niau, Raraka, Taiaro and Toau, some are completely closed to the ocean, creating a nursery for precious underwater flora and fauna.
As with many of the Tuamotu Atolls, Fakarava is one of the world's best diving destinations.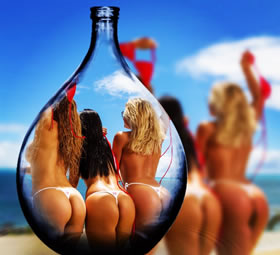 Day 4 - Fun Day at Sea!
Feel wonderful as you meet new couples, prepare for the fascinating ports of call around French Polynesia, drink cocktails, and share adventures. Join LLV during the say with sexy and fun games around the pool, or perhaps simply relax with your couple in one of the playrooms.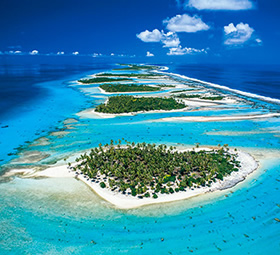 Day 5 - Rangiroa
Rangiroa, a string of coral encircling a luminous turquoise and jade-green lagoon, is one of the world's greatest dive destinations. From the air, the atoll - the second largest in the world - seems to be a giant pearl necklace laid upon the water. 240 tiny islets, or motu, each no more than three feet in elevation, lay upon the ocean for more than 110 miles completely encircling an infinitely deep lagoon.
The main villages of Avatoru and Tiputa are surrounded by two legendary bodies of water, Moana-tea (Peaceful Ocean) and Moana-uri (Wild Ocean). Along the few roads, coral churches, craft centers, local restaurants, and tiny shops provide enjoyable land-based experiences to complement the many activities in the lagoon. Snorkel in the crystal clear waters of the central lagoon, or simply relax on the idyllic white sand beaches.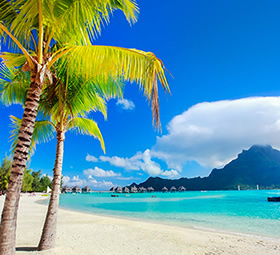 Day 6 - Bora Bora
The most famous island in Tahiti has long been called the most romantic island in the world. The castle-like Mount Otemanu pierces the sky. Lush tropical slopes and valleys blossom with hibiscus, while palm-covered motu circle the illuminated lagoon like a delicate necklace. Perfect white-sand beaches give way to emerald waters where colored fish animate the coral gardens as they greet the giant manta rays. This could be easily be described as the center of the romantic universe, where luxury resorts and spas dot the island with overwater bungalows, thatched roof villas, and fabled ambience.
Our overnight stay gives you nearly two full days to explore the island's many facets.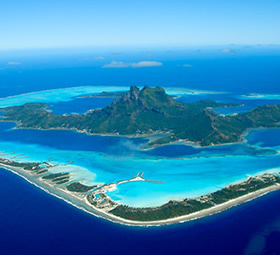 Day 7 - Bora Bora
Dive and snorkel the neon-lit turquoise lagoon waters. Explore the lagoon any way you please: by outrigger canoe, Boston Whaler, wave runner, jet ski, and dramatic sunset cruises aboard a catamaran sailboat. Discover panoramic overlooks by hike or 4x4 vehicle. Or shop world-renowned markets for local and international original art, Tahitian pearls, perfumes and oils, and precious wood handcrafts.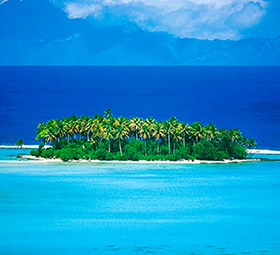 Day 8 - Raiatea
Raiatea, meaning "faraway heaven" and "sky with soft light," was first named Havai'i after the homeland of the ancient Polynesians and is the most sacred island in the South Pacific.
This, the second largest Tahitian isle, was the center of religion and culture over 1000 years ago and still lends enchantment to ancient legends told to this day. The green-carpeted mountains include the celebrated Mt. Temehani, a sort of Polynesian Mt. Olympus.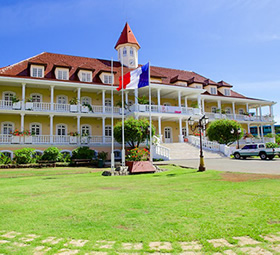 Day 9 - Papeete, Tahiti
Upon our return to Papeete, you can continue your Tahitian journey
with easy flights or ferries to neighboring islands, or head back home.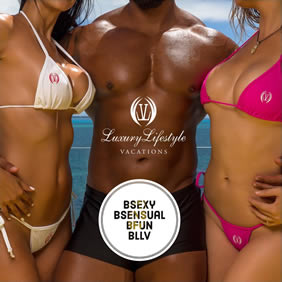 Luxury Lifestyle Vacations
Luxury Lifestyle Vacations specialize in, adults-only, liberally innovative vacations with the most exciting and sought-after destinations around the world. LLV is known for transforming any destination into an inspired lifestyle paradise for couples. Meet other exclusive discerning adults in exquisitely-tailored pristine settings, offering the highest level of sophistication and service to you and that special partner in your life.
Our attention to detail, level of production and upscale taste will surpass your expectations, but what really demonstrates our heart is the clientele we've grown over the years. The qualities we strive to project our loyal guests obtains. The passion, zest for life and class are truly what sets apart our community from the rest.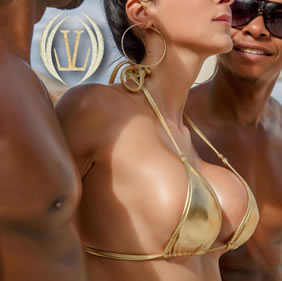 Manifesting Dreams for Our Travelers
After years discovering the lack of a luxurious, high-quality adults-only travel experiences, we began our mission to realize your dreams and fantasies, without ever sacrificing the comforts of home.
You want to get away, but there's no reason you should have to give up the basic comforts of home. We believe this because WE are travelers.
Having experienced all of our destinations ourselves, we know how to make it the most luxurious, comfortable and unforgettable vacation you'll remember. And our clients agree!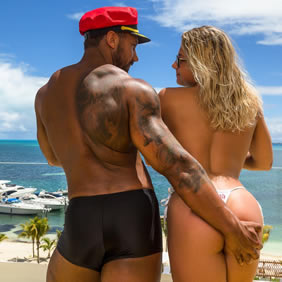 You want love, adventure, sex, mystery. You want to see the world and soak in all it has to offer with others who feel the same way.
Luxury Lifestyle Vacations takes you to the best, all-inclusive clothing optional resorts, nudist cruises and erotic getaways to let you live out your fantasy.
Whether you love to be around other sexy individuals or you're looking for a new sexual adventure as a couple or a single, the choice is yours. Our goal is to indulge your senses, find your limits and to keep you coming back to discover new ones.
Amazing destinations experience exhilarating adventures, personal connections, cultural discoveries and tantalizing gastronomy.
Some very special places on earth seem to be forged for the curious and adventurous souls who demand diversity and grandeur in their travels. For those who venture for out-of-the-ordinary, majestic and lush places, with a sensual atmosphere, LLV has prepared experience that you just can't find anywhere else.
Get ready to be involved in seduction, fantasy, sensuality, mystery and pleasure!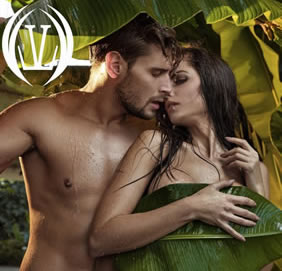 Theme Parties
The theme parties on this cruise are designed help you step into expressing your inner desires. Let go, immerse yourself in the fantasy of it. Guests who dress in theme report more social interaction and more fun.
You can go all out on a costume or simply echo the theme with an accessory. For travel to a far away destination like Tahiti we recommend this approach whenever possible.
What if you are not in the mood? No problem it's all about doing your own thing with your partner and having FUN!