Silhouette
Ship Facts
Occupancy: 2886
Tonnage: 122,400
Length: 1047 feet
Beam: 121 feet
Draught: 27 feet
Cruisespeed: 24 knots
Inaugural Date: Jul 23, 2011
What's Included
Shipboard accommodations
Ocean transportation
Most meals
Some beverages
Most entertainment aboard the vessel
What's Not Included
Air transportation
Transfers
Shore excursions
Specialty restaurant fees
Some beverages
Photographs
Gratuities/service fees
Medical services
AquaSpa service, etc.

Scandinavia and Russia 2020 Baltic Gay Group Cruise
14 nights roundtrip from/to Southampton, England
June 13 - 27, 2020
Celebrity's Silhouette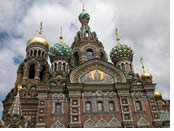 Adonis Gay Holiday & Pied Piper Travel presents our Annual gay group cruise to Scandinavia and Russia
! Pamper yourself with gourmet food, superb entertainment and fabulous service while cruising the Baltic Sea! You will have the chance to visit several Scandinavian ports such as Copenhagen, Helsinki and Stockholm. Another exciting highlight will be the chance to spend two days in exotic St. Petersburg, Russia, where you can immerse yourself in the art, culture and architecture of the Imperial Romanoff capital! And you will sail on Celebrity Cruises' beautiful cruise ship, Silhouette
!
During a Pied Piper Baltic cruise, one of the most fascinating voyages we offer, you'll witness both imperial treasures and spectacular scenery. Experiencing the beauty of Scandinavia, and its unique and rich culture, design, cuisine and history, will be memorable. A highlight of your journey will be a two days in St. Petersburg Russia, home to the world famous Hermitage museum. You will not forget the breathtaking departure from Stockholm as you sail the magnificent Stockholm archipelago. Our cruise starts and ends in Southampton, England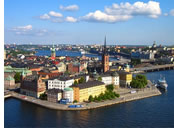 Get ready for a modern luxury cruise you'll never forget. With a blend of modern life and colourful heritage, you'll discover incredible natural beauty, culinary wonders and cultural gems at every turn. No two destinations in Northern Europe are quite the same. Whether you're looking for romance, adventure or relaxation, you'll find it all on your luxury cruise around Northern Europe. Rich in culture, history and sights to behold, every country we visit is unique and exciting. Explore like a local by booking one of our shore excursions and really get to the heart of what makes each destination special. From walking to wine-tasting, there's a package for you. Back on board, relax in your stateroom and enjoy the spectacular ocean views and first-class service.
Sail one of the world's newest cruise ships, Celebrity's Silhouette
for this 15 day Scandinavia/Russia Cruise! A Pied Piper gay group cruise to Scandinavia and Russia makes for the ultimate cruise experience!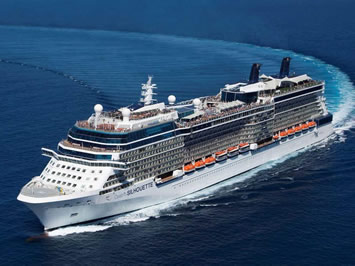 Celebrity Silhouette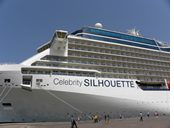 Exploring Scandinavia in complete luxury is brought to life thanks to Celebrity Silhouette. This impressive ship features all the best elements of the Solstice Class – with some of her own for good measure.
Whatever you enjoy doing on holiday, there is plenty to keep you occupied on board Celebrity Silhouette. Find some peace amid the real grass of the Lawn Club in the cabana-style Alcoves. Sit back and relax with up to three companions in each intimate area, where stunning views of the land and sea surround you, while staff are on hand to bring you fresh fruit, ice-cold water and a picnic basket from one of our speciality restaurants. For some quiet time, head to our newly appointed Canyon Ranch SpaClub – one of the world's leading spa brands. From innovative treatments to a full range of beauty and wellness services, you will find space to truly relax and enjoy some time to yourself. Continue your precious alone time at treehouse-inspired The Hideaway, the perfect escape for reading and relaxing. By night, visit the cool and creative Molecular Bar for incredible, unique cocktails crafted by our expert mixologists.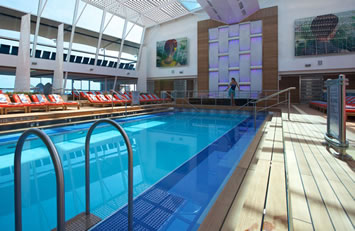 Luxurious Accommodation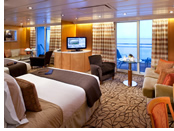 Staterooms on board Celebrity Silhouette are stylishly fitted with forward-thinking design in every aspect. The experience is indulgent from the moment you step on board – and there are accommodation options to suit the tastes of every guest. A stateroom is more than just a room. It is a place where guests can lie back, relax and take in the unmistakable luxury of a Celebrity Cruises® holiday. Most of our staterooms include a private balcony for a personal open space, while others offer a superb sea view. Select an Inside Stateroom for a cosy stay, or a luxurious Penthouse Suite for incredible views and European-style butler service. All staterooms include en-suite facilities and luxurious bed linen.
Dining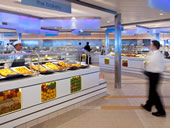 Undoubtedly one of the top restaurants to visit during your Celebrity cruise is Murano. The world-class cuisine is a contemporary take on classic French Continental dining, and the result is unforgettable. Extraordinary dishes are comprised of a multitude of flavours, each of which has been carefully chosen by expert chefs. For dining country-club style, head to the Lawn Club Grill to become your table's very own Grill Master. With an expert chef at your side, you can roast meat and fish to perfection, served alongside delicious flatbreads. Nearby is The Porch, a favourite of many Celebrity Silhouette reviews. Here you will find fresh and simple food including paninis, salads and soups.
Entertainment

West-End style shows, stylish bars and cafés, comedians, classical and contemporary musicians and entertainers, dancing, nightclubs, movies, access to the casino, and more are just a selection of the activities available to entertain you onboard Celebrity Silhouette. A myriad of venues await - be seduced by the lights and movement on the spacious dance floor of Quasar, a refreshingly vibrant nightclub where retro styling fuses with contemporary rhythms. Ascend to the Sky Observation Lounge, where the bright canopy of the heavens appears to lie just within your grasp.We believe a glass of great wine can be a truly enjoyable experience, and the friendly ambience of Cellar Masters is the perfect place to savour and old vintage or discover something completely new.
AquaSpa & Fitness Centre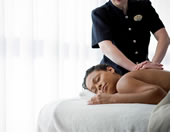 Unlimited access to the outdoor pools, whirlpools, fitness centre and AquaSpa Café. AquaSpa and acupuncture treatments can be purchased separately or as a package.Discover a truly transforming environment where restorative treatments from around the world have been brought together to help cleanse your body and purify your spirit.From a relaxing facial to a heated Aroma Stone Therapy, feel free to choose one treatment at a time or allow us to combine them in the ultimate in pampering. Spa lovers can take advantage of the brand new Aquaclass balcony stateroom, a serene retreat convenently located adjacent to the spa facilities.
Onboard activities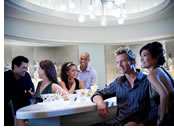 Celebrity's Enrichment Series incorporating talks by guest lecturers, cooking demonstrations, wine tasting, and any number of classes to hone your skills. Further options include art auctions, a hot glass blowing show, library, conservatory, trivia & brainteasers, talent shows and more. Sports facilities comprise of basketball, paddle tennis, volleyball and a number of deck games.
Rest assured that your time at sea will be as richly rewarding as the destinations themselves, and that you'll have countless opportunities to fill your days and broaden your horizons. Celebrity Silhouette
offers an elegant marble-paved galleria of boutiques, with no less than 18 shops spanning three decks - including high-end Boutique C and The Lawn Club Shop.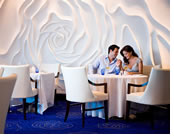 And don't miss the art onboard as throughout Celebrity Silhouette you'll see museum-quality artwork on display by masters like Picasso or contemporary painters like Peter Max or David Hockney. Even better, Celebrity's on-board art auctions give you the chance to buy original works from many well-known artists.
The Lawn Club
announcing another cruise industry first.A freshly manicured lawn on the top deck! Offering a wide range of activities - take a picnic or enjoy casual outdoor activities like croquet, boules, or improve your putting with the amazing feel of real grass between your toes.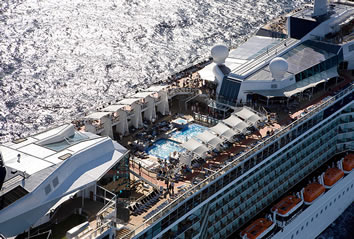 Southampton, England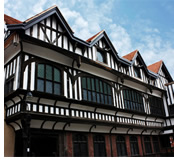 Rich in maritime history, Southampton doesn't have to work hard to entertain you. Its attractions span the gamut of good restaurants and pubs to Conservation walks in the lush, open Common, taking in art that dates back six centuries and musical or theatrical performances.
Bath
Discover why this World Heritage City is one of the most visited cities in Europe.
Beaulieu
This idyllic riverside village is home to Beaulieu Palace, the ruins of 12th century Beaulieu Abbey and the internationally acclaimed Beaulieu Motor Museum.
New Forest
England's largest surviving expanse of woodland was originally William the Conqueror's personal hunting preserve.
Portsmouth
Portsmouth has served as the home of the Royal Navy since the days of Henry VIII.
Salisbury
The city is home to a 13th century cathedral and boasts the best-preserved medieval city walls in England.
Stonehenge
Europe's most famous prehistoric landmark was built in several stages beginning circa 3,000 B.C.
Copenhagen, Denmark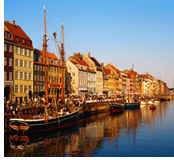 When surrounded by a sea of blooming flowers in Tivoli Gardens or while admiring Copenhagen's famous Little Mermaid statue, it's virtually impossible to find yourself in the capital of Denmark without a smile on your face. Amalienborg Palace, where you can catch the changing of the guards, and Kronberg Castle, the famous setting of Shakespeare's Hamlet, are just a few of the many points of interest available to you in this former humble fishing village.
Amalienborg Palace
The palace is actually four exquisite Rococo buildings facing one of the prettiest squares in Northern Europe.
Christiansborg Palace
The former royal palace is today the seat of Denmark's Parliament.
Frederiksborg Castle
Built by Christian IV in the 16th century, the castle occupies three small islands in the centre of a lake.
Gefion Fountain
This spectacular fountain by the Kastellet depicts the legend of Gefion, a goddess in Norse mythology.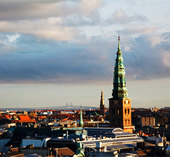 Nyhavn
The streets around the old harbour are lined with open-air cafés, restaurants and 500-year-old gabled houses.
Oresund Bridge
Completed in 2000, the immense six-mile long bridge features a central span and two approach bridges, as well as a submerged approach tunnel and an artificial island.
Rosenborg Castle
Built in the 17th century by Christian IV, this Dutch Renaissance palace was the summer home to three Danish kings.
Stroget
Running from Old City Hall Square, this pedestrian street offers the finest shopping in Copenhagen.
Tivoli Gardens
Copenhagen's pleasure gardens offers amusement park rides, open-air concerts, dancing and a host of cafés and restaurants.
Stockholm, Sweden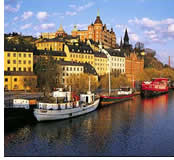 No fewer than fifty bridges connect this Swedish capital's fourteen islands to its mainland. Undoubtedly, this was to ensure that the Swedes could enjoy every single inch of this magnificent city steeped in parks, museums, and palaces - the most famous being the 600-room Royal Palace. Make your way through the Stockholm's Gamla Stan, or Old Town, packed with historic buildings, shops and cafés.
Royal Drottningholm
Located on the island of Lovön and residence of the royal family, this is one of the most lavish buildings of its era.
Skansen Open Air Museum
The number one attraction in Stockholm was founded in 1891 and includes over 150 houses and farmsteads from all over Sweden.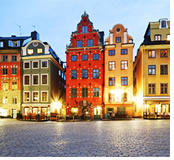 The Old Town
Take a leisurely stroll around the Old Town Island and see several of the city's major sights or explore the Great Market or the many antique shops that line the streets.
The Vasa Museum
View the warship Vasa that sunk in 1628 in 100 feet of water and remained there until 1956 when the historic monument was salvaged.
Vaxholm
Often referred to as the 'Pearl in the Archipelago', is part of a wonderful living archipelago community with approximately 60 islands and just over 10,000 inhabitants.
Helsinki, Finland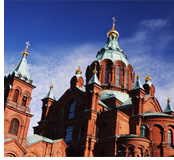 Occupying a peninsula and several islands, Helsinki's unique location may be overshadowed by the capital city's stunning meld of old and new structures and some of the most spectacular bays you could hope to find. Strolling down broad, tree-lined streets, don't forget to take notice of the stunning neoclassically designed architecture in Senate Square.
Porvoo
Head out of Helsinki to discover Finland's second oldest town. The charming town of Porvoo, founded in 1346, has lovingly-preserved a cherished section of the old part of the city. A guided walk through this area will take you over cobbled streets, past weathered wooden houses, the town hall and the main square.
Senate Square
The Helsinki Cathedral, the Government Palace, the University of Helsinki's main building and the National Library of Finland, all designed by Carl Ludvig Engel, dominate the Senate Square.
Suomenlinna Maritime Fortress
Suomenlinna Island is home to the impressive Viapori-Sveaborg fortress, one of the largest in the world.
Temppeliaukio Church
Designed by Timo and Tuomo Suomalainen, the church is quarried out of natural bedrock providing the optimal acoustics for concerts.
St. Petersburg, Russia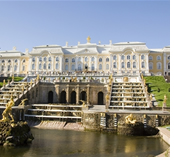 St. Petersburg was reportedly built to resemble such western cities as London, Paris and Vienna. Although, once you see its regal palaces and many vast public squares, you'll agree there's nothing quite like this lovely city. If you're fortunate enough to find yourself in St. Petersburg in June, revel in the city's famous "white nights," when the boundless night sky is never completely dark.
Peterhof Palace
Peter the Great personally drafted the layout of the 300-acre park and prepared instructions on the design of its spectacular system of fountains.
Peter and Paul Fortress and Cathedral
The Fortress was the first major building project in St Petersburg to provide protection from the Neva river delta.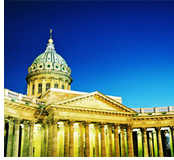 St.Catherine's Palace
The impressive blue façade of this palace is nearly 1,000 feet-long with decorative white and gold ornaments, and the grounds comprise acres of manicured gardens.
Theatre Visit
Visit the opera, ballet or a dramatic show at one of the city's historic and traditional theatres.
The Hermitage Museum
Presenting the development of world culture and art from the Stone Age to the 20th century, these six magnificent buildings are situated alongside the River Neva.
Berlin (Warnemunde), Germany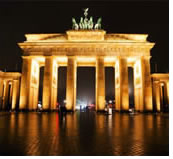 Warnemunde is a seaside resort neighboring the red brick 800-year-old Hanseatic city of Rostock. From here it is possible to spend the day in Berlin, capital city of a reunited Germany. Its historical core, home to important monuments like the Brandenburg Gate and the Reichstag building, is part of a revitalized city center, with cafes, restaurants, museums, and galleries. Layered over the Prussian past are WWII, recognized in a Memorial for the Murdered Jews of Europe; and Cold War relics, including a surviving section of the Berlin Wall and the infamous Checkpoint Charlie.
Located at the mouth of the Warnow River, Warnemünde is a charming old fishing town where they say your chances of catching a fish are just as good as your chances of catching a ride to historic Berlin.
Aarhus, Denmark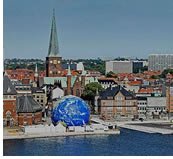 Aarhus has long labored in the shadow of the capital Copenhagen, but transformation is happening. Denmark's second-largest city is busy staking a claim for visitor attention and building a reputation as an emerging European destination for savvy city-breakers, festival-goers, art and food fans.
In 2017 its titles included European Capital of Culture and European Region of Gastronomy (the latter was awarded to Aarhus and the larger central Denmark region). The ever-expanding menu of architectural landmarks, lauded restaurants, bars, festivals and boutiques is a mark of a vibrant city on the rise. It's a great place to explore on a Europe cruise – compact, photogenic and friendly.
A Pied Piper gay group cruise to Scandinavia and Russia makes for the ultimate cruise experience!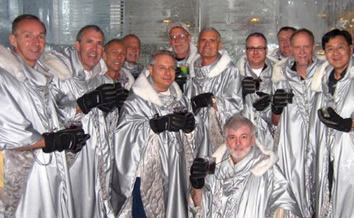 Scandinavia & Russia 2020 Cruise Itinerary


Date

Port

Arrive

Depart

13 June
Southampton, England
4 PM
14 June

A Day at Sea!

15 June
Copenhagen, Denmark
2 PM
16 June
Copenhagen, Denmark
4 PM

17 June

A Day at Sea!

18 June
Stockholm, Sweden
7 AM
5 PM

19 June

Helsinki, Finland
10 AM
6 PM
20 June
St.Petersburg, Russia
7 AM

21 June

St. Petersburg, Russia
6 PM
22 June

A Day at Sea!

23 June

Berlin (Warnemunde), Germany
9:30 AM
12 AM
24 June
Aarhus, Denmark
10 AM
8 PM
25 June

A Day at Sea!

26 June

A Day at Sea!

27 June
Southampton, England
6 AM

Cruise itinerary is subject to change.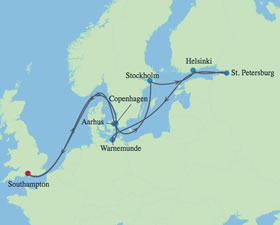 Just a few onboard highlights in a long list of many
One of the newest ships afloat today, the Celebrity Silhouette is among the latest additions to the Celebrity Cruises fleet that attracts passengers looking for a high quality cruising experience on modern spacious ships.
When you're not busy discovering new destinations, recharge with a massage at the Canyon Ranch SpaClub or work it out in our cool, spacious gym.
Celebrity Silhouette is the perfect choice if you enjoy unrivalled relaxation and extraordinary fine dining. The range of dining options onboard has something to tantalise every taste-bud. Celebrate al fresco dining at the laidback Lawn Club Grill, where you can enjoy fresh, flavourful food in the sunshine. It doesn't get much better than that!
Did we mention that over 85% of the staterooms onboard Celebrity Silhouette are enhanced by sweeping balconies and ocean views? Breakfast in your stateroom just got that little bit more special.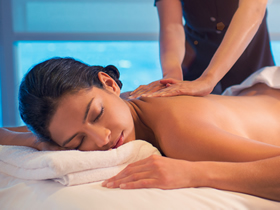 Canyon Ranch SpaClub®
Relax and rejuvenate in our serene spa at sea. Experience the unique services of Canyon Ranch in a breathtaking setting—aboard Celebrity's modern luxury ships. Enhance your vacation with a complete wellness and lifestyle program that increases resilience, restores serenity, and helps you feel rejuvenated.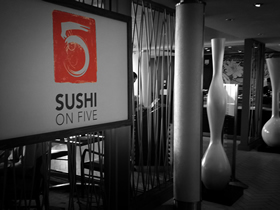 Sushi on Five
Our modern luxury take on traditional sushi and Japanese favorites, paired with imported sakes and beers. The extensive menu is created by our Master Sushi Chef, Yoshikazu Okada, a fourth-generation sushi chef.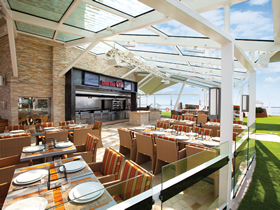 Lawn Club Grill
Fire up your culinary passion. The bright and modern Lawn Club Grill celebrates the flavorful joys of outdoor grilling. The highlight of dining at the Lawn Club Grill is the opportunity to serve as your party's "Grill Master," by being paired with a Celebrity chef to assist in preparing the menu for your table over custom-built, ventilated grills.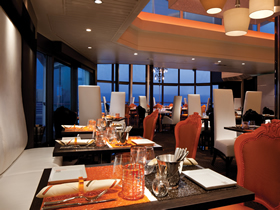 Qsine
Qsine® is a uniquely unordinary experience with elements of surprise and delight. Our concept behind Qsine was to give you something you've never experienced before on land or sea. Leave any preconceived notions behind. Dig in and try new things. It's time your palate got a wakeup call. Our iPad® menus are fun, interactive, and full of surprises.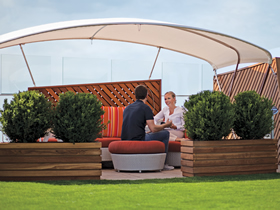 The Alcoves
Eight chic, cabana-style settings comfortably accommodate up to four guests each. Designed for secluded relaxation, they're just steps away from the lively vibe of The Lawn Club. Enjoy stunning views of the lawn and sea; ambient mood lighting for cozy, romantic evenings; complimentary fresh fruit plate, hand-held fans, chilled towels, four bottles of water, and all-day use of an iPad® loaded with music, movies, games and magazines. Fresh, themed picnic baskets from our specialty restaurants, as well as a la carte beverages, are available for an additional charge, via your dedicated Alcove Attendant. Wine and cheese evenings under the stars also can be arranged, along with special spa services, once onboard. The Alcoves are even equipped with Wi-Fi (fee applies).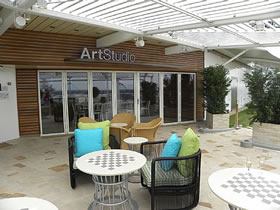 The Art Studio
Get creative. The Art Studio, our new venue on The Lawn Club, is home to two Master Artists from The ArtCenter/South Florida. They'll host interactive classes and hands-on demonstrations in jewelry making, beading, sketching, painting, even drink mixology, culinary lessons, taste tests and chef-prepared dinners.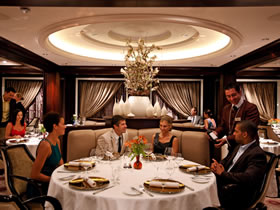 Murano Restaurant
Impeccable service, classic design, world-class cuisine and comfortable sophistication are celebrated to the utmost in Murano. Experience tableside lobster presentation, an expansive selection of artisanal cheeses from around the world, or the extensive American and French wine list. Charming and timeless, Murano transports you to a modern and sophisticated level of dining.
Main Theatre
On your cruise, make sure you take in a show in our Main Theatre. Cutting-edge productions from fairy tales to comedies, stadium-style concerts to musical theatre. There's something for everyone.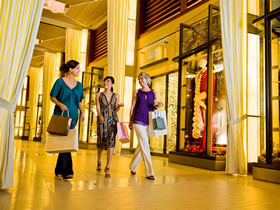 Shopping Onboard
Luxurious, new Bulgari and Michael Kors boutiques join an already superb assortment of shops for watches, jewelry, fashions, cosmetics and fragrances onboard Celebrity ,Silhouette. Find Omega, Tag Heuer, Longines, John Hardy, Tommy Bahama, Nautica, eco-friendly Mad Bags, Calvin Klein, Armani, Versace, D & G by Dolce and Gabbana, and many more exclusive brands. And, did we mention it's all tax and duty-free?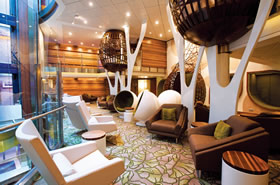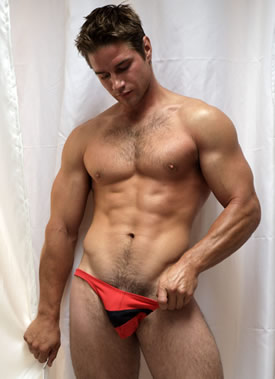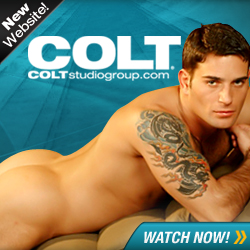 Guests: 2,886 • Gross Tonnage: 122,400 • Length: 1047' • Beam: 121' • Draft: 27' • Cruising Speed: 24 knots

Scandinavia & Russia Gay Group Cruise 2020 Rates
(Updated 22.02.20. - Current prices/availability.)
12 - Inside Double Stateroom
183 - 200 sq. ft. Inside Staterooms have been thoughtfully designed, with ample space to sleep, relax and enjoy your private space on board. Your luxurious stateroom includes bathrobes and a tote bag for your use, interactive TV and luxury toiletries. We have been sure to include everything you need for your comfort and convenience, like a hair dryer, private mini-bar, water and wine glasses, private safe and dual voltage power outlets.

$ 2,839

$ 3,119

11 - Inside Double Stateroom
183 - 200 sq. ft. Inside Staterooms have been thoughtfully designed, with ample space to sleep, relax and enjoy your private space on board. Your luxurious stateroom includes bathrobes and a tote bag for your use, interactive TV and luxury toiletries. We have been sure to include everything you need for your comfort and convenience, like a hair dryer, private mini-bar, water and wine glasses, private safe and dual voltage power outlets.

$ 2,869

$ 3,149

10 - Inside Double Stateroom
183 - 200 sq. ft. Inside Staterooms have been thoughtfully designed, with ample space to sleep, relax and enjoy your private space on board. Your luxurious stateroom includes bathrobes and a tote bag for your use, interactive TV and luxury toiletries. We have been sure to include everything you need for your comfort and convenience, like a hair dryer, private mini-bar, water and wine glasses, private safe and dual voltage power outlets.

$ 2,899

$ 3,179

9 - Inside Double Stateroom
183 - 200 sq. ft. Inside Staterooms have been thoughtfully designed, with ample space to sleep, relax and enjoy your private space on board. Your luxurious stateroom includes bathrobes and a tote bag for your use, interactive TV and luxury toiletries. We have been sure to include everything you need for your comfort and convenience, like a hair dryer, private mini-bar, water and wine glasses, private safe and dual voltage power outlets.

$ 2,919

$ 3,199

8 - Ocean-view double stateroom with window
177 sq. ft. Ocean View Staterooms include large windows, as well as a comfortable seating area where you can settle down and relax after a day exploring the ship or the shore. Include bathrobes and a tote bag for your use, interactive TV and luxury toiletries. Everything you need for ultimate comfort and convenience, including a hair dryer, private mini-bar, water and wine glasses, private safe and dual voltage power outlets.





7 - Ocean-view double stateroom with window
177 sq. ft. Ocean View Staterooms include large windows, as well as a comfortable seating area where you can settle down and relax after a day exploring the ship or the shore. Include bathrobes and a tote bag for your use, interactive TV and luxury toiletries. Everything you need for ultimate comfort and convenience, including a hair dryer, private mini-bar, water and wine glasses, private safe and dual voltage power outlets.





2d - Deluxe ocean-view double stateroom with veranda (obstructed view)
Stateroom: 194 sq. ft. Veranda: 54 sq. ft. Balcony Staterooms give you your own private sanctuary where you can enjoy both in and outdoor space – the perfect way to relax on your cruise, including bathrobes and a tote bag for your use, interactive TV and luxury toiletries. Everything you need for your comfort and convenience, like a hair dryer, private mini-bar, water and wine glasses, private safe and dual voltage power outlets.





2c - Deluxe ocean-view double stateroom with veranda (partially obstructed)
Stateroom: 194 sq. ft. Veranda: 54 sq. ft. Balcony Staterooms give you your own private sanctuary where you can enjoy both in and outdoor space – the perfect way to relax on your cruise, including bathrobes and a tote bag for your use, interactive TV and luxury toiletries. Everything you need for your comfort and convenience, like a hair dryer, private mini-bar, water and wine glasses, private safe and dual voltage power outlets.





2b - Deluxe ocean-view double stateroom with veranda
Stateroom: 194 sq. ft. Veranda: 54 sq. ft. Balcony Staterooms give you your own private sanctuary where you can enjoy both in and outdoor space – the perfect way to relax on your cruise, including bathrobes and a tote bag for your use, interactive TV and luxury toiletries. Everything you need for your comfort and convenience, like a hair dryer, private mini-bar, water and wine glasses, private safe and dual voltage power outlets.





2a - Deluxe ocean-view double stateroom with veranda
Stateroom: 194 sq. ft. Veranda: 54 sq. ft. Balcony Staterooms give you your own private sanctuary where you can enjoy both in and outdoor space – the perfect way to relax on your cruise, including bathrobes and a tote bag for your use, interactive TV and luxury toiletries. Everything you need for your comfort and convenience, like a hair dryer, private mini-bar, water and wine glasses, private safe and dual voltage power outlets.





1c - Deluxe ocean-view double stateroom with veranda
Stateroom: 194 sq. ft. Veranda: 54 sq. ft. Balcony Staterooms give you your own private sanctuary where you can enjoy both in and outdoor space – the perfect way to relax on your cruise, including bathrobes and a tote bag for your use, interactive TV and luxury toiletries. Everything you need for your comfort and convenience, like a hair dryer, private mini-bar, water and wine glasses, private safe and dual voltage power outlets.





1b - Deluxe ocean-view double stateroom with veranda
Stateroom: 194 sq. ft. Veranda: 54 sq. ft. Balcony Staterooms give you your own private sanctuary where you can enjoy both in and outdoor space – the perfect way to relax on your cruise, including bathrobes and a tote bag for your use, interactive TV and luxury toiletries. Everything you need for your comfort and convenience, like a hair dryer, private mini-bar, water and wine glasses, private safe and dual voltage power outlets.





1a - Deluxe ocean-view double stateroom with veranda
Stateroom: 194 sq. ft. Veranda: 54 sq. ft. Balcony Staterooms give you your own private sanctuary where you can enjoy both in and outdoor space – the perfect way to relax on your cruise, including bathrobes and a tote bag for your use, interactive TV and luxury toiletries. Everything you need for your comfort and convenience, like a hair dryer, private mini-bar, water and wine glasses, private safe and dual voltage power outlets.





SV - Sunset veranda double stateroom
Stateroom: 192 sq. ft. Veranda: 54 sq. ft. These are some of our most desirable locations—found at the aft of the ship with a similar layout to AquaClass® Staterooms. Including bathrobes and a tote bag for your use, interactive TV and luxury toiletries. Everything you need for your comfort and convenience, like a hair dryer, private mini-bar, water and wine glasses, private safe and dual voltage power outlets.





FV - Family Oceanview stateroom with balcony
Stateroom: 575 sq. ft. Veranda: 53 - 105 sq. ft. By far the largest stateroom with a veranda—plenty of room for you and the family. Includes all the luxury features you expect, including bathrobes and a tote bag for your use, interactive TV and luxury toiletries. We have included everything you need for your comfort and convenience, like a hair dryer, private mini-bar, water and wine glasses, private safe and dual voltage power outlets.





C3 - Concierge Class double stateroom with veranda
Stateroom: 194 sq.ft. Veranda: 54 sq.ft. Spacious accommodations complete with special privileges like priority check-in, personalized Concierge service, priority seating time preferences in the main dining room and specialty restaurants, upgraded room service menu, evening hors d'oeuvres, plush bathrobes, and veranda with lounge seating. Your stateroom includes all the luxury features you expect from Celebrity Cruises.





C2 - Concierge Class double stateroom with veranda
Stateroom: 194 sq.ft. Veranda: 54 sq.ft. Spacious accommodations complete with special privileges like priority check-in, personalized Concierge service, priority seating time preferences in the main dining room and specialty restaurants, upgraded room service menu, evening hors d'oeuvres, plush bathrobes, and veranda with lounge seating. Your stateroom includes all the luxury features you expect from Celebrity Cruises.

$ 3,799

$ 4,079

C1 - Concierge Class double stateroom with veranda
Stateroom: 194 sq.ft. Veranda: 54 sq.ft. Spacious accommodations complete with special privileges like priority check-in, personalized Concierge service, priority seating time preferences in the main dining room and specialty restaurants, upgraded room service menu, evening hors d'oeuvres, plush bathrobes, and veranda with lounge seating. Your stateroom includes all the luxury features you expect from Celebrity Cruises.

$ 3,989

$ 4,269

A2 - Aqua Class stateroom with veranda
194 sq. ft. Veranda: 54 sq. ft. You will find an AquaClass Stateroom offers all the in-room features of our standard Staterooms, but with a spa-inspired twist. Our AquaClass rooms all have a private balcony, and are located high above it all, nestled comfortably close to the AquaSpa Relaxation Room, the Solarium and the Persian Garden.





A1 - Aqua Class stateroom with veranda
194 sq. ft. Veranda: 54 sq. ft. You will find an AquaClass Stateroom offers all the in-room features of our standard Staterooms, but with a spa-inspired twist. Our AquaClass rooms all have a private balcony, and are located high above it all, nestled comfortably close to the AquaSpa Relaxation Room, the Solarium and the Persian Garden.

$ 4,369

$ 4,649

S2 - Sky Suite with floor-to-ceiling windows and veranda
Stateroom: 300 sq. ft. Veranda: 79 sq. ft. When you stay in a Sky Suite, you'll enjoy the luxury of European-style butler service. This includes assistance with unpacking and packing. In-suite lunch and dinner service. Afternoon tea. Evening hors d'oeuvres and complimentary in-suite espresso and cappuccino from Café al Bacio.





S1 - Sky Suite with floor-to-ceiling windows and veranda
Stateroom: 300 sq. ft. Veranda: 79 sq. ft. When you stay in a Sky Suite, you'll enjoy the luxury of European-style butler service. This includes assistance with unpacking and packing. In-suite lunch and dinner service. Afternoon tea. Evening hors d'oeuvres and complimentary in-suite espresso and cappuccino from Café al Bacio.

N/A
$ 8,019

CS - Celebrity Suite with floor-to-ceiling windows
Stateroom: 394 sq. ft. Veranda: 105 sq. ft. When you stay in a Celebrity Suite, you'll enjoy the luxury of European-style butler service. This includes assistance with unpacking and packing. In-suite lunch and dinner service. Afternoon tea. Evening hors d'oeuvres and complimentary in-suite espresso and cappuccino from Cafe al Bacio.





RS - Royal Suite with floor-to-ceiling windows and veranda
Stateroom: 590 sq. ft. Veranda: 158 sq. ft. Floor-to-ceiling sliding glass doors, Bedroom features queen-size bed, 40" LCD TV, Vanity, walk-in closet, master bathroom with whirlpool tub, shower stall, and double washbasins, Separate living room with dining area, Sofa queen sleeper, Lounge seating, Wet bar, Surround sound entertainment system with 52" LCD TV, Wireless internet access, Powder room, Veranda with whirlpool and lounge seating





PS - Penthouse Suite with floor-to-ceiling windows and veranda
Stateroom: 1,291 sq. ft. Veranda: 389 sq.ft Floor-to-ceiling sliding glass doors, Master bedroom features king-size bed, 52" LCD TV, vanity, walk-in closet, marble master bathroom with whirlpool tub, shower stall with dual shower heads, double washbasins and 26" LCD TV, Separate living room with dining area, Baby grand piano, Sofa queen sleeper, Full bar, Lounge seating, Surround sound entertainment system with 52" LCD TV, Wireless internet access, Full guest bathroom, Veranda with whirlpool and lounge seating





All prices are per person, double occupancy, and include all meals, accommodations and entertainment!

Taxes of $186.93pp, optional travel insurance, and gratuities are additional.

A deposit of $500.00 per person is required upon booking.

PLEASE NOTE: Passengers who book Aqua Class (A) cabins will be assigned to a different dining room, the Blu restaurant, and not the main dining room.

Optional shore excursions will be offered.

Prices are cruise only and DO NOT INCLUDE return airfare! Please ask for airfare add-ons back to your home city.

Fares are subject to availability and may change without prior notice.

Also included are the traditional PIED PIPER escort and activities, subject to minimum participation.

Traveling alone? Ask about our single roommate share program to help you avoid the single supplement of 100% of the per person double occupancy rate.

Please ask for further details.

FOUR Perks Sale! Limited time offer!
Book any category stateroom and receive ALL of the following: Premium beverage package, onboard gratuities, unlimited onboard internet packages, and an onboard credit of $300 per stateroom!
Please note: Deposits are non-refundable with this option. Promo expires March 4, 2020!

ONE PERK PRICING!
Please refer to the pricing column with lower prices that include one perk!
Deposits are non-refundable with this option.

The above promotions are capacity controlled and offer may be withdrawn at any time without prior notice.

Special Airfares








Pre-Cruise Hotels







Post-Cruise Hotel