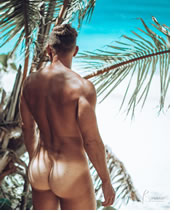 Our new gay sailing cruise destination in the Bahamas are the stunning Exumas. Come join our comfortable and spacious Saltyboys gay catamaran for a relaxing and fun nude gay sailing cruise along the most beautiful spots on the keys and reefs.
Lots of turquoise crystal clear waters and white sandy beaches are on the itinerary. Itís a hard days work with some swimming and snorkeling in the buff or reading a book on one of the comfortable daybeds with a cocktail in hand.
On the way weíll drop anchor off Warderick Wells Cay, Shroud Cay, Normanís Cay, and to the south, Staniel Cay and Highborne Cay Marina, where you can enjoy the beach or hike the island trails and relax during happy hour at the marina restaurant overlooking the gorgeous bay. Shaken & stirred into the cave on the nearby outcrop, where the 007-movie Thunderball was filmed.
If you love animals, you can snorkel above the (harmless) nurse sharks at Compass Cay, swim with the (famous) pigs at Big Major Cay and feed the iguanas at Allen Cays. Our famous on board sundowners and BBQís partyís make for an amazing new Saltyboys Au Naturel Gay Cruise.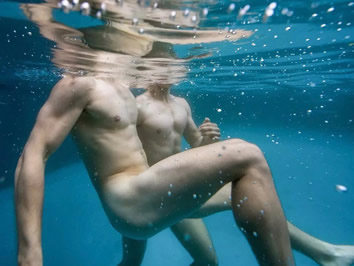 • Fly to: Lynden Pindling International Airport (NAS), Nassau
• Fly from: Lynden Pindling International Airport (NAS), Nassau
• Boarding 17:00 pm first day, Palm Cay Marina, Nassau
• Disembarking 9am last day, Palm Cay Marina, Nassau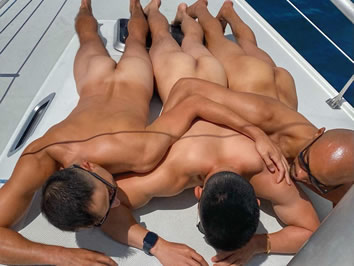 • Carefully selected gay sailing cruise itinerary
• Your accommodation on the yacht
• The professional guidance of a gay skipper
• Bed linen & towels
• Dinghy + outboard
• Diesel & gaz
• End cleaning yacht
• Your flights/transfers
• Reservation fee Ä 55 p/person
• Food/drinks & occasional mooring fees (approx. Ä 275 for all extra costs for the week)