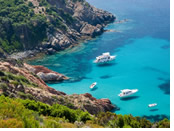 Relaxing, fun and enjoyable nude gay sailing cruise from wonderful Sardinia with it's amazing beaches to stunning Corsica with it's rough landscapes. Of course we will also visit our beloved La Chiappa nudist village.
Many places of interest on the way, like the famous Maddalena Archipelago, the Lavezzi islands and plage de Roccapina.
Great mix of beaches, turquoise waters, picturesque villages and stunning scenery like the cliffs around Bonifacio.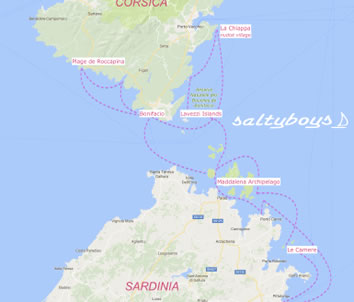 • Fly to: Olbia, Sardinia International Airport (OLB), or Ajaccio (AJA)
• Fly from: Ajaccio, Corsica International Airport (AJA), or Olbia (OLB)
• Boarding after 17:00 pm first day, Olbia
• Disembarking before 09:00 am last day, Bonifacio
When joining one week, you can either fly in and out from the different islands or use the quick ferry and our groups transfer between Bonifacio and Olbia which allows you to fly to/from the same airport.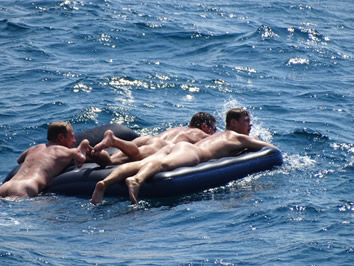 • Carefully selected sailing cruise itinerary
• Your accommodation on the yacht
• The professional guidance of a gay skipper
• Bed linen & towels
• Dinghy + outboard
• Diesel & gaz
• End cleaning yacht
• Your flights/transfers
• Reservation fee € 55 p/person
• Food/drinks & occasional mooring fees