April 17–28, 2020
12 Days from Beijing to Shanghai, China
Travel through centuries and explore the Wonders of China. The sheer sweep of geography, history culture, and cuisine are remarkable. Throughout this private tour, you'll be enjoying the finest luxury hotels and specially curated experiences that offer you a true insight into the culture of China – the world's fastest changing nation.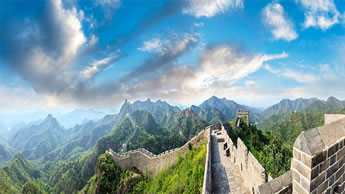 View life as it once was as you explore the Forbidden City, Tiananmen Square and the old alleys of Beijing. Understand life today in the city and countryside by interacting with local people during your trip. Hike along a particularly picturesque section of China's Great Wall. It took millennia to build, but today the Great Wall stands out as one of the world's most famous landmarks. We'll also tour impressive architectural masterpieces such as the Temple of Heaven and the Summer Palace.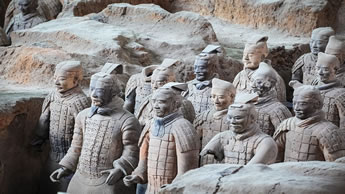 Ride on a high-speed train to Xian, a major stop on the Silk Road. Go underground and see thousands of famed Terracotta Warriors standing guard. Explore a local night market and the lively street of the Muslim Quarter. Next, fly to Guilin and Yangshuo. Renowned as a paradise on Earth, this region is famous for its landscape of Karst mountains, green hills, and winding rivers, resembling a beautiful Chinese painting. Lose yourself in mystical, storybook landscapes while cruising the Li River.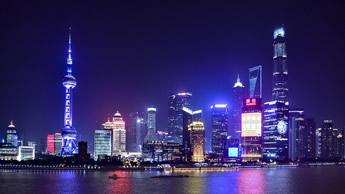 Then experience the unbridled energy of Shanghai, a hypermodern, cutting-edge city of over 24 million that draws visitors who appreciate art, design, food, and style. Learn about Shanghai's history through the architecture of the Bund, the French Concession, Pudong and other districts. Take a day trip to Suzhou, a nearby water town to cruise canals lined with Ming Dynasty homes.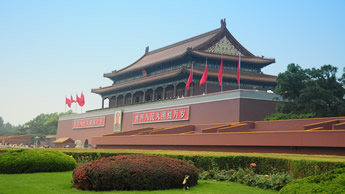 Wonders of China Luxury Gay Tour Itinerary
Day 1 - April 17, 2020, Friday
Arrive in Beijing, China
• Private transfer upon arrival at the Beijing International Airport, you will be met and transferred to the Waldorf Astoria Hotel.
• Get ready for Welcome Dinner.
Overnight: Waldorf Astoria Beijing Hotel
, Beijing
Day 2 - April 18, 2020, Saturday
Beijing
• In the morning, get a glimpse of local life at the Temple of Heaven having a Tai Chi class and learn the health care of local people. This tranquil park is often a favorite stop for visitors to Beijing, as it provides them with an authentic look into local life in this city. On any given day, it is possible to see enthusiastic groups of Beijingers practicing Tai Chi, playing traditional instruments, or singing Peking Opera. The grounds consist of a sequence of buildings and altars set in beautiful groves of cypress trees.
• Learn more about the fascinating history behind this massive, circular structure and see local life unfold before your eyes in this very special visit to the Temple of Heaven.
Overnight: Waldorf Astoria Beijing Hotel
, Beijing
Day 3 - April 19, 2020, Sunday
Beijing - The Great Wall of China
• In the morning, visit the longest structure ever made by human hands, the Great Wall (Mutianyu) with up and down cable car. The Great Wall of China is the longest man-made structure in the world. In fact, the length of all Chinese defense walls built over the last 2000 years is approximately 50,000 kilometres, while the Earth's circumference is only 40,000 kilometres! Explore the much quieter Mutianyu section of the Great Wall, which was first begun in the Northern Qi Dynasty (550-557) and finished in the 17th century. The 2.5-kilometer stretch of the Wall allows you to walk along its storied length for over an hour and visit twenty-two watchtowers, should you so choose.
• Not only will you walk along this wonder of the world yourself, but you will also see it from above during a breathtaking cable car ride to the top.
Overnight: Waldorf Astoria Beijing Hotel
, Beijing
Day 4 - April 20, 2020, Monday
Beijing to Xian
• In the morning, relax lakeside aboard a boat at the Summer Palace, a UNESCO World Heritage Site (the boat is subject to change according to the weather). The Summer Palace is one of the largest and best-preserved imperial gardens in the world. In the eighteenth century, Emperor Qianlong enlarged and embellished it, only to abandon it a few years later. The grounds today are stunning, as is the lovely Kunming Lake, which occupies more than three quarters of the total area.
• Enjoy a boat ride before walking the Long Corridor, a 728-metre (well over 2000-foot) hall featuring 8000 paintings collected by the Emperor during his travels around the country.
• In the afternoon, we'll board our high speed train to travel to Xian.
Overnight: Sofitel Legend Peoples Grand Hotel Xian
, Xian
Day 5 - April 21, 2020, Tuesday
Xian
• In the morning, visit Terra Cotta Warriors, one of the most amazing sites in the world. One of the world's greatest archaeological finds, the Terracotta Warriors were discovered quite by chance in 1974 by a group of peasants digging a well outside of Xi'an. These sculptures of soldiers, chariots and horses were funerary statues made to accompany China's first emperor to the afterlife over 2100 years ago. Legend has it that it took 100,000 men 38 years to create the soldiers, which all vary in rank, posture, height, uniform and facial features.
• In the afternoon, enjoy a relaxing walk on Xian City Wall. The city walls of Xi'an are some of the oldest and best preserved in all of China, and can be dated back to the 2nd century BC, when Xi'an was the capital of the country. The existing walls were completed in 1370 AD, and are about 14 kilometers in length and are still surrounded by a deep moat to this day. Since 1993, the Xi'an city walls have played host to a world famous marathon where participants run along the entire length of the wall several times; however, on this tour we'll take a more leisurely pace to appreciate the spectacular views and rich history of this ancient structure.
Overnight: Sofitel Legend Peoples Grand Hotel Xian
, Xian
Day 6 - April 22, 2020, Wednesday
Xian to Guilin
• In the morning transfer to Guilin Airport and fly to Guilin.
• If you are interested in the idyllic scenery, Guilin is your best choice. It is never far to the next colorfully named karst hills or charming vista. You will find a paradise to relax in and colorful minority culture to enjoy.
• Upon arrival, meet your guide and transfer to your hotel.
• After a rest, visit the Reed Flute. Reed Flute Cave is a fascinating gallery of natural sculptures (limestone cave formations), now enhanced by multicolored lighting, which has been one of Guilin's many interesting attractions for over 1,200 years. It rates as one of the top four tourist sites in the city. The cave got its name from a type of reed growing outside, which can be made into melodious flutes.
• Then take a boat on the Two-Rivers-Four-Lakes. View Guilin's tranquil mountain and water scenery, along with traditional Chinese architecture, ancient inscriptions on the bridge arches and well-maintained park-style lake frontage, from the best vantage point: on the water itself. The cruises run during the daytime and in the evening, affording the opportunity to see the scenery or the fantasy nighttime illuminations.
Overnight: Shangri-La Hotel
, Guilin
Day 7 - April 23, 2020, Thursday
Guilin to Yangshuo
• Experience the picturesque Li River Cruise. A day to enjoy an upstream cruise on the Lijiang River and be exposed to the indescribable beauty and scenery surrounding it Disembark at a small village, where you will have chance to visit a local family.
• Continue drive up to Yangshuo, a small town, which has become something of the tourists. The relaxing pace of life here, friendly people, good food, scenic beauty, rice fields and clear streams, country roads for cycling, all make it the paradise for those who wish to get a rest from the harsher aspects of life in the big cities.
• You'll have some free time to shop at the "Biggest Market of the World". And take a walk on West Street (Xi Jie) West Street (Xi Jie) is situated in Yangshuo, the most beautiful town along the Li River. Offering not only elegant scenery, but also superior dining and Chinese and western snacks, Xijie, has become a good place for those who have been wandering around China for a while to have a break from oily stir-fried vegetables and grab a cup of coffee.
Overnight: Banyan Tree Hotel
, Yangshuo
Day 8 - April 24, 2020, Friday
Yangshuo
• Two activities in the morning:
• Biking at the countryside and bamboo rafting on Li River near the hotel, the bamboo raft and bike are offered by Banyan Tree Hotel.
• After lunch, having a relax walking "Fuli Ancient Town", see local fan factory. Surrounded by mountains on three sides, Fuli is a lovely village with stone houses and cobbled lanes, and a history that dates back 1000 years. Renowned as the hometown of the hand-painted fan, nearly a quarter of Fuli's residents earn their income from making traditional painted fans and umbrellas whose designs are inspired by the stunning scenery of Yangshuo County. We explore Fuli's ancient narrow stone streets and visit the local market, rice wine factory and fan-craft workshops.
• After tour, transfer back to your hotel and evening free at leisure.
Overnight: Banyan Tree Hotel
, Yangshuo
Day 9 - April 25, 2020, Saturday
Yangshuo to Shanghai
• Morning transfer to Guilin Airport and fly to Shanghai Pudong.
• Shanghai, the largest industrial city in China. Covering an area of 5,800 square kilometers (2,239 square miles), Shanghai has a population of 18.7 million, including 2 million floating population. Originally, Shanghai was a seaside fishing village and in time its gradual development led to it being granted County status on August 19th, 1291 during the time of the Yuan Dynasty (1271-1368). Hence this day became the anniversary of the founding of Shanghai. Today's Shanghai is a multi-cultural metropolis with both modern and traditional Chinese features. Bubbling Shanghai shows off every aspect of her unique glamour.
Overnight: Wanda Reign on the Bund Hotel
, Shanghai
Day 10 - April 26, 2020, Sunday
Shanghai
• In the morning discover the Shanghai Museum, one of the best museums in China. This museum contains one of the finest collections of ancient Chinese art and antiques in the world. The distinctive building was designed in the shape of an ancient bronze cooking vessel, and contains 11 permanent and 3 rotating galleries. The museum has over 120,000 priceless pieces in its collection, including bronze, jade, ceramics, calligraphy, sculptures, paintings, furniture, imperial seals, and ancient coins.
• And then visit Yuyuan Garden and the Old Bazaar. Four hundred years ago, a merchant spent almost twenty years—and all his life savings—to build a garden in order to please his parents in their old age. "Yu" means peace and health in Chinese. Over the past several centuries, the Yu Garden has been restored and reopened several times, but has almost always been in disarray. In 1956, the Shanghai city government took over and restored it to its former splendour, making it a peaceful oasis in the heart of bustling Shanghai. Outside the garden gates, the Old Bazaar is the perfect place to strike a bargain or chat with locals selling a variety of wares and souvenirs.
Overnight: Wanda Reign on the Bund Hotel
, Shanghai
Day 11 - April 27, 2020, Monday
Shanghai - Zhujiajiao
• In the morning visit the beautiful water town Zhujiajiao. The ancient town of Zhujiajiao is built on top of the crisscrossing waterways that run from Dianshan Lake. The town is filled with every type of bridge imaginable, from wood to stone to marble, in differing sizes and unique styles. The town still has simple and elegant Ming and Qing dynasty (1368-1911) architecture that is quintessentially southern Chinese. Periodically, small wooden boats sail down the waterway, passing right under the eaves of the houses on its banks.
• After tour, transfer back to hotel. Afternoon at leisure.
• Tonight we get ready for our farewell dinner.
Overnight: Wanda Reign on the Bund Hotel
, Shanghai
Day 12 - April 28, 2020, Tuesday
Shanghai Departure
• Free at leisure before transfer to Shanghai Pudong Airport for your departure flight.