Auckland to Sydney Mardi Gras
All-Gay New Zealand & Australia Cruise 2020
February 14–26, 2020
Holland America Line Noordam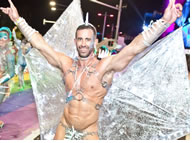 There's never been a better time to head "down under" than with Atlantis when we return to Australia and New Zealand for a spectacular all-gay cruise kicking off with Auckland Pride and arrives just in time for Sydney's legendary Gay and Lesbian Mardi Gras. From the awe-inspiring natural wonders of New Zealand to stunning Sydney, you'll experience unparalleled wonders through two fascinating countries. Onboard, we'll thrill you with two continents of entertainment, spectacular outdoor parties, and expert guides throughout your journey. All at the lowest fares we've ever offered in Australia!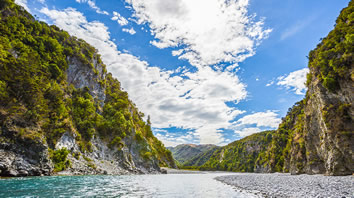 Endless Marvels of New Zealand
New Zealand welcomes you in the vibrant harbor city of Auckland, a remarkable city boasting the country's largest gay population. This stunning, cosmopolitan destination makes the perfect start for an all-gay cruise as we head south to explore.
After a relaxing day at sea, spend a day in the heart of wine country from the stunning port city of Napier. Explore New Zealand's capital city of Wellington, famous for its breathtaking countryside and inviting harbor as well as magical scenery from a dozen famous movies.
The dramatic mountain vistas of Christchurch, the largest city on the South Island, bring you in touch with the most "English" city outside of England. From there head to Dunedin, one of the best-preserved Victorian and Edwardian cities in the Southern Hemisphere.
After all that exploring, two sea days will be a welcome break to recharge and refresh as we head to Australia.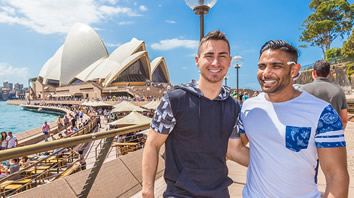 The Perfect Australian Introduction
Staggering natural beauty meet Australian laid-back charm in the stunningly beautiful city of Hobart. From the bustling market to craggy mountain ranges it's a city of brilliant contrasts, fabulous restaurants, and endless options for exploration.
Then it's on to Eden, with a spectacular coastal town that is ideal for whale watching or simply enjoying the beautiful beach. Then we have one more day at sea as we head into glorious Sydney in time for the world's largest gay and lesbian celebration.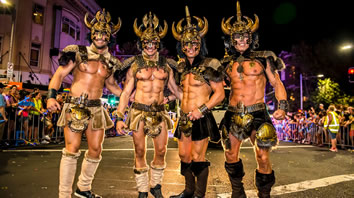 Sydney Gay Mardi Gras 2020
Atlantis designed this cruise to arrive just in time for Sydney Mardi Gras, a month-long celebration of our community, culminating in a nighttime parade viewed by over 500,000 people. And that's just the beginning, as the revelry continues to a sensational all-night party for 17,000 featuring superstar talent from around the world.
We've been able to perfectly coordinate our schedules with Sydney Mardi Gras. Our post-cruise program whisks you from the ship to Sydney's top hotels with plenty of time to explore, tour, and truly make the most of this incredible city.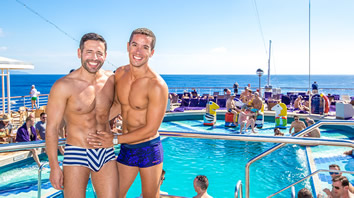 The Perfect Ship for Play
Whether it's an Atlantis day at sea or returning from a day of adventure, there's so much to enjoy onboard Noordam. Relax by one of our two stunning pools, learn cooking in the culinary center, or pamper yourself in our expansive spa. Work out in the fully equipped fitness center packed with plenty of challenging classes. Join one of Malcolm's zany pool games. Drag yourself out to Bingo with Miss Richfield. Or learn something new at one of our enrichment lectures. We'll keep your days full of options, including the one to do absolutely nothing at all.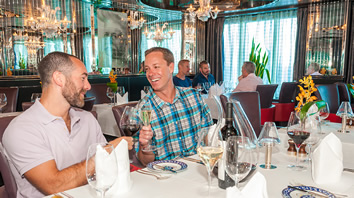 Choices to Savor
Excite your palate in our dramatic two-story ocean view restaurant featuring Holland America's award-winning cuisine. As on all Atlantis cruises, you'll enjoy open seating and a casual atmosphere with no dress code. There's never an assigned table or dining time, allowing you to dine at your leisure with friends old and new.
For a special occasion, make a date at Pinnacle Grill for one of the most elegant meals at sea, featuring premium beef and fresh seafood. Or relax over an authentic Italian dinner in Canaletto. Casual fare abounds at the Lido Grill and Dive-In Café with a wide variety of culinary delights virtually 24 hours a day.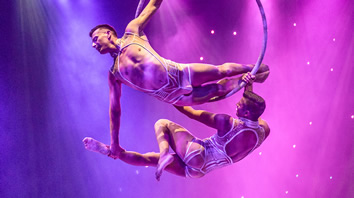 Stars on Two Continents
Stellar entertainers from the USA and Australia star throughout your cruise, including comics, singers, drag performers, variety acts, and more. Our 1000 seat theater hosts sophisticated production shows, Atlantis signature entertainers, and more. We even produce our own gay acrobatic show, designed just for you.
Two intimate lounges feature up-and-coming entertainers and unique specialty acts up close and personal. You'll always find friends in Atlantis' signature piano bar, or one of the other inviting places for a drink. And there's always action in the world-class casino.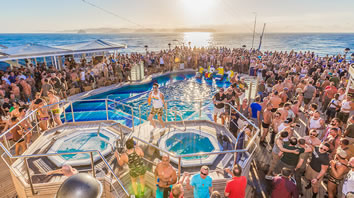 Parties to Span an Ocean
Nothing compares to Atlantis' dazzling nights as the pool deck transforms into a spectacular party space, starring top DJs from around the world. We'll fill the night sky with lights, lasers, and music to thrill you well into the morning. Our themed afternoon T-Dances are legendary fun, and the perfect end to an afternoon. No matter what your taste in music or experience with a party, we'll keep you dancing until Mardi Gras!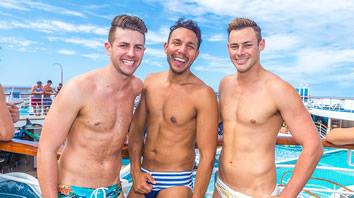 The World's Best Vacation Value
With exchange rates at historic lows and outstanding deals on flights from virtually everywhere, there's never been a better time to visit Australia and New Zealand. Add that to our low fares from $1399 and you'll discover our best gay vacation value.
Atlantis has been bringing guests to Sydney since 1996 and we're proud of our partnership with Mardi Gras over the years. Make history with us as we explore two amazing countries and celebrate Mardi Gras together in 2020!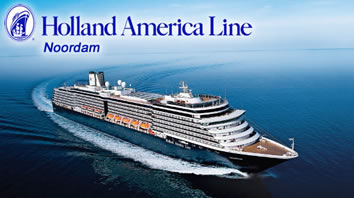 Holland America Noordam
No ship sailing today embodies the best of classical design with modern amenities and service than Holland America's Noordam. Her magnificent panoramic ocean views, spacious outdoor decks, striking design, intimate dining options, unique entertainment venues, and spacious accommodations will impress you from the moment you step onboard.
You'll love the beautiful outdoor decks, the dynamic three-story theater, intimate Queens Lounge, and inviting central pool (with a retractable cover just in case!).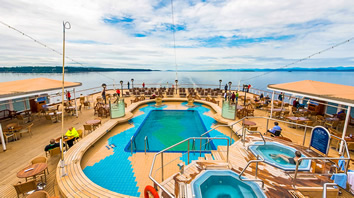 Amazing Places to Play
Whether you want to enjoy all your time outdoors or spend the week in the spa, Noordam offers a fantastic range of options.
The modern central pool features a retractable "magradome" roof that can be completely closed to create an indoor pool space. It looks fantastic both day and night and doubles as our secondary indoor party space. Noordam's beautiful aft Sea View Pool is surrounded by a massive teak deck – perfect for basking in the Pacific sun and the ultimate setting for Atlantis' signature parties.
And when you're ready to pamper yourself, head to the Greenhouse Spa. Enjoy a facial, a hot stone massage, a steam in the thermal suite, or relax in the hydro pool. Take in a workout in Noordam's state-of-the art fitness center, featuring a full set of weight equipment, modern cardio machines, and a variety of challenging classes.
Sea View Pool
A massive teak deck flanks a beautiful outdoor pool on the back of the ship, perfect for enjoying the Pacific sunshine or Atlantis' afternoon t-dances and outdoor evening parties!
Lido Pool
The modern central pool features plenty of space to relax, swim, and play, with comfortable chairs and loungers everywhere. The "magradome" roof closes to create an indoor party space.
Greenhouse Spa
The place to go for heavenly beauty and wellness rituals. Enjoy a facial, hot stone massage, steam in a thermal suite. Sooth your tensions away in the relaxing hydro pool.
Fitness Center
Be sure to make time for a workout in our state-of-the art fitness center.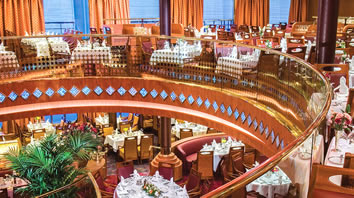 Dining Your Way
The exceptional Holland America culinary staff offers a wide range of tantalizing options in a variety of venues. Whether you're looking for a casual meal poolside, a romantic dinner, or time with friends, there's always something to satisfy.
And of course, with all Atlantis cruises, there's never an assigned table, dress code, or dining time. You're always free to dine when and wherever you'd like and with whomever you'd like.
The impressive two-story Vista restaurant boasts panoramic windows and an elegantly relaxed atmosphere, making it the perfect setting for dinner with friends old and new. Menus change daily and feature a wide variety of market-fresh options that are sure to delight.
For a more casual meal, the indoor/outdoor Lido Restaurant offers an ever-changing menu of freshly-prepared options from grilled paninis to sushi to barbecued chicken to fresh salads and so much more. And it's open late if you want that last bite after a big night out.
The new Dive-In café serves up some of the best burgers at sea, along with fries that nobody can resist.
Vista Dining Room
An impressive 2-story classic restaurant, starring impeccable service and an extensive wine list. Five-course menus include continental cuisine, vegetarian and low-carb options.
Lido Restaurant
Our casual buffet is open virtually round-the-clock, with a modern, relaxed ambiance and features a variety of fresh, cooked-to-order specialties.
Dive-in
Enjoy the best burgers and shakes at sea all while relaxing next to the pool.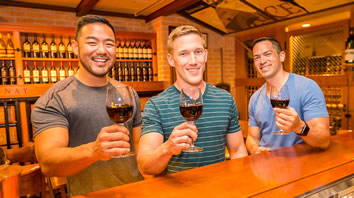 And Something Special
The Pinnacle Grill offers an exceptional dining experience focused on the perfect steak, fresh seafood, and original grilled creations. All complimented by a selection of wines rated "Excellent" by Wine Spectator and a setting that's perfect for any occasion.
If you're in the mood for authentic rustic Italian, try the award winning Canaletto Restaurant, featuring an abundance of fresh made pastas and other fabulous specialties in a casual family-style setting.
Please note an extra charge applies for both The Pinnacle Grill and Canaletto.
Pinnacle Grill
This intimate reservations-only venue offers an elegant, sophisticated dining experience. Featuring premium Sterling Silver beef and many select wines rated "Excellent" by Wine Spectator.
Pinnacle Bar
The Pinnacle Bar offers the perfect place to meet friends over a glass of premium wine.
Canaletto Restaurant
This award winning Italian restaurant features fresh made pastas and other fabulous Italian specialties in a casual but sophisticated setting.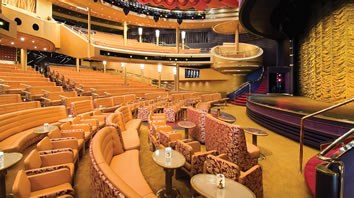 Amazing Entertainment Venues
Noordam offers a wide variety of entertainment and enrichment options, ideal for the Atlantis style of cruising and perfect for our incredible array of entertainers. Be a winner in the inviting casino, or stop by a sensational nightclub to enjoy a cabaret star or an after-hours dance party. No matter where you end up you'll find comfortable places to meet friends old and new in a setting that makes you feel right at home.
Main Theater
Our two-story theater seats 1000 guests and is the focal point of any Atlantis cruise. Featuring our signature entertainers, HAL's spectacular production shows, variety acts, and maybe a special surprise guest or two.
Crow's Nest
A stunning space on the top deck, with sweeping 270° views during the day, turning into an exciting entertainment venue each evening.
Northern Lights
A modern, intimate nightclub hosting Atlantis' cabaret stars and late night parties.
Piano Bar
The perfect place to meet friends and enjoy some of Atlantis' legendary piano entertainers in a relaxed, comfortable setting.
The Culinary Arts Center
Presented by Food & Wine Magazine, our state-of-the-art demonstration kitchen offering interactive gourmet cooking lessons taught by our own Master Chefs or culinary guests.
Screening Room
Take in the best of new gay cinema or a first-run movie as you sink into a leather chair with a drink and a bag of popcorn.
Casino
More Monte Carlo than Vegas, this sophisticated casino is the perfect place to try your luck.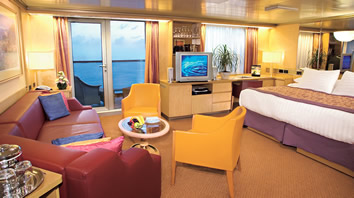 Warm and Inviting Staterooms
When you do finally return to your stateroom, you'll enjoy a quiet, elegant retreat, with rooms larger than the most in the industry. Most offer a private verandah and feature the most modern staterooms amenities including flat-screen televisions with DVD players, large bathrooms with tubs, Luxurious beds featuring Premium Euro-Top mattresses and finely woven cotton linens, and 100% Egyptian cotton towels.
Our luxurious suites offer in-room whirlpools, spacious rooms with sitting areas, access to the private Neptune Lounge (suites SB and above), and much more.
And should you need anything, our pampering staff is just a phone call away. Let Holland America's legendary service staff take care of your every need.
On board the ships of Holland America Line you'll discover a cruise experience that is modern, fresh and appealing – in an ambiance that is timeless and refined.
Suites
Reward yourself with extra room to spread out, your own verandah and a host of complimentary services. For guests choosing suite accommodations, a truly extraordinary level of luxurious living awaits.
Verandah Staterooms
Enjoy both in and outdoor space. Relax in the spacious lounge or step outside to linger over morning coffee or wonder at evening sunsets.
Oceanview Staterooms
Elegantly appointed staterooms filled with all manner of sophisticated amenities beckon you to relax and enjoy the view.
Inside Staterooms
Elegantly appointed staterooms filled with all manner of sophisticated amenities will deliver the vacation of a lifetime at a value price.