All-Gay Club Atlantis at Punta Cana
October 31 - November 7, 2020
Atlantis Legendary Gay Beach. Is Back.
Some experiences are worth waiting for, and our all-new 2020 Punta Cana Club Atlantis Caribbean Gay Resort raises the bar on gay vacations to a new level. This fall, Atlantis returns to take over the entire 5-star Club Med Punta Cana for an epic week of non-stop fun, brilliant entertainment, thrilling activities, engaging sports & activities, awesome parties, and great friends from around the world. It's the biggest all-gay resort in our history, on one of the world's most beautiful private beaches. And it's all ours for this very special week.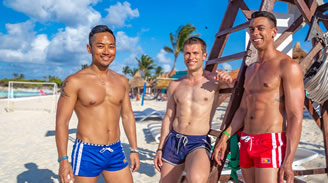 All Gay. All Inclusive. All Incredible.
Get ready for excitement as 900 friends from around the world come together to play in the perfect private beach setting. Our Punta Cana Club Atlantis Caribbean Gay Resort brings you the stellar entertainment and sizzling parties that make our cruises sensational, but in the relaxed and spacious setting of a private resort.
There's no better place in the world to relax in total comfort, learn a new skill, challenge yourself, cut loose a little, or just spend time with friends old and new. All for one low price where absolutely everything is included.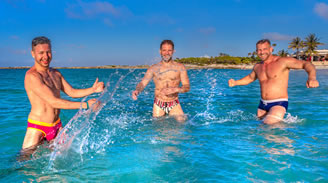 How We Play. Your Way.
Our Club Atlantis all-gay resort weeks are designed to create the perfect beach vacation in a welcoming gay and lesbian environment. For one very special week, this stunning resort becomes ours — filled with the entertainment, sports, activities, parties and sense of fun that makes an Atlantis vacation extraordinary.
Perfect your tennis game, learn to windsurf, kayak on the Caribbean sea, snorkel our private reef, or challenge yourself to the flying trapeze. You'll find an incredible array of activities at Club Atlantis, ranging from sports with expert instruction to unique experiences like Club Med's famous Circus School.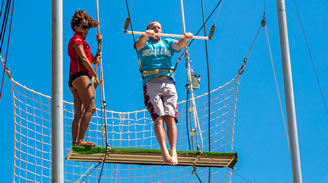 Add a Little Cirque Du Soleil.
Club Med's exciting new partnership with the legendary creative teams at Cirque du Soleil invite you to escape to a world of creative exploration called Creactive - the ultimate circus-inspired playground. It's a one-of-a-kind immersive experience, featuring unique activities inspired by the wondrous and unexpected world of Cirque du Soleil. From artistic to acrobatic activities, you're bound to learn new skills and achieve things you would never expect.
Where else can we dare you to try a high bungee jump, train on the double flying trapeze, master aerial silks, balance on a tightrope and command a trampoline? These and over 20 other activities await at one of the most fascinating creative playgrounds ever conceived for adults.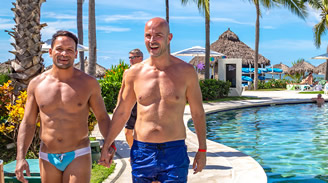 Perfect. Private. Oasis.
Fresh from a multi-million dollar rebirth, Club Med Punta Cana stands tall as one of the most beautiful resorts in the Caribbean. From the newly redesigned Zen Oasis rooms to our own quarter mile stretch of the Caribbean's most beautiful beaches, this private paradise has it all.
In 2020, Club Med has added a brand new massive central pool, brand new main restaurants and a new gourmet restaurant. The luxurious Tiara Exclusive Collection space sets a new standard in resort service and the Zen Oasis retreat offers the perfect serene hideaway.
And all of it featuring the friendliest international staff you've ever imagined.
The dazzling new pool in the center of our all-gay village creates a magical setting for sunning, swimming, water volleyball, or Atlantis' zany pool games. Endless stretches of beachfront create idyllic places to relax during the day and enjoy warm ocean breezes at night.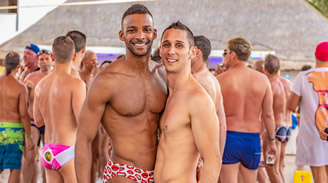 Sensational Parties. Day & Night.
As day winds down, our fun-filled sunset T-dances take center stage right on the beach, creating a perfect ending to a magnificent day. Later on, stroll down to the open-air nightclub for Atlantis' legendary parties featuring some of the world's top gay DJs. Our relaxed and friendly environment welcomes all and each night features something a bit different to keep things special. From today's hottest hits to our wacky 80s and 90s musical celebrations, Atlantis parties feature something for everyone.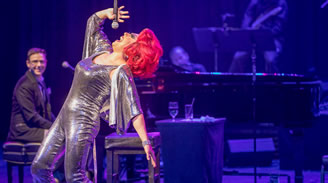 Stellar Entertainment. Everywhere.
The open-air theater comes alive every night with the world's top gay talent, ranging from comedians, singers, drag queens, and original specialty acts. Later on, enjoy an intimate late-night cabaret under the stars, or perhaps a quiet moonlit stroll down the beach.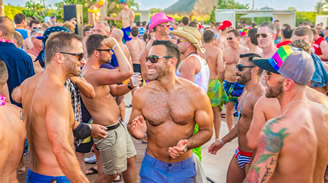 Your Best Gay Vacation Value.
At Club Atlantis, absolutely everything is included – accommodations, all meals, sports, activities, entertainment, parties, basic WiFi, gratuities, and even all drinks! With rates as low as $1299 per person for seven nights, we're thrilled to offer the best value in all-gay vacations. Anywhere.
Although it has the feeling of being worlds away, Club Atlantis is easy to reach from most of the US, Canada, and UK, with direct flights to Punta Cana and nearby La Romana. If you want to explore a bit farther afield, we work closely with the locals so that you can truly enjoy both the beauty of our resort and experience the magic of this amazing area.
Join us as Club Atlantis returns to the Caribbean for the first time in decades. It's going to be a fun-filled playground of pure delight on the perfect all-gay beach.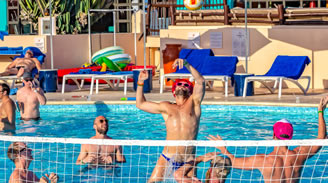 The Ultimate. Beach. Resort.
Club Med Punta Cana welcomes our 900 guests to the comforts of a premium resort, thoughtfully designed to fit the natural landscape and the perfect setting for every imaginable beach experience.
Start with the most beautiful powder-white sand beaches in the Caribbean on our own private quarter-mile beach. The massive main pool offers a place to relax, play, and connect. Dine at your choice of three delicious restaurants. Marvel at our shows in the modern new theater or enjoy an intimate performance outdoors under the stars. And of course, there's an endless selection of sports and activities to challenge and delight you day and night.
All hosted by Club Med's legendary and friendly international staff.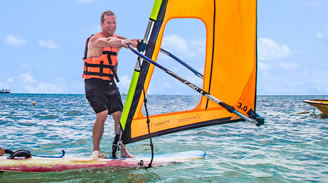 Endless Sports. Activities. Fun.
With a massive selection of land and water sports, including expert instruction, available to you every day there's always temptation to do much more than just hit the beach. Take advantage of the gorgeous Caribbean sea and learn to windsurf, sail, kayak, or snorkel. There's outstanding diving nearby, and you can even get basic PADI certification right here.
On land you'll find 7 tennis courts, a fully equipped gym, archery range, beach volleyball, and so much more. Golf fans will love the access to the nearby club (green fees not included). There's even instruction for all levels. Included of course.
But the real star of the show is the Creactive experience from Cirque du Soleil. Discover a new skill that you never imagined, from flying trapeze to bungee diving, to aerial silks and many more unique experiences. It's an amazing, interactive, and awesomely fun discovery.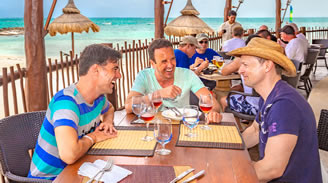 Tempting. Delicious. Friendly.
Three beautiful restaurants offer a variety of cuisines, starting with Club Med's brand new international cuisines featuring lavish options all day long in a casually upscale setting. The indulgent Indigo offers tempting gourmet meals beachside. Four stylish bars provide a great place to meet, relax, and enjoy. And since everything is included there's never an extra charge!
As with every Atlantis vacation, there's no dress code or assigned dining times. We invite you to enjoy a meal when you want and with whomever you please. We believe that every meal should be relaxing, friendly, and simply delicious.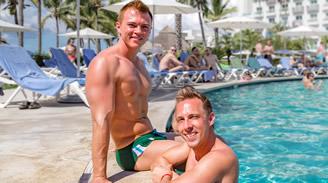 Exclusive. Luxurious. Calm.
Two unique spaces within the resort offer a premium experience that can only be called pure bliss.
The Tiara Exclusive Collection Space is essentially a resort within the resort, featuring luxurious suites, a private oceanfront infinity pool, dedicated concierge, room service, and much more. And of course you have all the features of the main resort!
If you're looking for pure serenity and calm, the Zen Oasis Space will transport you to a place you might never leave. Experience our oversized lagoon pool with one side dedicated to lounging and the other lap swims, as well as a spacious jacuzzi and extensive sundeck with private relaxation cabanas and in-water chaise lounges. The new Deluxe Zen Rooms were designed with wellness and comfort in mind and feature spa-like bathrooms with rainfall showers, bathtub and mood lighting, and a private garden with plush daybeds. You'll find a bar next to the amazing secluded pool and a dedicated yoga palapa. It's the perfect place to truly get away for a week of pure calm and bliss.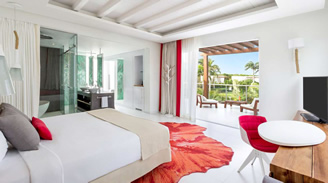 Your. Beach. Home.
Spacious, contemporary rooms in bright colors offer the perfect place to relax, with plenty of modern features, including flat screen TVs, super-comfortable pillow-top beds, modern bathrooms, and much more. Many have balconies and all are large and spacious. If you're traveling with friends, take a look some of the two-bedroom options.
And all rooms feature free basic WiFi!
For the ultimate in beachfront luxury, the indulgent Tiara complex features a private pool, concierge service, special menus, afternoon cocktail hour, complimentary high-speed internet, and stunning modern rooms and suites. It's like a private resort within the resort, with a great community feeling.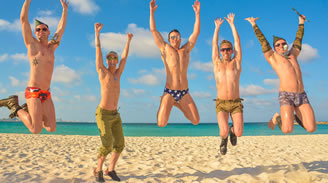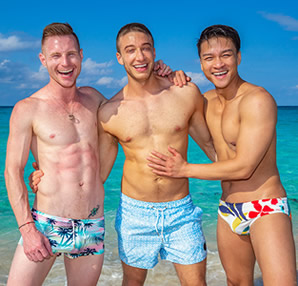 Everything. Included. Yes.
At Punta Cana Club Atlantis Caribbean, everything is truly included for one low price. It's the best deal in gay vacations with all the following included in your vacation:
• Deluxe accommodations
• All meals at all restaurants
• Drinks at all our bars including beer and wine
• Basic WiFi
• Sports with expert instruction
• Entertainment every night
• Atlantis gay parties and special events
• Gratuities
The few optional extras include unique excursions to the surrounding region, spa, green fees, premium wines, and specialty high-end liquors, laundry services, boutique purchase, and other items of a personal nature. But that's it!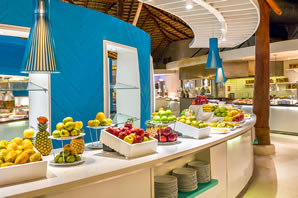 Samana Restaurant
Newly enhanced! Completely redecorated and redesigned, this spacious restaurant near the main bar and lagoon pool welcomes you mornings, lunchtime and evenings with friends for international cuisine from the buffet.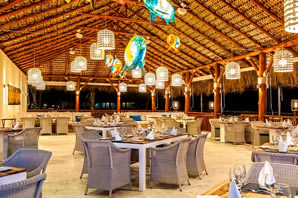 Hispaniola Restaurant
Under the shade of the palm trees, enjoy the breathtaking views from the restaurant terrace. Located by the water's edge, the sound of waves lapping against the shore is part of your dining experience. Serving international cuisine and delicious local dishes, a meal at L'Hispaniola will remain a vivid vacation memory.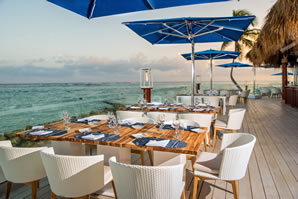 Indigo Restaurant
New! In a charming waterside location with a wonderful view over the lagoon, this restaurant, bar and lounge had a total makeover this winter and is the ideal venue for relaxing gourmet moments.
You can have late breakfast, a light lunch by the water, or get a tasty takeaway to eat on the beach. You can also dine in an idyllic setting with table service (booking required). Enjoy local specialities, fish and sea food in a quiet ambience.
As the night goes on, the restaurant turns nightclub and you can dance the night away under the stars. The bar is open all day, for drinks and refreshments a stone's throw from the water.
Cielo Bar
Located on the first floor of the main building opposite the swimming pool, this bar has beautifully refined decor. Take the time to enjoy the tranquillity of the sea view from the terrace. Cigar humidor (at extra cost).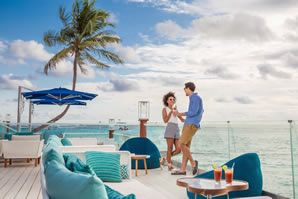 Beach Lounge
New! On one of the island's finest beaches in the shade of the coconut palms, this bar has a touch of the exotic and a festive note, with its spacious dance floor, and terrace with a commanding view of the sea. An ideal spot for a refreshing pause in the daytime or to learn to dance the Bachata and the Merengue. At night the stars shine bright between the coconut trees.The bar also serves light snacks.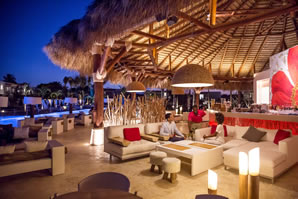 Hibiscus Bar & Lounge
This new bar provides the perfect Zen atmosphere to enjoy our peaceful vacation ambiance while relaxing poolside. Enjoy healthy smoothies, teas and light snacks while blissfully soaking in the sun.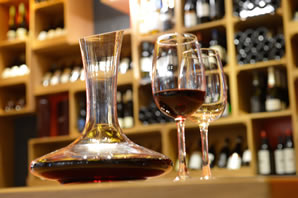 La Cave
La Cave wine cellar* offers a wide selection of the finest French & world wines, champagnes and premium spirits, as well as a VIP table service at all the restaurants & bars in the Resort. You can also enjoy a glass of wine from the comfort of your room and even under the stars on the beach. (*At extra cost).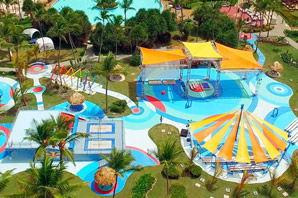 Club Med CREACTIVE by Cirque du Soleil
Discover this Club Med space dedicated to the circus arts, inspired by the famous Cirque du Soleil. CREACTIVE experience provides a vast choice of recreational acrobatic and artistic activities inspired by the circus, including flying trapeze, high bungee, aerial silk, tightrope, trampoline, juggling, percussion and dance under the watchful eye of Gentil Circassiens who will help you acquire new skills or achieve things you would only dreamed of.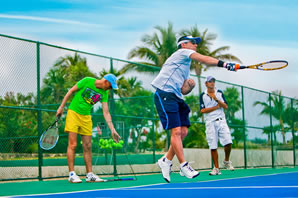 Tennis
Game, set and match: discover the ins and outs of tennis! Teaching and practice, tailored to your level, technical foundations and tactics: forehand, backhand, lob, passing shot, slice, serve...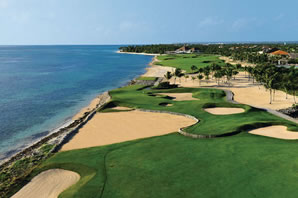 Golf
Learn at your own pace and understand the secrets of the technical side of golf. Teaching and practice: long game - woods and irons, bunker play, chipping, pitching and putting ...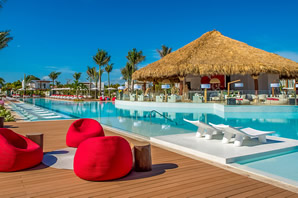 Swimming Pools
The Resort pool are there for you to use all day long. Whether it's a place of calm solitude for a relaxing morning swim or ringing with laughter as you splash about with loved one, there are so many ways to enjoy the pool.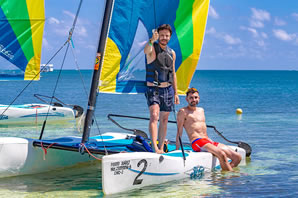 Sailing
Group lessons 6 days a week, to ensure all participants make good progress and master their movements.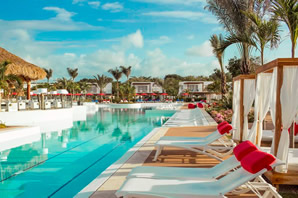 Zen Pool
Oversized lagoon pool with one side dedicated to lounging and the other to swimming laps, as well as a spacious Jacuzzi and extensive sundeck with private relaxation cabanas and in-water chaise lounges.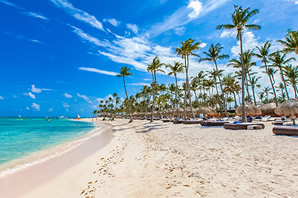 Quiet Beach
This isolated, adult-only beach area with lounges spread along alluring white-sand beaches bathed in crystalline waters, some with thatched roof enclosures that offer a cooling respite from the sun.