Norwegian Jade
Gross Tonnage: 93,558
Length: 965 feet
Beam: 125 feet
Draft: 27 feet
Guests: 2,402
Crew: 1,037
Decks: 15
Refurbished: 2017
Registry: Bahamas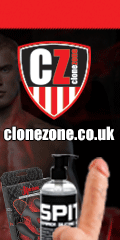 Greek Isles All-Gay Cruise 2021
August 15–22, 2021
NCL Norwegian Jade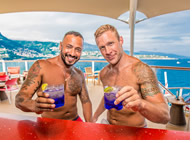 Yes, you can travel this summer! Head to the islands with a brand new all-gay cruise from Athens to the best of the Greek Isles! In seven glorious days on the Med, you'll discover a new island a day and explore Santorini's famed blue-domed villages, ancient ruins in Delos, Corfu's rolling vineyards and the islands' breathtakingly beautiful coastlines.
Onboard we'll thrill you with dazzling Atlantis entertainment, spectacular outdoor parties, and great friends from around the world. It's an incredible new experience designed for both safety and excitement, including mandatory vaccination requirements for all guests and crew.
If you're ready to sail, we'll make it easy with amazing low fares from $999 – our best deal ever for the Med!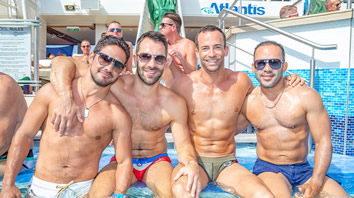 Sail Away This Summer
The islands have been waiting for you and we can't wait to take you away! Greece is open to all travelers this summer and Atlantis has created a special cruise to take advantage of the magnificent diversity and fascinating cultures on these very special islands. From historic Athens set sail to the fortified walls and Venetian architecture on Crete. Stroll through the whitewashed town of Lindos on sun-drenched Rhodes. And get up early to experience the breathtaking arrival into Santorini, where picture-perfect villages cling to the volcanic cliffs!
We'll sail west to the birthplace of the Olympics just outside of Katakolon. Discover the lushest of the Greek Isles on Corfu, where dramatic blue waters surround quiet villages. Finally, spend a full day on the legendary beaches and vibrant towns of Mykonos – the most gay-friendly island in the world. If you want to extend your stay on Mykonos, it will be possible to end your cruise here and enjoy the wonders of this unique playground!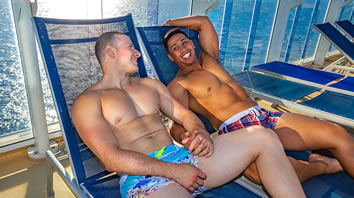 One Magnificent Ship.
After all that exploring, you'll be thrilled to come home to the stunning Norwegian Jade. Fresh from a multi-million-dollar upgrade, Jade features a fantastic spacious central pool deck, with incredible open spaces for under the sun and stars. You'll love her innovative modern look, enticing restaurants, full-service spa, and spectacular performance venues.
While we sail between these amazing ports, there's plenty to do onboard to keep you entertained, from daytime pool games to our festive afternoon T-dances. Take in our original drag bingo, indulge in a leisurely brunch or a playful game of volleyball, or just find a quiet deck chair. Soothe yourself after a long day of touring with a visit to the relaxing Mandara Spa where every imaginable treatment awaits along with one of the largest and most complete fitness centers at sea.
In so many ways, Jade is the perfect ship for an Atlantis gay cruise!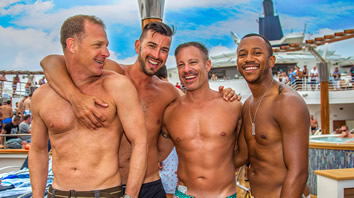 Together for Fun and Safety.
Atlantis cruises in Europe are designed to bring people together for fun and enrichment. Safely, of course. We all want to be with our friends again, and with NCL's Sail Safe standards we're confident that we can all chart a responsible course to explore the world again. Here are some of the highlights, although all of this is subject to change as conditions evolve:
• All guests and crew must be fully vaccinated at least 2 weeks prior to departure.
• A COVID-19 rapid test is required upon embarkation, paid for by NCL. Shore visits will be restricted to excursions only to maintain a safe environment.
• Atlantis will work with onboard teams to provide a fun and exciting environment in the guidelines presented.
Complete details about the onboard experience can be found at NCL Sail Safe. We will continue to update guests with the latest guidelines and any changes to both pre-arrival and onboard requirements. We are confident that with these procedures in place we can offer an extraordinary experience in every way!
Whether you come with a partner, friends, or on your own we'll make you feel right at home. Everything is designed to create a welcoming community, whether you're exploring a new island, laughing at our comics, learning about wine, or enjoying the company of new friends. Our relaxed atmosphere makes it easy to feel comfortable, from the first day at the pool to nights filled with the silliest costumes you've ever seen.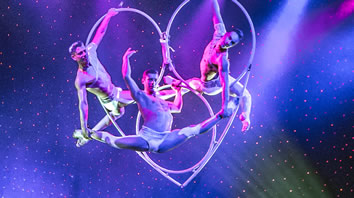 Dazzling Entertainers. Everywhere.
Every night, Atlantis presents some of the world's finest gay and lesbian performers in our spectacular 1000-seat theater, along with superb production shows and so much more. Featuring legendary Atlantis drag queens, superstar singers, hilarious comics, and our own gay flying acrobatic show!
The inviting Spinnaker lounge hosts a range of unique entertainers, from intimate drag shows to dazzling cabaret acts and a few surprises along the way.
No matter where you end up, our talented performers are ready to keep you laughing, singing, amused, and amazed every night of the week.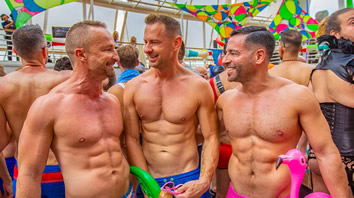 Let's Dance. Again!
Nothing in the world compares to dancing outdoors, surrounded by great friends from around the world. Jade offers the most striking space we've had to create a masterful setting of sound, lighting, and special effects. We continue the Atlantis tradition of showcasing the world's top DJs to create memorable nights at sea.
Atlantis theme parties are legendary, original, and endlessly inviting. Our zany afternoon T-dances encourage you to have fun in ways you never imagined. And it's all so easy, since you don't have to travel, pay a cover, or plan ahead – it's all right there if and when you want it.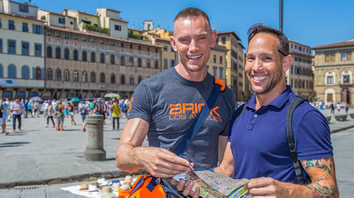 Sail from $999*!
An Atlantis cruise holiday makes it easy to do it all, since virtually everything is included – superb accommodations, world-class dining, stellar entertainment, fascinating enrichment activities, endless nightlife, and so much more. Each day is an extraordinary new adventure filled with opportunity, whether you go exploring or just relax under the Mediterranean sunshine.
We want to make our first return to the seas easy for everyone, with incredible low fares from just $999 (*taxes & gratuities are additional). It's our best deal ever for the Med and we're ready to welcome you back onboard for 7 magical days of fun and discovery.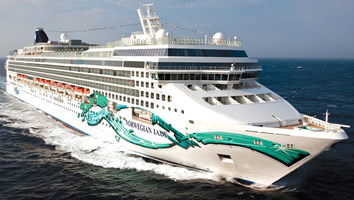 Norwegian Cruise Line's Norwegian Jade
We know you'll love the incredible variety of exciting venues and wonderful options onboard the Norwegian Jade. In so many ways, she's the perfect ship for all-gay sailing the Greek Isles!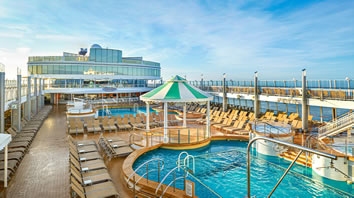 So Many Places to Play!
It's hard to tell which onboard space best represents Jade — they all seem to hint at an amazing experience. Spinnaker Lounge hosts Atlantis comedy shows, our original cabaret performances, a little drag karaoke and even some late, late night dance parties. The three-story Stardust Theater boasts the perfect setting for Atlantis' signature entertainers and Norwegian's awesome production shows. Pull up a chair at Maltings Beer & Whisky Bar as Atlantis' talented entertainers take you on a musical journey. Try your luck in the casino or meet friends in our nine inviting bars and lounges. There's something for every taste and style onboard.
Chill out, unwind, and relax in Jade's two sparkling pools, six hot tubs, and countless sun lounges. There's even a water slide for the kid in all of us. Pick up a game of volleyball on the outdoor court. Or let our talented team pamper you in the Mandara Spa. Of course, there's plenty to keep you active at Body Waves Fitness center, featuring the latest equipment and invigorating classes.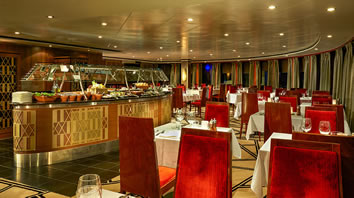 Delicious, Fun, Special, and Never Formal.
With 16 dining options, including a sushi bar, teppanyaki grill, tapas and churrascaria, there's always something new to try on Jade!
From the inviting Azura and Tsar's Palace main restaurants to the expansive Garden Café, you'll always find a variety of tempting delights to satisfy you. As with all Atlantis cruises, there's never a dress code or assigned tables, so you can dine whenever you choose. Our Atlantis team is always there to help you find a table with friends. Dine on American classics at O'Sheehan's, grab a poolside snack at the Sky High Bar & Grill.
Looking for something casual? Garden Café is open almost 24 hours a day, featuring full breakfast and lunch buffets, plus casual dinner alternatives and a late-night service specially designed for Atlantis. And Sky High poolside grill offers up a variety of delights under the beautiful pacific sunshine.
Of course, the real fun begins at our six incredible specialty restaurants – perfect for a romantic night out or celebration with friends. You'll find everything from Moderno, an authentic Brazilian steakhouse, to Chin Chin's Teppanyaki rooms and Asian restaurant. Check out Le Bistro for a fresh take on classic French specialties. Gather a bunch of friends for a rousing Italian dinner at La Cucina. Or enjoy the perfect steak and your favorite cocktail at Cagney's.
Still hungry after all of that? Room service* is available around the clock including 24/7 pizza delivery!
*An extra charge may apply according to the cruise line policy.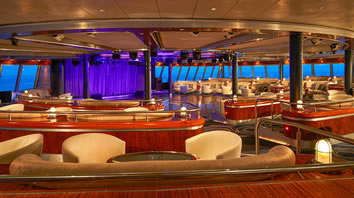 Sip, Watch, Enjoy
Jade was built for entertainment, starting with our massive three-story theater and continuing in the fascinating lounges throughout the ship, including Spinnaker, with wrap-around views of the sea. Enjoy a freshly muddled drink at Sugarcane Mojito Bar, or be a winner in the inviting Casino. We'll present fresh up-and-coming acts in the colorful FYZZ Lounge. Or just settle in for a drink in one of our other inviting bars throughout the ship.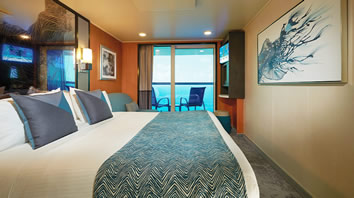 Simply Beautiful Rooms. Everywhere.
Jade's large and comfortable staterooms all sparkle with a fresh modern look, finished in rich cherry wood. Haven suites and an entire deck of mini-suites offer the ultimate in luxury, including private concierge service to handle your every need. Every room is state-of-the-art with coffee makers, color televisions, comfortable duvets, and larger bathrooms than other ships. Room service is available 24 hours a day. And of course, you'll find a friendly greeting in the morning, ice buckets filled in the afternoon, fresh towels twice a day, and a turned down bed to come home to after a long night.
For the ultimate indulgence, the Haven's Villas and Penthouses offer elaborate rooms, a private pool and sundeck, butler service, and a host of other exclusive amenities. There's even a one-of-a-kind 3-bedroom Garden Villa offering the largest suite at sea!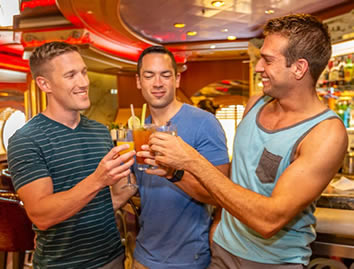 Greek Isles All-Gay Cruise 2021
Itinerary


Date

Port

Arrive

Depart

15 Aug

Athens (Piraeus), Greece
5 PM
16 Aug
Crete (Iraklion), Greece
10 AM
7 PM

17 Aug

Rhodes, Greece
8 AM
5 PM

18 Aug

Santorini, Greece
8 AM
7 PM
19 Aug
Katakolon, Greece
10 AM
5 PM

20 Aug

Corfu, Greece
7 AM
4 PM

21 Aug

Mykonos, Greece
12 PM
9 PM

22 Aug

Athens (Piraeus), Greece
6 AM

Itinerary is subject to change without notice.
Disembarkation begins at approximately 9 AM, and we do not recommend flights earlier than Midday.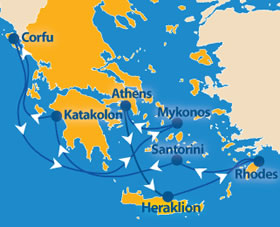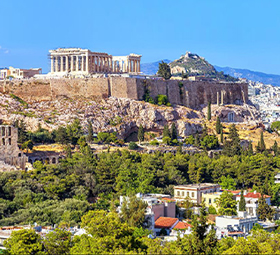 Athens (Piraeus), Greece - August 15, 2021
As the center of Greek civilization for some 4,000 years, Athens
is truly the perfect place to start and end our sailing. The capital of modern Greece, it's still dominated by 5th-century-B.C.E. landmarks, including the Acropolis, a hilltop citadel topped with ancient buildings such as the colonnaded Parthenon temple, as well as treasures in the National Archaeological Museum. In recent years, a lively gay scene has emerged in Gazi district. The area is populated with many chic restaurants, art galleries, bars and boutique shops.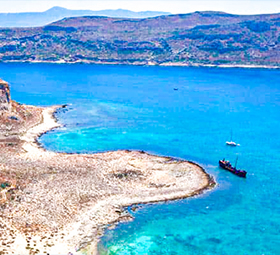 Crete (Iraklion), Greece - August 16, 2021
The capital of Crete, this urban city sprawl is the economic centre of the island, and home to the very first European civilization over 5000 years ago. A dynamic and cosmopolitan city, Iraklion boasts the best of both old world charm and exhilarating modernity for even the most discerning of travelers. Visit the famed Palace of Minos, explore the sprawling city streets for architectural gems, or stop at a locale cafe and watch the world go by in this renowned tourist hotspot.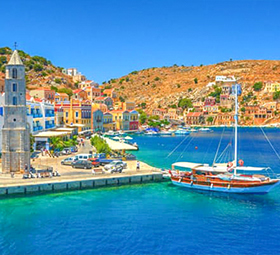 Rhodes, Greece - August 17, 2021
The largest of the Dodecanese islands, also known as "Island of the Sun God Helios", is a magnificent explosion of colors and activities that combine historic sights, luxe relaxation, unique nature, and stellar entertainment. Witness the splendor of the Colossus of Rhodes, one of the seven wonders of the world, before exploring the Venetian-like neighborhoods for a romantic stroll. Soak up some sun at one of the many gay beaches, or pamper yourself with an authentic spa experience at the ever-popular Turkish Baths.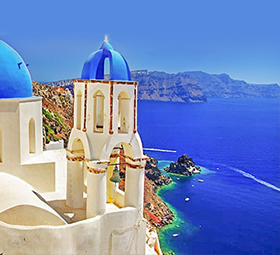 Santorini, Greece - August 18, 2021
Few places in the world have been photographed as much as the cliffside villages on Santorini, where blue domes dot whitwashed homes clinging to the rocks. From the port of Thira, you can easily discover the fascinating landscape of this otherworldy island. Explore the ruins of Akritori, sip some wine in one of Santorini's many vineyards, or relax on a black, red, or white volcanic sand beach. Take a trip up to Oia and shop the marble-lined streets for authentic crafts and enjoy some of the world's best Greek cuisine.
Don't miss our arrival into the center of the caldera - one of the most beautiful sailing experiences in the world!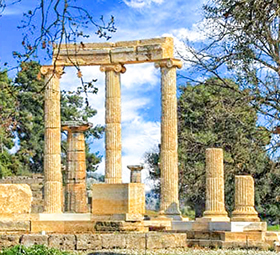 Katakolon, Greece - August 19, 2021
This beautiful seaside escape is home to the magnificent ruins of Olympia, the ancient site of the Olympic Games in the 8th century BC. As one of the busiest ports in Greece, Katakolon is a whirlwind of life. Visit the Katakolon market, home to over 60 unique shops, and venture to one of the region's famous wineries. For those willing to take the short walk from the port, the sunken city of Pheia awaits! Alternatively, absorb the rich history through a more modern lens at the Museum of Ancient Greek Technology, highlighting key advances and ancient tools that set the stage for technologies of today.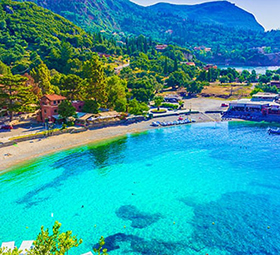 Corfu, Greece - August 20, 2021
A brilliant base for exploration, Corfu is one of the most beautiful and romantic islands in the Ionian Sea. Get lost in Corfu Town's narrow cobblestone alleys, known as "kandounia", wander the historic Liston promenade, or stroll the Spianada square for a taste of nostalgic charm. For a window into the past, tour Achillon Palace, or see the Archaeological Museum of Corfu. After working up an appetite, be sure to indulge in Corfu's famous food at one of the city's many restaurants or taverns, and taste the local delicacies.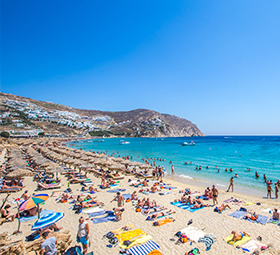 Mykonos, Greece - August 21, 2021
Quaint, whitewashed villages contrast with sexy, international beach crowds and a pulsing nightlife in Mykonos, one of the world's hottest gay destinations. Chora, the island's main town, is a tangle of twisted, cobblestone alleys that reveal a surprising range of interesting boutiques, galleries and restaurants. Work on your tan and enjoy the scene at the super gay Super Paradise Beach before heading back into town for a sunset dinner then enjoying the vibrant nightlife that has made Mykonos a true international hotspot.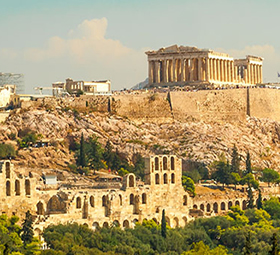 Athens (Piraeus) - August 22, 2021
We'll return to the port of Piraeus, where connections back to the islands or airport are effortless. Or spend a few days exploring the historic streets, museums, and monuments of Athens
.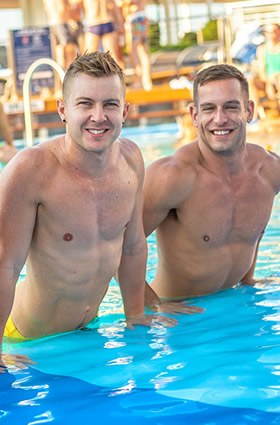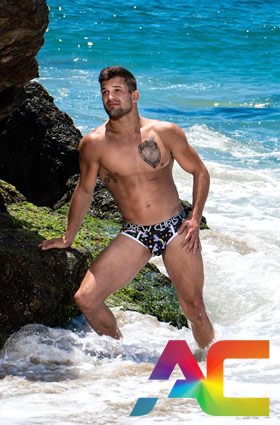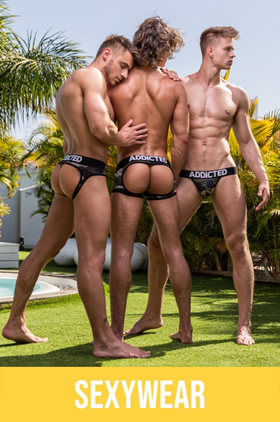 Guests: 2,402 • Gross Tonnage: 93,558 • Length: 965' • Beam: 125' • Draft: 27' • Crew: 1,037 knots • Registry: Bahamas

Greek Isles All-Gay Cruise 2021 Rates

SUITES


H1 - The Haven 3-bedroom Garden Villa

Deck 14. 4891 sq.ft., balcony 2134 sq.ft. These amazing Norwegian Jewel Villas sleep up to eight with three separate bedrooms, each with a king- or queen-size bed and luxury bath. With a living room, dining room and incredible private garden with hot tub, you will have more than enough space to spread out and unwind. You'll also have access to the private courtyard area. Includes butler and concierge service.

H2 - The Haven Deluxe Owner's Suite With Large Balcony

Deck 15. 1197 sq. ft., balcony 567 sq.ft. Enjoy the perfect escape in the Deluxe Owner's Suites. With a living room, dining room, wall of windows with king-size bed and luxury bath, you will have an unforgettable experience in this suite. Sleeps up to four and includes access to the private courtyard area. Not to mention the large balcony and amazing view. Includes butler and concierge service.

H3 - The Haven Owner's Suite With Large Balcony

Deck 9, Deck 10. 791 - 824 sq.ft., balcony 151-248 sq.ft. These Norwegian Jewel Owner's Suites are a truly luxurious way for you to get away. Includes a separate bedroom with a king-size bed and luxury bath with separate shower, in addition to the living room, dining room and large private balconies with incredible views. Sleeps up to two and guests receive access to the private courtyard area. Includes butler and concierge service.

H4 - The Haven 2-bedroom Family Villa with Balcony

Deck 14. 572 sq. ft., balcony 85 sq.ft. Up to six guests can enjoy these Villas. They have one bedroom with a queen-size bed and a luxury bath and shower, as well as a separate interior bedroom. Also features a living area, dining area and private balcony. You will also have access to the private courtyard area. Includes butler and concierge service.

H5 - The Haven Courtyard Penthouse with Balcony

Deck 14. 440 sq. ft., balcony 60 sq.ft. These Courtyard Penthouses make for an amazing cruising experience. Sleeps three, with a bedroom featuring a queen-size bed, luxury bath and shower and additional bedding to sleep one additional guest. Also features a living area, dining area, private balcony and access to the private courtyard area. Includes butler and concierge service.

SC - 2-bedroom Family Suite With Balcony

Deck 11. 546 sq. ft., balcony 54 sq.ft. Up to six guests can stay in these luxurious Penthouses that include a bedroom with a queen-size bed and a separate interior bedroom. In addition to the living area, dining area, private balcony and luxury bath with separate shower. Includes butler and concierge service.

SE - Forward-facing Penthouse With Large Balcony

Deck 9, Deck 10. 341-578 sq.ft., balcony 286 sq.ft. These incredible Penthouses sleep up to four, with a bedroom with queen-size bed and luxury bath and shower. Also includes a living area, dining area and large private balcony that offers an amazing view. Includes butler and concierge service.

SF - Aft-facing Penthouse With Large Balcony

Deck 8, Deck 9, Deck 10. 341-578 sq.ft., balcony 286 sq.ft. These incredible Penthouses sleep up to four, with a bedroom with queen-size bed and luxury bath and shower. Also includes a living area, dining area and large private balcony that offers an amazing view. Includes butler and concierge service.
CLUB CLASS MINI SUITES


M1 - Aft-Facing Mini-Suite with Balcony

Deck 11. 272 sq. ft., balcony 54 sq.ft. These Mini-Suites sleep up to four guests, making them ideal if you want to bring friends. They have two lower beds that convert into a queen-size bed as well as a sitting area, luxury bath with shower and additional bedding to sleep two additional guests. Because they are aft-facing suites, the view from your private balcony is truly amazing.

MA - Mid-Ship Mini-Suite with Balcony

Deck 11. 272 sq. ft., balcony 54 sq.ft. With room for up to four guests, you'll love these Mini-Suites. Includes two lower beds that convert into a queen-size bed as well as a sitting area, luxury bath with shower, additional bedding to sleep two additional guests and a private balcony with a great view. Because it's a mid-ship suite, you'll have easy access to everything on board.

MB - Mini-Suite with Balcony

Deck 11. 272 sq. ft., balcony 54 sq.ft. Up to four guests can stay in these Mini-Suites that come with a sitting area, luxury bath with shower, two lower beds that convert into a queen-size bed and additional bedding to sleep two additional guests. Not to mention you'll have a private balcony to enjoy the incredible view.

MX - Mini-Suite with Balcony

Deck 11. 272 sq. ft., balcony 54 sq.ft. Up to four guests can stay in these Mini-Suites that come with a sitting area, luxury bath with shower, two lower beds that convert into a queen-size bed and additional bedding to sleep two additional guests. Not to mention you'll have a private balcony to enjoy the incredible view.
BALCONY STATEROOMS


BS - Balcony Single

Deck 8, Deck 9, Deck 10. 205 sq.ft., balcony 38 sq.ft. Special rate for a single occupancy Balcony Stateroom. Rooms are assigned at time of sailing and location requests cannot be guaranteed. Sail away in your own private balcony room with a queen-size bed. Relax in the sitting area and watch the Med through floor-to-ceiling glass doors that open to your balcony.

B1 - Aft-Facing Balcony

Deck 8, Deck 9, Deck 10. 205 sq. ft., balcony 38 sq.ft. You'll enjoy every inch of these staterooms, with enough space to sleep up to four guests. The two lower beds can be converted into a queen-size bed and the convertible sofa pulls out to sleep two more. You'll also have a sitting area and floor-to-ceiling glass doors that open to a private balcony. Because these are aft-facing, the view from your balcony is amazing and truly unforgettable.

B2 - Family Balcony

Deck 9, Deck 10. 205 sq. ft., balcony 38 sq.ft. With room for up to four guests, there are two lower beds that convert into a queen-size bed and bedding to accommodate up to two more. Also includes a sitting area and floor-to-ceiling glass doors that open to a private balcony.

B3 - Family Balcony

Deck 8, Deck 9. 205 sq. ft., balcony 38 sq.ft. With room for up to four guests, there are two lower beds that convert into a queen-size bed and bedding to accommodate up to two more. Also includes a sitting area and floor-to-ceiling glass doors that open to a private balcony.

BA - Mid-Ship Balcony

Deck 9, Deck 10. 205 sq. ft., balcony 38 sq.ft. These Norwegian Jewel mid-ship staterooms sleep up to three guests and come with two lower beds that convert into a queen-size bed and a convertible sofa pulls out to sleep two more. Also includes a sitting area and floor-to-ceiling glass doors that open to a private balcony with a great view. Because they are mid-ship, you'll have easy access to everything on board.

BB - Balcony

Deck 10. 205 sq. ft., balcony 38 sq.ft. These staterooms sleep up to four guests and come with two lower beds that convert into a queen-size bed, a pullman bed and a single-bedded sofa bed to sleep two more. Also includes a sitting area and floor-to-ceiling glass doors that open to a private balcony.

BC - Balcony

Deck 9. 205 sq. ft., balcony 38 sq.ft. These staterooms sleep up to four guests and come with two lower beds that convert into a queen-size bed, a pullman bed and a single-bedded sofa bed to sleep two more. Also includes a sitting area and floor-to-ceiling glass doors that open to a private balcony.

BD - Balcony

Deck 8. 205 sq. ft., balcony 38 sq.ft. These staterooms sleep up to four guests and come with two lower beds that convert into a queen-size bed, a pullman bed and a single-bedded sofa bed to sleep two more. Also includes a sitting area and floor-to-ceiling glass doors that open to a private balcony.

BX - Balcony

Deck 8. 205 sq. ft., balcony 38 sq.ft. These staterooms sleep up to four guests and come with two lower beds that convert into a queen-size bed, a pullman bed and a single-bedded sofa bed to sleep two more. Also includes a sitting area and floor-to-ceiling glass doors that open to a private balcony.
OCEAN VIEW STATEROOMS


OS - Oceanview Single

Deck 4, Deck 5, Deck 8. 155 - 161 sq.ft. Special Oceanview Single Room with a picture window or porthole. Location is assigned at sailing and requests cannot be guaranteed. Your own private Oceanview Stateroom with either a picture window or porthole. Relax in a comfortable queen-size bed and enjoy a gorgeous view of the magnificent Med.

O1 - Family Oceanview Picture Window

Deck 5. 155 - 161 sq. ft. You can comfortably fit up to four guests in these staterooms, making them perfect for friends. You'll enjoy an amazing view from the big picture window. Two lower beds convert into a queen-size bed and additional bedding to sleep two more. Of course, you'll have room service and many other amenities.

OA - Oceanview Picture Window

Deck 8. 155 - 161 sq. ft. These Oceanview Staterooms have enough room for up to three guests. Includes two lower beds that convert into a queen-size bed and additional bedding to accommodate one more guest. You'll also have an amazing view to enjoy from your big picture window, along with room service and many more amenities.

OB - Mid-Ship Oceanview Picture Window

Deck 8. 155 - 161 sq. ft. These Norwegian Jewel Oceanview Staterooms have enough room for up to three guests. Includes two lower beds that convert into a queen-size bed and additional bedding to accommodate one more guest. You'll also have an amazing view to enjoy from your big picture window, along with room service and many more amenities.

OC - Oceanview Picture Window

Deck 5. 155 - 161 sq. ft. These Oceanview Staterooms are lower deck accommodations and can sleep up to three guests. Includes two lower beds that convert into a queen-size bed and additional bedding to accommodate one more guest, in addition to the big picture window.

OF - Mid-Ship Oceanview Porthole Window

Deck 4, Deck 5. 155 - 161 sq. ft. Up to four guests can stay in these Oceanview Staterooms. Includes two lower beds that convert into a queen-size bed and additional bedding to accommodate two more, as well as a porthole to enjoy the view. These staterooms are mid-ship accommodations, which means you'll have easy access to everything on board.

OG - Oceanview Porthole Window

Deck 4, Deck 5. 155 - 161 sq. ft. Up to four guests can stay in these Oceanview Staterooms. Includes two lower beds that convert into a queen-size bed and additional bedding to accommodate two more, as well as a porthole to enjoy the view.

OK - Obstructed Oceanview

Deck 8. 155 - 161 sq. ft. These Oceanview Staterooms sleep up to four guests and have either a picture window or porthole, with an obstructed view. Two lower beds that convert into a queen-size bed and additional bedding to accommodate two more.

OX - Obstructed Oceanview

Deck 8. 155 - 161 sq. ft. These Oceanview Staterooms sleep up to four guests and have either a picture window or porthole, with an obstructed view. Two lower beds that convert into a queen-size bed and additional bedding to accommodate two more.
INTERIOR STATEROOMS


IS - Inside Single

Deck 8, Deck 9, Deck 10, Deck 11. 138 - 143 sq.ft. Special single occupancy rate for an inside room. Room is assigned at sailing and location requests cannot be guaranteed. Enjoy your own private Inside Stateroom - our most affordable way to cruise. Comfortable with a queen-size bed and plenty of space to relax.

I1 - Family Inside

Deck 8, Deck 9, Deck 10, Deck 11. 138 - 143 sq.ft. These Norwegian Jewel Inside Staterooms are the most affordable way for you and friends to cruise. With room for up to four guests, you'll have two lower beds that convert into a queen-size bed and additional bedding to accommodate two more. And of course, room service and many other amenities.

IA - Mid-Ship Inside

Deck 10, Deck 11. 138 - 143 sq.ft. With room for up to four guests, these Inside Staterooms come with two lower beds that convert into a queen-size bed and additional bedding to accommodate two more. These staterooms are mid-ship, so you'll have easy access to everything on board.

IB - Mid-Ship Inside

Deck 8, Deck 9. 138 - 143 sq.ft. With room for up to four guests, these Inside Staterooms come with two lower beds that convert into a queen-size bed and additional bedding to accommodate two more. These staterooms are mid-ship, so you'll have easy access to everything on board.

IC - Inside

Deck 10, Deck 11. 138 - 143 sq.ft. These Inside Staterooms are on lower decks and are mid-ship accommodations. You'll have easy access to everything on board, and room for up to four guests. Includes two lower beds that convert into a queen-size bed and additional bedding to accommodate two more.

ID - Inside

Deck 8, Deck 9. 138 - 143 sq.ft. These Inside Staterooms are the most affordable way to cruise. There's room for up to four guests and they include two lower beds that convert into a queen-size bed and of course, you'll have room service and many other amenities.

IE - Mid-Ship Inside

Deck 4, Deck 5. 138 - 143 sq.ft. These Inside Staterooms are the most affordable way to cruise. There's room for up to four guests and they include two lower beds that convert into a queen-size bed and of course, you'll have room service and many other amenities.

IF - Inside

Deck 4, Deck 5. 138 - 143 sq.ft. These Inside Staterooms are the most affordable way to cruise. There's room for up to four guests and they include two lower beds that convert into a queen-size bed and of course, you'll have room service and many other amenities.

IX - Inside

Deck 4. 138 - 143 sq.ft. These Inside Staterooms are the most affordable way to cruise. There's room for up to four guests and they include two lower beds that convert into a queen-size bed and of course, you'll have room service and many other amenities.

Additional Guest

3rd or 4th Person in Stateroom

All rates are person based on double occupancy.

Port charges of $380 per person and Pre-paid Gratuities of $125 per person are additional.

All prices in U.S. dollars.

All rates above, including prepaid gratuities, are per person based on double occupancy.

Single stateroom charge is 200% of the double occupancy rate, except for designated single staterooms.

Stateroom and balcony sizes are approximate, as are locations on deck plans. These are provided for informational purposes only.

Share category rooms are not available on this sailing due to COVID restrictions.

Payment:
A 50% deposit must accompany all reservations. Final payments for this cruise are due on May 17, 2021.

Please note that since this cruise is very soon we are allowing cancellations without penalty up until April 30, 2021 for all bookings. This cruise operation is subject to governmental and operational approvals.

In accordance with the above, deposits will not be charged until May 2, 2021.

Rates are capacity controlled and may increase at any time without notice.

All reservations are subject to Atlantis Cancellation/Refund Policy and Terms and Conditions.

Special Airfares