Istanbul to Athens
Egypt, Israel & Greece Luxury Gay Cruise
July 17–24, 2024
Oceania Cruises Oceania Riviera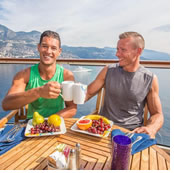 See it all next summer on the most exotically thrilling all-gay cruise that Atlantis has ever offered! Sail from magical Istanbul to vibrant Athens on the newly re-imagined Oceania Riviera as we visit Egypt's pyramids, Israel's treasures, the melting pot of Cyprus, and the island playground of Mykonos. It's seven magical nights you'll never forget, surrounded by great friends with spectacular cuisine and Oceania's legendary service. All with more included than ever before!
Immerse yourself in a sensual journey through the best of the Mediterranean that takes you from dynamic Istanbul to fascinating Cyprus, the wonders of Egypt, magical Israel, and our favorite Greek Island of Mykonos. Enjoy sumptuous cuisine in five novel and sophisticated restaurants, served in casual elegance with no extra charges. Let Atlantis entertain you throughout with our stellar signature performers, friendly hosts, and a few perfectly timed parties. It's the ultimate combination of exploration and entertainment – luxuriously delivered in every way.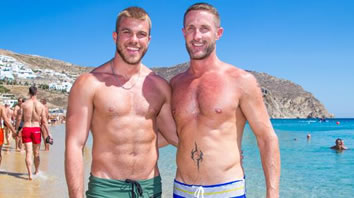 See it All
Set sail from fascinating and vibrant Istanbul on a journey unlike anything Atlantis has ever crafted. Our first-ever visit to Cyprus is the perfect introduction to this incredible island hosting a melting pot of cultures and historical treasures. The pyramids of Egypt need no introduction, but nothing can prepare you for their awesome majesty and impact. Our extended stay gives you plenty of time to visit both the pyramids and Cairo where the Egyptian Museum boasts a unique close-up view of history.
There's so much to experience in Israel that you'll need our full day and night just to scratch the surface. A fascinating blend of cultures and history meet in Jerusalem which truly has to be seen on foot to be fully understood. Explore the vibrant beachside promenade in Tel Aviv and stay out with us to discover the city's vibrant gay nightlife.
After a relaxing day at sea we'll arrive in Mykonos where serene beaches meet a sizzling playground that never stops. Enjoy a relaxing day or play until the sun sets before we head back to Athens with endless memories.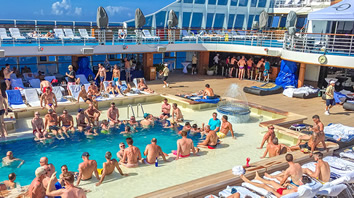 Pure Indulgence Onboard.
The luxurious mid-size Oceania Riviera is your home for this extraordinary journey, recently re-imagined With 1300 guests she's the perfect size for our intimate voyage yet filled with features found on much larger ships. You'll discover a masterpiece of contemporary casual elegance and design, from the sparkling Grand Staircase to the stunningly modern suites.
Eight tantalizing restaurants offer an unmatched variety of culinary delights, while nine welcoming bars and lounges provide the perfect spot to recap each day's explorations.
Take a splash in the large heated pool or three inviting whirlpools. Spacious teak decks create the perfect setting for soaking up the sunshine or joining us for a festive poolside t-dance or two.
At the end of each brilliant day, there's no better way to wind down than at the Aquamar Spa, where signature treatments abound and a state-of-the-art fitness center makes it easy to keep moving.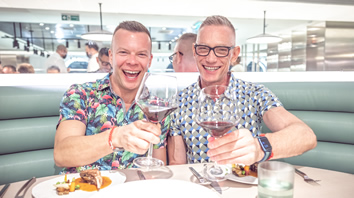 The Finest Cuisine at Sea. All Included.
Eight open seating restaurants offer some of the finest dining at sea, each with a distinctive experience – and all included with no surcharges. Thrill to creations in the sumptuous Grand Dining Room or enjoy the cozy elegance of Polo Grill's classic steakhouse. Enjoy authentic Italian at Toscana or be dazzled by classic French at Jacques. Contemporary Asian cuisine at Red Ginger never fails to impress and of course there's almost always a relaxing informal meal at the indulgent Terrace Cafe.
Learn a new skill at the unique Culinary Center featuring the only hands-on cooking school at sea, with a range of enriching classes by master chefs. Options abound, and of course there's never a dress code or assigned seating on Atlantis cruises. We'll make sure you get to try them all, with friends old and new.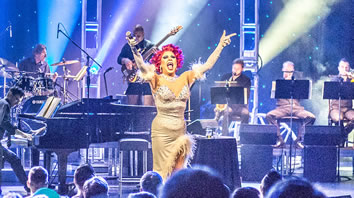 Legendary Entertainment for a Remarkable Journey
The stars come out in our spacious theater, featuring Atlantis signature entertainers from our community and beyond. Late a night, our cabaret stars, drag queens, and specialty performers will thrill you in the intimate Horizons lounge on the top deck. Try your luck in the intimate casino or meet friends over drinks and music at our classic Atlantis piano bar.
While most of this cruise is about exploration, relaxation, and friendship, it's an Atlantis cruise after all, so you can look forward to some invitingly friendly parties. It's a unique part of the world and we'll dazzle you with the perfect t-dances and a few magical nights under the stars. All designed to entertain, not exhaust!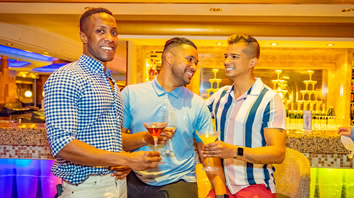 More Included Than Ever.
Explore more than ever in style next summer. Intimate, original, and unique in every way, yet with all the fun you've come to expect from our vacations. We're adding in more this year with a free House Beverage Package and free WiFi included! There's no better value in all-gay vacations.
Our initial rates are lower than Oceania's published fares, and we're offering them for a limited time to our valuable Alumni first. Join us on this remarkable journey in the company of great friends as we return to Oceania for another once-in-a-lifetime adventure!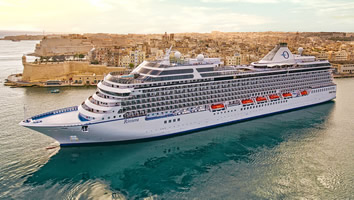 Remarkable Throughout
The recently re-imagined Oceania Riviera blends classic sophistication with a contemporary flair to create a casually elegant ambiance that's unmatched anywhere else. From the sparkling Grand Staircase to the stunning suites, you'll find designer touches everywhere, highlighting the finest residential design and furnishings. It's one of the most beautiful ships Atlantis has ever chartered, and the perfect home for exploring in style.
Riviera was designed for epicureans and travel connoisseurs, featuring six open-seating gourmet restaurants with no surcharge. Take a cooking class in the Culinary Center, or discover our talented artists-in-residence in Artist Loft enrichment center. The Aquamar Spa & Vitality Center offers virtually every pampering treatment imaginable. The dazzling all new coffee bar, serves up illy® espresso and coffee and freshly made pastries. Intimate lounges abound – perfect for meeting friends or enjoying Atlantis entertainment. Accommodations in every category are incredibly spacious, including lavish bathrooms in most.
Plus, there's no better place to enjoy the wonders of the Med than from the expansive and well-appointed teak decks that grace the top of the ship.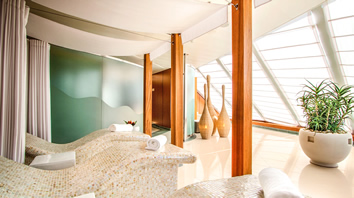 A Spa for Your Lifestyle
The Aquamar Spa & Vitality Center lets you chart a new course on a path to wellness with a holistic approach to well-being. Through fitness, exquisite cuisine and a multitude of healing therapies, you can discover ways to unleash your untapped potential and make positive changes in your life. Of course, the star element of any spa experience are their unique treatments that will leave you wondering how anything could feel quite so perfect.
Of course, more opportunities await you in the state-of-the-art fitness center, where you may exercise on the latest fitness equipment or join a class in indoor cycling, aerobics, Pilates or yoga.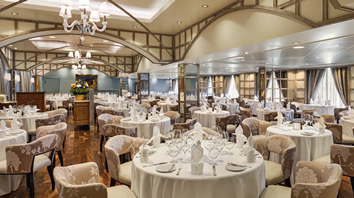 The Finest Cuisine at Sea. Or Anywhere.
Under the guidance of master chef Jacques Pépin, Riviera boasts some of the most sophisticated and varied dining options at sea. All six restaurants are included with no additional charges and of course you can dine whenever you wish, with whomever you choose with no formal dress code. Take a look at these incredible options.
Grand Dining Room
Handsomely decorated in rich woods, designer tapestry fabrics and oversized armchairs, the expansive dining area exudes classic splendor. The Grand Dining Room's formally attired and classically trained wait staff graciously serve course after course of European-inspired cuisine or delectable alternatives such as healthy plant-based dishes. Menus change daily with a brilliant choice of at least ten appetizers, soups and salads and twelve entrées at dinner.
Polo Grill
Polo Grill embodies all the elements of a classic steakhouse, expressing them with timeless reverence. Each course stands as the very definition of time-honored favorites, most notably the beef dishes, all of which are USDA Prime and dry-aged for 28 days to enhance tenderness and flavor.
Toscana
Presented on elegant, custom-designed Versace china, masterfully prepared dishes exemplify the essence of Tuscany and celebrate Italy's culinary passion. Classic dishes from various regions of Northern Italy are featured, many from recipes that originated with the mothers and grandmothers of our own Italian culinary staff.
Jacques
Exquisitely decorated with heirloom antiques, pickled wood furnishings and art from Jacques Pépin's personal collection, Jacques was modeled after a Parisian bistro. Each country French dish served is a classic, ingeniously reinterpreted by Master Chef Pépin–Jacques is absolutely magnifique!
Red Ginger
Red Ginger's chefs have created contemporary interpretations of Asian classics. The interior simply glows with ebony woods, a soothing waterfall wall and striking, modern Asian artworks, all with a nod to feng shui. In Red Ginger, the gustatory pleasures are as striking as the visual ones.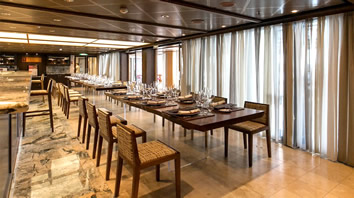 Terrace Café
Informal and carefree, the Terrace Café is wonderfully inviting any time of day–feel free to dine inside or alfresco at one of the shaded teak tables on the terrace. First thing in the morning, enjoy sumptuous breakfast selections. Come lunch, the expansive menu of international-inspired dishes changes entirely. Evenings, the impeccably clad wait staff shines, and the cuisine takes on a more sophisticated flair.
La Reserve
Oceania Cruises brings you the brilliant union of La Reserve and Wine Spectator, the foremost magazine for wine connoisseurs, with the resulting La Reserve by Wine Spectator offering not only wine seminars and vintage tastings but also gourmet dinners pairing fine wines with delectable courses that allow devout epicureans to enhance their appreciation of fine dining. Reservations required. Wine Experience surcharge applies
Privée
Host a private party for up to 10 privileged guests in our most exclusive onboard dining venue, Privée. The exquisite setting is adorned with Baroque millwork and a custom-built table designed by the famed Dakota Jackson, illuminated by a golden Venini chandelier. The cuisine is equally superb, as each guest may select any number of courses from Polo Grill, Toscana or a combination of both. Reservations required. A room reservation surcharge applies.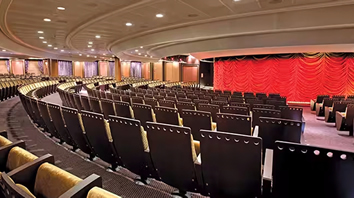 Let Us Entertain You
The spacious theater features Atlantis signature entertainment, along with Oceania's dazzling production shows in an intimate venue that invites you to sit back and enjoy. Take in our very own Piano Bar at Martinis. Discover new Cabaret stars in Horizons lounge. Or try your luck at the Casino Bar. No matter where you end up, you'll find comfortable places to meet friends old and new in a setting that makes you feel right at home.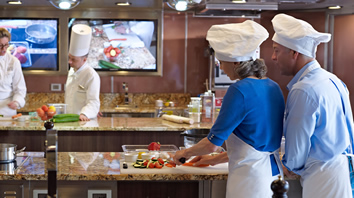 Unique Enrichment Opportunities
Riviera offers some remarkable ways to enhance your vacation. The Artist Loft brings you into the creative process in ways you never imagined with our artist-in-resident program.
At the Culinary Center, learn how to prepare a variety of exquisite dishes at your own fully equipped workstation in a state-of-the-art teaching kitchen. Master Chefs from around the world offer guidance and inspiration to fine-tune your techniques, but you will actually prepare the dishes yourself. It's the ultimate way to learn and truly absorb every step of each recipe.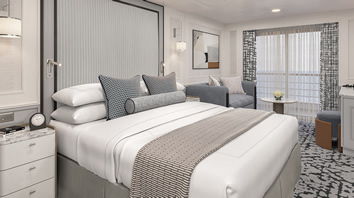 Contemporary, Indulgent Luxury.
The spacious dimensions of Riviera's recently upgraded suites and staterooms offer the ultimate in luxury. Interiors are decorated with rich woods, lustrous fabrics, custom-crafted furnishings and original artworks. A stylish color palette blends the soothing colors of the sea, with earthen hues to express the pinnacle of comfort and beauty. Plump the goose-down pillows of the Prestige Tranquility Bed, an Oceania Cruises exclusive. Enjoy beautiful vistas of the sea on your private teak veranda, a feature that graces the vast majority of accommodations onboard.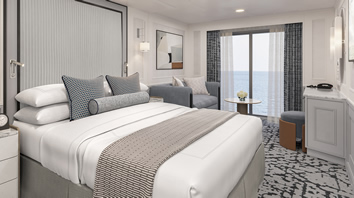 And the Suite Life
All of Riviera's suites are extraordinarily spacious, affording you your own private retreat. Penthouse Suites feature oversized living and dining areas, marble and granite–clad bathrooms with a bathtub, as well as a separate shower and walk-in closet.
Riviera's opulent Owner's Suites, Vista Suites and Oceania Suites offer everything you would expect in a five-star hotel, elevating nautical grandeur to new levels. Each has its own bedroom, dining area and so much more. Riviera's lavish Owner's Suites feature iconic furnishings from Ralph Lauren Home Collection, and the Vista and Oceania Suites have been designed and furnished by the wizardry of famed New York designer Dakota Jackson.
And no matter which room you choose, you'll find little touches that set Riviera apart. The mini-bar is refreshed daily with free and unlimited soft drinks and bottled water. Bulgari amenities grace the spacious bathroom. Enhanced 24-hour room service is just a phone call away. And their friendly staff is always available to take care of your every need with twice-daily service.
All Suites offer a dedicated Butler and keycard access to the suites-only Executive Lounge.