Athens to Barcelona
All-Gay Mediterranean Cruise 2024
August 4–13, 2024
Virgin Voyages Resilient Lady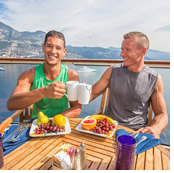 An epic adventure awaits next summer when Atlantis sails from Athens to Barcelona on Virgin Voyages spectacular new Resilient Lady. Island hop with friends from around the world as we visit the Greek Isles, Turkey, Malta, Sicily, Mallorca, and so much more on our most exotic Med all-gay cruise yet. We're going nearly everywhere on a sailing filled with spectacular entertainment, thrilling parties in jaw-dropping venues, luscious dining, gorgeous modern design, and 2700 great friends from over 50 different nations! All with more included than ever at incredibly low fares from just $1499!
For the ultimate Atlantis experience, stay onboard for our new Barcelona to London All-Gay Cruise voyage sailing August 13-23, 2024!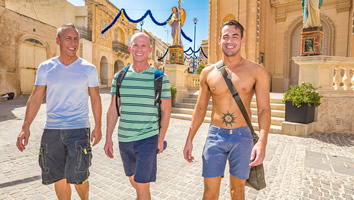 Greece, Turkey, Malta & More!
Sail from historical Athens through serene blue waters to Bodrum, where whitewashed houses meet the pristine Aegean Sea. Turkey's playground island invites you to stroll along its charming streets, where historic sites meet modern luxuries. Our overnight stay on the iconic island of Mykonos, give you time to do it all, from beaches to nightlife. With its labyrinthine streets lined with vibrant bougainvillea and white stone houses, gay-welcoming Mykonos enchants every visitor. The islands' celebrated nightlife is a world unto itself, where beach parties and inviting bars offer a taste of the famed Greek hospitality and zest for life.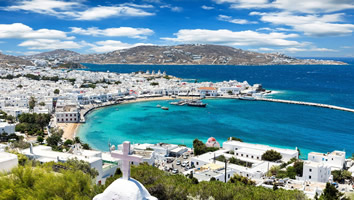 A playful day at sea takes us towards the heart of the Med, where you'll arrive at the historic city of Valletta, Malta. A UNESCO World Heritage site, Valletta astonishes with its baroque architecture and ancient fortifications boasting treasures from different epochs, telling tales of knights, nobility, and conquests.
At the foot of Mount Etna in Sicily, you'll discover Catania's rich tapestry of cultural experiences, marrying ancient Roman ruins with bustling markets. Take a day trip to legendary Taormina and see why this ancient hilltop town was the perfect setting for White Lotus.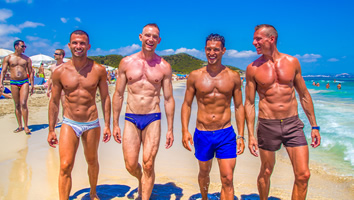 And Onwards to Italy, France & Spain!
The southern Italian gem of Naples pulsates with life at every corner beneath the shadow of the mighty Vesuvius. Explore the nearby ruins of Pompeii, indulge in the picturesque beauty of legendary Capri and the Amalfi Coast. You could, of course, stay in Naples and explore the city's world-renowned culinary scene, historical treasures, and majestic architecture.
On arrival to France's rugged island of Corsica, Ajaccio seamlessly blends rich history with vibrant natural beauty. Wander picturesque streets filled with historic landmarks or escape to surrounding beaches and dramatic hillsides for a dose of nature's grandeur. Your last island visit takes you to the golden shores of Palma de Mallorca, where luxury meets deep-rooted Spanish culture. Marvel at the grandeur of La Seu Cathedral and explore Palma's hidden treasures tucked within its winding alleyways.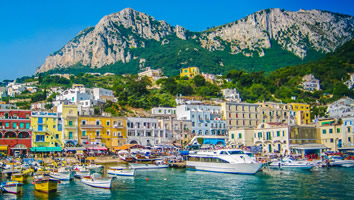 Of course, there's no better place to end an all-gay cruise than Barcelona, Spain, a city renowned not only for its artistic vigor and architectural grandeur but also for its vibrant gay life. Whether you're wandering through the whimsical wonders of Park Güell, exploring Sagrada Familia or mingling with the lively local crowd at a vibrant gay hotspot, Barcelona promises an enriching and diverse cultural experience in every way.
We've timed our arrival to match "Circuit Festival" Barcelona's largest gay multi-day event. Their legendary Water Park party is scheduled on August 13 making it the perfect ending to a fantastic 9-days of excitement! Look for some special ticket packages in the coming months.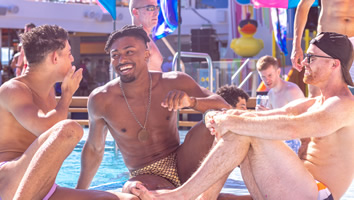 Play Like a Virgin
Get onboard the first ship purpose built for hyper-social, endlessly interactive, original fun — changing everything you thought about playing on the ocean. You'll feel like a true sailor on our own massive yacht-like playground.
Imagine a pool deck flawlessly designed for both relaxing and dancing. A gym you never want to leave. Chilling out on a net 13 stories above the sea. Wellness that surrounds you. Innovative dining with a non-stop parade of choices. Brunch in two places. Everyday. Drag queen hosts and pop-up moments of pure joy. Shows where you're a part of the action and magic in unexpected places. That's the way we play on Virgin Voyages with Atlantis.
There's never been more spectacular settings for Atlantis parties, dazzling venues for shows, and so much more. We've never played like this before on any ship sailing today!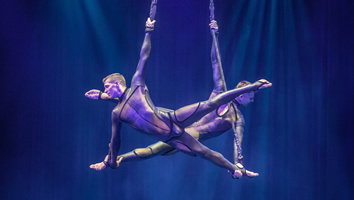 Dazzling Spectacles. Everywhere.
Our non-stop festival of talent features our community's top entertainers and more in truly sensational venues. The transformational Red Room comes alive with Atlantis' signature performers — drag queens, comics, acrobatic shows, Broadway stars and so much more. Add in Virgin's thrilling production shows and interactive experiences to create a landscape of entertainment unlike anything we've ever seen.
Get up close in the intimate Manor with a non-stop parade of hilarious comedians, outrageous drag shows, specialty acts, and plenty of surprises. It's the perfect venue to try out some original talent or a new take on a favorite.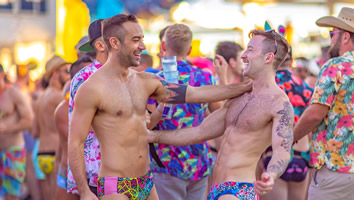 All Feet On Deck
Atlantis' legendary outdoor parties get an upgrade on a pool deck at sea perfectly designed for our style of free-spirited dancing under the sun and stars. Afternoons sizzle with themed t-dances into the sunset. At night we'll present the world's finest DJs in a dazzling production filled with lasers, video, and sophisticated lights filling the night sky. This ship was built for a party like ours!
We'll mix things up with some fabulous parties and late-night events in the Manor nightclub and Red Room, showcasing a spectacle unlike anything else seen on Atlantis.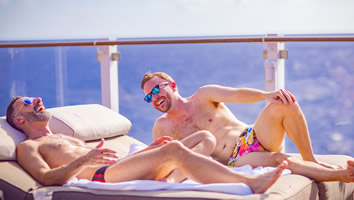 Everything Included. For Nothing.
Nobody likes paying for things they use all the time, like Wifi, basic beverages, and a terrific place for dinner. So, we don't charge extra for them. Ever. Even fitness classes are included! Log on, drink up, spin a little, and enjoy!
Every fabulously original restaurant is included with more choices than any other ship at sea. All you need to do is decide whether to indulge in fresh Italian at Extra Virgin, Korean BBQ at Gumbae, an inventive tasting menu at the Test Kitchen, brunch or steak at the Wake, all-day treats at Razzle Dazzle, and so much more. And there's no buffet in sight. Or a massive banquet-like main hall. But who needs one with all these amazing spots?
Oh, and by basic beverages we mean sodas, water, coffees, juices, and most non-alcoholic offerings. The hard stuff is, of course, extra.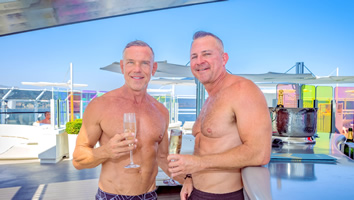 More of the Med. For Less Than Ever.
It's easier than ever to get onboard Atlantis for our epic island-hopping Med cruise. Our low fares start at just $1499 for 9 nights of non-stop excitement.
Remember there's more included here than any other cruise Atlantis offers:
– Included Basic WiFi
– All Premium Dining Included. Everywhere! (even room service)
– All Basic Beverages Included
– All Fitness Classes Included
– No extra service charges or gratuities.
We're taking the sea to a whole new level next summer! Get onboard our newest experience today for the ultimate island adventure.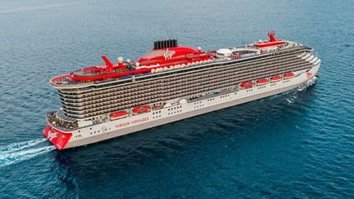 Let's Make Waves. The Virgin Voyages Story
Virgin Voyages was conceived with a simple idea in mind – redefine what a luxury cruise ship can be to create a radically fun new way to sail. Before a single ship was built, a deeply engaging sailor experience was crafted with an eye towards the future, focused on fun & freedom, discarding legacy cruise elements deeply rooted in the past. Breakthrough design creates a visually stunning and fabulously functional playground, and innovative approaches to entertainment, dining, and wellness will delight you in ways you never imagined.
We think Virgin has created the perfect ship for the Atlantis way to sail, allowing us to offer a bold and unique experience with a sense of freedom and playfulness that you simply won't see anywhere else.
After all, no other cruise line has full-time drag queens onboard.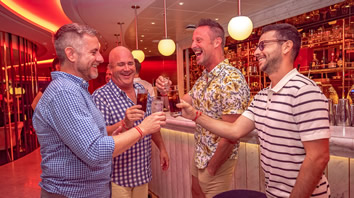 Designed. For fun!
You'll never mistake Resilient Lady for any other ship, except maybe one of her sisters. From her dramatic red and grey exterior to dazzling cool interiors, she's the combination of the talents of world-class designers. Built to create an immersive, interactive, and playful experience everywhere.
Step onto the sleek pool deck and you'll feel like she's your own private yacht filled with great friends and whimsical furnishings. Find your perfect setting along one of the two inviting pools, or one of the massive surrounding decks. As the day evolves, relaxing vibes give way to festive poolside playfulness, ultimately transforming into in the perfect space for Atlantis' friendly T-dances and outrageously fun night-time parties. A unique pool cover creates a spectacular and seamless dance floor and party space unlike any other at sea.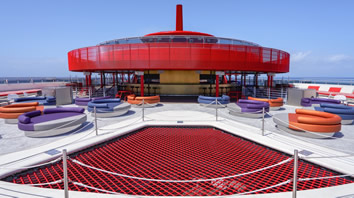 Sample your favorite sound at Virgin Vinyl or create a new one in the private karaoke rooms. Pop a cork at the gorgeous Champagne bar after a moment of glory in the boxing ring. Relax with friends on the lux open decks of the Dockhouse. Soak up a sunset high above the ocean in the Athletic Club. Stay up way too late in the Manor, try your luck in the casino, and top it all off by raiding the galley late at night.
There's a setting for everything and an abundance of new experiences waiting for you to explore. And all of it beautifully made for Atlantis and the way we play.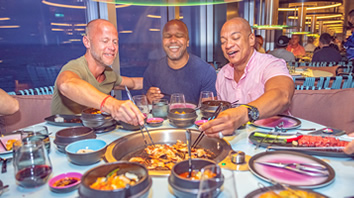 Serious Eats. Always Included.
Forget everything you know about dining at sea and indulge in a world where 18 different eateries cater to every taste and style. And forget extra charges for "specialty" dining since all food is included at every restaurant.
There's no big dining hall where you have to queue up for a meal. Virgin's innovative booking system lets you plan dinner where you want, when you want, with friends old and new. Atlantis will enhance our tradition of shared dining with options to meet new friends at every meal, or to dine on your own. It's your choice and easier than ever. All with no dress code, of course.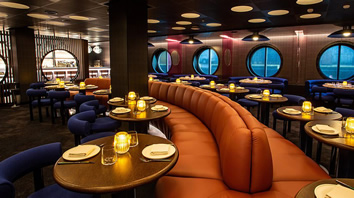 If you're in the mood for authentic Italian, Extra Virgin will hit the spot with a lively setting and mix of classic and contemporary options. Or share something different at Gunbae, the first real Korean BBQ at sea!
Let the masterful chefs at Test Kitchen wow you with a modern tasting menu in a sleek food-lab setting. Indulge in modern Mexican at Pink Agave, where festive drinks match outrageously delicious food.
Relax with a mezze platter and cocktail on the open decks of The Dock or indulge in a perfect steak in the sleek and sexy dining room of The Wake below.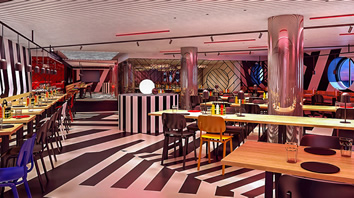 For all-day fare with abundant vegetarian options, the bold Razzle Dazzle satisfies in new and delicious ways. You'll be faced with even more choices at The Galley, Virgin's take on the food hall featuring everything from tacos to poke to ramen and plenty more in between. On top of all that you'll find freshly made pizza, fabulous ice cream, an authentic coffee house, and so much more throughout the ship.
In case you think we missed it, there's no buffet. Just an abundance of fabulous choices including a few surprises. And yes, excellent options are available round the clock!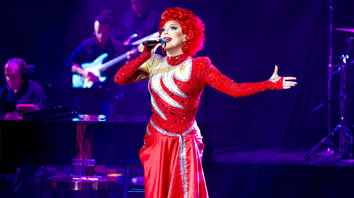 Fabulously Showy Venues
The transformational Red Room boasts movable seating and a flexible stage to create unique settings for Virgin's wildly inventive production shows and Atlantis' legendary performers. You'll have to see it to believe it, and stick around later when we transform it into a spectacular late-night venue.
Named after Richard Branson's first recording studio, The Manor hosts the interactive Another Rose show, and transforms into an intimate performance space for Atlantis drag queens, cabaret stars, and specialty acts. Featuring three bars, two stories, and plenty of space to dance!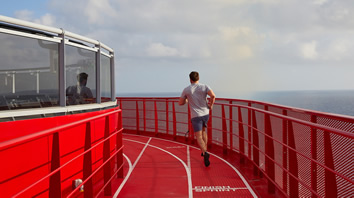 Arrive Better than You Left
Sweat, relax or just be still and breathe — it's up to you. Virgin's wellness and personal style spaces provide a proper dose of Vitamin Sea to leave you totally restored and ready for anything and everything. A state-of-the-art Technogym lineup stands ready for your moves in Build and Balance, while the Training Camp offers unlimited (and always included) group fitness classes unlike anything else at sea.
Wake up to sunrise yoga high above the ocean in The Perch or run with a view on the outdoor track.
The sleek and inviting Redemption Spa has just what you need to make your day perfect. Revitalize with an innovative treatment, or take in all the thermal suite has to offer. And for the ideal touch up, Stubble & Groom is a man's haven that will get you in ship-shape, British style.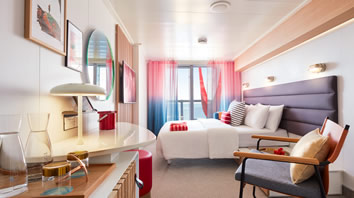 A New Way to Stay
Superyacht inspired stateroom design offers much more than a place to sleep. Virgin's clever room technology and styling provide the ultimate hideaway at sea. Transform your room at the touch of a button. Mood-matching lights, a configurable and comfortable Seabed and in-cabin tech come together to make your life easier. Lounge by day, with plenty of room for friends, yet easy to convert to a bed for those times when you really do want to sleep!
If you're looking for the suite life, Virgin's Rockstar quarters will bring you the lifestyle you deserve. Accents of brass, stunning marble bathrooms, spacious stargazing terraces, champagne tables and exclusive treatment are yours in these VIP suites. Add a host of amenities including unlimited bar tab (for mega-Rockstar suites) for the ultimate in comfort and style!
Booking a suite unlocks access to Richard's Rooftop; the exclusive deck where elegance meets exuberance. A lavish, elaborate and members-only outdoor space for stargazing parties and pre-dinner cocktail hours for you and the other rockstars.