African Safari All-Lesbian Adventure 2022
November 13 – 22, 2022
Nairobi, Maasai Mara (Kenya),
Ngorongoro, Serengeti (Tanzania)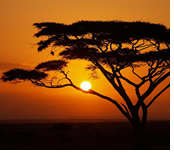 Our All-Lesbian African Safari to Kenya and Tanzania is 10 days of adventure designed to delight you. Visit Nairobi, Kenya; the Ngorongoro Crater and Conservation Area in Tanzania; the Serengeti National Park in Tanzania; and the Maasai Mara Game Reserve in Kenya. From amazing service at the best 5-star hotel in Nairobi, to special cultural experiences, wildlife drives, and a local guide who knows Tanzania and Kenya inside and out, Olivia has orchestrated a premier African safari adventure just for you.
Few places on earth can lay claim to such superlative natural wonders as Africa. The timeless savannahs of the Serengeti. Ngorongoro Crater, the famed "Eighth Wonder of the Natural World."
The marvels of this land are as celebrated as those who have bravely explored them. An experience akin to being hosted at a friend's private camp on the African savannah, and then moving to another friend's bush home on the edge of the virgin forest. Enjoy the rhythms of safari life in the timeless manner of families who have spent their lives in Africa. Olivia's African Safari Adventure; a trip of a lifetime.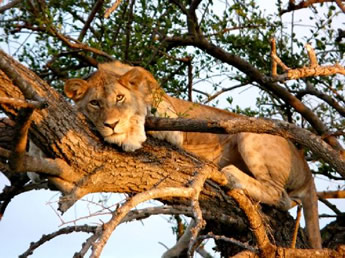 Olivia brings you an unparalleled African experience—Visit with an esteemed Maasai elder; take in stunning vistas filled with lions, leopards, gazelle, and hippo; feed a giraffe, and see an elephant feeding; visit Karen Blixen's "Out of Africa" home; lunch with a bead jeweler whose profits go to ensure disadvantaged girls are provided with housing and an education…and that's just the beginning! We have carefully arranged this trip so that you spend the bulk of your time exploring! Three flights with all transfers within Africa are included to enhance your comfort and minimize lengthy drives on dusty, bumpy roads, so you can spend more time taking photos and making memories. On safari, we will seat a maximum of six guests in our nine-passenger vehicles, guaranteeing you a window seat and access to a pop-up roof hatch.
We've chosen expert guides who know and love Olivia, and who help us make your vacation the trip of a lifetime. Our guides are also making a difference in their local communities. For example, our safari tour operator gives back extensively to the Nairobi community, helping girls escape the slums by sponsoring scholarship programs. We'll even have an optional visit to the children in the AmericaShare program.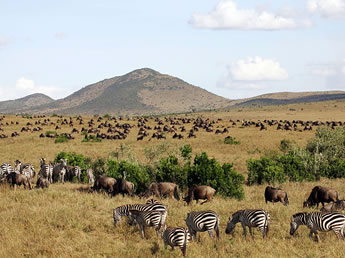 Day 1 - Sunday, November 13, 2022
Arrive Nairobi, Kenya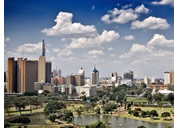 Welcome to Nairobi. The largest city between Cairo and Johannesburg, Nairobi is a modern, cosmopolitan capital. Graceful jacaranda and bougainvillea line the main streets, and parks and gardens occupy large areas in the centre. Located in the fertile highlands at 5,000 feet, it has a delightful climate, with warm sunny days and cool nights. The city has undergone a dramatic expansion in its recent past. Today, you will see a thriving business centre, with the modern Kenyatta Conference Centre and Parliament Building, first-class restaurants and hotels. The traditional architecture still survives in colourful wooden buildings with tiled roofs and arcades from the colonial era. Your Olivia Safari Director will meet you after you pass through customs at Jomo Kenyatta International Airport and you will be transferred to the Fairmont Norfolk Hotel. A dedicated Airport Team will coordinate and handle all the arrivals. Olivia-Micato porters will expedite luggage at the airport for you. Enjoy a cool drink in the vehicle while you transfer from the airport to the hotel, where you will be pre-registered for checkin. You will be greeted with a welcome drink and a welcome package. Your complimentary Olivia Safari vest will be waiting for you in your room. Overnight at the Fairmont Norfolk Hotel.
Hotel: Fairmont The Norfolk Hotel
, Nairobi, 5*
Day 2 - Monday, November 14, 2022
Nairobi, Kenya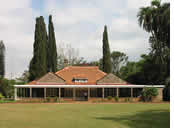 After an early morning breakfast at your hotel, your Olivia Micato Safari Director will give you a Safari Briefing where you will have a chance to ask all the questions you have about your upcoming safari. You will also be properly welcomed with an authentic safari hat and a hand-carved animal necklace.
Visit to Karen Blixen Estate
Karen Estates was the home of Lady Karen von Blixen, author of the book Out of Africa, from 1917 to 1931. The National Museums of Kenya restored this lovely home to commemorate Karen Blixen's fascinating life. By the window in the panelled room, she wrote her letters from Africa; outside the front door, she hung the lantern signifying to Denys Finch-Hatton that she was home; and, from the veranda, she viewed the Ngong Hills
Visit to Giraffe Centre
Continue to Giraffe Centre, resting within 120 acres of primeval forest, only eight miles from Nairobi. It is home to the African Fund for Endangered Wildlife (AFEW), devoted to the preservation of endangered Rothschild giraffe. The center raises and relocates the giraffes to the wild. In addition to a multitude of other good works, AFEW brings thousands of African school children, many of whom would otherwise never see a wild animal, to the center for educational programming. You will have the rare treat of hand-feeding these gentle giants while facing them eye-to-eye from an elevated viewing platform.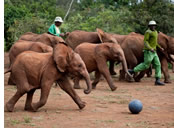 Visit the Dame Daphne Sheldrick Elephant Orphanage
Featured on "Oprah" a few years ago, it was established by Dame Daphne Sheldrick adjacent to her home on the edge of Nairobi National Park. An engaging world-class conservation figure, her late husband was the first Game Warden of Tsavo National Park and in his memory she initiated a memorial foundation and animal orphanage. Mrs. Sheldrick is the premier authority on the successful raising of milk-dependent infant elephant and rhino orphans, and their re-releasing into the wild. Out visit will coincide with the animals' 11:00am feeding.
Lunch at Gemini Desai
Gemini is one of Kenya's most renowned jewelry designers, crafting remarkable pieces of wearable art from exotic beads. Gemini travels the world in search of beautiful beads, both old and new, and is an authority on the history and significance of beadwork throughout the ages. From the ancient trade beads of Marco Polo to traditional Maasai marriage necklaces, beads have played an important role in countless cultures. Gemini opens her home exclusively to Olivia travelers – a unique chance to meet a fascinating Kenyan woman operating a cottage-industry-turned-international-business, to learn about the history of beads, to buy some beautiful and unique gifts to bring home and to enjoy luncheon in her garden. Olivia is proud to support Gemini's work, as she donates a portion of her proceeds to sponsor young girls from the Mukuru slums for full board and schooling. The afternoon is free for optional shopping at the Collectors Den or rest time. Dinner and overnight at the Norfolk Hotel.
Meals: Breakfast, Lunch, Dinner
Hotel: Fairmont The Norfolk Hotel
, Nairobi, 5*
Day 3 - Tuesday, November 15, 2022
Nairobi, Kenya / Ngorongoro Conservation Area, Tanzania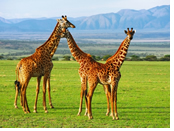 After an early breakfast, you're off on safari! A charter flight will take you to Kilimanjaro Airport in northern Tanzania. After clearing immigration formalities, you will continue with a charter flight to the airstrip at Lake Manyara. Enjoy lunch at the Lake Manyara Serena Lodge before driving two hours to the Ngorongoro Conservation Area and your lodge. Facing the always magnificent sunsets to the west, and located at the highest point on Ngorongoro crater's entire rim, Ngorongoro Sopa Lodge stands well over half a kilometer above the crater floor and offers unparalleled views across this enormous caldera. Themed around traditionally circular African houses with conical roofs and decorated with examples of Africa's rich tapestry of artistic traditions by way of rich woodcarvings and sculptures, the lodge harmonizes perfectly with its dramatic surroundings. But the drama does not just stop with the great outdoors: it also flows through the split-level interiors of the main building which all offer an unsurpassed generosity of space while somehow managing to combine an almost magically welcoming ambience of both warmth and coziness. Dinner and overnight at the Ngorongoro Sopa Lodge.
Meals: Breakfast, Lunch, Dinner
Hotel: Ngorongoro Sopa Lodge, Ngorongoro, 4*
Day 4 - Wednesday, November 16, 2022
Ngorongoro Conservation Area, Tanzania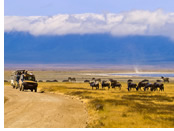 Journey in a 4-wheel-drive vehicle into one of the world's largest calderas — nine miles in diameter and 2,500 feet deep. Spend the morning tracking animals on the floor of the crater. Declared a sanctuary in 1928, the Ngorongoro Conservation Area contains within its borders 30,000 mammals, including the last population of black rhino in northern Tanzania and all the "big five" game animals. Diverse habitats of forest, swamp, grassland and lake make it an exciting area to explore. After a day of adventure and a privately catered picnic lunch on the crater floor (subject to the approval of park authorities), return to your lodge. Then relax on the terrace, cocktail in hand, while the fiery sun makes its dramatic exit and spreads its glow over the crater. Overnight at the Ngorongoro Sopa Lodge.
Meals: Breakfast, Lunch, Dinner
Hotel: Ngorongoro Sopa Lodge, Ngorongoro, 4*
Day 5 - Thursday, November 17, 2022
Ngorongoro Conservation Area / Serengeti National Park, Tanzania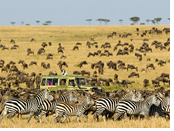 After breakfast, drive to Serengeti National Park. Stop en route to visit Olduvai Gorge, where for more than 50 years the Leakey family has been uncovering fossils of humans and animals, including the fossil of Homo habilis (handy man), the first tool user, thought to have lived 1.75 million years ago. The area has yielded abundant specimens dating back at least two million years, including the remains of prehistoric elephants, giant horned sheep and enormous ostriches. With its vast rolling plains, flat-topped acacias and huge herds of animals, the Serengeti is just what you expect Africa to be. It is an amazing wildlife spectacle, with herds of wildebeest, zebra and gazelle covering the plains from horizon to horizon. The Serengeti is the first, largest and most famous of Tanzania's national parks. An estimated three million large animals inhabit 5,700 square miles, an area the size of Connecticut. Stop for a picnic lunch, and then continue on your game drive. Here, most ostrich and Grant's gazelle are semi-migratory. Topi, hartebeest, impala and African buffalo are resident woodland creatures. Giraffe browse alone or in small groups wherever they find trees and shrubs. Bohor reedbuck and waterbuck restrict themselves to the dense vegetation near watercourses. We may even see the end of the Wildebeest migration. You'll arrive at the Four Seasons Safari Lodge Serengeti in the late afternoon. Nestled in the Central Serengeti for the best wildlife observation, Four Seasons Safari Lodge Serengeti ensures your peace of mind with strategic fencing and an expert security team of local Maasai who are familiar with life in the Serengeti. Elevated wooden walkways keep you safely above the animals while providing a superior viewing perspective. Highlights include being able to take a dip in their infinity pool while watching over the watering hole where local wildlife frequent! All rooms are well appointed. This is luxury at its best while on Safari. Dinner and overnight at the Four Seasons Lodge.
Meals: Breakfast, Lunch, Dinner
Hotel: Four Seasons Safari Lodge Serengeti, Serengeti, 5*
Day 6 - Friday, November 18, 2022
Serengeti National Park, Tanzania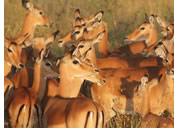 On morning and afternoon game drives, explore the vast Serengeti in depth. The open woodland and plains are ideal places to observe large predators. Lions are plentiful, and spotted hyenas even more so. Golden jackals and bat-eared foxes are the most abundant canine species. Cheetahs are regularly sighted pacing the plains, and at dusk or dawn you stand the best chance of seeing nocturnal felines such as civet, serval, genet and African wildcat. The wealth and diversity of birds is just as staggering as the mammal population. Ostriches, secretary birds and bustards wander the plains; vultures and eagles are abundant; and the sunbirds, king fishers and bee-eaters are well-represented. Perhaps the most distinctive small bird is the lilac-breasted roller, an exquisitely coloured creature often seen perched on trees along the roadside. All meals and overnight at the Four Seasons Lodge.
Meals: Breakfast, Lunch, Dinner
Hotel: Four Seasons Safari Lodge Serengeti, Serengeti, 5*
Day 7 - Saturday, November 19, 2022
Serengeti National Park, Tanzania / Maasai Mara, Kenya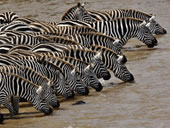 Following breakfast this morning, transfer to the airstrip for your private charter flight to the Maasai Mara, via a stop in Kisumu for customs and immigration formalities. Continue to the Maasai Mara. (Please note we may have to switch planes in Kisumu). Arrive in the late morning and transfer to your tented camp. This is the Africa of your imagination, where panoramas are vast. It is a country of rolling grasslands, dense thickets of scrub, groves of acacia woodland, and even luxuriant forest, which grows along the Mara River and its tributaries. The Maasai Mara is considered the finest game sanctuary in the country, home to an astonishing number and variety of animals. According to the season, hundreds of thousands of migratory wildebeest, gazelle and zebra move back and forth between the Mara, the plains and the woodlands to the south. You will have a short game drive en route to Governor's Camp (Main), a luxury tented camp. Each tent is complete with a private bathroom and shower. After lunch and some free time, you will have an afternoon game drive. Dinner and overnight at the Governor's Tented Camp.
Meals: Breakfast, Lunch, Dinner
Hotel: Fairmont Mara Safari Club
, Maasai Mara, 4*
Day 8 - Sunday, November 20, 2022
Maasai Mara, Kenya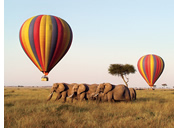 The brilliant orange sun is up at 6:00 am, and so are you. As soon as you are ready, it's off into the bush. The dew is fast disappearing and the predators are on the prowl. Your driver sets off in pursuit of the great herds. This is true big game country, where prides of more than twenty lions, including the majestic black-maned male, are not uncommon. Other inhabitants of the Mara include elephant, giraffe, buffalo, cheetah, leopard, hyena, topi, gazelle and black rhino, and hippos can be found along the Mara River. This morning there are two wonderful optional excursions available (guests can only participate on one excursion). Pricing is TBA, but you will have an opportunity to sign-up prior to the trip:
Optional Hot Air Balloon Safari (participation limited): cost $500
For the adventurous, a wonderful option is available today: You leave camp before dawn – the sky is clear, the air is brisk, and the conditions are perfect. As the sun rises over the Mara plain, your balloons lift off one after the other, and the scene takes on a party air as these bright splashes of colour rise into the blue. Watch as a stunning panorama unfolds below you, and the balloon's basket becomes your lookout post for a bird's-eye view of the beauty of Africa. Float silently just a few hundred feet above herds of wild animals. Gazelle and impala watch curiously with their tails flagging – a warning to others that you are approaching. A pride of lions stalks an unsuspecting herd of wildebeest. Giraffe poke their heads out of the forest where they have been nibbling tender leaves. The tranquillity of the experience is interrupted only by the occasional "whoosh" of the air heaters. You will go aloft with one of Africa's finest ballooning companies. Baskets of 12 – 18 and 20 seats are available. Their excellent professional pilots and ground crews assure your safety and pleasure both during the flight and at a celebratory champagne breakfast upon touch down in the middle of the bush. Return to the camp for lunch and a midday rest.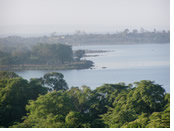 Optional Flying Excursion to Lake Victoria (participation limited): Cost TBA
Leaving the Mara Plains, you fly over the Soit Ol'oololo Escarpment where much of the motion picture Out of Africa was filmed. Your flight path takes you over hundreds of Maasai villages, all of which can be clearly seen from the air. Proceeding west, you enjoy a panoramic view of the Kisii Highlands, one of Kenya's richest farmlands. From the air, you will see great expanses of sugar cane, tea, coffee and pyrethrum, seen as bright yellow patches from the air. Descending over Lake Victoria, you fly above Luo fishermen who take time out from their activities to wave to your low-flying aircraft. After a 40-minute flight, you touch down at Lake Victoria's Rusinga Island (or Mfangano Island) where you are welcomed by your hosts who introduce themselves as you sip coffee and tea at the lodge. After a leisurely familiarization of the island's activities – and the tremendous birdlife on the island -- you board your boats for a tour of the shoreline. You generally stay about thirty yards offshore, an excellent vantage point from which to view some of the more than 100 species of birdlife found here, and other fascinating animals including the rare, spotted-neck otter and the giant monitor lizard. As you view the shoreline and watch brightly-painted fishing boats out on the lake, fishing lines are cast to slow-troll for giant Nile perch. Due to an overabundance of Nile perch near Rusinga Island, everyone is virtually guaranteed to catch one big fish (or more) during the day. You will also have an opportunity to feed the magnificent osprey (fish eagle) that swoop alongside the craft to snatch the fish offered them by your boat pilot.
Meals: Breakfast, Lunch, Dinner
Hotel: Fairmont Mara Safari Club
, Maasai Mara, 4*
Day 9 - Monday, November 21, 2022
Maasai Mara, Kenya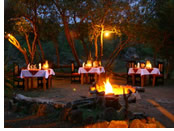 Today you have a choice of a morning game drive or an optional Hot Air Balloon excursion. Return to Camp for lunch and enjoy a leisurely afternoon watching the hippos along the river, reading or napping. This afternoon, enjoy your final game drive of the week! On your final evening on safari, savour the romance of the African plains during a Bush Dinner.
Farewell Bush Dinner
A private and secluded area on the edge of the Mara River is set up for a farewell bush dinner. Hippo and crocodile grunt and splash in the muddy waters below. As the sun swiftly sinks, a glowing log fire illuminates the setting. Candles flicker in the darkness, throwing golden light on starched white tablecloths and bouquets of local wild flowers. After a delicious meal, you can retire to the crackling campfire. Quietly absorbing the peace and beauty of an African night, guests are in for treat. Long-limbed Maasai warriors will demonstrate traditional dances, their proud profiles and spearheads reflecting the amber light of the flames. Overnight at your deluxe tented camp.
Meals: Breakfast, Lunch, Dinner
Hotel: Fairmont Mara Safari Club
, Maasai Mara, 4*
Day 10 - Tuesday, November 22, 2022
Maasai Mara / Nairobi, Kenya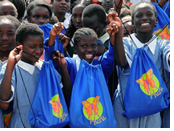 After breakfast enjoy a short morning game drive on the way to the air strip where you board your flight to Nairobi crossing the Great Rift Valley. You will be met at Wilson Airport in Nairobi and will enjoy lunch and have the opportunity for an optional visit to a project sponsored by AmericaShare. You are then transferred to the Fairmont Norfolk Hotel where a private dayroom has been reserved for you. (Dayrooms are available from 12 noon to 6 pm). Those opting not to go to the project will be transferred directly to the hotel. (Based on final flight times, order of visit may change.)
AmericaShare visit
As part of Olivia's Safari, you have an opportunity to connect personally with the people of an AmericaShare project and see firsthand how lives are changing. AmericaShare is the non-profit arm of Micato Safaris. Your excursion will take you to visit the community center, Harambee House, an oasis in the heart of the Mukuru slum. You can hear about the lives of the young people as well as laugh, play, and share photos and stories. Every interaction seems to bring a smile to the faces of the kids and to the Olivia travelers who visit them. Each guest is invited to take part in this visit, and many mark it as the highlight of their trip. Olivia will once again provide you with the opportunity to make a difference in the lives of the places we visit. You are encouraged to bring donations if you'd like. Clothing, school supplies, candy – anything is like gold to these kids. Perhaps you will even be motivated to sponsor a child for boarding school for a year. Don't worry about having to travel on safari with the donations. Olivia will arrange to have them stored at the hotel, then delivered to the AmericaShare location on the day of our visit.
After dinner at the hotel, you will be transferred to the airport for your flight home.
Meals: Breakfast, Lunch, Dinner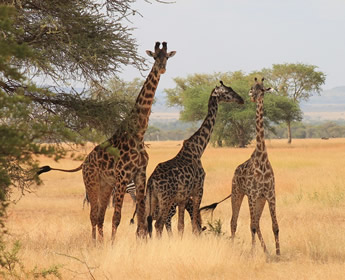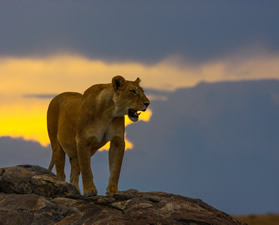 • Accommodations for 10 days/9 nights in the finest hotels, lodges and tent camps:
- 2 nights at Fairmont The Norfolk Hotel
, Nairobi, Kenya
- 2 nights at Ngorongoro Sopa Lodge, Ngorongoro, Tanzania
- 2 nights at Four Seasons Safari Lodge Serengeti, Serengeti
- 3 nights at Fairmont Mara Safari Club
, Maasai Mara, Kenya
• Airport group arrival transfer and departure transfers on days of program (November 13 and 22) with personal VIP "Meet and Greet" upon arrival at your gate and assistance through immigrations at the Jomo Kenyatta International Airport (NBO)
• Private day-use rooms on the day of departure, November 22
• All meals while in Kenya & Tanzania
• Water, soft drinks, coffee, tea at all meals
• Local beer and wine included at lunch and dinner at the Ngorongoro Crater Sopa Lodge and Mara Safari Club in Maasai Mara
• All alcohol included at Four Seasons Safari Lodge Serengeti
• $50 laundry credit at Four Seasons Safari Lodge Serengeti
• Special enhancements:
- Meet a Maasai elder
- Visit to the Dame Daphne Sheldrick's Wildlife Foundation in Nairobi (as seen on "Oprah")
- View elephant feeding
- Visit to the Giraffe Center
- Lunch at Gemini's, featuring African jewelry
- Bush luncheon in the Ngorongoro Crater (subject to approval by park authorities)
- Museum visit and lecture at Olduvai Gorge
- Maasai village visit
- Sundowners set-up on last evening (drinks billed to room based on consumption)
• Option to visit and participate in an AmericaShare project, Mukuru slums
• Safari briefing conducted by your Micato Safari Director
• Three flights with all transfers and safaris to enhance your comfort and minimize lengthy drives:
• Private charter flights from Nairobi to Lake Manyara, via Arusha
• Private charter flight from the Serengeti to Maasai Mara
• Private charter or scheduled flight from the Maasai Mara to Nairobi
• On safari, we will seat a maximum of 6 guests in our 9-passenger vehicles guaranteeing a window seat and access to pop-up roof hatch for each guest. While in Maasai Mara, all open-air 6-passenger jeeps will seat a maximum of 4 guests.
• Each vehicle is equipped with: ice chests with complementary beverages, safari library with wildlife books.
• Services of the Flying Doctors' Society, an emergency airborne medical unit.
• An authentic safari hat and wooden animal necklace as a welcome gift
• An Olivia safari vest (be sure and let us know your size)
• All entrance fees to parks (fees subject to increase)
• Government taxes, VAT and service charges for accommodations and included meals
• All porterage throughout
• All gratuities, including the Driver Guides and Safari Director
• Micato's concierge service at all hotels.
• Hospitality Desk, fully staffed throughout the day in Nairobi and on safari
• Olivia representative to accompany the group.
• Personal expenses
• International flights to/from Nairobi
• Alcoholic beverages at the Fairmont Norfolk in Nairobi and outside of lunch and dinner at other hotels (except where indicated)
• Beverages outside of meals
• Laundry in Nairobi and Tanzania
• Individual insurance
• Transfers for guests arriving prior to November 13 or departing after November 22
• Cost of obtaining necessary visas and other incidentals.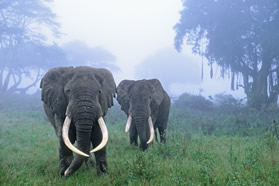 Fairmont The Norfolk Hotel
, Nairobi, Kenya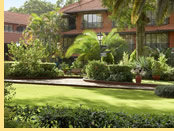 Get the celebrity treatment with world-class service at Fairmont The Norfolk Hotel
. Set amongst tropical gardens, Fairmont The Norfolk offers luxury accommodation in an early 19th-century colonial building. It includes a fitness centre with sauna, 6 restaurants and a heated outdoor pool.
Elegantly decorated rooms include a flat-screen TV, marble bathroom and views of the surrounding garden. More spacious suites feature a separate seating area and some have a large, furnished terrace.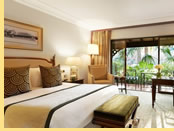 The Norfolk features a modern-style American steak house, a classically furnished wine bar serving hors d'oeuvres and a poolside restaurant. Historical Lord Delamere Terrace restaurant and bar provides an international à la carte menu and drink selection. Free WiFi is available on site.
Shopping and cultural tours of Nairobi can be organised at the 24-hour front desk. The gym has personal trainers and daily classes as well as a steam room and massage facilities. Business guests are also offered a complimentary return shuttle to their office with free WiFi on board.
Ngorongoro Sopa Lodge, Ngorongoro, Tanzania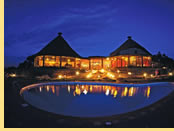 Facing the always magnificent sunsets to the west, and located at the highest point on Ngorongoro crater's entire rim, Ngorongoro Sopa Lodge stands well over half a kilometre above the crater floor and offers unparalleled views across this enormous caldera.
Themed around traditionally circular African houses with conical roofs, and decorated with examples of Africa's rich tapestry of artistic traditions by way of rich woodcarvings and sculptures, the lodge harmonizes perfectly with its dramatic surroundings. But the drama does not just stop with the great outdoors: it also flows through the split level interiors of the main building which all offer an unsurpassed generosity of space while somehow managing to combine an almost magically welcoming ambience of both warmth and cosiness.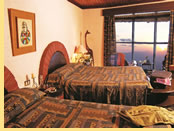 The Lemala Hill restaurant offers an exquisite culinary experience with a fusion of continental and local cuisine to cater for all palates. The restaurant is thoughtfully fitted with ceiling to floor glass walls that offer guests panoramic views of the crater as they enjoy an expansive buffet breakfast selection, lunch or dinner. Lunch and dinner are served A la Carte on select days of the week.
When you step through your door, you will probably hold your breath while you stare over the two queen size beds, and through the window walling of the lower level, enclosed solarium at the view of the crater beyond.
Four Seasons Safari Lodge Serengeti, Serengeti, Tanzania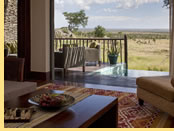 Nestled within the Serengeti National Park boasting panoramic landscape views and a variety of wildlife, lies the Four Seasons Safari Lodge Serengeti. It offers a spa, and the outdoor Maji Bar overlooks the infinity swimming pool and savannah.
The elegant and air-conditioned rooms feature African décor and come complete with a sofa, flat-screen TV, minibar and a safe. All rooms have an en suite bathroom with a bath and shower.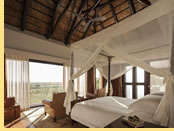 At Four Seasons Safari Lodge, the Boma Grill offers a cultural Maasai experience with an authentic African feast and Maasai dancing. With spectacular views, the Kula's Restaurant has dishes with local flavours and international wines. There is also a wine cellar where guests can experience food and wine pairings.
After long days of air travel and hot, dusty game drives, come to the Spa to rehydrate, restore and re-energize. Select from our menu of Serengeti-inspired skincare and massage treatments, tapping the benefits of local plants, minerals and healing rituals.
As for wildlife, the Serengeti National Park offers not only all the members of 'The Big Five' (elephant, rhino, lion, leopard and buffalo), but also the annual 'migration' of over one million wildebeest and their attendant cast of predators.
Fairmont Mara Safari Club
, Maasai Mara, Kenya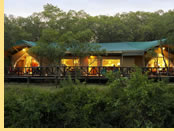 Overlooking the Mara River, home to hippos and crocodiles, all tents at Fairmont Mara Safari Club
have a private veranda. Game drives, an outdoor heated pool with bar, and massage tents are provided.
Featuring four-poster beds, the spacious tents include a mini-bar and fan. Some have a private outdoor shower, while others have furniture on the veranda for al-fresco dining.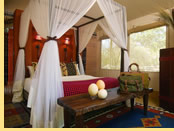 Positioned over the river, the rustic restaurant with wooden roof serves a buffet breakfast and lunch. The dinner menu includes characteristic African cuisine, accompanied by music. All meals can be taken outside on request.
The neighboring Masai Mara is home to the Big Five and has been declared the 7th Wonder of the World. The property can organize balloon safaris or a champagne breakfast on the Savannah. Masai entertainment is available in the evening.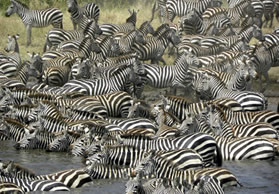 Currency
Kenya uses the Kenyan shilling. All East African countries have stringent exchange regulations; their currencies are not interchangeable. We recommend that you carry as little local cash as possible. We suggest cashing about $100 per person to use for tipping room service or buying small items along the way. Ask for $50/$100/$1000 shilling bills.
Languages
The national language of Kenya is Swahili, but English is widely spoken. There are also approximately 78 tribal dialects.
Climate
The East African climate in November ranges from 55°F-75°F (13°C-24°C) in Nairobi (Kenya) and 63°F-86°F (17°C-30°C) in the Serengeti (Tanzanià) and Maasai Mara (Kenya). There may be light rain during the day, so be sure to pack a rain jacket and umbrella in case of wet weather.
Passport
A valid passport is required for entry into Kenya & Tanzanià, and should be kept on your person or in the hotel safe deposit box. Your passport must be valid 6 months after travel. All visitors to Kenya & Tanzanià are required to have a minimum of two blank pages in their passport book, for room to place their entry visa. If there is insufficient space in the passport, entry into the country will be denied.
Visa
U.S. citizens entering Kenya and Tanzanià need a separate visa for both countries. If you are not a U.S. citizen, please check with both your country's consulate and the consulates of the countries we will be visiting to make sure have all documentation you need to go on this trip.
Vaccinations
Please check with your local Public Health Department or personal physician regarding immunization requirements for all countries on your itinerary.
Travel Insurance
We recommend that you purchase a travel protection plan to protect yourself and your trip investment from the unexpected. Now more than ever it's extremely important to think about the unexpected. It is important to purchase the travel protection within 15 days of your initial invoice date in order to receive the most comprehensive coverage. Consider travel protection for Trip Cancellation/Trip Interruption, Emergency Medical and Emergency Evacuation, Trip Delay, Baggage Delay and more.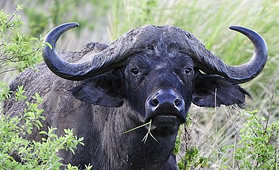 Airport
You will need to fly into and out of Jomo Kenyatta International Airport Nairobi, Kenya (NBO).
Arrivals:
In order to take advantage of the Olivia transfer from the Jomo Kenyatta International Airport to the Fairmont Norfolk hotel, your flight should be scheduled to arrive anytime in Nairobi (NBO) on November 13, 2022. Most flights arrive in the evening. We encourage all passengers to arrive a day early to avoid the stress of unexpected delays. Optional pre-trip one-, two–, and three-night hotel packages on November 10-13, November 11-13, and November 12-13 with VIP meet and greet transfer are available to add on.
Departures:
Your departure flight should be scheduled out of Nairobi after 10 pm on November 22, 2022.
Transfers are not included from the domestic Wilson airport or for any flights arriving or departing on non-program dates. We encourage you to contact the airlines directly to confirm your flights, baggage allowance, and seat assignments prior to departure.
Luggage allowances
On light aircraft flights in Kenya and Tanzania, the baggage allowance is 33 lbs, excluding camera and video equipment. Please pack a soft-sided "safari bag" (a small duffle bag with or without wheels) as they are much easier to load onto small planes. All excess luggage can be stored at the hotel in Nairobi. Luggage and personal effects are at owners' risk throughout the tour and we advise you to obtain baggage insurance. For your flight to Kenya, please contact your air carrier for the latest baggage requirements and allowance.
Transfer and Meeting up with Olivia
Your Micato staff will meet and greet you at your gate and assist you through customs at Jomo Kenyatta International Airport, and you will be transferred to the Fairmont Norfolk Hotel. A dedicated Airport Team will coordinate and handle your arrival and your Micato porters will expedite your luggage at the airport. You will be transferred from the airport to the hotel, where you are pre-registered for check-in. Should you have any queries, your Micato Safaris Concierge staff will be at their desk in the lounge to answer all your questions.
Electricity
The voltage is 220, which is the same as in Europe. However, the plugs are shaped differently than in America and most parts of Europe. You will need 3-prong square adapters. As outlets sometimes vary, if you plan to operate electric appliances, we suggest you travel with a set of international adapter plugs as well as a voltage converter. Most camera battery and computer chargers have the 110/220 converters built in, but double check this. With the proper converters, you can easily re-charge your batteries in all of the accommodations on safari, including the tents. Please note that lodges in the game parks sometimes turn off their generators during the day, which means no electricity is available during that time.
Excursions
All Safari vehicle excursions are included in the cost of your trip. Normally there is a morning and an afternoon safari available. There will also be an optional Hot Air Balloon excursion and a trip to Lake Victoria that you may book at an additional cost. More information on this will be sent as we get closer to the trip dates
Gratuities
Gratuities, including your hotel staff (except for room service delivery), porter, driver/guide, hostesses and Safari Director are included. If you received exceptional service from someone, you are welcome to give an additional gratuity. If you take an optional excursion, you may want to tip your guide/driver.
Laundry and dry cleaning
Laundry, pressing, and dry-cleaning services are available at Fairmont Norfolk Hotel. The Ngorongoro Sopa Lodge and Mara Safari Camp have very minimal charges. Undergarments are not accepted at the Sopa Lodge or Mara Safari Camp due to their culture, however they are accepted for laundry at the Four Seasons. The Four Seasons Safari Lodge Serengeti provides each guest with a $50 laundry credit. No self-serve laundry is available.
Medical services
We utilize the services of the Flying Doctor's Society, an elite, airborne medical unit. Should you require emergency medical assistance, they will be dispatched. If necessary, they evacuate travelers to Nairobi, where excellent medical facilities are available. Medical treatment is available for a fee.
Phone
Most lodges do not have readily available phones; in an emergency, you may be contacted through Micato Safaris offices in Nairobi. Complete information about this will be available in your trip guide, which will be emailed to you 3-4 weeks in advance of the trip.
Smoking policy
Please refrain from smoking in safari vehicles and other enclosed places where it may affect others.
Special Needs
If you have special medical or dietary needs, please advise us at the time of booking.