Wilderness Discoverer

Ship Facts
Ship's Registry: United States
Passenger Capacity: 76
Crew: 27
Length: 176 feet
Draft: 6.5 feet
Cruising speed: 10 knots

San Juan Islands Washington
All-Lesbian Adventure Cruise 2022
September 24 – 29, 2022
Un-Cruise Adventures Wilderness Discoverer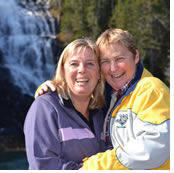 Are you looking for a vacation in the United States? Discover the secret places along Washington's wild coastline on a San Juan Islands cruise. Kayak among rocky outcroppings, spotting sea life. Explore dramatic Deception Pass by skiff. Hike mossy island forests frequented by red fox, deer, and woodpeckers.
From the winding channels of the San Juan Islands to the inlets of coastal Washington, meanderings in the Pacific Northwest put you somewhere unique. Out here, a hike for every level means just that. Casual beachcombers can poke around tide pools. Or, if a rigorous hike is more your style, the temperate rainforest calls. Listen and find your place.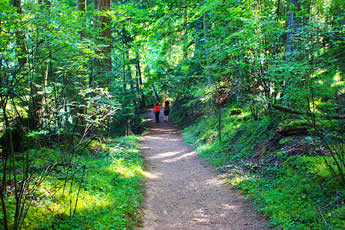 Go on a deep exploration of the San Juan Islands, South Puget Sound, and Deception Pass. Get a true taste of the Pacific Northwest on tidepool walks and hikes in temperate rainforests and to towering vistas. With great blue heron, owls, and other birds of the Salish Sea plus the whales, seals, porpoise and sea lions under the water, there's wildlife all around.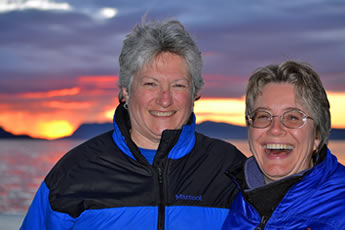 San Juan Islands Lesbian Adventure Cruise Highlights
• Explore the Salish Sea's San Juan archipelago, South Puget Sound, and Deception Pass
• Transit the Hiram M. Chittenden Locks and cruise Lakes Union and Washington
• Hike in rainforest, old-growth forest, and state parks
• Kayak, paddle board, and skiff in island channels formed by glaciers
• Watch for whales, orcas, seals, and sea lions
• Birding opportunities—eagles, seabirds, and migrating flocks
• Educational presentations by your expert expedition team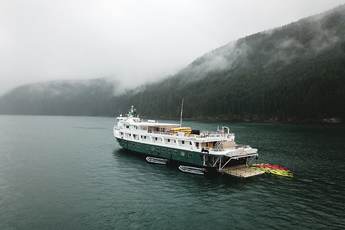 Your Ship - Un-Cruise Adventures Wilderness Discoverer
Among several comfortable and spacious social areas aboard the Wilderness Discoverer, the highlight may be the lounge, which is designed to evoke the feeling of a National Park lodge or neighborhood pub. Interior spaces aboard the Discoverer offer contemporary colors and brushed metals that complement the wilderness outside.
She carries a bit of Alaska wherever she sails, exemplified in the beautiful bar top and tap tower made from a yellow cedar log found in Peril Strait. The full promenade deck allows ample space for watching wildlife or meeting with friends. The dining room has an open format that blends into the lounge, with a full-service, complimentary bar in between.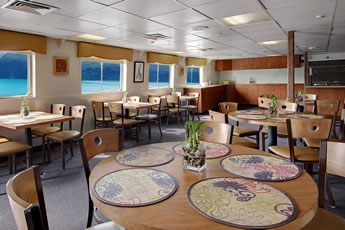 The Wilderness Discoverer offers guests a casual-style dining experience with open seating that accommodates all guests at once. Exceptional meals created by the skillful chefs use locally sourced fresh ingredients to reflect the flavors of your destination. Each day includes an early-riser breakfast of fresh fruit, baked-onboard pastries and breads, and a full breakfast complete with specialty items. Lunches range from pasta salads and sandwiches to homemade soups and ethnic dishes.
Breakfasts and lunches are served buffet-style, while dinners are elegantly plated. Buffet meals give guests the flexibility to enjoy healthy and delicious options on a flexible schedule between activities and wildlife sightings. Dinners offer a choice of entrées, including fresh seafood and meats. Vegetarian dishes are available and special dietary needs can be met with advance notice. Hors d'oeuvres for the cocktail hour feature a variety of appetizers, and desserts are varied and plentiful. A variety of hot and cold beverages are available around the clock, and liquors, wine and microbrews are included.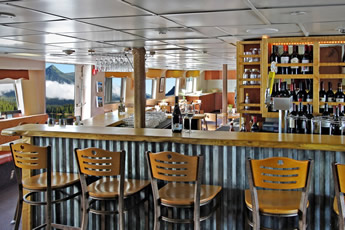 The Wilderness Discoverer features a flotilla of stable two-person sea kayaks, stand-up paddleboards, a stern-mounted kayak launch platform and swim step (perfect for a polar plunge), and inflatable skiffs for remote explorations by water. Adventure gear is available for use, including hiking poles, and snorkel gear and wetsuits at an additional cost. There are two open-air hot tubs, exercise equipment and yoga mats for morning stretching classes.
The open bridge policy encourages interaction with the captain and crew as they discuss navigation, itinerary and logistics. Educational opportunities come in many forms: hearing engaging naturalist-led lectures in the lounge, watching and listening to whales via underwater hydrophone and bow camera, and engaging with local peoples. Nighttime fun like charades, trivia or a talent show add to the sense of camaraderie.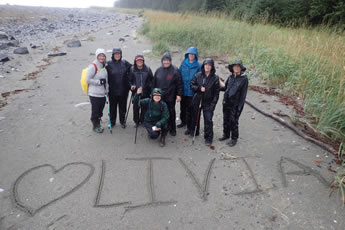 What's Included?
• Accommodations for 6 days and 5 nights on the Un-Cruise Adventures' Wilderness Discoverer
• Meet-and-greet service from the Seattle airport on embarkation day, September 24, 2022
• Transfer from Seattle Airport (SEA) to a meeting point prior to boarding the ship on embarkation day
• Storage of your luggage and carry-on luggage until departure to ship
• Hospitality room at meeting point on embarkation day
• Group bus transfer from the hospitality room to the ship (late afternoon) on embarkation day
• Group transfer from ship to Seattle Airport (SEA) on September 29, 2022
• All meals as indicated on itinerary
• All beverages, including premium brand drinks, wines, coffee, tea, and soft drinks
• All land, skiff, and kayaking excursions
• Services of the UnCruise expedition leader
• Enthusiastic staff, knowledgeable about the region we're visiting
• Use of kayaks and paddleboards
• SPF-30 sunblock, environmentally safe for people and critters
• All port charges and service taxes
• Gratuities for the ship's crew
• Olivia staff assistance throughout
What's not included?
• Air transportation
• Internet access—there is NO INTERNET ACCESS available on board the ship, not even to purchase... prepare to UNPLUG for the week!
• Non-discountable amounts (NDA), such as port taxes, gratuities, and park fees; although these are not included in the price of the trip, they were already noted in your invoice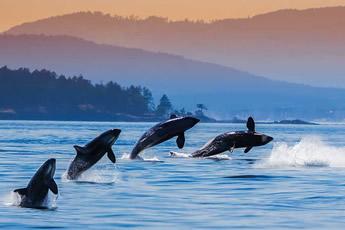 San Juan Islands Washington
Lesbian Adventure Cruise Itinerary


Date

Port

Meals

24 Sep

Seattle, Washington
D
25 Sep
South Puget Sound

B, L, D

26 Sep

San Juan Islands
B, L, D

27 Sep

Deception Pass / Strait of Juan de Fuca
B, L, D
28 Sep
Sucia Island
B, L, D

29 Sep

Seattle, Washington
B

Itinerary is guideline; variations in itinerary and the order days may occur to maximize your experience.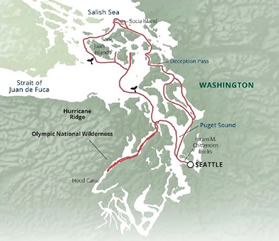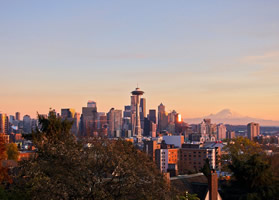 Seattle, Washington
Saturday, September 24, 2022
In a region renowned as a boaters' paradise, your discovery begins from Fishermen's Terminal, Seattle
. Set sail via the ship canal to Lakes Union and Washington - their glacially formed basins dug more than 12,000 years ago. After dinner, a sunset cruise through the historic Hiram M. Chittenden Locks and into Elliott Bay sets you right for the night. Seattle was founded along these shores and you don't want to miss the skyline!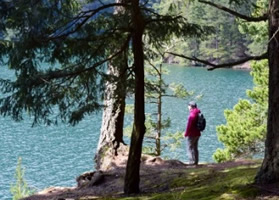 South Puget Sound
Sunday, September 25, 2022
Mudflats, watersheds, and a microclimate feed the riches of the South Sound. Explore the intertidal zone by kicking in the mud with your guides looking for anemone and hermit crabs. Kayaking, hiking, and skiff rides are on tap, too-in one of the region's many state parks. At about 100 miles long, Puget Sound offers ample opportunity for observing the serpentined shore as you cruise through Tacoma Narrows and past Point Defiance, Vashon Island, and Bremerton. Cap off your first full day of play watching for Dall's porpoise, with a front-row view from the bow.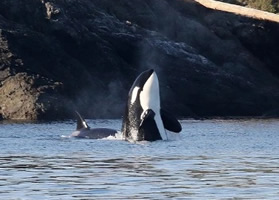 San Juan Islands
Monday, September 26, 2022
Wake up surrounded by the wilds of the Salish Sea, a humbling 360 degrees of wilderness. It's the captain's choice where you'll land today, but rest assured, you'll be away from the crowds. There are unending options for investigating this sea-salty playground. If you're kayaking, keep your eyes peeled above and below the surface. Rocky outcroppings play host to harbor seal-and it's also orca territory. Ashore, it's one boot in front of the other, hike through the forest or "take the high road" to ridges overlooking the archipelago. Join your expedition team on deck to search for whales, seals, sea lions, and bird rookeries as you cruise through the myriad San Juans-no two islands are the same.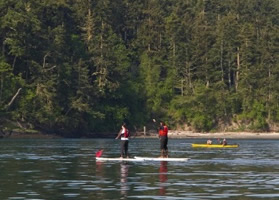 Deception Pass / Strait of Juan de Fuca
Tuesday, September 27, 2022
A guided kayak reveals local inhabitants-sea stars, anemones, jelly fish, perhaps even inquisitive harbor seals. Walk along a curiosity-rich intertidal zone or stretch your legs on a mossy hike. And tides and current permitting, perhaps even sail through the swirling waters of Deception Pass. Later in the day, keep watch for marine mammals as you venture into the open waters where the Strait of Juan de Fuca meets Puget Sound. Drop anchor for the evening in a tucked-away cove.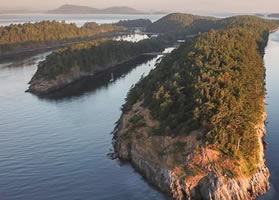 Sucia Island
Wednesday, September 28, 2022
The treats keep coming! With no paved roads or even ferry access, enjoy your day on picturesque Sucia Island—total year-round population of four—a Washington State Marine Park filled with hidden coves and bays. You feel a million miles away from it all, exploring the intertidal zone with your guides, hiking across the island, and kayaking in a protected bay. It's all up for grabs. Top off your adventure with a celebratory Farewell Dinner and a special presentation from your expedition team.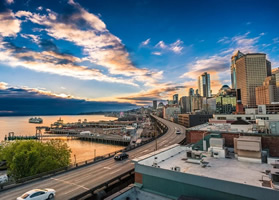 Seattle, Washington
Thursday, September 29, 2022
This morning, cruise through the Hiram M. Chittenden Locks and tie up back in Seattle's
Fishermen's Terminal. After breakfast, the captain and crew bid you a fond farewell. Safe travels to all!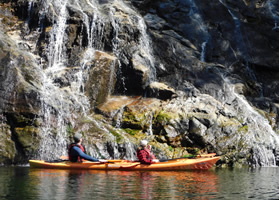 Travel & Arrival
Airports
You will need to fly into and out of Seattle, WA (SEA). Group transfers are included on arrival and departure days if you arrive before 2:30 pm and depart after 12 pm.
Flight arrival and departure times
Your flight into Seattle Airport (SEA) should arrive no later than 2:30 pm on September 24, 2022. You will be transferred from the airport to our host hotel to rest before our group transfer departs in the late afternoon for the ship. The drive from the host hotel to the ship will be approximately 15 minutes.
Your flight home can depart the Seattle Airport (SEA) should depart after 12 pm on on September 29, 2022. You will be transferred directly to the Seattle airport after breakfast. An option to be dropped off at our host hotel will be available for those who book later flights or are extending their time in Seattle. These guests leaving on later flights or extending their time in Seattle will need to arrange their own transportation to the airport.
Luggage Allowances
While there is no luggage limit on the cruise itself, airlines often restrict (or charge) for excess baggage. Because each airline is different, and the regulations change over time, please check with your airline for baggage allowances.