Wind Spirit

Ship Facts
Ship's Registry: Bahamas
Passenger Capacity: 148
Crew Members: 101
Decks: 4
Gross tonnage: 5,736
Length: 360 feet (110 meters) at waterline; 440 feet (134 meters) including bowsprit
Beam (width): 52.1 feet (15.8 meters)
Draft: 14 feet (4.1 meters)
Masts: 4 at 204 feet (62 meters)
Sails: 6 triangular with 21,500 square feet (or 2,200 square meters)
Cruising Speed: 10 knots with engines only; up to 15.8 knots with prevailings wind
Tahitian Intimate Luxury All-Lesbian Cruise
July 28 – August 4, 2022
Windstar msy Wind Spirit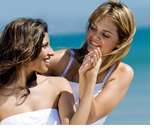 An extraordinary all-lesbian voyage. Experience Paradise by sailing ship. Gorgeous turquoise blue and green water, crystal-clear lagoons perfect for snorkeling, lush rainforests to explore, and warm breezes that encourage you to slow down and appreciate the joys of nature and life itself. Let the sweet smell of Tahitian flowers and vanilla engulf you as you sail away in paradise in the company of 150 women of Olivia. This 8-day/7-night all-lesbian cruise itinerary is perfect for those who want to experience the best French Polynesia has to offer.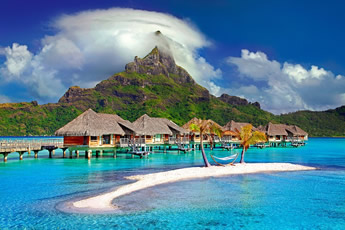 A graceful sailing ship is the perfect way to experience the true wonder of Tahiti. We'll let the trade winds fill our sails as we visit one legendary island after another, with plenty of casual time to swim and snorkel in crystal-clear lagoons, meander through lush rainforests, and experience the fascinating Polynesian culture from tikis to tiare flowers.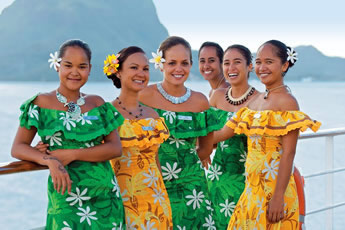 It's a match made in heaven, this. You on your pristine white cruise ship, sails billowing, and these islands, so impossibly colorful, like a box of crayons gone mad. Wind Spirit is as at-home among Tahiti's deserted motus and shallow lagoons as a tiare flower, and just as beautiful, furled or unfurled. Bliss knows no bounds. The sand massages your feet, warm water welcomes you like an old friend, ambition falls away as you watch the sun etch palm fronds on the beach. This is a place that is easy to love, difficult to leave, as so many before you have discovered. Come. Experience Bora Bora, Moorea, Raiatea, Taha'a, Huahine, and other exotic Tahiti destinations you only dream about.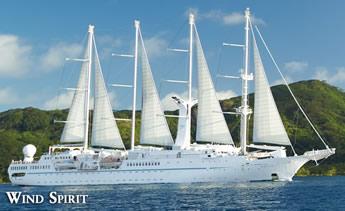 Your Ship - Windstar Cruises msy Wind Spirit
Have a fabulous five-star dinner and great bottle of wine in AmphorA or Candles. Treat yourself to an aromatherapy massage at WindSpa. Work out on state-of-the-art equipment in the fitness center. Enjoy live music and cocktails at the Lounge. Take a refreshing dip in the pool. Read your favorite book on the comfortable chaise lounges on deck.
Try kayaking, waterskiing, and windsurfing from the Watersports Platform. On an Olivia Windstar cruise, you're as free as the wind to experience the smallest of wonders and the greatest of joys.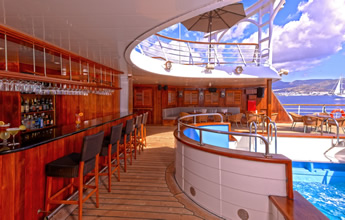 The Wind Spirit is a sleek, 4-masted sailing ship accommodating 148 guests. With four decks and a gross tonnage of 5,736, Wind Spirit feels like your own private small ship.
Wind Spirit features wide open, teak decks—quite unusual for small ships. Guests will find hidden nooks for private moments giving them a feeling of being on their own private veranda.
All staterooms have ocean views, queen beds, flat-screen TV with DVD player, and Bose SoundDock speakers for Apple iPods. The Owner's Suite includes a sitting area.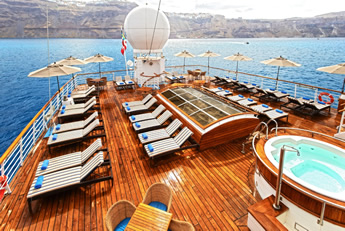 Wind Spirit Ship Amenities
Windstar's award-winning service and style gives you the luxury of choice to enjoy what you like, when you like and with whom you like.
• Pool with hot tub
• AmphorA Restaurant
• Veranda Restaurant
• Candles Restaurant
• Yacht Club Café
• 24-hour room service
• Pool Bar
• Library
• The Lounge
• Fitness Center
• Signature Shop
• WindSpa
• Watersports Platform with unlimited use of watersports equipment
• Informative nightly port talks and destination briefings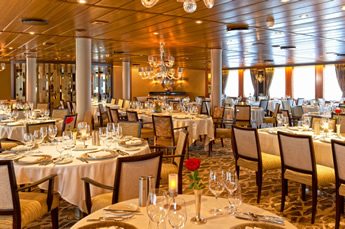 Exquisite Dining
Wind Spirit offers two primary dining venues. AmphorA restaurant offers gourmet, course-by-course cuisine in the evenings and Veranda restaurant offers casual buffet and full-service dining for breakfast and lunch. All dining is open seating. And, for dining under the stars, make a reservation for Candles which features steaks and skewers. 24-hour room service is always available so you can enjoy dining in the comfort of your stateroom.
To enhance your dining experience, Olivia has created tables specifically for those guests who prefer to dine alcohol-free or with other solo travelers.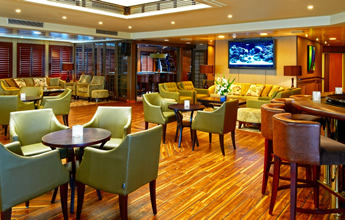 Wind Spirit Accommodations
Every inch of your stateroom is designed for comfort. Luxurious Egyptian cotton linens wrap you in pleasant sleepiness as you stretch out in your queen bed (can be separated into twins if you prefer). Your spacious bath features granite counter tops, ample storage, and a roomy shower with massage shower head. L'Occitane® bath products invite you to indulge, while comfy waffle-weave robe and slippers entice you to relax. You'll find fresh fruit and flowers always waiting for you after a day of sun or sightseeing. And, of course, everything else you need and expect — flat-screen television and DVD, wireless Internet access, private safe. And always at your fingertips, anything you wish from room service.
With an expansive 220 square feet, the Owner's Suite gives you everything offered in a stateroom, plus lots more, including a beautiful sitting area and separate in-room dining space.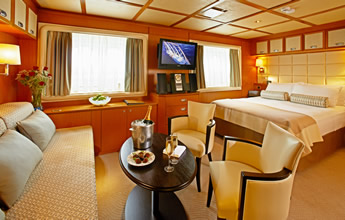 All rooms are comfortably appointed with:
• Queen-size bed with luxurious Egyptian cotton linens
• Waffle weave robe and slippers
• Flat screen TV with DVD player
• Fully-Stocked mini bar/refrigerator (charged on consumption)
• Safe
• Direct dial phone
• L'Occitane bath amenities
• WiFi (internet cards can be purchased at reception)
• Bathroom with granite countertop and roomy shower with massage shower head
• Hairdryers and 110/220 outlets
• Mirrored closet with ample drawer space
• Fresh flowers and fresh fruit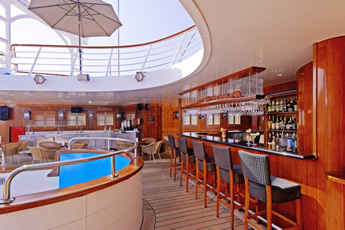 What is included?
• Accommodations for 8 days/7 nights on the elegant Windstar Wind Spirit
• All meals onboard the ship's restaurants featuring gourmet fare, including room service
• Complimentary soft beverages including bottled water, sparkling water, sodas, fresh juices, milk, fruit smoothies, tea, coffee, cappuccinos, lattes, mochas, and espresso
• Unlimited use of all water sports equipment
• Olivia's signature entertainment and programming
• Olivia staff assistance throughout
What's not included?
• Ship services and incidentals such as boutique purchases, alcohol such as beer, wine and cocktails, internet café, ship's photos and other incidentals
• Airfare to/from Papeete
• Transfers from/to airport
• Optional excursions in all ports of call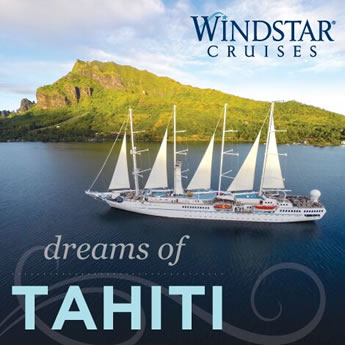 Tahitian Intimate Luxury
All-Lesbian Cruise 2022 Itinerary


Date

Port

Arrive

Depart

28 July

Papeete, Tahiti
6 PM
29 July
Moorea, French Polynesia

6 AM

5 PM

30 July

Raiatea, French Polynesia
8 AM

31 July

Raiatea, French Polynesia
6 AM
31 July
Taha'a, French Polynesia
8 AM
5 PM

01 Aug

Bora Bora, French Polynesia
9 AM

02 Aug

Bora Bora, French Polynesia
9 PM
03 Aug
Huahine, French Polynesia
7 AM
5 PM

04 Aug

Papeete, Tahiti
9 AM

Please arrive to Papeete (PPT) no later than 3 pm on July 28, 2022 and make your way to the ship.

Please schedule your flight out of Papeete (PPT) no earlier than 12 Noon on August 4, 2022.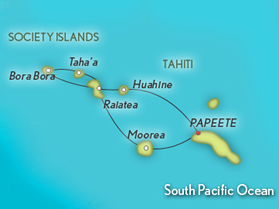 Papeete, Tahiti
Thursday, July 28, 2022

Begin your voyage through paradise in Papeete
, the capital of Tahiti, and the largest city of the French Polynesian islands. Tahiti is the largest island in French Polynesia and graced with black-sand beaches, lagoons, waterfalls and two extinct volcanoes. Explored by Captain James Cook in the 18th century, it was often painted by French artist Paul Gauguin.
Here you'll embark on Windstar's luxurious yet casual ms Wind Spirit. With an endless choice of things to do – or relaxing and doing nothing at all – you'll never be bored.
Cook's Bay, Moorea, French Polynesia
Friday, July 29, 2022

Graced with an abundance of fresh fruits and flowers, spectacular mountain peaks, peaceful multi-hued lagoons, and palm-fringed beaches, Moorea boasts an awesome beauty that is unsurpassed. During your visit, you might wish to shop for local crafts, embark on a dolphin-watching expedition with a marine biologist and witness these fascinating animals in their amazing natural habitat, or try out some of the local pineapples, said to be the most delicious in all of French Polynesia.
Raiatea, French Polynesia
Saturday, July 30, 2022

Raiatea, meaning 'faraway heaven' and 'sky with a soft light', is thought to be the homeland of the ancient Polynesians. Called 'The Sacred Island,' it was once the center of culture and religion in French Polynesia where royalty from the neighboring islands would gather for important ceremonies. Today Raiatea is known for its petroglyphs and archeological treasures, and as a nature lovers paradise where you can explore it's rare flora and fauna species, and look for the Tiare Apetahi, a flower found nowhere else in the world.
Motu Mahaea, Taha'a, French Polynesia
Sunday, July 31, 2022
Motu Mahana, an islet adjacent to Taha'a, is our very own South Seas paradise, featuring white-sand beaches with swaying palms, crystal-clear waters, and gentle breezes.
You'll spend a full day on this idyllic island, pursuing your own pleasures from swimming, snorkeling, and kayaking in the turquoise lagoon, to playing volleyball, or simply relaxing on the beach. Enjoy a delicious barbecue lunch and Polynesian entertainment featuring strolling musicians and singers.
Bora Bora, French Polynesia
Monday - Tuesday, August 1 - 2, 2022

Pulitzer Prize-winning author James Michener called Bora Bora "the most beautiful island in the world." Dominated by towering Mount Otemanu and surrounded by a lagoon protected by low-lying coral reefs, this is indeed a spectacular destination. You'll discover this quintessential Pacific paradise. Perhaps you'll explore its exquisite lagoon on a snorkeling tour or underwater walk, enjoy a bird's-eye view on a helicopter tour, or thrill to a sunset tour by jet boat.
Huahine, French Polynesia
Wednesday, August 3, 2022

Today, you'll call on Huahine, known as the "Garden Island" for its lush rainforests and dramatic terrain. While here, you might explore the island's sacred sites and legendary landmarks that are among the best-preserved archaeological remains in French Polynesia. Enjoy snorkeling or scuba diving in the expansive lagoon or a picnic on the beach.
Papeete, Tahiti
Thursday, August 4, 2022

Cap off your epic journey where it all began. You won't be the same as when you first set sail—these exotic isles are said to touch people in magical ways.
Relax on sunny beaches, sample Tahitian fare, and take in the effervescent spirit of the city. But whatever you do, save time — and luggage space — for shopping. Black pearls and colorful crafts fill the market and local treasures are so plentiful you'll have trouble making your choices.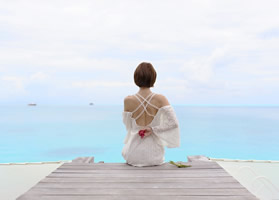 Traveler Info
Currency
The official currency of Tahiti is the French Polynesian Franc (XPF). Most of the tourist venues will accept U.S. bills and Euros, as well as major credit cards, but may give change in Polynesian Francs. We recommend that you use an ATM to get some Polynesian Francs while there, or exchange a few with a hotel if staying there a day or two prior. Taxis will accept U.S. dollars.
If traveling from any other country than the U.S., we recommend that you convert your local denomination to US Dollars or Euro before you leave, as these are both widely accepted.
Languages
French, Tahitian, English
Climate
The average maximum daytime temperature in Papeete, Tahiti in July/August is a warm 80°F (27°C) with moderate heat & humidity. The average night-time temperature is usually a comfortable 66°F (19°C)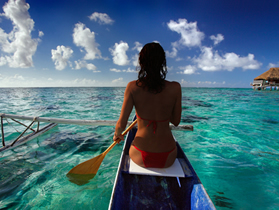 Travel documentation and identification
You will need a passport that is valid for six months past the date of the trip. If you are not a U.S. citizen, please check with both your country's consulate and the consulates of the countries we will be visiting to make sure that you do not need an entry visa or other additional documentation.
Visa
U.S. citizens do NOT need to get a visa ahead of time. If you are not from the U.S., please check with your consulate for proper Visa requirements.
Where to fly into/out of
You will need to fly in and out of Papeete, Tahiti (PPT). We encourage all passengers to arrive early to avoid the stress of unexpected delays.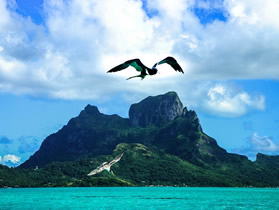 Suggested arrival/departure times
Please arrive to Papeete (PPT) no later than 3 pm on July 28, 2022 and make your way to the ship. The ship departs at 6 pm. We always recommend arriving on earlier flights or coming in a day early to avoid the stress of unexpected delays.
The ship will arrive to Papeete, Tahiti for disembarkation at 9 am on August 4, 2022. Please schedule your flight out of Papeete (PPT) no earlier than 12 Noon on August 4.
Because many flights depart Papeete in the evening, Day Room packages will be available to purchase prior to the trip and will include a transfer from the ship to the hotel, a dayroom and use of hotel facilities, and transfer to the airport. Information will be available approximately 9 – 11 months prior to the trip.
Embarkation and check in on board will be available after 1 pm. However, if you have an early morning flight arrival, Olivia will offer optional day-room packages at a host hotel in Papeete. This information will be available approximately 9 – 11 months in advance of the trip.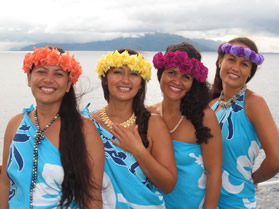 Transfers and meeting up with Olivia
The Papeete Airport (PPT) is located 4 miles to the west of the cruise ship terminal. Taxis have government-regulated, fixed fare rates, and there is an additional surcharge for each piece of luggage.
Typically, a Taxi transfer to the ship from the airport will run approximately $25 - $30 US for the base fare, and an additional approx. $2.25 USD per piece of luggage. In the evenings, you may be charged an extra surcharge of $10 - $15 USD.
Port address
Your ship, the Windstar Wind Spirit will be docked at the port of Papeete, Tahiti. The port is located in downtown Papeete and is just 20 minutes away from the international airport of Papeete.
Check-in
Embarkation and check in on board will be available after 1 pm. However, if you have an early morning flight arrival, Olivia will offer optional day-room packages at a host hotel in Papeete. This information will be available approximately 9 – 11 months in advance of the trip.
Luggage allowances
While there is no luggage limit on the cruise itself, airlines often restrict (or charge) for excess baggage. Because each airline is different, and the regulations change over time, please check with your airline for baggage allowances.