Turks & Caicos All-Lesbian Resort 2022
November 26 – December 03, 2022
Club Med Turkoise, Turks & Caicos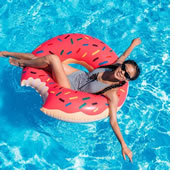 Join 575 of your closest Olivia lesbian friends at the all-inclusive, newly refurbished, oceanfront Club Med Turkoise
. Nestled in beautiful Grace Bay Beach on Providenciales, one of the eight islands of the Turks and Caicos archipelago where white sand meets the most incredible turquoise waters, this resort offers a wide range of activities: beach volleyball, snorkeling, sailing, scuba diving...and the flying trapeze, among others!
Just want to unplug and relax? Take some time for yourself on the resort's beach - named best beach in the world by the 2018 TripAdvisor's Travelers' Choice awards - or hang out with your Olivia friends around the gorgeous infinity pool or on the dance floor. At the end of a delicious day spent soaking up music and great entertainment, slip away to your home away from home, a comfortable Caribbean-inspired retreat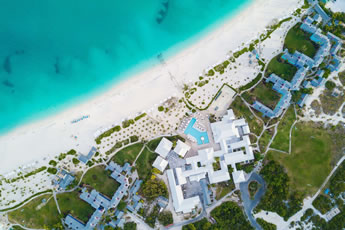 Your Resort
An award-winning Caribbean playground with gorgeous beaches and thrilling water sports. Come discover a newly redesigned Club Med Turkoise, an adults-only, all-inclusive paradise. Here, both couples and friends can learn what it truly means to disconnect. At Turkoise, adults have the luxury to do it all or nothing at all, making this the perfect vacation destination for action-packed adventure and romantic getaways alike! Located in Grace Bay of Providenciales, Club Med Turkoise offers a totally revamped resort center, including brand new pool, main bar, redesigned reception area, and brand new Deluxe rooms as well.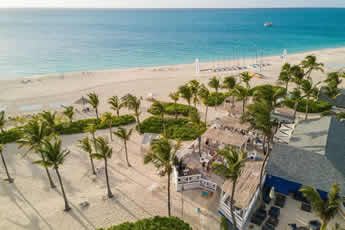 Club Med's Turkoise resort has the following amenities:
• Gourmet food and drink from the resort's two restaurants: charming Grace Bay, serving international cuisine buffet-style, and Sharkies Grill & Beach Bar, serving drinks and snacks on a shady beach terrace
• Libations at two additional bars: Blue Coral, offering all-day refreshments, predinner cocktails, and after-hour festivities at its poolside location with beach view, and the Grapevine wine cellar (added charge)
• A fabulous infinity swimming pool, featuring a sunken living room plus in-water and poolside lounges
• Access to a wide array of exciting land and water sports—including basketball, beach volleyball, softball, football, cardio equipment, hockey, volley-polo, kayaking, and stand-up paddle boarding, snorkeling, sailing, tennis, yoga, Zumba, flying trapeze and other circus activities, and Club Med fitness classes
• Access to scuba diving, golfing, and horseback riding for an additional charge
• Access to exciting excursions such as sunset cruises, snorkel excursions, kite boarding, bicycle tours, and jet skiing for an additional charge
• Access to spa services, including on-beach massage, for an additional charge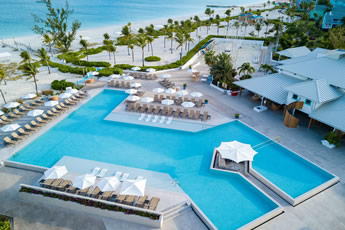 Club Med's Turkoise Resort Dining
Enjoy all-inclusive meals - breakfast, lunch, and dinner - in two restaurants. Restaurant hours will be listed in your daily program. We will have a special Solos dining area for guests traveling alone.
Grace Bay
This buffet-style restaurant is open for breakfast, lunch, and dinner in a newly redesigned area. It offers an international breakfast as well as a wide choice of local and international cuisine for lunch and dinner.
Sharkies Grill & Beach Bar
With its shady beach terrace, this open-air restaurant is open through the day and evening; it serves snacks such as tacos, burgers, and french fries.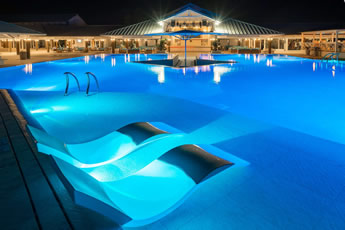 What's Included?
• Accommodations for 8 days/7 nights at the all-inclusive Club Med Turkoise Resort
• Comfortable guest rooms with views of the lush resort grounds
• Olivia signature daily programing and nightly entertainment
• Olivia team assistance throughout
• Round-trip airport transfers with meet-and-greet service from Providenciales (PLS) International Airport
• Gourmet food and drink from the resort's two restaurants: charming Grace Bay, serving international cuisine buffet-style, and Sharkies Grill & Beach Bar, serving drinks and snacks on a shady beach terrace
• Libations at two additional bars: Blue Coral, offering all-day refreshments, pre-dinner cocktails, and afterhour festivities at its poolside location with beach view, and the Grapevine wine cellar (added charge)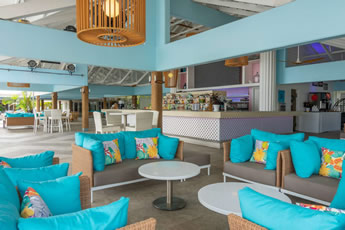 • A fabulous infinity swimming pool, featuring a sunken living room plus in-water and poolside lounges
• Access to a wide array of exciting land and water sports—including basketball, beach volleyball, softball, football, cardio equipment, hockey, volley-polo, kayaking, and stand-up paddle boarding, snorkeling, sailing, tennis, yoga, Zumba, flying trapeze and other circus activities, and Club Med fitness classes
• Access to scuba diving, golfing, and horseback riding for an additional charge
• Access to exciting excursions such as sunset cruises, snorkel excursions, kite boarding, bicycle tours, and jet skiing for an additional charge
• Access to spa services, including on-beach massage, for an additional charge