Maspalomas

Number of rooms: 6
Rate range: from 72 EUR (per bungalow per night)
Owned/Managed by: Gay men
Clientele: Exclusively Gay Men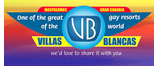 Just when you thought that Villas Blancas couldn't get any better it does just that - six 2/3 bedroom villas and a second pool.
They will take up to six people, so if you have a group of friends you can have a really economical holiday to Villas Blancas with all the fun and excitement of life round the original pool and bistro.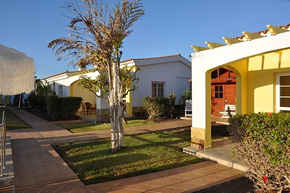 On the other hand, if you'd like a quieter life - maybe you used to go for the old Club Villas Blancas - one or two of you might like to reserve a villa and spend more time at the other - quieter - pool at the other end of the complex.
The Villas Blancas bar is just far enough away from the VB2 bungalows not to disturb, so if you feel like a quiet read - or sleep off the effects of the night before, this could be for you.
Attracting a truly international crowd, Villas Blancas is located outside Playa del Ingles in the altogether quieter resort of Maspalomas. Maspalomas and Playa del Ingles actually run into one another, but you'll probably find walking into town just a little bit strenuous. It takes about half an hour, which can be a bit much for some, especially in the heat. Don't worry though, it's easy to get a cab and the journey by road takes just a few minutes and costs a handful of Euros.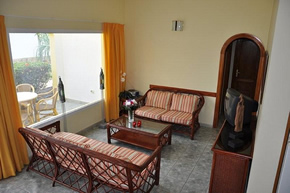 Villas Blancas 2 is made up of six 2/3 bedroom villas incorporates another 23 one bedroom bungalows and one studio type bungalow at Villas Blancas which is located next door. While it has its own pool, Villas Blancas II offers no other facilities and is therefore altogether more quiet and relaxing. In practice, those staying in Villas Blancas II tend to flit between the two sections, socialising, eating and drinking in the main complex and chilling next door when the mood strikes.
The centrepiece of Villas Blancas is undoubtedly the complex's rather lovely swimming pool, made even more alluring by the fact that sunbathing in the buff is on the agenda. This not only makes for some interesting views, but can also help break the ice when you're making new friends.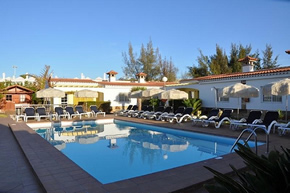 No gay complex would be able to hold its head up without boasting a bar, and Villas Blancas goes one better with the Villas Blancas Bistro. Friendly, sometimes even flirtatious staff serve drinks, snacks and full meals all day till late (great for when you can't be bothered to cook or to troll into town.
For those of you looking to work off a few calories, you'll find a gym and some tennis courts next door. These aren't owned or operated by Villas Blancas though, so any fees etc are nothing to do with us or them.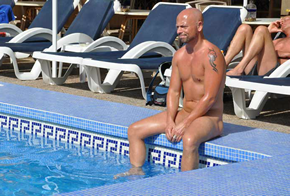 Finally it's worth pointing out that there's a free wifi service in reception if you need to log on and check out your latest Gaydar messages.
Each one bedroom bungalow offers a choice of a double or two single beds and all have recently been redecorated, with attractive wood panelling and brand new furniture. They're all air conditioned with a sun terrace, fully equipped kitchenette and a bathroom, and all have satellite television, which includes a 24 hour adult channel. Maid service takes place five days a week .