San Augustin, Playa del Inglés

Number of rooms: 15 apartments
Rate range: from 54 EUR (per apartment per night)
Owned/Managed by: Gay men
Clientele: Exclusively Gay

The only boutique gay apartments resort hotel in front of the ocean in Playa del Ingles!
The one and only gay resort renowned for its style for more than 13 years, in tropical-modern decoration, immersed in lush tropical gardens, in an area where the surroundings are green and the atmosphere is exotic, yet only 5 minutes drive in our Free Shuttle from the Yumbo Center and the Dunes...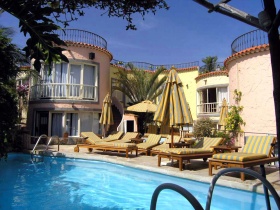 One of the very few resorts in Gran Canaria constantly on the market for such a long time thanks to constant renovation, satifaction of our guests and dedication of our staff...
Situated in a leafy suburb of Playa del Ingles the Pasion Tropical is a gay only establishment set in an oasis of peace and calm situated right next to the sea. The 15 apartments offer stylishly furnished accommodation set in a beautiful tropical garden yet it is only 5 minutes from the nightlife situated in Playa del Ingles.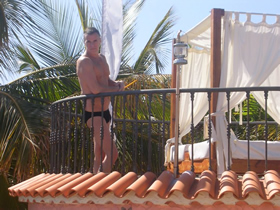 Pasion Tropical has always been known for having special style and charme, for being different from the majority of other gay holiday resorts. We have a unique, privileged location, right at the side of the Atlantic ocean, away from the concrete jungle of Playa del Ingles city centre, but still only 5 minutes away from it all!
We added modern tropical decoration, style, detalis, elegance and our formula became immediately winning and now a trendsetter in gay resorts.
We always succeded in giving our demanding guests a relaxed-stylish alternative to mass-tourism of Playa del Ingles and offered a resort with a superior atmosphere, personality and style. That's why you go to a tropical island, after all!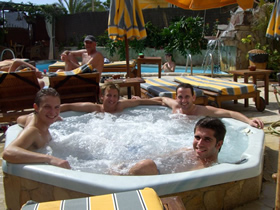 Intimate atmosphere and an ever flowering tropical paradise await you in the only gay complex in all Playa del Ingles where you can "really hear the sound of the sea"!
Many of the rooms have balconies looking out on to San Augustin beach and the sea and all have private bathroom facilities, satellite TV, kitchenette, large sleeping area and eating areas.
Studios sleep 2 comfortably and the one bed apartments have an extra bed and accommodate up to 3 people. Breakfast is served in the gardens each morning until late and guests have use of the swimming pool and terrace, 6 man whirlpool and gym situated in a quiet area of the garden.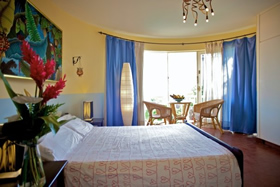 Studios
Studios are the simple accommodation solution at Pasion Tropical, ideal for singles and "sporty" couples. They are made of a large sleeping room with a double bed, a fully equipped kitchenette in the room and a wide bathroom with shower. They all have satellite T.V., eating table for two and may be first floor or ground floor, respectively either with sea view or with terrace.
Apartments
Apartments consist of a large living room, with a sofa, table for 3-4 persons, satellite T.V. The sofa can be converted into a 3rd bed in case of three persons accommodation. The sleeping room has two single beds. A full separate kitchen and a bathroom with shower complete the apartment features.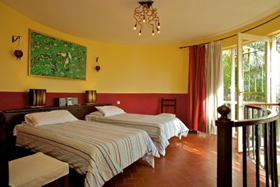 Our pool is not huge, but very cosy and is completed by our 6-place open air whirlpool. It resembles a natural tropical lake, surrounded by lush vegetation. The pool is solar panel heated, so that we can keep it pleasantly warm all year round! Another Pasion Tropical exclusive feature, pools are generally not heated in Playa del Ingles resorts.
We have a pool bar, of course, and, apart from the usual drinks and spirits, we concentrate in offering you an unusual and truly home-prepared selection of tropical and Mediterranean specialty drinks and snacks. You'll be able to choose fresh tropical fruit shakes and fruit salads from our menu, or have a very tempting Pina Colada or a fruit Daiquiri made expressly in front of you with fresh pineapple from the island.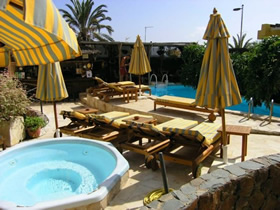 Only Pasion Tropical unique location 20 meters from the sea can offer you our exclusive 180 square meters rooftop solarium with splendid seaview.
White day beds with a view for sunbathing during the day and "La Luna Lounge" with open air sofas, soft light and chill out music for relaxing and meeting friends before and... after sunset! This really is a unique balcony on the ocean.
Breakfast is served under the gazebo in the main "square" of our village. We prepare a continental breakfast buffet at 9.15 a.m. and keep it working until 11.30 a.m. As you can see breakfast is late, to give you the chance to wake you up without having to hurry, and start your day in the tropics in the laziest way possible! The singing of our birds and the sound of the water of our fish pond will do the rest to complete the morning atmosphere.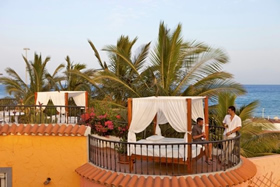 We have a cosy massage gazebo in the garden, where you can have every kind of massage by our professional masseurs in the fresh garden air, but in full privacy behind closed white draperies!
Also we have equipped our complex with a simple but effective gym. It is located in the shade in a quiet corner of the garden, and it will give you the chance of working out breathing fresh air. You will find a multiple machine, a pectoral bench, barbells, dumbbell, and weight disks for a total of 80 kilos !
A dreamplace!
Pasion Tropical slogan speaks for itself:
Pasion Tropical was created from very beginning to have its own special style, to be something different from the majority of other holiday resorts.