Playa del Ingles

Number of rooms: 84
Rate range: From 36 EUR (per apartment per night)
Owned/Managed by: Roque Nublo Apartamentos
Clientele: Gay Friendly
Having recently undergone a series of improvements over the past couple of years, the popular gay & lesbian friendly Roque Nublo, while not exactly what you'd call an architectural gem, provides decent, basic accommodation in the heart of the gay scene with easy access to the Yumbo Centre (just across the road - great for staggering home after a night out) and about a quarter of an hour's walk down to the start of the beach.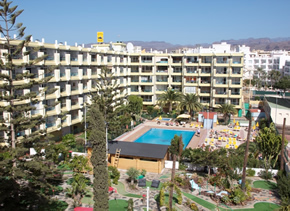 By no means luxurious, yet perfectly serviceable and well maintained, this accommodation will suit those people whose number one concern is easy accessibility and great value for money.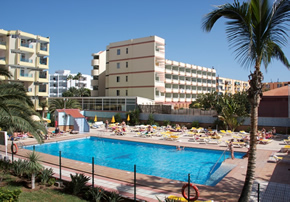 Not much to speak of here, to be honest...the Roque Nublo is a holiday base rather than an all singing, all dancing complex. However, there is a decent sized pool on site with ample room to sunbathe on complimentary sunbeds which, last time we looked, were a rather fetching shade of yellow. Fortunately, there's also a bar.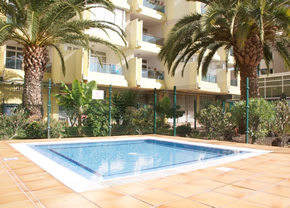 Each comfortable apartment has a twin bedroom (sorry cuddle-lovers…no doubles) plus a living room with a sofabed, ensuite bathroom, kitchenette with adequate self-catering facilities, satellite TV (pay-as-you-use), a phone and a balcony or terrace. There's also a rather fetching pool on-site with ample room for lounging around in the sun on the complimentary sunbeds, plus a bar to help you wet your whistle as and when you so desire.
Maid service takes place five times a week, with your towels changed twice a week and your bedlinen once. Prices are extremely competitive too.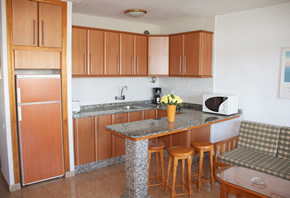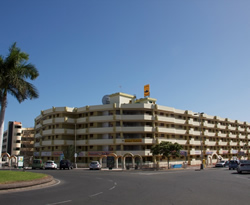 Location: The Roque Nublo Aparthotel is located in the cosmopolitan area of Playa Del Ingles just a few minutes from the Playa Del Ingles Beach and Yumbo shopping centre.
Hotel facilities: The complex provides a bar, luggage room, restaurant, swimming pool and solarium
Room facilities: The apartments come equipped with private bathroom and terrace/balcony.