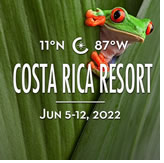 Eco-Chic LGBT+ Resort Week With Endless Adventures @ Andaz Costa Rica Resort at Peninsula Papagayo! VACAYA Oasis @ Andaz Papagayo captures the magic of Costa Rica's pristine natural beauty with breathtaking views of Culebra Bay as we immerse you in the country's iconic tropical rainforest. It's heaven on Earth for hikers, surfers, paddle boarders, animal lovers, snorkelers, divers, and anyone who feels happiest outdoors. From its hillside perch overlooking the Pacific Ocean, this expansive 5-star Costa Rican resort offers privacy while being your launching pad into boundless adventures with easy access to Papagayo Explorers Club nature.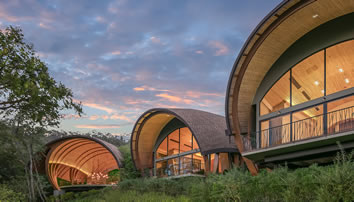 Located on Costa Rica's north Pacific coast, this luxury resort is home to 153 guest rooms, including 21 luxury suites, all facing the water and featuring modern design infused with natural materials and local character.
The resort offers 4 restaurants, 4 pools, multiple bars and lounges, an outdoor theater, a pampering spa, and 3 unspoiled beaches anchored by Andaz Beach House. The restaurants feature farm- and sea-to-table ingredients and locally inspired cuisine, with open kitchens that allow an intimate interaction with chefs, making you feel as though you're visiting family.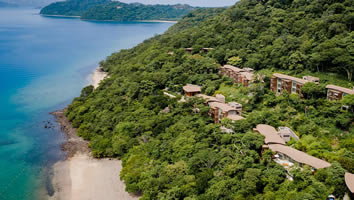 Andaz is located on the northwest Pacific coast of Costa Rica, on a 2,223-acre master-planned development set on a jagged pair of peninsulas that slip majestically into the warm waters of the Gulf of Papagayo, along the spectacular Bay of Culebra. Andaz Papagayo is only 35 minutes from Liberia International Airport (LIR) with more than 20 airlines providing international service.
Relax, reconnect, recharge, and stimulate your senses at one of Costa Rica's leading luxury resorts, offering 5-star treehouse accommodations, three natural beaches, an extensive activity program, and distinctive dining experiences within a pristine 1,400-acre private peninsula. A life-changing journey awaits.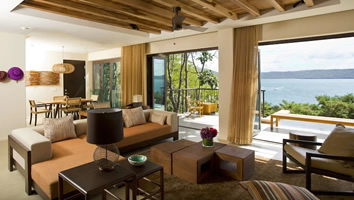 Creating an elegant treehouse feel, all 132 rooms and 21 suites face Culebra Bay from a hillside perch. Outdoor terraces offering immersive Costa Rican views of the tropical rainforest and bay are complemented by the room's modern design infused with natural materials and local character.
Floor-to-ceiling windows and folding glass doors invite the magic of the rainforest into your living space. A river stone rain shower opens out to a bird's nest-inspired balcony in all rooms. Suites offer a deep soaking tub, plunge pool, or both.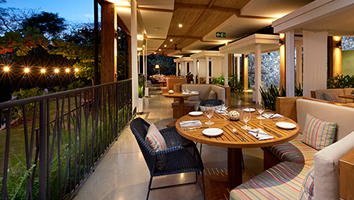 Andaz Papagayo Resort offers four themed dining outlets, each capturing the essence of Latin American culture and cuisine in a unique way. Interactive culinary elements, open air designs, and breathtaking views complement the experience. Each restaurant also offers wellness, vegetarian, and vegan selections. The hotel also offers complimentary transportation to 8 additional restaurants (extra fee) within the community.
Ostra Restaurant
Designed to emulate a private residence, Ostra focuses on the fresh seafood of the country, well-known for its ceviche offerings, the chef's specialty. Our signature restaurant's intimate booths and garden setting offer an unforgettable venue for special occasions.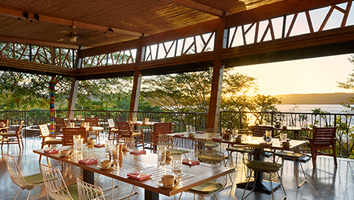 Rio Bhongo's Restaurant
Interactive breakfast experience and barista program will make you eager to wake up each morning. Offering stunning water views atop our river-inspired pools, the restaurant offers a selection of international and local flavors for lunch, while dinner service elevates Costa Rican cuisine in an innovative way.
Chao Pescao Small Plates & Bar
Our neighborhood bar offers a culinary tour of authentic Latin American favorites. Enjoy a taste of Latin home-cooking in a relaxed atmosphere with views of Marina Papagayo and Culebra Bay. Live music, an innovative mixology program, and a premium spirits selection will make this your favorite spot to unwind each day.
In-Room Dining
Relax in bed with breakfast, watch the forest come alive with an afternoon snack, or enjoy a romantic dinner served on your private balcony. Treat yourself to complimentary room service and celebrate the comfort and style of your room or suite.*
*$7 delivery fee for room service orders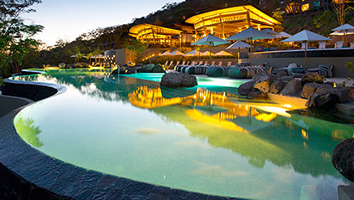 Four Infinity-Edge Pools
Overlooking the Pacific Ocean, four unique infinity-edge pools are the resort's heart, with daily activities, cabana lounging, and waiter service so you can enjoy a cocktail and lunch from the comfort of your lounge chair.
Andaz Beach House
Offering beach-front dining on Nacascolo beach 15 minutes away, expect favorites such as salads, tacos, burgers, and fresh fish grilled outdoors. Tropical drinks, beach activities, games, and a local Tico vibe await your discovery.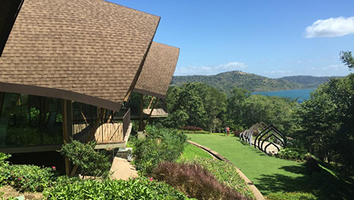 El Jardin
This expansive outdoor venue will certainly host a few surprise events over the course of our week together.
Amphitheater
VACAYA's signature talent will be featured in our open-air theater, nestled perfectly under the rainforest canopy.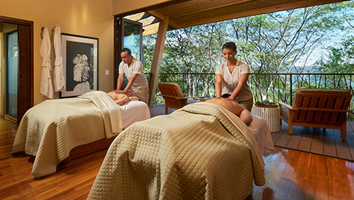 Onda Spa*
A preserved space in connection and harmony with the Spirit of Nature. Treatments are tailor-made to your physiology to restore balance and further your wellbeing at the Onda Spa Sanctuary at Andaz Papagayo. Above all, this is an opportunity to experience authentically and intimately the legacy of the Chorotegan ancestors reflected in this natural sanctuary. It´s your moment to fall in love with Costa Rica and let all your worries drift away.
Onda Fitness Center
Onda Spa also boasts a 24-hour fitness center featuring state-of-the-art cardio and training equipment from Life Fitness. A variety of cardio equipment, free weights, and core exercise equipment are all available. Guests enjoy complimentary access to the fully equipped gym, steam room, and shower rooms, as well as a lounge area to recharge and enjoy the beautiful views.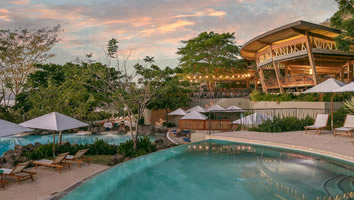 One price includes everything you need to eat, drink, adventure, play, and rest your head at the end of it all. It's 5-star, all-inclusive, eco-chic luxury at its very best. With VACAYA, you're in complete control of your own schedule, but laughter and new friendships are guaranteed!
5-Star Tree House Accommodations. Included.
With an architecturally stunning jungle treehouse feel, all 132 rooms and 21 suites face Culebra Bay from a hillside perch. Outdoor terraces offering immersive Costa Rican views are complemented by the room's modern design infused with natural materials and local character. Thoughtful amenities include stocked minibars with snacks, delectable room service,* and several special touches – a true luxurious home away from home. INCLUDED.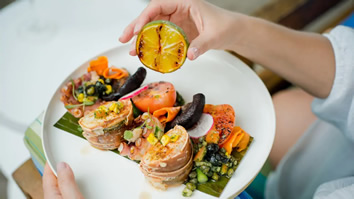 World-Class Food. Included.
Andaz Papagayo offers four themed dining outlets, each capturing the essence of Latin American culture and cuisine in a unique way. Interactive culinary elements, open air designs, and breathtaking views complement the experience. Each restaurant also offers wellness, vegetarian, and vegan selections. Prepare for a multi-sensory culinary adventure. ALL INCLUDED.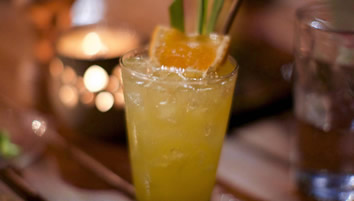 Top-Shelf Drinks. Included.
Andaz Papagayo's mixologists create unforgettable tropical libations. Meticulously-crafted cocktails and a selection of top shelf spirits can be found resort-wide. Premium Branded Alcoholic and non-alcoholic drinks, house wine, bottled water, specialty coffees, and teas at all of the resort's restaurants and bars are… ALL INCLUDED.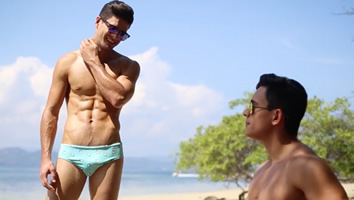 Beachside Bliss. Included.
Three unspoiled beaches on our 1,400-acre private peninsula playground offer a wide variety of included activities. Complimentary use of kayaks, stand-up paddle boards, snorkel gear, walking trails, and the electric bike-share program are just some of the activities available within Peninsula Papagayo. A life-changing journey awaits. INCLUDED.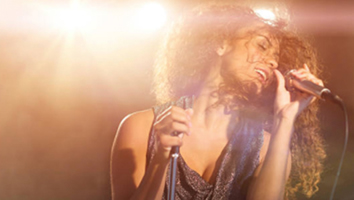 Entertainment, Activities & Parties. Included.
Our activities include pool games, fitness classes, cooking demonstrations, mixology lessons, meetups, crafts, and more. The amphitheater will be the happening spot at night as VACAYA's world-class LGBT+ comedians, singers, drag queens, and more grace our stage. We'll live, laugh, love, and sing along together in this tropical setting. Part of the fun of each and every VACAYA resort vacation is our themed cocktail parties.
Once we're 120 days out, we'll share the party themes, and while costumes are always encouraged, they're never required. We'll love you in or out of costume and you'll enjoy your time at VACAYA's friendly welcoming get-togethers no matter what. ALL INCLUDED.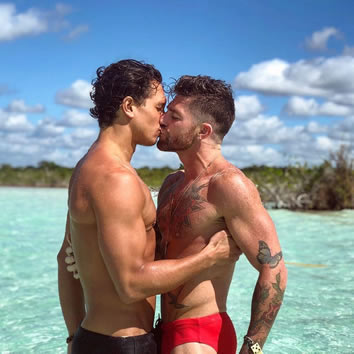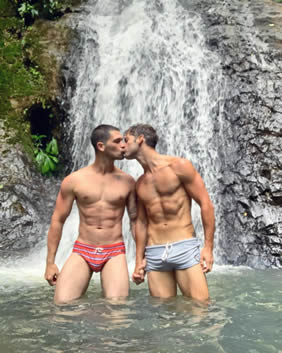 Vacaya Oasis Gay Resort Week @ Andaz Costa Rica Papagayo Itinerary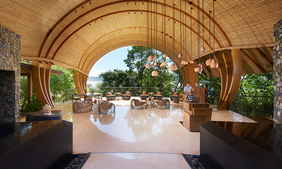 Day 1, Sunday, June 05, 2022
Check In
Welcome to VACAYA Oasis @ Andaz Papagayo Costa Rica by Hyatt
! Marvel at the views of Bahia Culebra unfolding before your eyes as The Vacayans welcome you to our luxury resort and our porters whisk you away to your 5-star adult treehouse accommodations. We're eager to make your vacation dreams come true, but we'll begin with a fantastic lunch followed by a casual exploration of the resort. After a dip in the pool, head down to the beach and see how many butterflies, monkeys, and Iguanas you can spot along the way. An amazing dinner at one of the resort's award-winning restaurants and a welcome cocktail party are on tap for our first evening together, so get ready to experience VACAYA hospitality as you greet friends, old and new!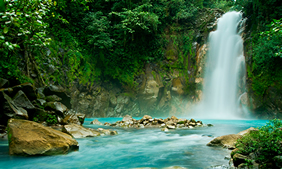 Day 2, Monday, June 06, 2022
The Adventure Begins
Costa Rica is a land of volcanoes, rainforests, cloud forests, huge waterfalls, and mighty rivers. This abundant natural setting makes it difficult to decide between the various activities on offer, which include rafting, windsurfing, diving, kayaking, recreational fishing, and surfing. Luckily, we have all week to explore and discover. So, get ready to climb up, dive in, paddle out, and reel it in with a Papagayo Explorers Club excursion! You're about to experience life's essentials. When you return to the resort, you'll be greeted with a stunning sunset and a custom-made included cocktail with tropical infusions. Then dance the night away to the lively beats of Nuevo Latino music.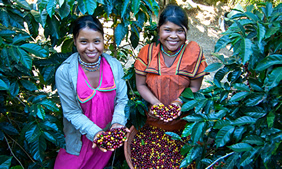 Day 3, Tuesday, June 07, 2022
Pura Vida Culture
Costa Rica is a country of pura vida ("pure life") – a friendly, multicultural, and multilingual people descended from its fusion of immigrants. Spend an afternoon exploring, shopping, and dining for a taste of how the locals live – either in Liberia (the provincial capital) or Playas del Coco (a typical beach town). You can take a little piece of the Costa Rican soul home with you with handicrafts made by local artisans. Tonight, continue to experience all that Andaz cuisine has to offer. Whether you escape to the quiet romance of Ostra, our signature seafood restaurant, visit Chao Pescao, our neighborhood Latin tapas bar, or take in the breathtaking views at Rio Bhongo, Andaz has a restaurant for every palette and preference. Expect the unexpected!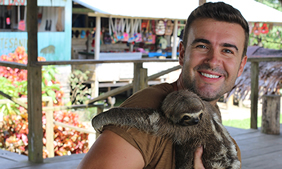 Day 4, Wednesday, June 08, 2022
Traveling With Responsibility
Although Costa Rica is a small territory, it makes up about 5% of the earth's biodiversity. Fortunately, this natural treasure is protected by the National System of Conservation Areas. Today, choose from horseback riding, hiking, guided bird watching, or explore volcanos, natural heritage sites, lakes, rivers, and forests full of flora and fauna. Our aim is not only to experience the natural beauty, but also to learn about the importance of protecting natural resources.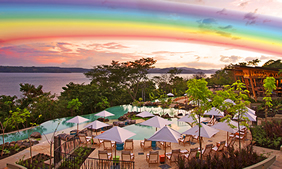 Day 5, Thursday, June 09, 2022
Celebrate Gay Pride
Four pools and three beaches offer plenty of room to rev up or unwind. Enjoy the stunning peninsula views from your Nimbu boat ride to Andaz Beach House where a casual toes-in-the-sand meal and crystal blue swimming waters await. Pride Month is in full swing, so we'll be celebrating all day and into the night. As we do, we'll be saluting our Andaz hosts and hostesses, who were the first in Costa Rica to sign a human rights agreement, placing them in a privileged place of inclusive global tourism. The accord affirms their commitment to maintain an inclusive work environment and to seek ways to positively impact their community. Being a pioneer means to be an inspiration, and that's what Andaz represents. After a sumptuous dinner at one of the fine dining restaurants and a show in the open-air theater, don't miss the chance to come together poolside with fellow travelers as we celebrate the night away!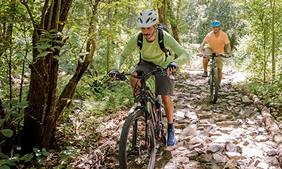 Day 6, Friday, June 10, 2022
Back to Adventuring
Andaz Costa Rica offers a natural playground for outdoor adventure and water-based activities for all ages and fitness levels. Complimentary use of kayaks, stand-up paddle boards, snorkel gear, walking trails, and the electric bike-share program are just some of the activities available within Peninsula Papagayo. Or venture outside of the resort area to Rincon de la Vieja National Park where exotic and rare flora and fauna find refuge here including kinkajous, pumas, a variety of monkeys, sloths, tapirs, and jaguars. Rare emerald toucanets and blue-crowned motmots glow in the sunlight along with vibrant fuschia and purple Guaria Morada orchids. If you're up for a more active adventure, then Borinquen Hot Springs is the place for you. Start your day with a horseback ride to the first zip lining platform. Then fly over the tree tops, zipping across the canyon and in front of the breathtaking Borinquen Waterfall. Following a delicious lunch, spend the rest of the day relaxing in the thermal pools and taking volcanic mud baths that will surely relax and rejuvenate your body and mind.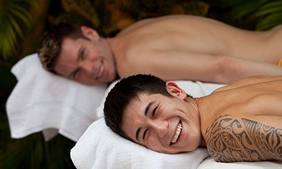 Day 7, Saturday, June 11, 2022
Relax. Refresh. Rejuvenate.
Wake to the rising sun and step out onto your outdoor terrace in the middle of the tropical forest. If you haven't already, today is the perfect day to experience Onda spa, a preserved space, in connection and harmony with the Spirit of Nature. Here, indigenous traditions with nature's healing powers are used to revitalize the mind and body. The Onda Spa couple's treatment suite offers a side-by-side experience with a luxurious soaking tub and private relaxation area. Or let the sound of birdsong and ocean waves soothe you in one of the three additional outdoor treatment rooms. No matter which you choose, you've entered utopia and it'll be hard to say goodbye… guaranteed.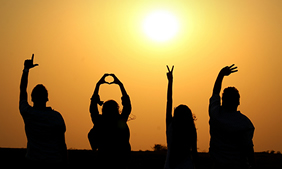 Day 8, Sunday, June 12, 2022
Farewell For Now
Parting is such sweet sorrow. Our time together in Costa Rica officially comes to an end today. Whether you choose to extend your stay here in Costa Rica or head home today, we wish you the safest of journeys.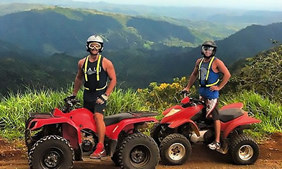 Andaz Costa Rica Resort offers the right mix of adventure and relaxation. Daytime excursions may include a visit to a volcano, surf lessons, ATV rides, or jungle activities within Peninsula Papagayo's 1,400-acre natural playground.* You can also hang out and observe the monkeys at one of our beaches or pools.
Enjoy complimentary use of kayaks, snorkeling equipment, stand up paddle boards and beach games at Andaz Beach House and Sombrero Oscuro beach, peninsula-wide electric bike share program, 24-hour fitness center, and more. Pura Vida is here to enjoy and The Vacayans and Andaz Staff stand ready to assist you in doing so.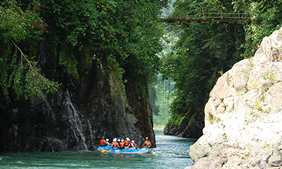 Expert-led, small group or private activities for Andaz guests include mountain biking, outrigger canoeing, nature walks, cultural programs, and more. Activities are exclusively available for Peninsula Papagayo guests.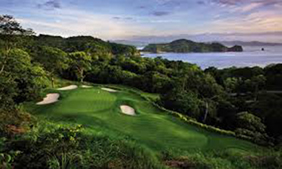 The Ocean Course at Peninsula Papagayo is an 18-hole, par-72 Arnold Palmer course offering breathtaking water views from 14 of 18 holes. Ranked by Golf Digest as one of the top 100 courses outside of the United States. Exclusive access for guests and only 0.1 mile from the resort.
For the tennis enthusiast, Andaz has a partnership with The Four Seasons Resort to offer access to four tennis courts. Transportation from Andaz to Golf and Tennis is included.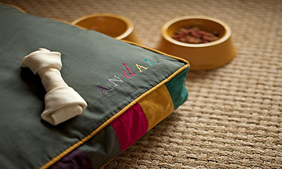 In a groundbreaking move for LGBT+ travel, VACAYA is pleased to welcome your fur babies along for this once-in-a-lifetime adventure! Andaz Papagayo has made special accommodations for VACAYA guests traveling with their pets. Pets can be walked on leash around the property, but are prohibited inside the restaurants. Canines must weigh 50 pounds or less. Two pets are allowed if their combined weight does not exceed 75 pounds. A $283 USD one-time fee (paid directly to the resort upon check-in) includes use of bedding, meal containers, water, pet food, and a deep clean upon departure.
*Additional Charge Applies