Cosmopolitan cafes lining beautiful white sand beaches, the giant golden dome of a local shrine rising over homes clad in Jerusalem stone, a 5th century masterpiece rising out of the Jordanian desert... these 10 days in Israel & Jordan bring us into the middle of a region of fascinating contradictions. At any given time you may find yourself on camelback riding through the desert, reading a newspaper while you float weightlessly in the Dead Sea, sprawled out under the sun at the gay beach full of locals, exploring one of countless world-class museums, or taking in the unique culture and traditions on display through the streets of this Middle Eastern region.
As gay travelers, this trip gives us the ability to take in the Middle East while enjoying the comfort of a relatively gay welcoming community. We'll immerse ourselves into the thriving LGBT scene, sleep under the stars in a remote desert camp (don't worry, you'll have private en-suite bathrooms and all amenities too!), hike around the clifftop fortress of Masada among many more unforgettable experiences.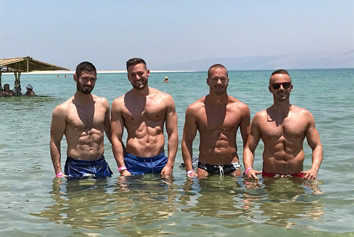 The relatively small size of the countries means travel distances are mostly very short, allowing us to maximize our time spent exploring, adventuring, and experiencing this complex and unique part of the world! From the lowest point on Earth at the Dead Sea to the vast deserts of Jordan, and the streets of Jerusalem overflowing with history your days here are sure to be unforgettable.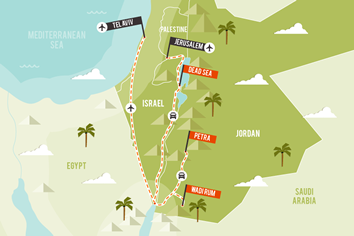 Our 10-day Israel & Jordan trips include many of the "big ticket" items of your experience, including your domestic flights, ground transportation, breakfasts and even a guided visit to Petra and camel riding through the desert!
• All taxes
• All land transportation between itinerary stops
• Accommodations for your 10-day Detours experience
• All full breakfasts
• Roundtrip domestic flight between Tel Aviv and Eilat (Southern Israel)
• Guided visit to the ancient ruins of Petra
• Camel ride through the desert in southern Jordan
• Guided visit to Masada
• 4 hour 4X4 Jeep desert exploring
• Walking tours with local gay guide in Jerusalem and Tel Aviv
• Welcome dinner and drinks
• Group travel within Israel and Jordan
• Knowledgeable and fun Detours trip leader
• Meals and drinks outside of those listed above
• Activities outside of the those listed above
• International Airfare
• Jordanian visa-on-arrival (10 Jordanian Dinars as of January 2021)
• Israel exit tax (101 Israeli Shekels as of January 2021)
• Arrival/departure airport transfers (available on request)
• Optional gratuities
Additional spending budget?
Your big-ticket items are included through the trip, but you'll want to budget for additional spending such as additional meals, drinks, shopping, activities, etc. These costs can vary dramatically with differing personal habits but we suggest expecting to spend an additional $750 USD at the lower end for the more budget-conscious and $1200 USD at the higher end for the splurgers. We suggest arriving to Israel with approximately 1,000 local Israeli Shekels and 100 Jordanian Dinars.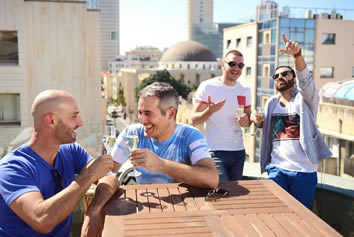 Our 10-days gay trip through Israel & Jordan ticks off an amazing number of bucket list items, from floating weightlessly in the Dead Sea, to riding camelback through the desert, to gazing up at the famous buildings of Petra carved into the cliffs.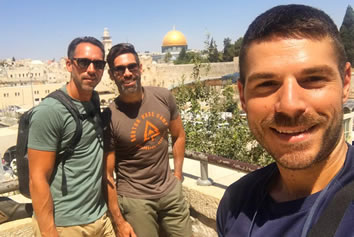 Days 1, 2 and 3 - Jerusalem, Israel
The largest city, capital city, and central hub of culture and history in Israel, and one of the world's oldest and holiest cities. We'll have a fantastic local guide join us through the city to ensure we really make the most of our time at its historically significant sites and learn about its tumultuous history.
Our group hotel in Jerusalem is where we all come together to start our adventure at 4:00pm on day 1!
If you're flying into Israel on this day just try to arrive in time to get to our group hotel... or if you'd prefer to arrive a day (or more!) early and you'd like some assistance with setting up any extra nights in our group hotel just let us know, we'd be happy to help. Keep in mind that Tel Aviv and Jerusalem are only 45 minutes apart by road so if you'd like to spend extra nights in Tel Aviv before meeting the group in Jerusalem on day 1 we can assist with that too!
• Included: • Full day walking tour of old city Jerusalem
• Optional Activities: • West Bank tour • Yad Vashem • Israel Museum • City of David and Western Wall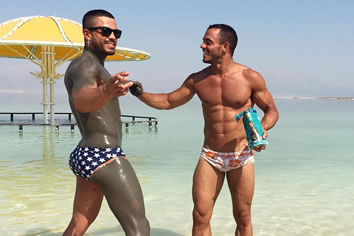 Day 4 - Dead Sea & Masada
On day 4 our local guide will join us as we head down to the lowest point on Earth, the famous Dead Sea, known for its unbelievably buoyant waters, the healing effects of its minerals, and the beauty of the surrounding landscape.
First, we'll stop to explore the clifftop fortress of Masada high atop a plateau overlooking the Dead Sea where the ruins on King Herod's Palace (built around 30 B.C.) are found.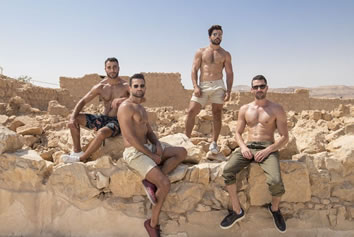 After our time at Masada, we'll drive across the international border into Jordan and find ourselves at our waterfront hotel hotel right on the Dead Sea where we can lather ourselves up with nutrient-rich mud and float the afternoon away in the famous Dead Sea!
This day is all about exploring then relaxing, hiking then soaking, getting active then reaping the rewards. Travel distances on this day are quite short, but the variety of landscape is pretty incredible!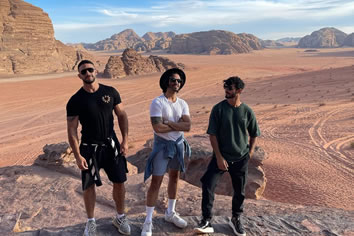 Days 5, and 6 - Wadi Rum and Petra, Jordan
This morning, after only a 3-hour drive through Jordan, we'll arrive to the world famous site of Petra, the former capital of the Nabatean Kingdom, built around 300 B.C. Accessed via a narrow canyon the tombs and temples are carved into pink sandstone cliffs, giving an incredibly surreal background to your now drool-worthy social media posts! It's one of those rare moments in life that you'll always remember (and gush about). It's not just the treasury, which you've surely seen on countless magazine covers and screensavers, it's also the impressive hilltop monastery and many lesser know (but no less stunning) carvings. Our night here is spent just outside the gates of Petra, in the little town of Wadi Musa.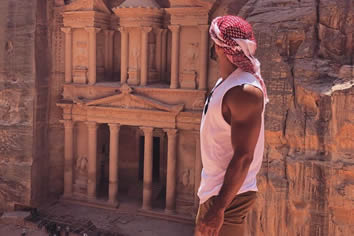 Jordan has no shortage of unique sites to soak in, so we'll continue the following day to the vast desert of Wadi Rum, famous for its dramatic sandstone mountains, deep caverns and Mars-like landscape - in fact many movies have used this area to film their Mars scenes! We'll be exploring this region using trucks and camels together with a local Jordanian guide, spending our evening of the trip at a remote camp in the desert under a sky full of billions of stars. Don't worry - your tent has all the comforts of a hotel room including an en-suite bathroom and A/C, but you won't be spending much time in there when a spectacular desert is literally on your doorstep!
• Included: • Sunset Camel Tour • 4X4 tour of Wadi Rum • Tour of Petra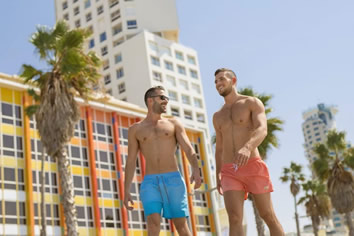 Days 7, 8, 9 and 10 - Tel Aviv, Israel
On our 7th day we head back across the border to Israel and take a quick 1-hour flight to Tel Aviv (included) to the cosmopolitan beachfront city of Tel Aviv! Known for its liberal attitudes, beautiful beaches (including a very popular gay beach), and nightlife it couldn't seem more different than some other parts of the region, giving it the nickname of "Mediterranean's Manhattan".
Take this time to soak in some sun at the beach, explore some incredible museums (Israel has the most museums per capita in the world), wander the streets of Jaffa, grab some drinks on Rothschild Boulevard, or feel free to take a day trip up the coast to Haifa, there are plenty of options to keep ourselves entertained here! We make sure to spend the weekend in Tel Aviv to maximize opportunities for those who like the vibrant city life.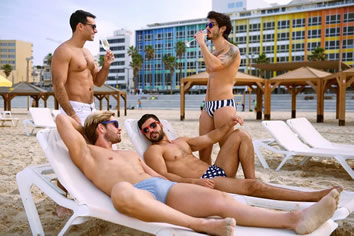 You're welcome to book your departing flights out of Tel Aviv at any time on the 10th day of the trip - but you don't need to! If you've got a flexible schedule consider staying to experience other parts of the region. We're happy to help you plan any additional activities or provide a bunch of options if you end up taking a later flight out of Tel Aviv.
• Included: • 3-hour walking tour of Tel Aviv
• Optional Activities: • Beit Hatfutsot • Tel Aviv bike tour • Hilton Gay Beach • Neve Tzedek • Northern Israel tour
*Note that the order of stops and duration at each location are subject to change.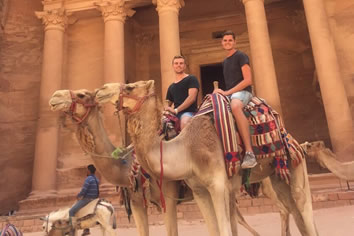 We don't like staying in smelly shacks on our vacations, and we're pretty sure you don't either! After working hard for your trip, you deserve an enjoyable, comfortable place to wind down at the end of your day. We put a LOT of time into finding the perfect accommodation for your trip so after sniffing around, fluffing pillows, and testing showers we have narrowed down our favorite properties that won't disappoint. Check out our approved accommodation to get an idea of the types of places you can expect to lay your head during your Detours Israel & Jordan trip.
Jerusalem
Bezalel - an Atlas Boutique Hotel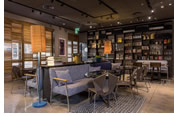 Right in the heart of Jerusalem in the Nachalot neighborhood, and within walking distance of the Mahane Yehuda market, is the Bezalel Hotel. Decorated with Israeli art and designs which embody the contemporary soul of Tel Aviv, each room features with free wifi, flat-screen TVs, minifridges and safes, as well as tea and coffeemakers. A buffet-style breakfast is available daily, and includes Italian and kosher options.
Dead Sea
Holiday Inn Resort Dead Sea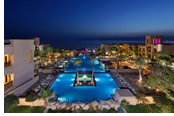 Three palm-fringed, heated pools link the Dead Sea with the sand-colored hotel, making this a water lover's paradise. Watch the horizon from the infinity pool or sip a cocktail at Dive Inn Bar. Swim out to Jacuzzi island and forget the outside world – or stay in touch using complimentary, high-speed wifi. Luxurious massages and facial treatments in Shape Up spa use natural Dead Sea products and two restaurants on site if you get hungry. Each room has smart TVs, safes and minifridges, plus tea and coffeemakers.
Wadi Rum
Aladdin Camp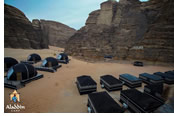 Deep in the awe-inspring Wadi Rum Desert sits this beautiful modern campsite that likes to blend the authentic Bedouin feel with contemperary amenities. The main luxury tent offers buffet or continental breakfast along with a full restaurant featuring local cuisine and the camp grounds have common spaces to enjoy the desert in comfort. Each tent is air-conditioned, en-suite bathroom with complimentary toiletries.
Petra
Old Village Resort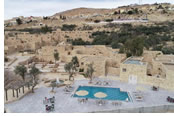 Set in a stone building, this homey hotel is 3 km from the archaeological site of Petra. The cozy, relaxed rooms come with free Wi-Fi and flat-screen TVs, plus room service, minibars, and tea and coffeemakers. Other amenities include an indoor pool, a sauna, a terrace and a business center, plus barbecue facilities.
Tel Aviv
Artist - an Atlas Boutique Hotel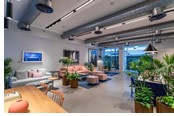 Set within steps of Tel Aviv's famous beaches, this trendy hotel is a 15-minute walk to the vibrant Carmel Market and gay district. This stylish hotel features artwork from the Doron Sebbag Art Collection as well as artwork from local talented artists. Each room has free wifi, smart TVs, plus tea and coffeemakers.
*Please note that due to availability, these exact hotels may not all be available during all Detours trips. However, we will always replace these with similar hotels, and will never downgrade.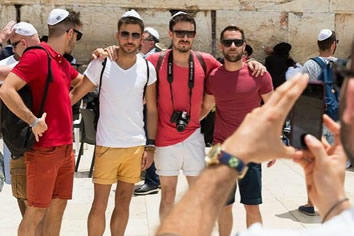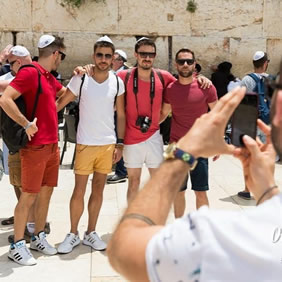 The Climate
Don't worry about getting chilly, our trips are scheduled in the warmer months ensuring maximum warmth and sunshine! Temperatures will vary from warm to hot throughout the trip depending on the landscape but you can expect temperatures in the high 70's and 80's Fahrenheit (high 20's Celsius) during the day. Even in the Jordanian desert days are predictably warm/hot in the daytime all through the year, then around 65F/18C at the lower end at night. That said, weather can sometimes be unpredictable so it's always good to pack a "just in case" outfit for the odd rainy day.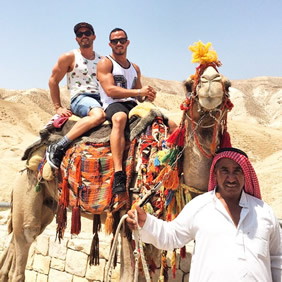 The People and LGBT Community
The people of Israel have been through a particularly tumultuous history of conflict and have remained a strong and proud group of people. Their struggles have been some of the most well known of any group of people and their resilience and perseverance will be evident in our interactions with them as well as in their many fantastic museums. Their two official languages are Hebrew, which is spoken by around 9 million people worldwide, and Arabic, although English is very widely spoken and you won't have trouble finding English speakers through the trip.
Jordanians are known to be respectful, honest people with strong traditional and religious ties that form their culture. It's important to be aware that modesty is socially important here, in terms of dress, public displays of affection and social respect. As visitors to unique cultures, respecting local customs is important in all places visited and that courtesy will go both ways resulting in a warm welcoming experience.
In Israel, LGBT rights are the most advanced and progressive in the Middle East as well as some of the most progressive and accepting in their continent of Asia. LGBT people can serve openly in the military, couples can adopt children, and the annual pride parade in Tel Aviv is one of the world's most well known. While liberal and conservative views will vary depending on the region of the country due to several factors, we'll be quite welcomed as LGBT travelers across Israel. Jordan, despite being a Muslim country, is actually one of the only Muslim countries which does not criminalize homosexuality though it's still not regarded as a progressive and liberal country due to the influence of their religion. We ensure that all of our local guides, accommodation, and transportation providers are aware that our groups are LGBT travelers and engage in the same mutual respect that the locals expect of travelers too.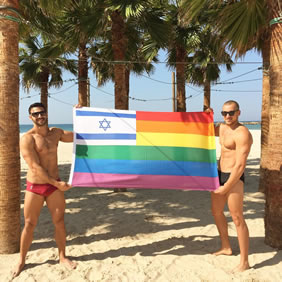 Meals
Israeli food tends to be similar to other Mediterranean diets with an influence of local products and traditional Jewish food preparation techniques. Dishes such as Baba Ghanoush, falafel, hummus, and shawarma will be very common in addition to tahini, schnitzel, and a breakfast of shakshooka. There will also be plenty of more "American" options for those who have "less adventurous" palates. Detours doesn't believe in limiting your choices by including all of your meals at pre-decided restaurants as part of the trip package. Instead, we include all of your breakfasts to start your day off, then we explore all of the different restaurant options available for lunch and dinner. This way we can eat when we want, where we want, and spend what we want! Your trip leader definitely has their favorite spots so if you'd like some advice on the best in each location, just check with them.
What to bring?
Our advice is simple. Pack your bag, then take half of those things out and leave them back home. It's common to hear people wishing they'd packed less stuff, but we've never heard anyone complain that they didn't bring enough. Even if you realize you forget to pack some crucial item you can always pick up a replacement once you arrive in Israel. More packing information including a suggested packing list is included in your "Pre-trip Guidebook".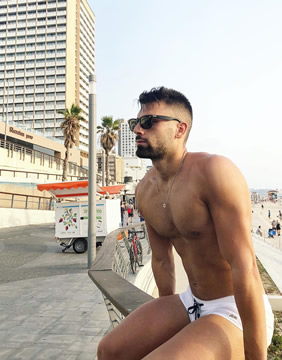 Visas
Citizens of USA, Canada, Australia, New Zelanad, and United Kingdom (among many others) do not need to arrange any visas in advance of your visit to either Israel or Jordan. If you are coming from a country other than these please just contact us for more info. Your visa-on-arrival fee for Jordan is included in your trip cost. Please note your departure fees from each country are not included and you should be prepared to pay at the border upon exiting Israel 101 NIS (around 30 USD) and 10 JOD (around 15 USD) when exiting Jordan.
Money
These days it seems that banks find every opportunity to ding us with fees from home and at each ATM we use. That's why we suggest using a credit card with no international fee, and bring some Israeli Shekels and a few Jordanian Dinar with you. Many places will also accept US Dollars here, but to avoid their awful exchange rates it's in your best interest to use Shekeles and Dinar. We suggest starting with bringing 1000 ILS (Israeli Shekels) as well as 60 JOD (Jordanian Dinar) You still may need to use an ATM along the way, but it's best to try to minimize the number of visits. Travelers checks are a thing of the past so we don't recommend them any more.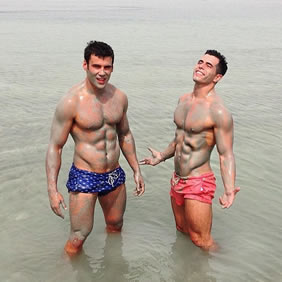 Tipping
Tipping isn't a native custom in either Israel or Jordan, however, it is always appreciated by local service staff and has lately been turning into more of something that's expected in tourist areas. We suggest tipping for any services that go above and beyond expectations in a similar way to what is done in North America (10% for average service, 20% for exceptional service). That extra bit on top of your dinner bill is very appreciated by the service staff.
Accommodation
We have pretty high standards when it comes to choosing our accommodations, and trust us, we've done plenty of room-sniffing, pillow-patting, bed-jumping and bathroom inspections to make sure we stay at quality spots. To be approved as a Detours accommodations provider, a hotel/guesthouse must: be locally owned (to support the local community), be in an amazing location (close to the beach or other hot spots), AND be gay-owned or gay-friendly. We won't be staying in 5-star Ritz-Carltons but we also won't subject you to anything we wouldn't want to stay in ourselves. Clean, comfortable, well-located spots that'll put a smile on your face, you can count on that!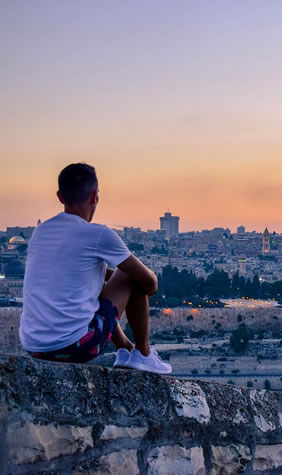 Trip Leaders
All of our trip leaders are gay, and all certified leaders must undergo a rigorous training routine that includes deep-fried cricket eating, and impromptu dancing tests. Apart from these vital skills, we require our leaders to know their stuff really, really well. Underneath their fun and quirky facades, our leaders are experts and passionate about what they do. Don't hesitate to ask them about a random statue you might see along the way. Their job is to help ensure that this is your trip of a lifetime by taking the hassle out of your trip and enabling you to experience everything you came to Israel for. We'll also be joined by local guides at several points during this trip which will be a great way to get more in depth with your local experience.
Alarm Clocks
We do absolutely everything possible to avoid needing such a mundane awakening. A world without alarm clocks is one we want to be part of, and your "rise and shine" while in Israel and Jordan should come from the sound of a call to prayer or camels spitting in the distance. We don't anticipate any early mornings on this trip as all travel days are quite flexible.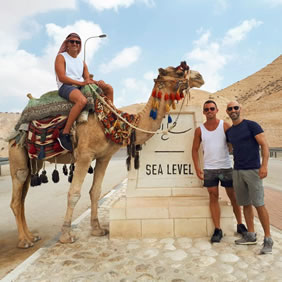 Extending Your Trip
For many people, 10 days in this part of the world just isn't enough time. If you're lucky enough to be able to stay longer, or if you decide to quit your job and travel the world for the rest of your life, we'd be happy to help you extend (or cancel!) your return flight. We've spent time in several parts of the region, so don't think twice about asking where to go or what to do after your Detours trip is complete.
Your Group
Our Detours groups are run with a minimum of 4 travelers and up to a maximum of 15 travelers. Ages of group members vary but around 90% of our travelers are in their 30's, 40's, and 50's. Whatever the age of the guys on our trips everyone's already got something in common, an exciting new experience in a new country! Each group is led by a Detours trip leader who is there to ensure everything goes off without a hitch, allowing you to focus on having the time of your life! We welcome both men and women onto our trips although it's important to know that most groups are 100% gay men.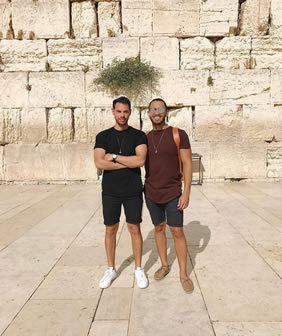 A Little Bit About Modesty
At different points of this trip we'll be in very liberal places home to very vibrant LGBT communities, as well as much more conservative areas which value modesty. Your trip leader will be sure to advise you on what to expect during each part of the trip but in many places public displays of affection are not common here for the gays or the straights so as some respect for the locals we just suggest that you keep your affection for your partner to more private areas - such as your hotel. :)
Solo Travelers
No problem! Don't worry, lots of our travelers come solo and our trip will provide plenty of chances to meet great people both inside and outside of our group, including other solo travelers. As far as your accommodations go, you've got two choices. We can either pair you up with another solo group member in a two-bed room for no extra charge, or you can have your own room for a reasonable surcharge.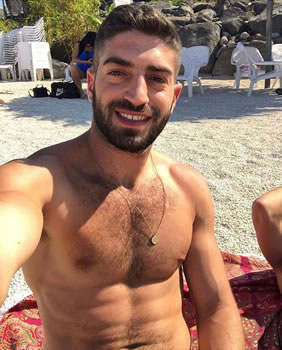 Communicating with Home
Relax – we won't keep you from updating your Facebook status the whole trip. There is WiFi all over the place and available at every hotel we stay at. If you're more the "E.T." type and would just rather call home, feel free to pick up a calling card at a corner store and make use of the many local payphones. Alternatively, if your mobile phone is "unlocked" you can pick up a local SIM card which is quite affordable.
Electrical Outlets
Israel uses a "type C", "Type H" and "type M" plugs, with a unique 3-pronged "Type H" being the most common. The voltage is 230V with 50 Hz frequency. These days, the majority of items that are plugged into an outlet are built to handle varying voltage and frequency levels, but just to be sure, we suggest checking your item for its accetable range. Adapters are widely available to be purchased while in Israel, but you may wish to bring your own from home. Jordan uses a variety of different plug types (up to 6 different types can be expected!) so we suggest bringing or purchasing a multi-use adapter to be prepared.
Further information can be found in your "Trip Preparations" guidebook which is available to you after your trip signup. However, if you have any further questions about your Israel & Jordan experience please visit our FAQ page or contact us.