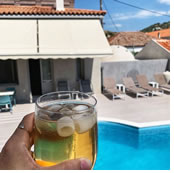 We are delighted to be partnering Eressian Hammam Spa & Boutique Hotel to bring our lesbian guests a luxury holiday on one of the most beautiful Greek Islands, Lesvos. Welcome to the luxury Eressian Hammam Spa Boutique Hotel nestled in the traditional hill top village of Eressos, just 10 minutes from the beatiful unspoilt fishing village of Skala Eressos. The Eressian Hammam & Spa is a sanctuary of well-being in the heart of Eressos the birthplace of Sappho & Theophrastus in Lesvos island in Greece. The virtues of the steamy heat of the traditional Hammam baths form the basis for a variety of spa treatments, fusing eastern and western traditions to achieve ultimate rejuvenation.
Eressian Hammam & Spa's fascinating atmosphere and silence invites you to enter your interior world while your skin regenerates and your body experiences the magic ritual of being purified. A blessing for all your senses. An experience you will never grow tired of repeating. The harmony of total well-being: Relax. Unwind. Revitalize.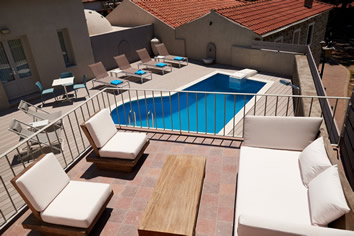 You will wake up to stunning views across the crystal clear waters of the Aegean sea and to the peace and tranquilty of Eressos. Breakfast is taken on the outside terrace overlooking the swimming pool. You can also enjoy daily yoga classes or just relax and indulge yourself in one of the Hammam Spa treatments.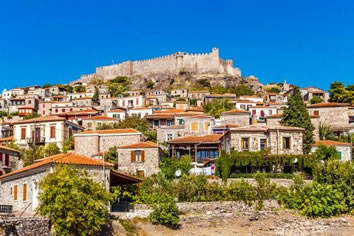 During the week we have planned excursions around the island; including the picturesque town of Molyvos and the Monastery of Limonas the largest and most important monastery's of Lesvos, dating back to 1462. Plus a visit to the Barbayannis Ouzo Museum. This museum actually works as a distillery and presents the process of producing ouzo, a traditional beverage of Lesvos. You can also taste and buy ouzo from the museum.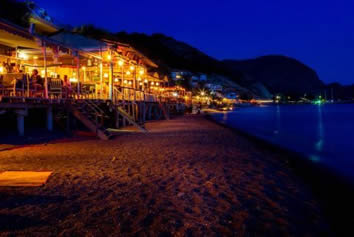 Our evening meals will be taken in Skala Eressos in one of the traditional Greek restaurants.
You will have exclusive use of the Hotel's private taxi during the day and evening which will take you to/from the village of Skala Eressos with it's long sandy beaches, abundance of seafront restaurants and bars and small artisan shops.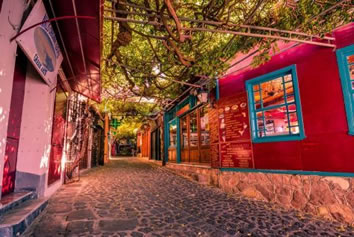 Travelling Solo?
No problem. Your Diva host for the week will ensure everyone gets an opportunity to meet and mix, creating a relaxed and friendly environment where everyone is welcome. So whether you're a group of friends, a couple, or travelling on your own, there will be something for everyone on this luxury relaxation week in Lesvos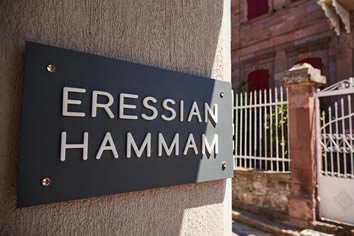 This historic building in the heart of Eressos was built in 1850 to house the family of Galinos. Galinos, the most prominent merchant and businessman in West Lesvos in the 19th century and the forefather of the Galinos family, whose members include prominent politicians, doctors, merchants and entrepreneurs. In the 1900's the house was passed on to Galinos' daughter. Despina did not have any children of her own, therefore she passed it over to her nieces Elpida & Niki Galinou. Elpida & Niki decided to sell the building in the 1950s and moved to mainland Greece to live in Athens.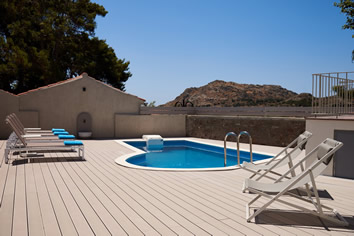 It was in 2009 that Niki's grandson Alex, bought the family house back and embarked on an incredible and very personal restoration project. Returning this beautiful and historic building to its former glory and thereby marking its 170th anniversary with a new start and a new era in its life as a stunning Boutique Hotel which will open its doors to our customers in 2020. We look forward to welcoming you very soon.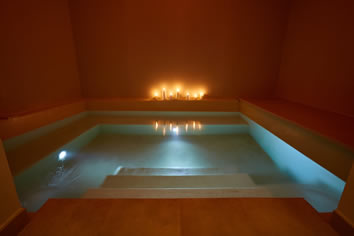 Eressian Hammam & Spa Facilities
• Traditional Hammam Area for wet treatments
• Indoor Pool inside the Hammam area
• Private Dry Room Suite
• Outdoor Pool and Outdoor relaxation area
• Indoor relaxation area
• Fully equipped changing rooms
• Complimentary Refreshments: tea, ice tea and delights.
• Complimentary Amenities: ketsea, soap, slippers, pestemal towel.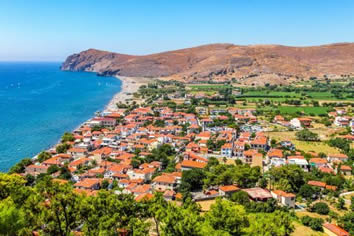 The little town of Eressos is a place of special interest for its unique architecture and natural beauty. It lies 85 km west of Mytilene, the capital of Lesvos. Most importantly Eressos is the birthplace of the lyric poetess Sappho (7th century BC) and the philosophers Theophrastus and Phanias (4th century BC).
The last houses of the village are found around the natural port of Eressos where you will find nice seaside taverns, bars & cafes. A couple of kilometres from the village is Skala Eresssou, a fine beach with sunbeds and umbrellas.