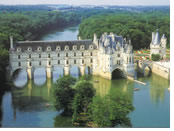 For 200 years, the kings of France outdid one another as they built palaces along the Loire Valley. Bicycle to Amboise, Chenonceau (where gay Henri III held drag parties), and Azay-le-Rideau. Our gay French bike tours are the perfect way to travel between the castles of France.
For two centuries, the kings of France outdid one another as they built palaces and chateaus along the Loire Valley. Our bicycling week begins in Blois, at a chateau constructed over four distinct and romantic periods of French history. We'll enjoy a festive French dinner, and those with extra energy can explore regional nightlife.
Then we begin bicycling. Each day you'll discover the distinct personality of a new chateau, from the grandeur of Amboise to the elegance of Chenonceau (where gay Henri III held drag parties — a fact omitted from most b guidebooks!) and the enchantment of Azay-le-Rideau. Between castles, you'll realize why bicycling is such a perfect way to travel on a vacation in France. Pull over with ease for a quick swim in a solitary woods, or at a café on a cobblestoned street, in a whitewashed village where time seems to have stopped.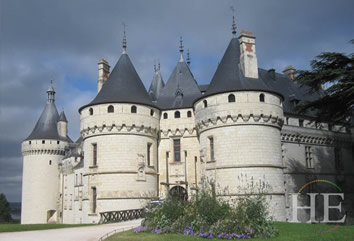 • Visit the elegant chateau of Chaumont, towering on cliffs above the Loire River.
• Picnic with the black swans of Chenonceau chateau, once home to Catherine de Medici, perched on stone pillars over the river Cher.
• Stroll the celebrated 3-tiered terraced gardens at Villandry.
• Ride through a troglodyte village near the riverfront town of Azay-le-Rideau.
• Cool off in one of our secret swimming spots.
• Pause and dream on the edge of Chinon Forest at Usse, the storybook castle that inspired the legend of Sleeping Beauty.
• Bike past sunflowers, vineyards, and a solitary windmill, to the pastoral abbey at Fontevraud, Eleanor of Aquitaine's final resting place.
• Roam the historic ruins of Chinon, once a Roman stronghold, later the chateau-fort where Joan of Arc changed the course of French history.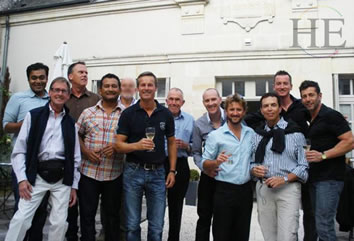 Day 1 - A Castle, a Rose Garden, and a Single Gay Bar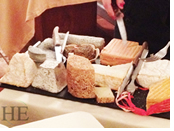 Our trip begins in historic Blois, an easy 2-hour train ride from Paris. Try out your bike if you like. Then, early arrivals are invited to a 4 pm walking tour of this charming French town. We'll follow the narrow Rue du Puits-Chatel, past Blois's elaborately facaded homes dating to the Renaissance. Glare back at the grotesque griffins, dragons, and gargoyles that have protected France's cathedrals for most of a millennium. Sniff 400 rare rose varietals at a garden overlooking the Loire River Valley.
Before Paris became the center of government, Blois served as the royal residence. The elaborate chateau, or castle, was built over a period of four centuries, and four distinct architectural styles are on display. There's also a good bit of history embedded in these walls, including the bloody murder of a rival to King Henri III, at the king's behest. (Henri, incidentally, often showed up at parties in his finest drag, accompanied by several handsome young men, and is generally considered to have been gay or bisexual.)
If this is your first visit to France, our dinner this evening will mark the start of a wonderful discovery: French cuisine richly deserves its fine reputation.
Day 2 - A Quiet Riverside Road to a Grand Chateau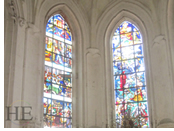 As you bike this morning, you'll discover one thing that distinguishes our bike tours from others: Our route options.
We begin on a quiet road beside the Loire River, then pedal past small farms and forest. And now you've got a choice: The "official" route continues along the main road — or you can branch off onto an unpaved riverside road that gradually turns into nothing more than a walking trail. Our hybrid bikes handle this terrain just fine. You can choose this, or the more traditional route — whatever you think will be most fun.
Whichever route you take, you'll end up at our picnic spot in Chaumont, on the broad banks of the Loire. After lunch, stop at elegant Chaumont Chateau, towering above us on the cliffs.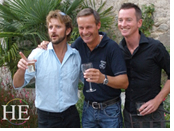 There's a special bonus if we arrive at Chaumont mid-June to mid-October: The annual Garden Festival. Each year, the sprawling grounds adjacent to the chateau serve as the site for a nationally-famous garden festival, in which landscapers create elaborate gardens around a common theme. One year, each designer incorporated a water motif: fountains and cascades and reflecting pools decorated the grounds.
An afternoon of biking in the French countryside takes us to our home for the night: lively Amboise, also on the Loire, with grand views from the castle ramparts. It's the perfect spot for our wine tasting, featuring several varieties of Loire wines, and offering a sample of what's to come in the week ahead.
Day 3 - The Elegance of Chenonceau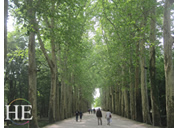 Two offbeat stops await us in the morning. First, Le Clos Luce, the manor in which Leonardo da Vinci spent the last three years of his life. Da Vinci was a friend and confidant of Charles VIII, and a secret passageway connected the artist-inventor's home to the nearby chateau. Today the home has been restored, with a Renaissance-style garden, and scale models of some 40 ingenious flying machines and other devices that Leonardo designed, long before the technology existed to manufacture them.
Our next stop is equally unexpected in a region known for castles: The 7-story Chinese pagoda of Chanteloup, built on the outskirts of Amboise by an eccentric 18th-century businessman. One year we enjoyed an impromptu croquet game on the lawn here, then climbed to the top of the odd structure. And if you're here in the spring, you can expect a colorful welcome from the fields of poppies that we pass today.
A forest road again to another route option: bike on this straight, tree-lined road, or take a winding detour on small roads and trails through the forest. Either way, you soon end up at the Loire River valley's most magnificent castle: Chenonceau.
Leapfrogging over the river Cher on pillars of stone, Chenonceau is a study in grace and beauty. First stop: A picnic on the lawn, as black swans watch from a small canal.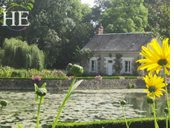 The well-furnished interior offers an enticing glimpse into royal life of the 16th century. Outside, stroll in the two ornamental gardens: one commissioned by Diane de Poitiers, the other by her rival and successor at Chenonceau, Catherine de Medici. Finally, walk downstream to fully appreciate the castle as a whole.
Chenonceau has a long history. Henri III threw many of his drag parties here. In World War II, the Cher was a boundary between free and occupied France, and the chateau offered a clandestine means of passage from one side to the other.
We've explored three utterly different and fascinating sites today, and there's more to come. As we bike this afternoon, we'll move from the busy Loire to a quieter river, the Indre. Here lies the medieval town of Loches, which feels deserted after the hubbub of Amboise and Chenonceau. We'll be virtually alone as we explore the 1000-year-old fortress.
Loches was built as the first millennium drew to a close, by a warlord known as Fulk Nerra (the Black Falcon), and served as the anchor for a network of defenses he constructed. We'll pass other remnants of this network, including the ruins at Montbazon, tomorrow. Few, however, are as well preserved as Loches. Standing atop the worn parapets in the evening, looking onto a silent moonlit village, it's easy to feel yourself transported back into a time when war consisted of giant catapults hurling boulders against thick stone walls.
Day 4 - A Storybook Castle, and Vestiges of Ancient Rome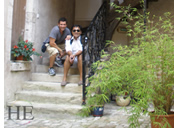 The Valley of the Kings is famous for its castles: This small section of France has a greater concentration of grand chateaux and palaces than any other spot on earth. And yet, there are always other attractions, as well.
Our first stop as we bike today: The remains of a 2000-year-old Roman aqueduct. The Romans settled much of France in the days of their glory. Few vestiges of Rome remain in the Loire, but the shattered arches of this aqueduct leave us all wondering: How much of the Connecticut Turnpike will be left standing in 2000 years?
Our ride follows the pastoral Indre river, as small country roads connect picturesque villages. In Montbazon, climb to the crumbling ruins of the fortress built by Fulk Nerra. On a hot day, look for an opportunity to cool off in a secluded spot on the river.
Our destination is Azay-le-Rideau, a tiny French town with a magnificent castle reflecting in a moat. Whether you're looking for a beautiful interior to explore, or simply a good outdoor photo op, Azay is the spot.
Day 5 - This Is Not Your Grandmother's Garden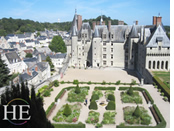 We'll spend two nights in Azay-le-Rideau. You can simply relax at a cafe in the morning, then explore this gem-like structure at your leisure. But for those who'd like to bike, we have a great route planned.
The morning takes us to nearby Villandry. The chateau here is distinctive and worth a tour, but it is Villandry's three terraced gardens that have won it world renown. Highest is the water garden, a simple yet elegant pool, reflecting the turquoise sky while also providing water for the other two gardens. Below, in the flower garden, ornamental hedges cut into stylized designs depict four allegories of love. Below lie the vegetable gardens, an ordinary name for extraordinary gardens. Lettuces, beans, and cabbages each lend color and texture to elaborate geometric patterns, trimmed with herbs and miniature fruit trees.
A fragrant pizza, cooked in a wood stove at a nearby brasserie, gets us ready to bike onward. Downriver lies Langeais. The chateau here is known for its interior, richly decorated in early Renaissance style, and considered the best in the region.
Those who want maximum biking time will find scenic routes in the forest just outside of Langeais. Biking back to Azay-le-Rideau, we'll wend through pastoral farmlands, and through a tiny troglodyte village, with homes burrowed in the cliffs.
Day 6 - Chinon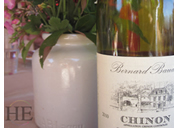 Today's route takes us onto a solitary trail alongside the Loire. Our first major stop is Usse, the palace that inspired Perrault to pen the legend of Sleeping Beauty.
In the mood for a swim? Follow a small bridge across a secluded Loire tributary, tuck your bike behind a tree, and indulge in a refreshing dip. And then we emerge from the forest to arrive in historic Chinon.
This hilltop site was first developed by the Romans, who knew a good fortress site when they saw one. Much later, the counts of Blois built their own chateau-fort here, and Richard the Lion-Hearted died at Chinon in 1199.
Most of all, it was here, in 1429, that Joan of Arc pointed to the future Charles VII, who stood disguised in a crowd, and identified him as heir to the throne. Charles, all too uncertain of his actual paternity, eagerly validated Joan's identification by calling her a "Messenger of God", thus setting French history on a new course.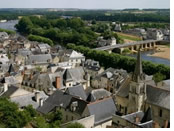 Charges that Joan of Arc was a hermaphrodite, a lesbian, or otherwise "not a woman" were in full blast during her lifetime, and apparently gained enough credence that even today, in an exhibit that verges on high camp, the museum finds it necessary to deny any such allegations.Unlike the other stately chateaux we've visited, much of the Chinon fortress has been destroyed over the centuries. But pieces remain. You'll cross a deep moat to visit the ancient stone prison where the Knights of Templar were imprisoned seven centuries ago on charges of sodomy and heresy. (Some authorities today believe they were in fact gay; others are unsure.) Graffiti that the Templars chiseled into the walls can still be read.
From the evocative ruins, you'll command broad vistas of the slate roofs of Chinon and the valley beyond. Then tour the garden and grounds, which include full-size reconstructions of the catapults and other siege equipment once used to attack such strongholds as Chinon.
Today, in addition to this long history, the Chinon region is known for its red wines and fine restaurants, both of which we'll sample during our stay here.
Day 7 - A Grand Monastery Amid Fields Of Sunflowers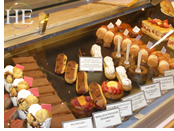 We have two nights in Chinon. Anyone ready for a change of pace can hike in the surrounding forest; or enjoy a leisurely stroll to the chateau, riverfront beach, and cafes.
For those who'd like to bike, we recommend a country road that takes us along the river, through a wood, past the birthplace of the writer Rabelais, and on to the abbey of Fontevraud.
This newly-restored monastery is the largest such site in France. Eleanor of Aquitaine and Richard the Lion-Hearted were laid to rest here; you can visit their polychrome figures in the abbey church. Admire the elegant wood carvings of the cloisters. Among the most fascinating structures in this complex is the Romanesque kitchen, a large octagonal chamber whose grey-shingled roof is studded with some 15 chimneys.
You can head back to Chinon from here, or continue to Saumur, just another hour's bike ride. Saumur offers another palace to visit, and several new curiosities: an equestrian museum, within the chateau, devoted to horse riding and thoroughbreds; an underground mushroom museum (70% of France's mushrooms are grown in nearby caves); and the nearby Great Dolmen, one of Europe's largest prehistoric megaliths.
The return trip from Saumur takes us past La Herpiniere, a windmill five centuries old. Windmills like this once dotted the plains surrounding the Loire. Most fell into disrepair, but Herpiniere has been maintained and restored over the centuries. On a windy day, you'll even see the blades turning, grinding flour in the tufa cave below. Dinner tonight is at Chinon's top restaurant, a festive end to a memorable week.
Day 8 - Departure Day
We'll say a fond farewell today!
Stay longer and - Cycle through Burgundy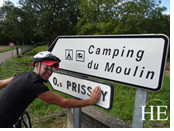 Colors of Burgundy Gay Biking Tour in France. A gay bike tour through oak forests, fragrant vineyards, and historic sights of Burgundy. Cycle through hills and villages rich in history, redolent with the scents of forest and vineyard. Visit Chateauneuf, Roman ruins, medieval towns, and important sites in Catholicism. Burgundy is famed for its food and wine, so dining and wine-tasting will be as much fun as the biking!