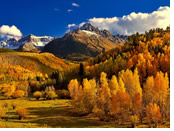 A Gay New Mexico and Colorado Enchantment Tour. We are excited to offer our first tour through the remarkable, high desert region of Northern New Mexico and into the lush autumn colors of the mountains of Southwest Colorado. Our gay group tour follows the steps of Native American traditions and an eclectic mix of settlers, authors, and artists who have been drawn to the high desert region of northern New Mexico.
Our gay tour follows the steps of an eclectic mix of settlers, authors, and artists who have been drawn to the high desert region of northern New Mexico. They have been attracted to its colorful Native American and Spanish history and culture, the abundant produce that grows in the area's rich soils, and the vast natural beauty of its mesas, mountains, and hundred-mile vistas. That enchanting spirit and beauty extends beyond state borders, into southwest Colorado, where we explore the cliff palace ruins of Mesa Verde and the charming old mining towns beautifully sited along the San Juan Skyway.
We travel through stunning gorges and along the slopes of towering mountains, enjoy waterfalls and natural hot springs, and then settle into Telluride. Experience a jeep ride on the old mining roads to see alpine vistas, 14,000–foot peaks, and great stands of quaking aspens blanketing the landscape with the yellows, golds, and reds of autumn color.
Explore the extraordinary landscapes and structures in the Chama River Valley that inspired Georgia O'Keefe and Ansel Adams, among others. And then relax in Santa Fe, the historic and culturally authentic capital of the southwest.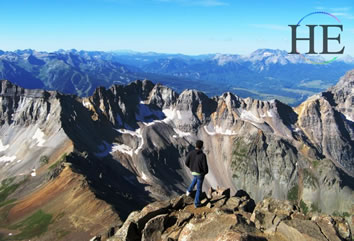 • Fly on the longest tram in the US to the top of Sandia Peak, with 100-mile views above Albuquerque and across the broad Rio Grande rift valley.
• Lift your spirits as we meet the unique Acoma peoples and their adobe settlement nestled defensively on top of a towering mesa – a Sky City!
• Relax at our vibrant farm-to-fork boutique lodge, set by the Rio Grande.
• Enjoy unique culinary experiences prepared by devoted stewards of the land.
• Witness grand, high alpine vistas as you cross high-mountain passes and drop into Victorian mining towns.
• Let the kid in you shine as you journey from Telluride by jeep up steep mountain roads to the top of the world.
• Enjoy the cultural history of the pueblo people who established the intricately built pueblos and palaces in the cliffs of Mesa Verde, the largest archaeological preserve in the US.
• Embrace the fall colors in northern New Mexico and have a short hike among the red, yellow and white sandstone landscapes around Abiquiu, an area cherished and soulfully painted for decades by Georgia O'Keefe.
• Enjoy the culture, markets, galleries, and food scene in Santa Fe for two nights.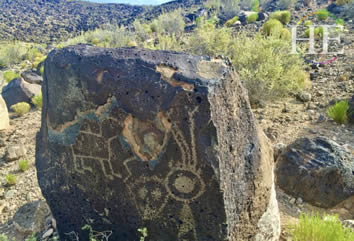 Day 1 - Arrive in Albuquerque, New Mexico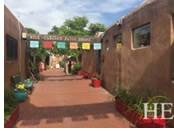 Our tour begins in Albuquerque, settled by Spanish settlers along the banks of the Rio Grande River and in the shadow of Sandia Peak.
We stay for two nights at a beautifully refined and renovated historic inn on an organic farm sheltered by grand cottonwood trees. Enjoy the open realm of this rustic yet contemporary inn: visit the local alpacas and peacocks, the lavender fields, and the culinary garden where you might find kitchen staff collecting herbs and vegetables for tonight's farm-to-fork dinner and tomorrow's breakfast. After time to get settled, join the group for welcome dinner at the inn.
Day 2 - A Pueblo in the Sky and an Aerial Tram to the top of Sandia Peak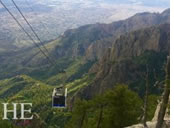 This morning we travel west to Acoma Pueblo, considered to be one of the longest inhabited places in North America. Their historic pueblo is isolated, defensively perched on top of a sheer-sided mesa, almost 400 feet above the surrounding valley floor. In the village, we will witness the artistry handed down from their ancestors for crafting distinctive and highly sought-after pottery. We will hear about their traditional ceremonies and the impact the missionaries had on these ceremonies. We will also visit the Sky City Cultural Center and Haak'u Museum, displaying both the artistry and history of Acoma Pueblo.
Next, explore historic Old Town Albuquerque before returning to relax at our inn. Later this afternoon we'll take an aerial tramway to the 10,378-foot crest on Sandia Mountain for a short walk along the crest to see the panoramic view across the wide Rio Grande rift valley.
Day 3 - North to Durango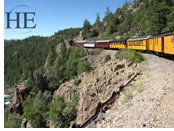 Enjoy a casual morning before we hit the road and head north, briefly stopping at Aztec Ruins National Monument. Pueblo people describe this site as part of their migration journey. We'll enjoy a picnic lunch before continuing north.
Today's destination is the 1890's mining town of Durango, located on the Animas River at the southern edge of Colorado's the San Juan Mountains. Tonight, you'll have free time to explore this rough-and-ready town and to sample the variety of nighttime entertainment available in the local saloons, breweries, and restaurants.
Day 4 - Into the San Juan Mountains to Silverton, Ouray, and Telluride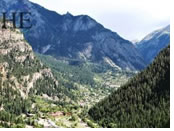 There are two impressive routes from Durango into Silverton: the original route was a steam train cleverly designed to run on narrow gauges through gorges and under cliffs. It was developed for miners to get to and to return from their mines, hauling their gear and hopefully their exploits. The more recent route into Silverton is an engineering feat of mountain highway, located at times so high and precarious on steep mountainsides that it is called the San Juan Skyway. We hope to have you enjoy parts of both routes, but this will depend on train operations at the time of our tour.
Whether by train or by vehicle, this morning's ride from Durango to Silverton will impress. We'll climb over Engineer Pass, catch sight of the Needle Mountains and their four 14,000-foot peaks, see crystal lakes and evidence of miners who searched these pristine mountains for gold and silver. Upon arrival in tiny Silverton, you'll have time to explore the boardwalks and have lunch.
Then we continue by vehicle, over Red Mountain Pass and steeply down into Ouray, a quaint, Victorian mining town that bills itself the Switzerland of America. A visit to Box Canyon waterfall awaits, then we'll travel past Ralph Lauren's Double RL Ranch en route to Telluride, where we will stay for two nights. This former mining town–turned–resort is perfectly framed by the Rockies in a box valley with a picturesque waterfall.
Day 5 - To-hell-you-ride!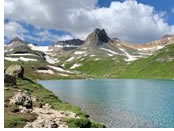 There are differing stories about how Telluride got its name. Today's jeep tour may help you see why some think that it was named after the rough terrain miners had to cross to get there, exclaiming "to hell you ride!" A 4×4 jeep tour will climb up old mining roads and into high basins filled with alpine scenery. Depending on weather and access, our excursion may include ghost towns, views of towering peaks, gold mines, majestic wildlife, and possibly the summit of Imogene Pass.
This afternoon explore Telluride on your own, possibly with a hike or horseback ride. Or relax in the spa and then enjoy cocktails while looking across the mountains at the stands of golden aspen trees.
Day 6 - From Mountains to Mesas – Mesa Verde National Park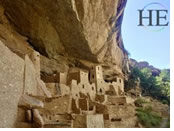 This morning we cruise over Lizard Head Pass, down the lovely Dolores River valley and eventually to Mesa Verde National Park, a UNESCO World Heritage Site. Mesa Verde is known for its well-preserved Ancestral Puebloan cliff dwellings. We'll visit several of the ruins, showing us the progression of the peoples who occupied this area, starting in pit houses and a few hundred years later creating amazing dwellings in cavernous spaces in the large cliffs.
After an afternoon exploring the ruins, we'll continue our journey into Durango for a night.
Day 7 - Colorful Northern New Mexico & Abiquiu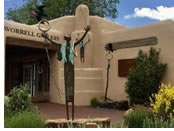 This morning we will head back south to New Mexico, via Chama to Abiquiu. This is the dramatic landscape that caught the heart of artist Georgia O'Keeffe. She lived a reflective, quiet life here, capturing the remarkable vistas on canvas. She wasn't alone. Ansel Adams also photographed many scenes here.
Long settled by the Spanish, the area was also the starting place of the first commercial caravan across the West, led by Franciscan priests from Abiquiu to Los Angeles in 1829, a route that became known as the Old Spanish Trail. We will explore Abiquiu with several short hikes, then continue south to Santa Fe, which offers both cultural and active pursuits. Our hotel will be close to the plaza, allowing you to roam Santa Fe on your own. Or enjoy a cocktail on the top floor of our hotel with views over the small city.
Day 8 - Santa Fe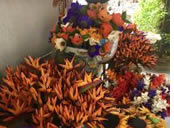 Santa Fe awaits you this morning. On a walking tour, we will see the historic plaza including the Palace of Governors, the seat of government for more than 300 years, St. Francis Cathedral, and the lovely Loretto Chapel, a miniature replica of Saint-Chapelle in Paris. Browse in the International Folk-Art Museum, with artifacts from more than 50 countries and stroll through the Native American market with artists selling their fine art and crafts.
Explore on your own the rest of the day, with options such as the Georgia O'Keefe Museum, a massage at Ten Thousand Waves, or an afternoon wandering the galleries on Canyon Road. This evening, join the group for a farewell dinner, celebrating our journey, and meeting new friends!
Day 9 - Farewell New Mexico
Fly home from the small airport in Santa Fe (SAF) or catch our transfer to the Albuquerque Airport (ABQ) for your flight home. Santa Fe has much to offer, so we encourage you to stay a few more days. We are happy to extend your stay in Santa Fe and provide suggestions to help you explore this unique area over several more days.