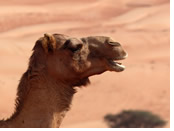 Join us to explore the fascinating country of Oman. It's a small country on one tip of the Arabian Peninsula with incredible variety. Discover the beauty and majesty of Oman as we snorkel in the Gulf of Oman, marvel at endless towering sand dunes, gaze upon stunning mountain landscapes, and so much more!
This tour of Oman begins in the capital city of Muscat. We'll then head to the beautiful Daymaniyat Islands where we'll snorkel in their pristine turquoise waters. These islands are home to many varieties of colorful fish and sea turtles.
We'll also visit the Grand Mosque, one of the few that allow non-Muslim visitors. The mosque features one of the largest chandeliers in the world as well as one of the largest Persian carpets. From here, we'll head to the desert oasis of Wadi Bani Khalid. This mesmerizing place is home to gorgeous green pools where we'll cool off and relax. We'll then head to the awe-inspiring Wahiba Sands where the orange dunes stretch as far as the eye can see.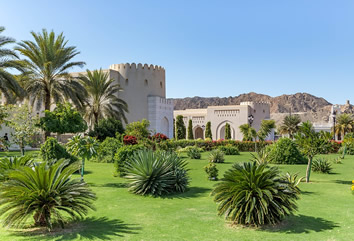 From the Wahiba Sands, we'll make our way to we'll visit the former capital city, Nizwa—home to the Nizwa Fort and the famous colorful marketplace, the Nizwa Souq. For tours that visit Nizwa on a Friday, we'll get to witness the livestock market where camels, goats, and other animals are traded.
Next, we will take a steep road into Jebel Akhdar (Green Mountains) and on our way, we'll see the ruins of ancient Omani villages as well as an irrigation system that dates back to 500 AD. This stunning limestone mountain range is home to many villagers who grow crops in the rocky soil, including one of the few varieties of rose that can be used for making rosewater. While in the mountains, we'll have the option to trek through a canyon past small hillside villages or to relax at our lodge perched on the edge of a deep canyon.
As we start our drive back to Muscat, we'll take a panoramic route by 4×4 vehicle past the fairy tale villages and narrow canyons of Wadi Bani Awf. We conclude our tour at one of Muscat's finest hotels overlooking the nearby mountains and sea.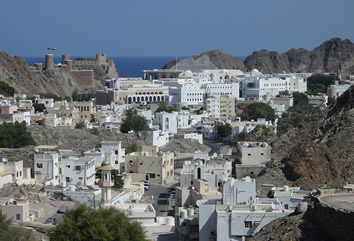 • Discover mesmerizing landscapes from the Wadi Bani Awf.
• Explore Oman's capital of Muscat, a modern port city with ancient roots.
• Marvel at the sunset and sunrise across the vast dunes of the Wahiba Sands.
• Hike through the craggy Jebel Akhdar mountains and deep canyons.
• Visit the Grand Mosque and take in its beautiful architecture.
• Relax in a magical desert Oasis at Wadi Bani Khalid.
• Discover the white sand beaches and snorkel the waters of the Daymaniyat Islands.
• Camp in the desert under the endless night sky.
• Travel back in time at the Nizwa Livestock Market and Fort.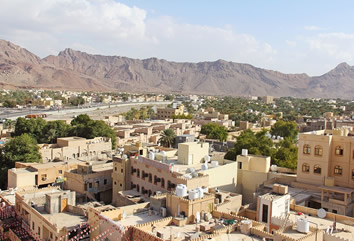 Day 1 - Arrive in Muscat, Oman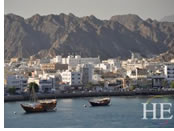 Arrive in Oman's capital of Muscat today, and meet your driver for a transfer to our hotel. Those on our pre-tour Dubai and Abu Dhabi extension will arrive in the afternoon. Anyone flying from North America for the main tour will need to depart the day before, with a connection in Europe or the Middle East.
Since some of the most convenient flights arrive late in the evening, there are no planned meals or activities on this day.
Day 2 - Daymaniyat Islands Nature Reserve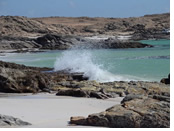 Breakfast is included at our hotel each day of the tour. This morning we will stroll to a nearby pier for a snorkeling excursion to the Daymaniyat Islands, about an hour offshore. The area is known for its white-sand beaches, turtles, coral and a myriad of tropical fish.
We'll have lunch on the island, then return to the port and our hotel for our welcome dinner.
Day 3 - Grand Mosque, Wadi Bani Khalid, Wahiba Desert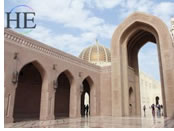 This morning we will check out of our hotel then enjoy a short tour of Muscat, a modern city with ancient roots as a critical crossroads between the Persian Gulf and the Indian Ocean. During our tour, we'll visit Muscat's sandstone and marble Sultan Qaboos Grand Mosque. The surrounding gardens are impressive, but the massive prayer hall features a huge Swarovski chandelier above a floor covered with a handmade Persian carpet. It took six years to complete the mosque after an international competition sponsored by Sultan Qaboos.
From the mosque, we will drive south through rocky hills and date plantations to the enchanting natural pools of Wadi Bani Khalid. These stunning emerald pools are cool and deep with swimming available for those who want to experience the clear waters. Those who don't wish to submerge themselves, are welcome to dangle their feet in the water for a unique sensation, as a school of fish will most likely come to greet us.
Next, we will drive further into the heart of Oman to the entrance of the vast expanse of the Wahiba Sands. These dunes stretch 125 miles and are over 50 miles wide, stretching to the Arabian Sea. This vast sea of dunes has been home to the Bedouin for 7,000 years.
After a ride along a wide highway consisting only of hard-packed sand, we'll arrive at our desert camp. As the approaching sunset brings the deep hues of late afternoon, and while our Bedouin cook prepares dinner, let's scramble up the tall dunes to witness an unforgettable sight.
Days 4 - Jebel Akhdar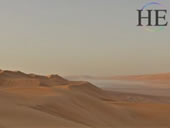 Today, we encourage everyone to rise at dawn to watch the sun emerge from the early morning mist that rises from the desert sands. After breakfast, we'll get back in our vehicles to return to villages and paved roads.
Our first stop will be in the former capital of Oman, Nizwa. For tours that arrive in Nizwa on a Friday, we'll have the special treat of watching the lively livestock market bringing together farmers and traders from throughout Oman. (If not on a Friday, we'll visit the Nizwa souk.) Later, we will visit Nizwa Fort, built-in 1850, but on a foundation that dates to the 9th century. Then we'll stop at the ruins of the village of Birkat Al Maouz, to see how traditional Omani architecture protected its residents from raids by other tribes back in the Middle Ages.
We'll continue to the impressive Jebel Akhdar (Green Mountain) range with peaks over 10,000 feet. Small villages dot the steep hillsides, with many growing crops in multi-level terraces. We will wind our way up a winding mountain road to a wide plateau, whose villages specialize in producing the fragrance known as rose water.
Our hotel for the next two nights sits on a promontory overlooking the spot where two magnificent canyons intersect. We'll have dinner at our hotel, with leisure time after dinner for stargazing. When skies are clear, you can walk a short distance from our lodge and see the vast sky free of ambient light as we indulge with the stars.
Days 5 - Jebel Akhdar Trek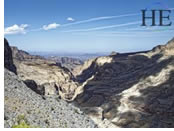 We will offer two options today to take advantage of this magnificent location.
For our hardier travelers, we will experience Oman's premier walking/trekking excursion. Our route includes gentle walks between villages, tough traverses of the highlands, and thrilling tramping through the wadis (gorges). The trek is about 5 miles long and takes about 5-6 hours.
For those who prefer something less strenuous, there is a fairly level walking path around the grounds of the lodge with an exquisite set of exhibits showcasing the unique flora and fauna of the region including the lodge's organic herb garden. There's even a set of beehives from which the lodge obtains the nectars to top our favorite Omani dishes.
The lodge has an archery range, so later in the afternoon, we may ask an archer from the lodge to show us how to get an arrow inside the best ring.
Dinner will be at our hotel (with any luck) on a terrace overlooking nature's splendor.
Days 6 - Nizwa, Wadi Bani Awf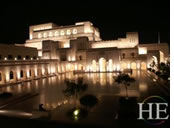 This morning we start our journey back to Muscat by riding into the valley. Then we'll go off-roading for 3 hours through the mountains with panoramic views of Snake Canyon. Are you ready for small villages such as Bilad Sayt, which appear to be untouched by time?
Later this afternoon we will arrive at our hotel that resembles an Arabian palace on the rugged Eastern shore of Muscat. We'll enjoy our farewell dinner as we share our memories of our week in Oman.
Day 7 - Farewell
After breakfast, we will part ways as we are transferred to Muscat Airport. For those who would like a day of leisure in a magnificent setting after our busy tour, we recommend a post-tour option at our hotel.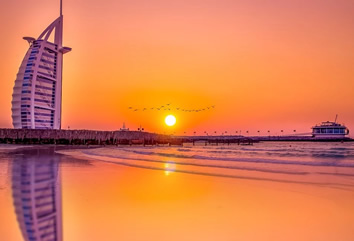 Day 01 - Arrival in Dubai, United Arab Emirates
Most North American travelers will depart home the day before. After clearing Immigration and Customs, look for your driver for your transfer to your hotel.
To allow maximum flexibility for flights, no activities are included today.
Day 02 - Abu Dhabi Tour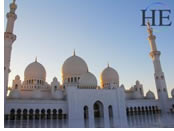 Breakfast is included each morning of the Extension.
This morning we'll drive to Abu Dhabi, about 90 minutes from Dubai. Seven Emirates comprise the United Arab Emirates, including Dubai and the capital, Abu Dhabi.
Abu Dhabi strives to maintain a balance between its Arab desert traditions and its goal to be a contemporary world-class city-state. Among its highlights are the Formula 1 Grand Prix track and an extension of the Louvre Museum. During our tour, we'll visit the breathtaking Sheikh Zayed Grand Mosque, one of the largest mosques in the world. We will continue through a beautiful palm-lined residential area with a photo stop outside the at Al Husn Palace, and a ride along the Corniche to admire the skyline of Abu Dhabi.
We'll pause for lunch together, then stop at the Heritage Village to witness traditional aspects of desert life. We'll immerse ourselves in a time capsule that brings to life a souk, a mosque and an encampment from a simpler time in the history of Abu Dhabi. Before returning to Dubai, we'll have a panoramic tour of Yas Island, home of Formula 1 and the Ferrari World theme park.
The evening will be on your own back in Dubai.
Day 03 - Dubai Touring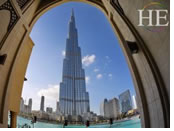 In a few short decades, Dubai has grown from a small Persian Gulf port to a major international metropolis. This morning we'll walk along narrow streets with wind towers, learn of Dubai's history at a museum, cross Dubai Creek on a water taxi, and visit the gold and spice souks.
After lunch, we'll explore Dubai's modern city with panoramic views of the iconic Bur al Arab Hotel, which was the first to call itself a 7-star hotel. Next, we'll drive around the artificial island The Palm with narrow peninsulas in the shape of palm fronds jutting into the sea. Heading back toward downtown we'll see Dubai Mall, the largest shopping mall in the world, then ascend to the 124th and 125th floors of the world's tallest building Burj Khalifa.
This evening we'll have dinner together at a restaurant with views of a musical fountain performance.
Day 04 - Departure from Dubai to Oman
Today we will transfer from Dubai across the mountains to Muscat to start our Omani tour.