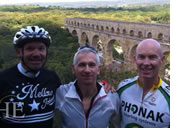 Visit castles, chapels, cafes, museums, meadows, vineyards, and a wildlife preserve on this gay bike tour of Provence, France. Stroll among the remains of a feudal fortress and a crumbled theater. Picnic at a Roman aqueduct. Bicycle through the magical forests and golden stone villages of Luberon.
We offer biking vacations in several regions of France. The romantic corner of southern France known as Provence is the focus of one route, which we call The Provencal. After just a day here, you'll understand why so many people say that biking in Provence was "the best vacation I ever had."
Provence is so named because it was the first of the outlying provinces established by the Romans. On this trip we'll travel past many remnants of the old empire: from the Pont du Gard aqueduct, towering 160 feet over our heads, to a Roman arena still used for concerts and bullfights.
This is primarily a bike vacation, but with many other activities available. You'll have opportunities for hiking and swimming, for walking tours along streets that date to the Middle Ages — and, of course, for some leisurely and memorable dinners.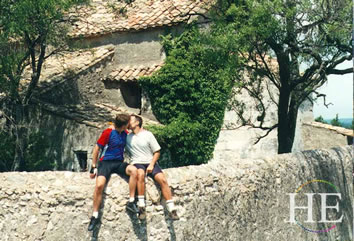 • Climb the time-worn stone steps at Arles' Roman amphitheater, its walls still ringing with the sound of ancient gladiator fights.
• Gaze out over the vast countryside from the ruins of Les Baux, a legendary court of love in the 13th century, later the refuge of brigands.
• Cycle past the hauntingly familiar sites that Van Gogh painted during his remarkable years in St.-Remy-de-Provence.
• Browse at the famous antique markets of Isle-sur-la-Sorgue.
• Take a break from cycling, to stretch your legs in an endless field of scarlet poppies.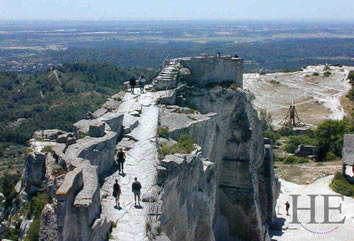 Day 1 - The Palace of the Popes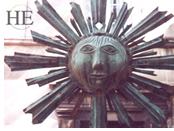 Our week begins in Avignon, a walled city settled by the Romans. Avignon reached its height in the 14th century, when much of Europe was in chaos. Pope Clement V fled the anarchy of Rome and made his home here in Provence. For 68 years, Avignon served as the papal seat of seven Popes, each adding new embellishments to the palace. Today the enormous maze-like Papal Palace, sitting high on a rock, is a fascinating attraction for visitors.
The famous Pont d'Avignon, built in 1177, still stands — partly. Washed out by floods in the 17th century, today the bridge goes only halfway across the river.
Our trip officially begins at 6:00 pm, with a reception, drinks, and orientation, followed by dinner. If you're in town by 4:00, join us for a walking tour of Avignon's cobblestone streets, taking in the Papal Palace, the terraced hilltop gardens adjacent to the palace, the Pont d'Avignon, and the bustling town square.
We will have our welcome dinner tonight at one of our favorite restaurants in Avignon.
Day 2 - Rural French Roads: The Joy of Biking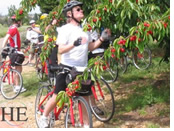 Avignon to Arles, via the Pont du Gard
Awake to the distant tolling of a church bell, and the chirp of birds in the trees. Breakfast, and then we're off!
As we cross the silvery Rhone, glance back at Avignon's skyline: 14th-century church spires and the turrets of the Papal Palace. A couple hours biking takes us to the Pont du Gard, a 2000-year-old Roman aqueduct considered one of the 7 surviving wonders of the ancient world. We'll spread out an elegant picnic below this daunting structure as you climb to the top — or swim in the sparkling waters below it.
Now you'll discover what's so special about biking in Provence. We've found some wonderful backroads, winding through apricot orchards, past fields redolent with wild rosemary and thyme, or polka-dotted with cheery sunflowers. In May and June, watch for bright fields of poppies. In autumn, enjoy the excitement of the grape harvest. Some of these roads are so narrow, they feel like a driveway — except that you rarely see a car.
Next stop: Tarascon, where you'll want to visit the crenellated castle on the Rhone, complete with moat and drawbridge. The walls inside are hung with courtly 17th-century Flemish tapestries. From the parapets, you can see castle walls across the river in Beaucaire, Tarascon's one-time enemy. And you can sympathize with the victims of the French Revolution, who were thrown from these parapets into the thrashing waters of the Rhone.
Just another hour of biking, past meadows alive with wildflowers, takes us to the bustling city of Arles, founded in 600 B.C. The wall of our hotel, right in the center of town, dates to the 13th century. The plumbing, happily, is newer.
Relax from your ride with a wine tasting. Then, after a leisurely dinner, stroll along the river as moonlight dances on the water.
Day 3 - The Legacies of Ancient Rome

The old Roman capital of Arles is today home to a lively arts community. Yet every time you walk around a corner, you find yourself face-to-face with the age of the gladiators. Indeed, few places outside Rome offer as many relics of that ancient empire as does Arles.
We spend two nights in Arles. While biking options are available, most people enjoy spending the day in town. Our guide will explore the narrow streets with you. Start with a climb to the top of the glorious Roman arena, still used for concerts and bullfights, and look out over the red-tiled roofs of Arles to the river beyond.
Next visit the remains of the once-elaborate Baths, and imagine what went on here, two millennia ago! Sit amidst the broken columns of a crumbled Roman theater. Walk past the hundreds of stone sarcophagi in the Alyscamps, a burial ground since the time of Christ, and a setting for paintings by Van Gogh and Gauguin. Study the elaborate stone facade of the St. Trophime, one of southern France's most famous churches, with Biblical stories illustrated by carved stonework. Growl back at the gargoyle dragons of the vast cemetery that Europe's vogue burial spot a mere millennium ago.
There's plenty more in Arles to fill your day. But in the afternoon, die-hard cyclists can pedal into the Camargue, a vast alluvial plain and wildlife preserve. The Camargue is famous for its cowboys, who ride the white horses you'll spot in pastures; and for its distinct breed of small black bulls.
Dinner tonight is on your own. Join up with a few new friends and make a tough decision about which restaurant to visit: The restaurant next door, whose gay owners now display a rainbow flag (still a rare sight outside Paris) on their window? The Medieval, in a vaulted stone dining room that once housed an abbey? The family-run Vaccares, overlooking the town square, where the tangy aromas of fresh basil and goat cheese announce, the moment you walk in the door, that you can expect a classic Provencal dinner? Or a simple table outdoors, across from the imposing arena, with pizza and a beer?
Day 4 - In the Footsteps of Van Gogh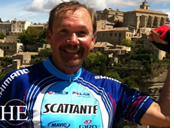 Arles to St. Remy-de-Provence
The ride to our next hotel takes us over twenty miles of road — and two millennia of history.
An hour out of Arles comes an intriguing stop: The remains of a unique double aqueduct. One channel supplied water to the Arles of antiquity; the other powered a mill that ground the Arlesian's flour. Most likely, we'll be the only visitors at this unique but unheralded spot. Nearby is Daudet's Windmill, where Alphonse Daudet wrote one of France's best-loved books.
In contrast, we'll have plenty of company at Les Baux, one of France's three most visited historic sites. The fortress atop this spur of rock, surrounded by limestone cliffs and thorny brushwood, claims a sordid history. Originally built by warlords who boasted descendance from Balthazar, one of the Three Wise Men, Les Baux later became a "Court of Love" inhabited by wealthy families, visiting princesses, and wandering troubadours.
Les Baux again grew bloody in the 14th century. Raymond of Turenne based an army of brigands here, invading the countryside regularly. No bake sales for this crowd: They raised money by taking hostages, who were thrown from the high cliffs at sunset if ransom was not delivered. Cardinal Richelieu put an end to the nastiness and had Les Baux ransacked, but the sturdy walls and towers that remain offer a haunting reminder of its colorful past. Replicas of medieval weaponry – a giant catapult and battering ram – make it easier to envision that past.
Every day we offer extra biking options for those up for it. Today's longest option is a sweeping route along the base of the Alpilles ("little Alps"), a dramatic and jagged range of peaks running eastward from Les Baux. This route takes us through dappled-green oak forests and shimmering olive groves to the enchanting town of Eygalieres, whose sole barkeeper has become a good friend over the years.
Van Gogh fans may experience some deja vu while approaching St.-Remy-de-Provence. After cutting off his ear in Arles, the famous painter spent his last two years at an asylum here. Many of the landscapes and sights he painted are largely unchanged; you can still see them on our walking tour. Then, you can look forward to dinner at the Cafe des Arts, always a favorite for the chef's hearty Provencal menus.
Day 5 - A Crumbling Castle and a Crystalline Spring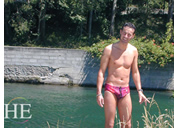 St. Remy to L'Isle sur la Sorgue
A peaceful tree-lined road carries us from St. Remy to the vineyards of Terre Blanche. Here you'll see how wine is made in a typical small French winery; then enjoy a wine tasting of recent vintages. Our picnic lunch is at the nearby Chapel of St. Sixte, a 13th-century chapel in a panoramic setting of olive trees set against the picturesque peaks of the Alpilles (little Alps).
Missing your Stairmaster? Then bike up to the Notre Dame de Beauregard, high on a hill over the Durance River. This is a detour; nobody has to make the climb, and perhaps nobody will. But those who do will be rewarded with sweeping views from the peaceful grounds of this church.
Finally, a ribbon of road too small to appear on most maps offers yet another example of biking in Provence at its best. We pass orchards, forest, old farmhouses, and a field of horses. Soon we reach the Sorgue river, where crystal-clear waters offer respite from the hot day.
Refreshed, we continue on to L'Isle sur la Sorgue, where we spend two nights in a village on an island in the rushing River Sorgue. The village is full of canals, including one with a rope swing conveniently situated over the water.
The old waterwheels of L'Isle-sur-la-Sorgue once powered grain and paper mills. Now the industry has moved out, moss has taken over the old mill wheels, and the town is known as an antiques center, with over 30 dealers and shops.
Day 6 - Villages of Golden Stone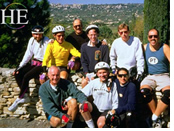 The Luberon
We'll spend two nights in l'Isle-sur-la-Sorgue. You don't have to get on a bike at all today; if you'd like to stay in town, there's plenty to do.
For those heading out on your bikes, the first village we come to is the history-filled Fontaine-de-Vaucluse. Here, in a small cirque below a towering cliff, the Sorgue river gushes up from an underground source that remains mysterious. Since the days of Petrarch, poets and artists have been inspired by this magical spot. You can pause at a café beside the river, overlooking a moss-covered waterwheel from a long-forgotten mill.
If you want to spend the day here instead of riding on to the Luberon hill towns, visit the new Museum of the Resistance (this region was a strong pocket of the Resistance movement during World War II). You can also take a kayaking lesson on the Sorgue, or hike along one of France's national hiking routes.
But the Luberon beckons strongly. This magical region of dark forests, meandering streams, and stone hilltop villages is already familiar to readers of A Year in Provence. We've mapped out a full-day circuit taking in six villages, each with a distinct personality. If that's too much, you can easily turn back earlier.
We begin with Gordes, a village of golden stone spilling down a hillside. Get an energy boost at the small gay-owned cafe.
Next is Roussillon, source of the ochre used in brown dyes. There are 17 shades of ochre, boast townspeople, ranging from orange to gold, from tan to rust, and every nuance can be found amongst the homes of this handsome town. A trail winds through the golden glow of the cliffs, past towering evergreens, to such spots as the vivid orange spires known as "Needles of Fairy Glen". A picnic spot overlooks the cliffs, and a nearby shop offers a tempting selections of foods. A chunk of goat cheese, a baguette, and a ripe pear … and you're ready to bike on.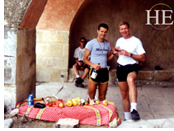 As we meander south, we cross a simple stone bridge. It seems like a solid but unremarkable structure, until you learn that it has a name (Pont Julien) and a history — it was built by the Romans and served as a vital link on the ancient Domitian Way, for pilgrims traveling between Italy and Spain. The bridge leads us to Bonnieux, once a papal fief, now better known as the site of a memorable goat race in A Year in Provence. Clinging to the hill, this charming village feels more vertical than horizontal. Fortunately, it's just big enough to have a well-stocked pastry shop.
Then forgotten Lacoste, known not for its alligator shirts (wrong Lacoste) but as home of the Marquis de Sade. His chateau still perches atop the hill. Who could resist a photo op? In nearby Menerbes, we've got two friends: the barkeeper, and a potter whose studio in the woods produces some of the most beautiful handcrafts we've seen in France.
A peaceful bike route leads us through sun-drenched fields to the ruins of Oppede-le-Vieux. A short path takes us to the hilltop chapel (remodeled in the 16th century — when it was already 300 years old!) and castle walls that mark the site of an ancient feudal stronghold.
Chances are, many cyclists in our group will not get to every city. But whether you turn around after lingering over lunch in Gordes, or cover the full circuit, we're sure of one thing: You'll understand the magical pull of the Luberon.
Day 7 - Watermills and Wildflowers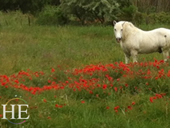 L'Isle-sur-la-Sorgue to Avignon
It's time to return to Avignon. This is a short biking day, so you can relax in the morning and explore the village before hitting the road.
Today's ride takes us past fields of red poppies, and soon we're in Avignon. You may want to arrive early so you can tour the inside of the Papal Palace, or visit 14th-century Fort St. Andre across the river. Then get ready for a special dinner at one of Avignon's many friendly restaurants.
Day 8 - A Week to Remember
The hardest thing about our trips is saying goodbye to a wonderful group of new friends, and a charming region of France.
If you've got extra vacation time to spend in Europe, we suggest you save it for after the trip, rather than before: Chances are, others from this week's adventure will be looking for some company for a weekend in Paris or perhaps Nice, on the Mediterranean coast.