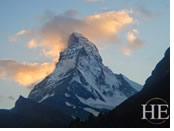 Everyone in Switzerland seems to hike, and once you've experienced a week in the Alps, you'll understand why. You'll have new panoramas every day: hike through fields of wildflowers and tiny alpine hamlets, past waterfalls and alongside cold, clear mountain streams.
The Matterhorn is a constant yet ever-changing presence in the alpine village of Zermatt. One day coyly hiding behind the clouds, the next, a proud white pyramid against a blue sky.
Our gay hiking trip in Switzerland introduces travelers to the beauty of the Valais region surrounding Zermatt, often going far and high into the alps on all-day hikes. Our group will stay in the lovely mountain village of Zermatt, just a few hours' travel from Geneva or Milan, yet a world apart.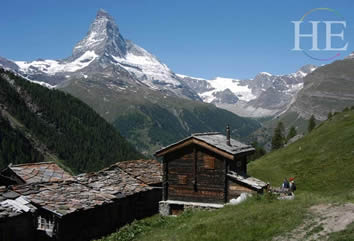 Each day, you can join a larger group on a hike, or head out independently. Most people find it enjoyable to stay with the main group some days, and to hike more independently, with one or two friends, a few times.
We'll spend one night at a mountain hut, allowing us to reach some remote locations that would be inaccessible on a single day's hike.
• Awake in a high mountain hut as the rosy glow of the morning sun — Alpenglow — lights the Matterhorn.
• Hike through a mountain meadow sprinkled with wildflowers.
• Climb to the top of ice-and-snow covered Breithorn, on an optional day excursion.
• Hike (weather and trail conditions permitting) to the summit of the Oberrothorn, at 3415 meters one of the highest peaks here that does not require special climbing skills.
• Enjoy a traditional hiker's lunch of "Bratwurst mit Rosti" at the remote Monte Rosa hut, below the glaciers that line Switzerland's highest peak.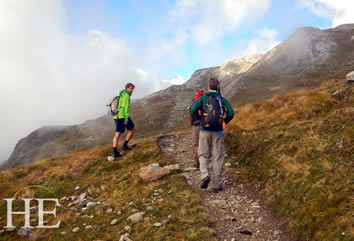 Day 1 - Arrival in Zermatt, Switzerland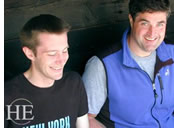 Your adventure starts with the train ride as you travel up to mile-high Zermatt. The steep cog railway edges along a river valley, past thundering waterfalls, snow-covered peaks, and the onion-domed church in tiny St. Niklaus.
The track ends in Zermatt, a car-free village of just 4,000 year-round residents. Our hotel is a 10-minute walk if you're traveling light, or take a small electric taxi. We're staying in a lovely hotel built-in 2009.
Early arrivals will enjoy exploring Zermatt. You'll share the streets with tourists just up for a day of mountain air, European hikers dressed in the traditional knickers, mountain climbers gearing up for an expedition, and the occasional herd of goats. At 6:00, we'll meet for a reception and orientation, followed by a traditional Swiss dinner.
A short after-dinner walk ascends one of the trails overlooking Zermatt. As the Milky Way and thousands of stars twinkle above, and you gaze down on the lights of our little village, you'll feel a bit of the magic that lies ahead this week.
Day 2 - Sunnegga and Riffelalp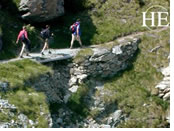 Today's hike starts with a steep climb not far from our chalet, then it levels off at the meadows of Sunnegga with panoramic views of the valley below and the mountains across the valley.
From Sunnegga, we pass through the small hamlets of Ze Gassent and Findeln and hike past Mosjessee (a dammed lake), on our way to Riffelalp, where we usually have lunch.
After lunch, you have a choice of taking the train down from Riffelalp or hiking on one of several paths back to Zermatt.
Day 3 - Tasch Alp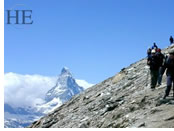 Today's route easily accommodates several levels of ability. The official route starts with a climb up to Taschalp, between Zermatt and Tasch (the next town down the train line), a rise of about 700 meters. Those who want an easier day can take the train to Tasch (a 3-minute ride through a tunnel) or hike on a more level route.
We'll all meet up at Taschalp for lunch. On a clear day, you can see several peaks from here including Zinalrothorn, Schalihorn and the largest, Weisshorn.
After lunch, we'll head to Tufteren, where you have the choice of starting your descent to Zermatt or continuing on to the Sunnegga station to descend by the unique in-the-mountain funicular.
Dinner is on your own this evening.
Day 4 - Gorgeous Gorges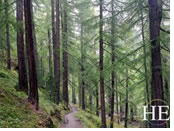 Today is a free day to take a Gorge Adventure, take a day trip to nearby Italy, or to explore one of the other mountains surrounding Zermatt that we won't get to on this week's hikes.
Days 5 & 6 - Overnight in a Mountain Hut

Today's hike leads us along meandering trails to a mountain hut (actually more like a dormitory) where we spend the night. Since we don't have to return to Zermatt for the night, we are able to hike farther than no other days. There are several huts on the mountainsides above Zermatt, and we will choose which one to stay at based on availability for the size of our group. Bedding, dinner, and breakfast are provided at the hut, but you will need to carry your personal overnight items.
Please note that in the event of weather that impacts the safety of the trails leading to our hut we may need to return to our chateau for the night, and forego our stay in the hut.
Day 7 - Oberrothorn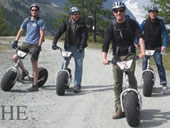 Today we hike to one of the highest peaks of our week, Oberrothorn. You'll want to bring a fleece or sweater and rain jacket for this climb since a sunny day in Zermatt can turn into a very cold rain at the peak. Before leaving town we'll have a chance to stop for picnic supplies or a sandwich so that we can enjoy lunch at the top while admiring the view. We'll again start our journey at the Sunnegga lift, then hike across to Blauherd, where we get our tickets up to Unterrothorn. Once there our high Alpine hike begins as we work our way to the top (typically 70-90 minutes). Once at the summit, we'll have our lunch.
For the descent, you'll have several choices, depending on whether you want to hike all the way back to Zermatt at the bottom of the valley or use a combination of lifts and hikes. Whichever route you choose, the scenery is superb in every direction, and you'll be able to see several of the locations of our earlier hikes.
As dusk approaches and for one last time you watch the sunset line start at the floor of the valley and gradually work its way up the eastern slopes, you'll be able to take a deep breath of the clear air, and bring back memories of your invigorating hikes amidst the splendor of the Swiss Alps!
Day 8 - Departure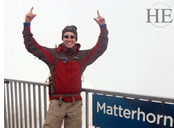 Our week officially ends after breakfast. If you have early connections, you can rise and depart as early as you'd like. There's one final treat in store for those who have made advance reservations: A ride to St. Moritz or Chur on the Glacier Express. This train shows off Swiss engineering and Swiss mountains, as it meanders over Alpine rivers and through mountain tunnels, with ever-changing panoramas unfolding through the picture windows of the cars. Our pre-trip newsletters make it easy to hook up with others who might enjoy this excursion with you.
If you've got extra holiday time to spend in Europe, we suggest you save it for after the trip, rather than before: Chances are, others from this week's adventure will welcome company as they travel and explore the culture and gay life in Geneva, Zurich, Berne, and other Swiss cities.